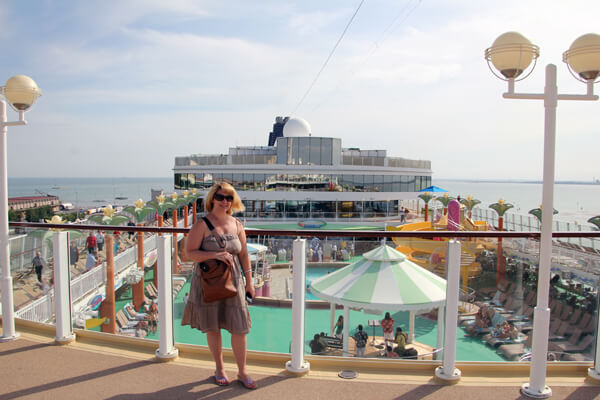 We're freshly back from our cruise to the Greek isles on the Norwegian Jade. Over the next week or so, we'll post about each of our ports of call, how to save money on shore excursions, where to get away from the crowds, and even some tips on what kinds of souvenirs to bring back from Greece! But before we get to that, as I mentioned last week, this was our very first cruise and I'm still undecided whether I'd want to cruise again.
Don't get me wrong. I love being on a boat and sailing on the ocean. I even loved that on this trip we visited four different islands and I didn't have to shlep my bag from island to island, hotel to hotel. I unpacked on day 1 and I was done until I had to pack up again on day 7. I even made note to Tim one night that this was the first trip we'd taken in over three years that we stayed in the same accommodations for the entire trip.
So what exactly has me questioning whether I'd cruise again?
1. The time it took to actually get to Greece. I still work full time at a university and while I get a whopping seven weeks of vacation each year, I obviously love to travel. I do it every chance I get. I'm often planning our next trip while we're on a trip! That being said, I felt like the two full days at sea were precious time I could have had to explore more in Greece. Instead I was stuck on a boat watching islands go by; islands I wanted to be on! In fact, my anxiousness to actually get there probably had Tim wanting to throw me overboard a few times.
2. Cruises really aren't all-inclusive. Want more than that 6 ounce glass of water at breakfast, lunch, or dinner? Be prepared to pay or be sure to bring water back on board with you. Enjoy drinking wine with your dinner? That will cost you! Even if we had brought our own wine on board, there was a $15 per bottle corking fee to drink it aboard. Think tips are included? Think again. There was a $12 per person per day service charge and that still didn't include tips for all the staff. While each cruise line is different, they all have extra on-board charges and those can really add up.
Advice: We found 1.5 liter bottles of water reasonably priced for just a few euros at every port. Be sure to pick up a bottle or two to bring back on board the ship with you.
3. Staff photographers hound you. Sure, I like having our photo taken when we're dressed to the nines. But when I'm ready, I'll come find you. I quickly became annoyed with the constant photogs with their flashbulbs who were literally ready to chase me down. They were everywhere… boarding, at disembarkation at each port of call (with some character in a cheesy Greek costume to boot), at dinner, on the stairs…
Advice: Keep right on walking. There are plenty of passengers on board willing to snap some photos of you. Just be sure to return the favor.
The biggest thing for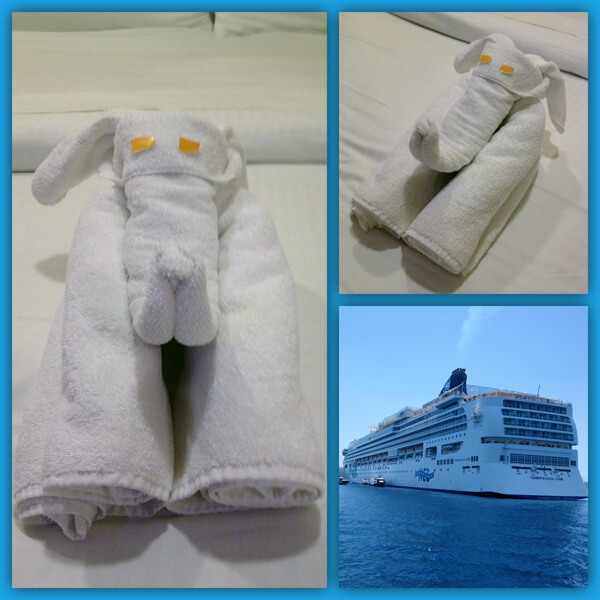 me is that I really did just go a little batty on the ship. I really wanted those two days to explore or even lounge on a Greek beach. And I wanted longer in each port of call. It felt like a tease…I'd get a tiny taste of the island and then it was time to go.
Despite those things, there were also some things I really enjoyed about cruising. I mean, who doesn't love towel animals? We had really interesting dinner companions on the evenings we shared tables. I always love hearing about other people's travels and this ship was full of worldly travelers! And the chocolate buffet was a chocoholics dream!
And of course, Greece itself was amazing. The ancient ruins, the white building with blue rooftops, the food, the wine…it all only made me want to see more of Greece! (Our ports of call were Corfu, Santorini, Mykonos, and Olympia.)
For now, enjoy a few of our photos from around the ship and as we set sail out of Venice!