You might assume that traveling with your dog is extremely difficult, if not impossible. Or that it's costly. But these days more people are bringing their dogs along on vacations, and thanks to that growing trend it's easier than ever to travel with a dog. In fact, a survey by American Pet Products Association (APPA) found that 37% of Americans travel with their pets every year.
As someone that has made travel her career but loves her pets immensely, I hate the thought of leaving them behind with a sitter. After more than 20 countries, I've learned that with a little extra planning it's absolutely possible to have amazing trips that include your furry family members.
Traveling with a dog opens your eyes to new experiences and the world around you in a way that no other travel does. And there's so much you can do beyond just walks and hikes. From kayaking to cooking classes, well-behaved dogs are welcome in many more places and attractions that you probably imagine.
Before getting some insPAWration from our destination dog-friendly guides, start with these dog travel tips that will help ensure the best dog travel experience no matter where you go!
Preparing to Travel with Your Dog
🐾 Just like it's a good idea to have digital records of important documents like your passport and credits cards that you can access anywhere, it's an equally good idea to keep a digital record of your dog's important info. You can email yourself a record, create a file on Google Docs or even add a note on your phone

No matter which method you choose, you should include information like your dog's birth date, microchip number, any medications your dog takes, and your regular veterinarian's information. That way if you ever have to go to a random veterinarian in an emergency, you always have all the necessary information easily accessible.
🐾 Get an EU Pet Passport if you'll be traveling within the European Union. You don't have to be an EU resident to obtain an EU Pet Passport.
The EU Pet Passport is basically a document with your dog's vaccination and health records, their microchip or tattoo number, and the owner's information. The EU Pet Passport is recognized universally throughout the EU to seamlessly let pets cross borders without quarantines and extra vaccinations (in most countries). You can even enter the EU from the USA without the USDA health certificate if you hold a valid EU Pet Passport.

If you travel to the EU frequently from the United States, it makes sense to get an EU Pet Passport. To keep it valid, most vaccines and all rabies vaccinations must be administered by an authorized EU veterinarian. Be sure your American veterinarian never writes in the EU Pet Passport as that invalidates it.
Obtaining an EU Pet Passport is pretty easy and inexpensive. Just make an appointment with any registered EU veterinarian and bring all vaccination records.
🐾 If you do plan to travel from the US to Europe but don't want to get an EU Pet Passport, it's absolutely still possible to travel. You'll just need a few things such as your pet will need to be up to date on their rabies vaccination and you'll need a health certificate issued from a USDA accredited veterinarian. Luckily many countries in Europe also allow USDA accredited veterinarians to use the Veterinary Export Health Certification System (VEHCS) to complete health certificates online.
🐾 Planning a trip with your dog is a great time to check that your dog's name tag is up to date with your most current information. Also consider putting extra information on your dog's name tag, like adding an email address. This is especially important when you're traveling and might now have phone service. You might even add information like what language your dog understands, especially when traveling abroad.
You can even double up on name tags. Hanging ID tags do break or fall off. Consider adding a slide-on ID tag to your dog's collar just in case.
🐾 You always hope an emergency never happens when traveling with your dog. But don't get caught off-guard. Look up nearby veterinarians as part of your trip planning process and have their information and hours readily available in your phone. The last thing you want to be doing in an emergency is trying to find a veterinarian to get your dog to.
🐾 When planning to travel with your dog, make sure to plan activities that your dog will love too. It's not always the most fun to just walk around a city for your dog. Planning some outdoor activities in your trip itinerary like a hike, going to the beach to dig and swim, some ball play time off leash at a park, or a dog meet up with local dogs makes it an enjoyable trip for your furry family members.

These activities also help tire your dog out. So just after is a great time to leave your dog in the hotel to relax while you visit attractions that don't welcome dogs.
Realize that some dogs just may not like to travel. Dogs are creatures of habit, after all. If your dog gets anxious going on car rides or when sleeping away from home, it may just be best to leave your pup behind. Either find a family member or friend who can watch them while you're away, or even consider Trusted Housesitters, a marketplace where you can find vetted individuals willing to house and pet sit around the world.
Dog Travel Packing Essentials
Just as you have packing essentials, you should have a list of packing essentials for your dog.
🐾 Get your dog their own dog travel bag. I'm not talking about a dog carrier – I'm talking about their own suitcase. We keep it stocked with some essentials like dog-friendly wet wipes, a first aid kit, extra dog poo pick up bags, an extra collar and leash for just in case, a quick dry towel, and our travel collapsible water bowls (which this bag actually comes with).
🐾 Always pack your dog's regular food and treats. Don't assume you can purchase food at your destination. We love the Ruffwear dog food carrier for keeping food sealed and fresh. We stash a collapsible measuring scoop in the interior pocket.
🐾 Your first aid kit should have some essentials at a minimum: eye wash saline for cleaning out dirt and debris, a tick twister, a bio flea and tick spray for extra protection when hiking and walking in forested areas, Benadryl in case of an allergic reaction, and a dry shampoo for quick clean ups.
🐾 Always pack a few of your dog's favorite toys some they have something familiar with scents of home.
Keeping Your Dog's Routine on the Road
Dogs thrive with a routine. That's why some dogs get stressed when traveling – their routine is disrupted. You might notice your dog eats less or not at all, doesn't play like at home or other behavior changes while traveling. That's why it's important to keep as much of your regular routine as possible when traveling.

No matter if we're at home or traveling, Coco eats the same number of meals each day and at approximately the same time. I carry her regular food in a Ruffwear Quencher Cinch Top Packable Bowl, which is easy to stash in my bag for when we're out and about. If Coco is joining us at a restaurant for dinner, she eats her dinner while we eat, just like at home.

We also stick as closely as possible to Coco's regular morning routine. At home we go on a walk first thing, so that she can do her business! Then we go back to the hotel for breakfast.

Always keeping even some of your dog's regular daily routine will help keep them more relaxed while traveling.
Road Tripping with Dogs
Road trips are the best and most comfortable way to travel with a dog, because traveling by car with a dog is the least stressful mode of travel for everyone. But there a few things you can do to help make a road trip a good experience for everyone.

🐾 Make sure your dog wants to go! Start out with shorter drives to get your dog used to being in a car.

🐾 On the day of the trip, go for a nice walk before getting in the car. A tired dog is a relaxed dog.

🐾 Make your dog comfortable. Get a back seat car hammock. Not only does a back seat hammock help keep the car cleaner, but it will help secure your dog by making secure. A back seat hammock ensures they don't slip around on the seats and it keeps them safely in the back seat.

🐾 Make sure the car is a comfortable temperature for your dog! A backseat headrest fan helps keeps dogs cool, especially in cars that aren't equipped with back seat vents.

🐾 Be sure to stop to let your dog stretch their legs and have potty breaks. Stops are a great time to offer some water, too, so your dog stays hydrated during the trip.

🐾 Use positive reinforcement and reward with treats for good car behavior like staying quiet and laying down.

🐾 Always keep a collapsible travel bowl, water, paper towels (for any accident clean up) and treats easily accessible, like in the front seat, when you have a dog traveling in the car.

🐾 Realize that not all dogs like car rides or to travel. Make sure travel is something your dog enjoys, or it may be better to leave them at home with a trusted sitter.
Taking Your Dog on Public Transportation
A traveling dog should be comfortable taking public transportation. Here's a few tips to help your dog be a relaxed and confident traveler when taking buses, trams and subways:

🐾 Try to introduce your dog to public transportation when they are a young puppy if possible.

🐾 Start with short trips like taking the bus or tram just a few stops. This will help your dog get used to the sounds and movements. Plan these training trips, avoiding busy and crowded times like rush hour. Repeat as many times as necessary until your dog is comfortable before taking longer trips.

🐾 Reward good behavior like staying calm and quiet with high value treats.
Finding Dog-Friendly Hotels
These days there are a variety of dog-friendly hotels that range from budget to the most luxurious and exclusive. While there might be less options in places in the US, Europe is generally very dog-friendly especially when it comes to finding the perfect accommodation. Follow these tips for finding dog-friendly hotels and accommodations:
🐾 Use Booking.com and filter for pet-friendly accommodation. There a lot of options in Europe, and we have stayed at everything from luxury 5-star hotels to castles. Holiday apartments are also a great option as you might have a bit more space and amenities like a refrigerator.
Tips for Staying in a Hotel with Your Dog
🐾 Even tho many hotels provide bowls and a bed these days, always bring your own bowls from home. We like collapsible bowls and our Ruffwear travel bowls because they easy to pack.

🐾 Bring at least 2-3 familiar toys from home. Something with smells from home will help keep your dog relaxed in new places like hotels.

🐾 If you need to leave your dog in the room, be sure to take your dog out on a walk first to tire them out and let them do their business. Place the 'do not disturb' sign on the door and alert the front desk.

🐾 If you're worried your dog might bark while you're out, start by leaving your dog for 5 minutes. You should stay nearby, then reward your dog for staying quiet. Increase the time. We started by leaving Coco during breakfast for about 30 minutes.
Finding Dog-Friendly Attractions and Things to Do
There's a lot more you can do with your dog beyond going on walks and to the park when traveling with your dog. Sometimes the biggest challenge is finding pet-friendly attractions and activities when traveling. But with a few tips and a little research, you can plan travel itineraries that are fun for everyone.

🐾 Check the websites of the attractions and activities for their pet policy. Many websites have this information available. And if they don't, email or call to ask. You will be surprised how many places welcome dogs these days. Though some may have specific dog-friendly days or hours.

🐾 Check websites like Bring Fido, which are community driven directories where you can post dog-friendly places, activities, hotels and more. Use these sites as search engines, like a Google for finding pet-friendly vacation and activity ideas. We also love Tourisme Avec Mon Chien, a site for finding dog-friendly things to do in France (it's in French only).

🐾 Follow your favorite travel exPAWerts on Instagram (like Coco!) for tips an insPAWration. Some people like us have been traveling with pets for more than a decade on several continents, and are travel professionals.

🐾 Ask the locals. Look for local dog travel groups on Facebook where you can get ideas and inspiration, and ask locals for advice.

🐾 Ask the local tourism office for dog-friendly ideas. Some even have dog-friendly guides available, and are free.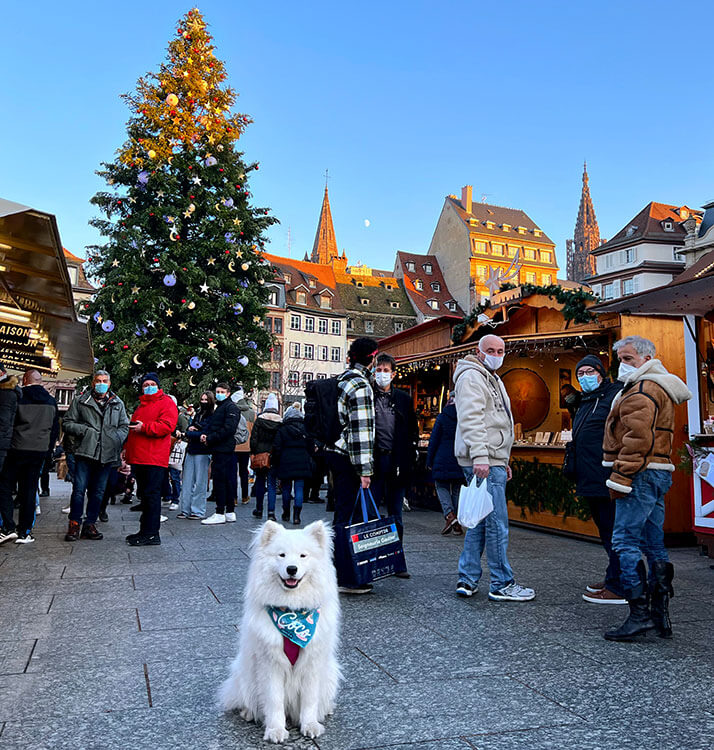 Visiting Outdoor Markets, Festivals and Events with Your Dog
There are a lot of dangers for dogs at crowded Christmas markets, outdoor markets, festivals and events. People accidentally stepping on your dog or tripping on them, other dogs that may not be so friendly, kids running up and grabbing your dog's fur or face – these are just a few of the things that can make a stressful situation for everyone. But that doesn't mean you always have to leave your dog at home.

It's best to visit these kinds of places during the least crowded times. Try to go during the week and earlier in the day. Just avoid the busiest times, like on weekend evenings or opening night.

🐾 Also work on conditioning your dog to crowds. Start out by taking your dog to small events.
🐾 Teach focus with a command like "look at me" to regain your dog's attention in distracting situations.
🐾 Be confident and project a calm, assertive energy to reassure your dog.
🐾 And know your dog's limitations. Avoid anything you already know makes your dog uncomfortable at home, because those fears and anxieties will be amplified in a crowd.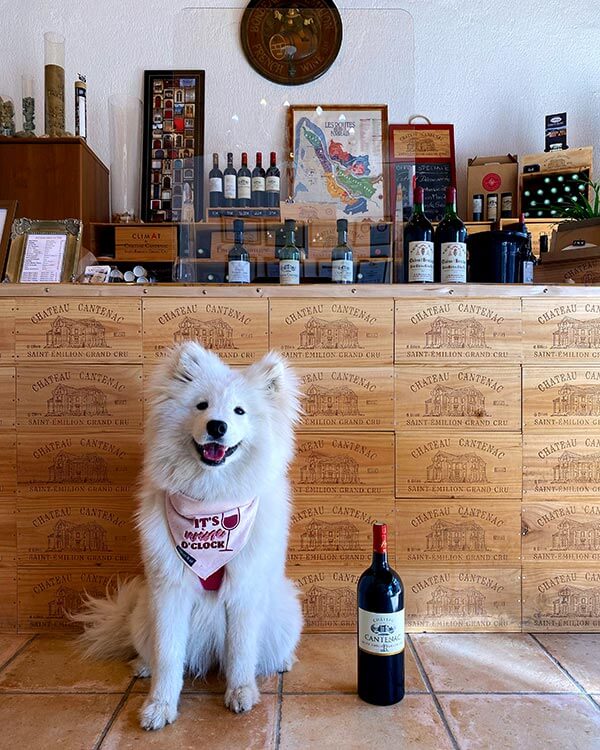 Tips for Going Wine Tasting with Your Dog
Yes, even wineries are welcoming dogs these days. And while I wouldn't suggest a full day wine tasting tour with your dog, visiting a winery while traveling with your dog can be enjoyable. There's a few things you can do to ensure your dog is not disruptive while wine tasting:
🐾 Sitting patiently while you tour and taste at a winery might not be the most fun activity for your dog. Plan a walk to tire your dog out before heading to the winery. You might even be able to take a walk through the vineyards.
🐾 Try and book private wine tasting tours. While you love your furry family members, not everyone does. With a private tour, you can be sure your dog won't disrupt other guests' experiences.
🐾 Just like hotels, some dog-friendly wineries have water bowls and treats for their furry guests. But don't expect it. Always come prepared with your own collapsible travel bowl. If you do bring a chew to occupy your dog, try to select something that doesn't have a strong scent like a Himalayan yak chew.
🐾 Don't assume all wineries are dog-friendly. Always verify in advance by emailing or calling the winery.
How to Visit Non Dog-Friendly Attractions When Traveling with Your Dog
While we clearly love our canine companions and wish we could take them everywhere, dogs aren't always welcome. There a couple possible solutions for when you want to visit somewhere not dog-friendly, like the Abbey of Mont Saint-Michel. Some things you can do:
🐾 Trade off staying with you dog. When you're traveling with at least two people, one can stay with the dog while the other visits a monument, museum, shop, ect.
🐾 Look for a kennel or dog sitter nearby. Some places, like Mont Saint-Michel, even offer onsite kennels.
🐾 If your dog is a well-behaved dog, leave them in the hotel room or vacation rental. Just be sure to take your dog on a walk to wear them out before hand. And if you leave your dog in a hotel room, put the 'do not disturb' sign on the door and alert the front desk.