I love dolphins and whales. I grew up watching Free Willy and dreaming someday I would swim with these majestic creatures of the sea. At one point in my early college days, I began studying to become a marine biologist. I wanted to work with dolphins or killer whales. Life happened and took me in a different direction, but Dolphin Discovery Anguilla made my dream come true. For at least a day anyway.

My Dolphin Royal Swim was nice and intimate with one trainer teaching another couple and myself about how to interact with two bottlenose dolphins. Tim decided to just watch and play photographer. We started off with letting the dolphins get to know us through a series of commands like waving and a handshake, which we rewarded by feeding them lots of fish.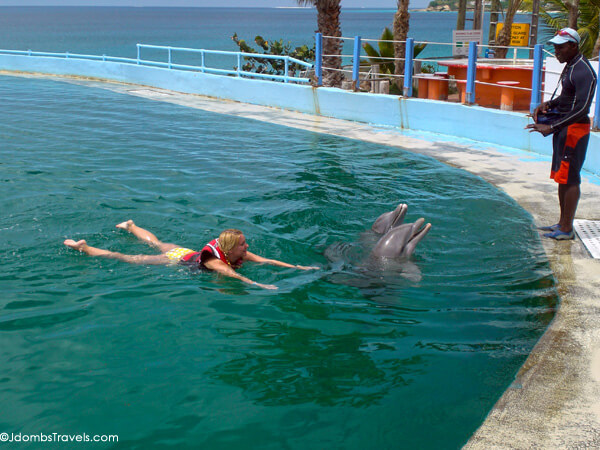 Once we were comfortable with the dolphins and them with us, it was time to swim out into the deep pool and have some fun! The trainer worked with each of individually to command the dolphins to do a dorsal tow, where the dolphins would swim up under my arms on each side for me to gently grab on to their dorsal fins and tow me to the other side of the pool. It was my first opportunity to truly understand the power of these marine mammals. Salt water splashed up in to my eyes and mouth as they quickly towed me from one side to the other, but I didn't care. I had a huge smile no matter how much salt water I inadvertently swallowed.
The toe push was my favorite trick. I signaled for the two dolphins, held my arms up straight like Superman, and waited. Before I knew it, two dolphin noses were pushing me up out of the water and I felt like I was flying across the pool.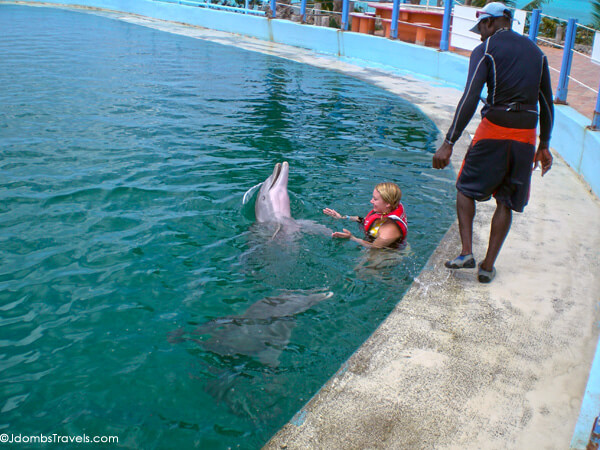 We had free time with the dolphins to swim, play, and interact. The hour went by all too fast and it was time for a final big wet hug and dolphin kiss to say goodbye.
The dolphins at Dolphin Discovery Anguilla were born in captivity and crave playtime and attention. The programs provide so much more than just a day of playing with dolphins; the programs are meant to teach guests about dolphin care and how the dolphins help researchers better understand wild bottlenose dolphins. I know I certainly left with an even deeper respect for dolphins than I had before my experience.
Know Before You Go
Dolphin Discovery Anguilla is located at Blowing Point on Anguilla. Anguilla can be reached by ferry from Princess Juliana Airport in St. Maarten in 20 minutes. The ferry costs $60 each way. Check the schedule
online
.
The
Dolphin Royal Swim
takes place daily at 10am, 12pm, 2pm, and 3:30pm and costs $179 for adults and $99 for children. Children must be at least 3'3″ tall and swim with an accompanying adult.