We fell in love with this tiny dual-nation island in the Caribbean. St. Maarten is just 37 square miles and we've regularly circumnavigated multiple times on our week-long trips there. But despite its small size, we've never been bored or had to look too hard for something to do. We've had countless conversations with cruise ship passengers who only get a teeny glimpse into all the adventures that are to be had and ask why we stay an entire week and return again and again, so we've put together our favorite things to do in St. Maarten:
1. Go diving without being certified
Neither Tim or I were scuba dive certified when we visited Saint Maarten (we have since completed our dive certification in The Bahamas). But we wanted to give diving a try and SNUBA lets wanna-be divers get a taste. Instead of wearing your dive tank, the tanks float in a little raft and you are tethered to the raft and your dive buddy with a 20 foot air line. SNUBA allowed us to dive an old shipwreck up to a depth of 20 feet and get a feel for what it would be like to dive.
SNUBA with SNUBA Sint Maarten is $80. SNUBA lasts about 2 hours total and is great for both cruise passengers and travelers to St. Maarten.
2. Get a zip-line driven adrenaline rush
Loterie Farm, close to the top of St. Maarten's highest point Pic Paradis, is home to the Fly Zone Xtreme. How can we not do something with extreme in the name? In fact, we love the rush we get from this zip-line and obstacle course so much, we've done the course on three of our four trips to St. Maarten. It starts out with a bus ride up the mountain and immediately sends you sailing over the treetops to get your heart immediately racing.
The Fly Zone Xtreme tour leaves Tuesday – Sunday at 10am, 12pm, and 2pm. Closed Mondays. Reservations are not accepted and the course is on a first come first serve basis, so get there early to guarantee your spot. The cost is €55 per person and you must be 18 years or older.  The tours lasts 2 hours and you must wear close toed shoes.
Irma Update: Loterie Farm was devastated by Irma and all activities were shut down. But Loterie Farm is rebuilding. Check their website for updates regularly about their progress.
3. Zoom down the world's steepest zip-line
Rainforest Adventures at  St. Maarten's Rockland Estate just opened the world's steepest zip-line in November 2017. Dubbed The Flying Dutchman, the zip-line drops 1050 feet over 2800 feet of cable and is a pure adrenaline rush at 56 miles per hour.
You're taken up to the top of the mountain on the Souliga Sky Explorer, a tranquil 4-person chairlift ride delivering guests to the Crow's Nest atop Sentry Hill for a 360° panoramic view over all of St. Maarten and stretching to St. Barth's, Anguilla and Saba.
Don't worry. If zooming back down the mountain on the zip-line at 56 miles per hour isn't your thing, you don't have to miss out on the spectacular views. You can still experience the Souliga Sky Explorer with a gentle round-trip ride.
4. Get an amazing view of the island from Fort Louis
St. Maarten's largest historical monument is located above Marigot on the leeward side of the island. Originally built in 1767 to defend Marigot and named after France's crusading king, it now offers visitors that make the steep climb to the top a panoramic view of the island. On a clear day, you can see all the way to Anguilla.
To get to Fort Louis, take the steps from the "sous préfecture" car park.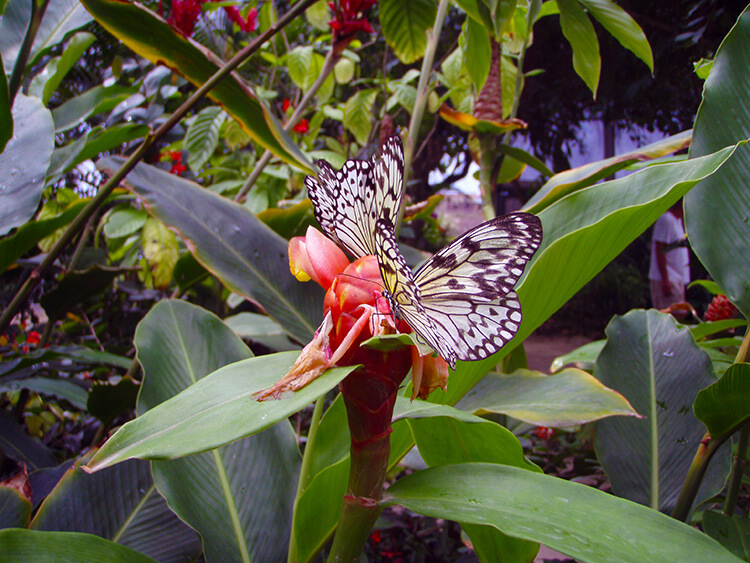 5. Get kissed by a butterfly
Butterflies fluttered above and all around us as we walked through the lush tropical rainforest at The Butterfly Farm. If I was very still, the tropical butterflies would even land on me! Tours of The Butterfly Farm last 15 – 20 minutes and the knowledge keepers told us all about evolutionary cycle from eggs to caterpillar to eventually a butterfly.
The Butterfly Farm is open daily from 9am – 3:30pm. Admission is $15 per person and includes a return visit during your stay on the island. Cruise ship passengers receive a small discount. It's best to go early in the morning when new born butterflies emerge and flutter around.
6. Discover local species
The St. Maarten Zoological Park is the largest in the Caribbean and has a variety of animals, birds, and some local species. Macaws, parrots, and other birds fly freely about and if you pick up some food at the entrance, you might even make a few new friends that will follow you about.
The zoo is open daily from 9am – 5pm. Admission is $10 for adults and $5 for children ages 3 – 11.
7. Hike to St. Maarten's highest point
Pic Paradis rises from the center of St. Maarten and is the highest point on the whole island. You can follow the trails from just above Loterie Farm to two observation decks that provide spectacular views over the lush rain forest and the entire island. You might spot some of the wild monkeys that live in the coconut palms.
A free hiking map is available from the tourist office. The road to Pic Paradis is just past the turnoff for Columbier.
8. Learn to be a sailor
A day sail to Prickly Pear Cay is one of our favorite things to do in St. Maarten. We've done the trip out to Prickly Pear Cay four times and never get tired of it. The boys hoist the sail in the morning; their hard work rewarded with shots. And we sail the blue waters of the Caribbean as flying fish launch themselves out of the water toward the deserted Prickly Pear Cay off the coast of Anguilla. Snorkeling and a barbecue on the beach await and then the last chore is for the girls to hoist the sail before heading back to St. Maarten.
Sail to Prickly Pear for the day on Wednesdays and book online. Check-in time is 9am and returns to Simpson Bay around 5pm, so this is not suitable for cruise ship passengers.The cost is $119 per person plus $15 port fee. Passport required.
9. Eat your weight in lobster at the Greenhouse
Friday night is my favorite night in St. Maarten. Despite the abundance of Caribbean lobster, it isn't exactly cheap on the island. The Greenhouse in Phillipsburg has lobster night every Tuesday and Friday and the lobsters are sold at market price starting at $19.95. Not only do we head there for the lobster – some weighing in at more than 5 pounds! – but also the fun atmosphere. The Greenhouse is the place to be with crab races, happy hour specials, and a live music.
Get there early to have the best weight selection.
10. Get your motor running, head out for adventure
There are plenty of beaches where we found nary another soul in St. Maarten. But Orient Bay isn't one of them. The island's busiest – and clothing optional – beach plays host to just about every activity you can imagine. You'll see people windsurfing, parasailing, snorkeling, riding banana boats, and jet skiing all along the 2-mile stretch of sand. No need to book ahead. Just ask around for the best price to the many vendors along the beach. But if you want to book a jet ski ahead, you can do that here.
11. Go Guavaberry tasting
The legendary liquor of St. Maarten was first made in people's homes centuries ago and is so cherished that there are even songs and stories about it. Guavaberry liquor is made from oak aged rum, cane sugar, and wild, rare St. Maarten guavaberries only found in the center of the island. The guavaberry world head quarters are located in an old cedar townhouse on Front Street in Phillipsburg, which was once the governor's home. These days it plays host to tourists looking to sample the sweet and fruity liquor and bring some home.
12. Kayak to Pinel Island
Pinel Island is a little slice of paradise with fantastic snorkeling just a short kayak ride away from the Cul de Sac on the French side. Little ferry boats take people across the small channel, but even with the small amount of tourists that visit Pinel Island is usually pretty deserted. With your own kayak rental, you can paddle around the island and explore the most secluded beaches.
Kayaks can be rented for $15 per kayak. Book online and pick up daily at 9:30am. 
13. Take a day trip to Anguilla
Island hopping to several other islands is easy from St. Maarten. In just 20 minutes, you can reach the nearby island of Anguilla on the ferry from Marigot on the French side. Here you'll find pristine beaches and far fewer tourists than on St. Maarten since the only way to reach Anguilla is by boat. It's easy enough to rent a car for the day and go exploring on your own to the many white sand beaches. Check out this guide to Anguilla for more things to do.
Where to Eat
Where To Stay
Some hotels we can recommend:
Headed to Saint Maarten on a cruise?