Myanmar, and especially Bagan, still isn't the easiest country to reach despite the fact that things are quickly changing there. Even in just the last two months since we booked our flights from Bangkok, more airlines are offering daily flights to Myanmar's larger cities like Yangon and Mandalay. Though there still aren't direct flights to Bagan (yet), so we found ourselves with about seven hours to kill in Myanmar's last royal capital. Mandalay's airport leaves a lot to be desired – there are just two tiny cafes and absolutely nothing else in the airport – so we hired a taxi driver for the day to take us around to some of Mandalay's popular sights.
Our taxi driver spoke all of about three words in English, but like nearly all of the Burmese people we encountered, he was incredibly friendly and helpful. At each place he took us, he personally guided us to what to see and did his best to explain things in his very limited English.
Our first stop was at the Mahagandayon Monastery. Monasteries and temples are an integral part of life in Myanmar and Mahagandayon Monastery is an active monastery with more than 2000 monks and novices and the largest teaching monastery in Myanmar. It was lunchtime and the burgundy-clad monks systematically line up promptly at 10:15am for their second and last meal of the day. While it was fascinating to see, it felt a bit like a zoo as bus loads of tourists piled out to watch the monks line up and eat their lunch. Visitors that leave donations contribute to the monastery's financial well-being, but we saw disrespectful tourists that ignored the signs and walked right through the middle of the lunch area.
Amarapura, just a short drive from the monk's school, literally took our breath away! Founded by King Bodawpaya of the Konbaung Dynasty, Amarapura became the capital of in 1783 and a royal palace was built there. King Mindon began building Mandalay as his capital in 1857 and decided to reuse as much material from Amarapura as possible in the new capital's construction. The "left-overs" were used to build the 1.2 kilometer long U Bein Bridge, the oldest and longest teak bridge in the world. The bridge spans Taungthaman Lake and it is extremely popular to walk across the dangerously decaying bridge.
Because of U Bein bridge's popularity with tourists, many street vendors have set up with their wares on the bridge. You'll find everything from jade jewelry to stunning drawings done in coal. Though most interesting was the woman with a cage full of birds. She offered us one, smiling as I looked at the cage-full of  little birds hopping about. "One bird for $1", she told me. What on earth a tourist would do with a bird is beyond me and I almost wanted to buy one just to set it free! Apparently people do just that, making a wish as they set the desperate little bird free. The woman just catches more birds to sell, so don't buy one and perpetuate the cycle.
If walking across the swaying, wobbly bridge is a bit too adventurous for you, boat rides are also available to take romantics across the lake. I must admit, while a gondola ride in Venice feels like a Disney ride, this boat ride looks absolutely idyllic. Had we had more time, I would have convinced Tim to hold an umbrella over us to shade us from the sun as a Burmese man rowed us across the lake.
I didn't want to pull myself away from the peaceful scene at Amarapura, but it was time to move on. We left our shoes in the taxi as we padded through the market set up in the passageways to the Maha Myat Numi pagoda, home to the most ancient and revered Buddha image in Myanmar. The Buddha is covered in nearly 6-inch thick gold and decorated with diamonds, rubies, and sapphires. I would have liked to get a close-up look, but women are only allowed in the prayer hall. Tim did don a longhi to go inside.
I could get up close to the large bronze sculptures, which were originally found at Angor Wat in Cambodia. They were brought to Myanmar from Thailand in 1563 as victories of war. There are three statues: the three headed elephant statue, the lion statue, and the bronze man. Burmese people believe that if you have a pain or a disease, you should pray to the bronze man statue and then touch him to relieve the pain of that body part. I have plantar fascitis in both my feet and figured I had nothing to lose, so rubbed his feet. My feet still hurt…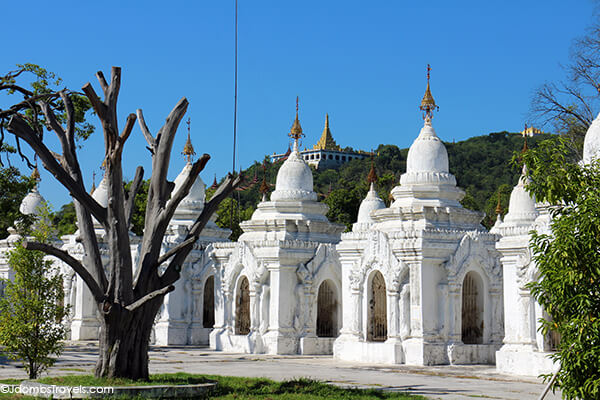 At the foot of Mandalay Hill sits Kuthodaw Pagoda, also known as the World's Largest Book. The Buddhist scriptures of the Three Baskets were inscribed on 729 stone slabs and housed in 729 white stone shrines outside the pagoda.
Star flower trees, many over hundreds of years old, were systematically planted amongst the shrines at equal distances. The sweet-smelling trees offer a nice bit of shade to escape from the hot and unforgiving Myanmar sun to visitors.
While we had always thought of Mandalay as an old city, we were surprised to learn it is actually quite new. The pagoda was built as part of the new royal city of Mandalay in 1857. The entrance is through beautiful open teak doors ornately carved with floral designs, scrolls, and Deva Nats (or supernatural deities).
With just a few minutes left before we had to make the hour long drive back to the airport, we stopped for some photos of the magnificent Mandalay Hill from the entrance to the royal palace. If the bustling city of Mandalay and its surroundings were this incredibly beautiful, we couldn't wait to see what was in store for us in Bagan!
Know Before You Go
There is an ATM is Mandalay Airport and there is a currency exchange. If bringing cash to exchange, crisp and new US Dollars are preferred.
We hired the taxi for the day for around $35 US. All sites we visited in Mandalay were free of charge.