One of our favorite ways to explore Italy is by car. Though there is a pretty good train infrastructure in Italy, we find it is usually more expensive to travel longer distances by train for two people and the train just doesn't afford us the freedom to get off-the-tourist-path like a car does. As we passed the little mountain villages on our way to Valbondione to hike to Italy's highest waterfall, we noticed balcony after balcony adorned with blue and white flags and blue and white streamers. A handwritten roadside sign that simply said "Gromo Medivale 18 Agosto" (or Gromo Medieval Fair on August 18) explained that baby boys weren't mysteriously born to an entire village at the same time and instead, there was a festival that day.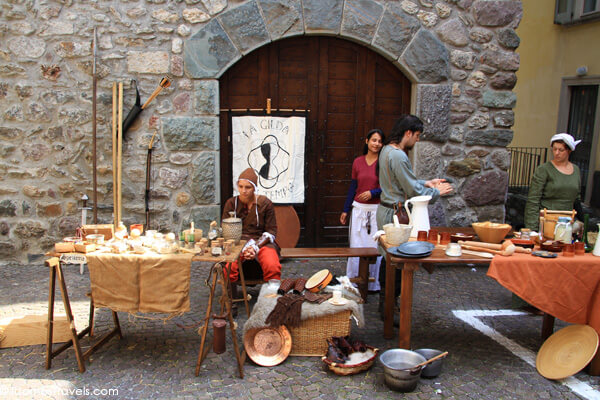 Exhausted from our 6 mile hike, we nearly didn't stop to check out the festival, but I'm glad we did! Gromo is said to be one of the most beautiful villages of Italy, and it was made even more so with the striking green Bergamo Alps surrounding it and the Serio River rushing below. Once famous for its antiquity for the silver and iron mines and the manufacture of weapons, Gromo today is mostly unaltered and has preserved its Medieval flavor.
Each August, Gromo celebrates its Medieval past with the Gromo Medieval Fair. As we wandered the streets, we saw traditional old crafts like weaving, embroidery, wood sculpting, and minting silver coins.
Gromo's 1200 or so citizens get into the Medieval spirit and dress in costume. There is even a costume parade in the evening! In case you arrived in Gromo not in costume like us, there is a shop in the castle selling Medieval costumes or you could just purchase a hair wreath being woven with flowers and ribbon from one of the little stalls lining the cobbled streets.
Medieval weapons and suits of armour and even a chastity belt were on display in shops set-up as make-shift museums and open for free to the public.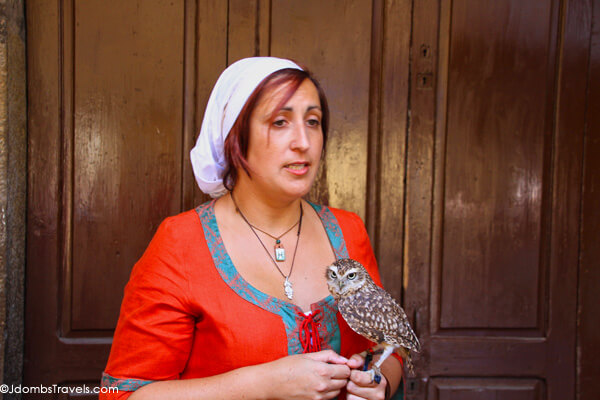 Piazza Dante is the heart of the Gromo Medieval Fair where a stage is set up in front the the Town Hall and impromptu entertainment like sword fighting, falconry displays, and musical performances take place in the piazza amongst the hay bales set up as seats. Grab a beer or sangria and gnocchi or french fries to snack on and just take it all in.
Know Before You Go
The Gromo Medieval Fair takes place each year on August 18. The festival is free, but bring Euro for food booths and any souvenirs.
Gromo is located about 100 kilometers from Milan in Lombardy. The closest airport and train station are in Bergamo and it can only be reached by car.
Gromo is car-free during the festival, but there is plenty of parking just below the village for €2.
Reader question: What is the best festival you've stumbled upon?