Ever since my first visit during the holidays, I haven't been able to resist a Christmas in New York. To me, visiting New York in December is when the city is at its best. It's when everything is the most shimmering and magical. New York City comes alive with holiday spirit and is home to some of the biggest and best light displays. For kids from 1 to 92, the five boroughs have something for everyone and we rounded up the "must dos" and tossed in a few of our favorites in our guide to things to do in NYC at Christmas.
The Rockefeller Center Christmas Tree
Officially, the tradition of the Rockefeller Center Christmas Tree began in 1933, the same year that 30 Rockefeller Center Plaza opened. Each year the tree is scouted by the head gardener for Rockefeller Center and it is transported by a special custom trailer through the streets of New York City to its home at Rockefeller Center. The star is a Swarovski Star weighing in at 550 pounds and nearly 10 feet in diameter. Locals and tourists alike pack Rockefeller Center all wanting to pose for the perfect holiday photo in front of the tree.
It'll be lit in the official Rockefeller Center Christmas Tree Lighting on December 4, 2019.
If you've always dreamed of seeing the tree lighting in person, The Terrace Club on the 7th floor of Rockefeller Center is hosting a Rockefeller Center Holiday Christmas Tree Lighting Gala with cocktails, dinner buffet, live entertainment and a private outdoor tree viewing area for the lighting ceremony and ground level access event credentials.
George Balanchine's The Nutcracker
The New York City Ballet's entire cast and crew are immersed in the production of George Balanchine's The Nutcracker during the holiday season. The intricate costumes, lighting, and the music itself transport you into Marie's magical world of dancing mice battling marching wooden soldiers. As you enter act two through a child's imagination, the land of lollipops and snowflake waltzes will leave sugar plum fairies dancing in your head for many hours after the final curtain. The Nutcracker is definitely one of the must-see Christmas shows in NYC and a perfect choice for things to do in NYC on Christmas Day when many attractions and stores are closed.
George Balanchine's The Nutcracker is on from November 29, 2019 – January 5, 2020. Tickets start at $75 and are available at online.
Radio City Christmas Spectacular
The gloriously glitzy costumes and the leggy high kicks of the Rockettes in the Radio City Christmas Spectacular are practically synonymous with New York during Christmas. I've seen the show at least four times now and while some old favorites are staples of the Radio City Christmas Spectacular, there are always a few new numbers to delight the audience. If you're spending Christmas Day in New York, it's the perfect day to to go see the show since many shops and other attractions are closed on December 25. I also think it's one of the best things to do in NYC at Christmas.
Radio City Christmas Spectacular is on from November 8, 2019 – January 5, 2020. Tickets start at $51 and are available online.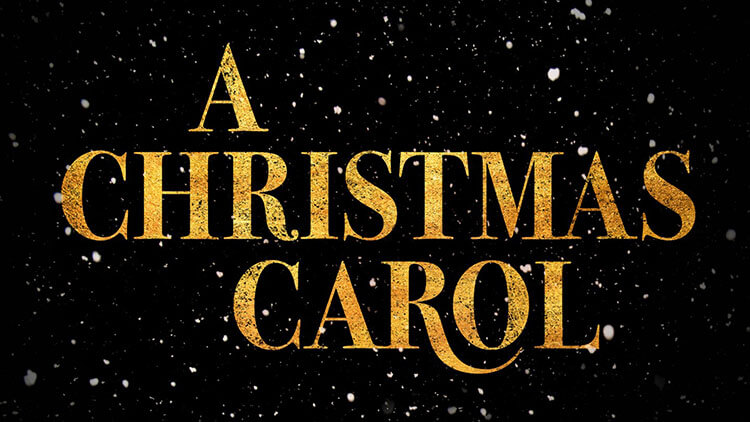 A Christmas Carol on Broadway
London, another fabulous city to visit during the holidays, has been home to one of the best Christmas stories of all time. A Christmas Carol has had critically acclaimed runs at The Old Vic, London and in 2019 it is coming to NYC's Broadway for just 8 weeks.
A Christmas Carol is an immersive experience that's brimming with Christmas spirit. It's a familiar Christmas story brought to life with costumes and scenes designed by Tony-award winner Rob Howell. And you'll want to sing along to 12 of the most cherished Christmas carols, including "Joy to the World," "Silent Night," and "It Came Upon the Midnight Clear."
A Christmas Carol is on from November 20, 2019 – January 5, 2020. Tickets start from $69. Find your tickets for A Christmas Carol Broadway and other shows and events at hellotickets.
Ice Skating in Central Park
Easily one of the most picturesque activities for a Christmas in Manhattan, ice skating at Wollman Rink in Central Park is the stuff movies are made of. Literally. John Cusak and Kate Beckingsale skated on a snowy night in the movie Serendipity and the rink also appeared in Love Story. Just a few minutes walk from the entrance at Central Park South, you'll forget the hustle and bustle of Manhattan for a few hours as you take to the ice. Figure eights, anyone?
Wollman Rink is open from October – April. Hours for public skating are Monday and Tuesday 10am – 2:30pm, Wednesday and Thursday 10am – 10pm, Friday and Saturday 10am – 11pm, and Sunday 10am – 9pm. Admission is $12 for adults and $6 for children on weekdays and $19 for adults Friday – Sunday. Skate rental is $10 and locker rental is $11 ($6 returned deposit with the rental receipt). Spectator entry is $5. Cash only.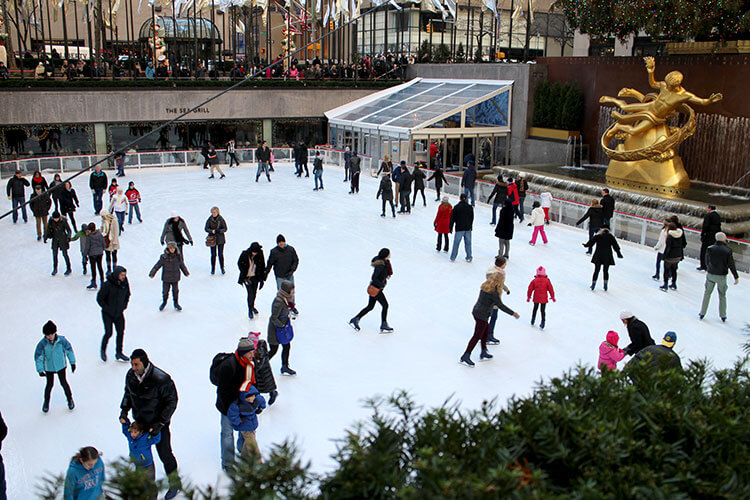 Ice Skating at the Rink at Rockefeller Center
If ice skating in Central Park's Wollman Rink isn't your thing, possibly because the rink is operated by a certain POTUS' business, then head to the Rockefeller Center rink. You can even book ahead and avoid a chilly wait in the line for general admission with the Rockefeller Center Ice Skating Experience or a Rockefeller Center Night Ice Skating VIP Experience. Both include a 90-minute ice skating session, access to the heated VIP chalet, skate rental, a hot chocolate, coffee or bottle of water and freshly baked cookies. Plus, the experience ends with a visit to the Top of the Rock observation deck.
Department Stores Holiday Window Displays
Many Manhattanites consider it a holiday tradition to visit the festively decorated holiday window displays at Manhattan's major department stores. From Bloomingdale's to Bergdorf's, you find everything from the classic fairy tales to the titillatingly imaginative as the holiday window displays get more creative and interactive year after year.
New York Holiday Lights and Movie Sights Guided Tour
It's the most wonderful time of the year and Christmas lights in New York are a pretty spectacular sight. It's no wonder the city has been the backdrop for so many holiday movies from 1947's Miracle on 34th Street to Elf.
The New York Holiday Lights and Movie Sights guided tour is a bus tour with photo stops that shows you the sights that have served as backdrops in some of the most famous holiday movies. While we're not usually ones for a bus tour, on a blustery December day the warmth of the bus can be a welcome break from exploring the city on foot. We traversed the city from the Upper West Side all the way down to Macy's, with stops for photo ops along the way.
Just in case you haven't had time to watch all your holiday favorites just yet (like us), video clips played as we made our way through the city. It was fitting that the snow was falling as we crossed through Central Park, just as the snow was falling as John Cusack and Kate Beckinsale skated around Wollman Rink in Serendipity.
We could have walked to many of these NYC holiday lights and movie sites on our own, but we wouldn't have necessarily recognized them from the movies or known exactly what they were. Like the giant, sparkling snowflake we've seen hung at 57th Street and 5th Avenue all the years that we've been visiting NYC at Christmas. It's actually the UNICEF Snowflake and serves as a symbol of hope and a reminder of UNICEF's commitment to reach a day when no children die from preventable causes.
We inched our way down 5th Avenue, past the glittering diamonds of Tiffany's, where Zac Efron takes Michelle Pfeiffer for a modern day Breakfast at Tiffany's in New Year's Eve. Harry Winston and Cartier were wrapped up in jewels and sparkly aliens beckoned shoppers in to Fendi.
Oohs and aahs filled the bus as the famous 76-foot tall Rockefeller Center Christmas Tree came in to sight. The 45,000 multi-colored lights twinkled and we were reminded that Macaulay Culkin's mom knew this is no doubt where she'd find her son as she finally reaches New York in Home Alone 2: Lost in New York.
We had opportunities to pose for pictures at NYC's biggest department stores' holiday window displays. Lord and Taylor has been decorating their windows for passersby since 1938, making them the very first department store in NYC to put up a display that didn't advertise anything in their store and just for the delight of their customers. Some of the department stores even have photo booths where you can pose for a picture and have it texted to yourself these days.
Our NYC Holiday Lights and Movie Sites tour was a great way to easily cover all the department store holiday windows in one shot, plus see where some of our favorite holiday movie scenes were filmed.
Shop at the Columbus Circle Holiday Market
5th Avenue is full of tourists shopping at the same Louis Vuitton, Prada, and Cartier shops you can find just about anywhere around the world. Instead, pick up unique gifts like handmade wooden puzzles, handcrafted jewelry, or French macarons (the maple bacon from Macaron Parlour are ah-mazing!) to bring back to everyone jealous at home.
The Columbus Circle Holiday Market is open December 4 – December 24, 2019 from 10am – 8pm Monday – Saturday and 10am – 7pm Sunday.
Visit The Shops at Columbus Circle for the Broadway Under the Stars light show choreographed to all your favorite holiday tunes. (November 11 – December 9, 2019 at 5pm nightly.)[/jbox]

The Holiday Train Show at the New York Botanical Garden
The Holiday Train Show at the New York Botanical Garden is a beloved annual event for New Yorkers and tourists alike. Each year the garden puts on a spectacular holiday display with model trains zipping around nearly a half-mile of track. The model trains make their way past more than 175 New York landmarks in miniature size that have been creatively crafted out of cinnamon sticks, holly, mosses, acorns and more.
The 2019 Holiday Train Show theme showcases Central Park, including the park's iconic Belvedere Castle.
There's even Bar Car Nights exclusively for adults 21 and over, where you'll get an exclusive after dark visit to the Holiday Train Show. You can wander with your adult beverage and grab a bite to eat the at Bronx Night Market Holiday Pop-up.
The Holiday Train Show at the New York Botanical Garden is on from November 23, 2019 – January 26, 2020. Tickets are $30 for adults and $18 for children 2 – 12 years of ages. Students are $28 with a valid student ID.
NYC Christmas Eve Brunch Cruise
If you're actually in NYC for Christmas, you'll find that not many of the tours or events run on Christmas Eve and Christmas Day. While there's still plenty of free holiday sights to take in around the city, if you're looking for a bit of different way to take it all on then hop aboard a Christmas Eve brunch cruise.
The 2-hour Christmas Eve brunch cruise sails around New York Harbor. Take in the sights of NYC from the water while enjoying bottomless mimosas, a holiday-themed brunch buffet and an endlessly flowing chocolate fountain.
It's a great way to take in the sights of the city like the Statue of Liberty while staying cozy warm. There's also a live jazz band onboard to entertain you along the way.
The NYC Christmas Eve Brunch Cruise is on December 24th with boarding at 12pm. The cruise runs 2 hours and is $90 per adult, $54 per child ages 4 – 12 and free for children 3 and under.
Eat Your Way Through Little Italy and China Town
NYC food walking tours are a great way to escape Midtown, take a break from the New York City Christmas tours, and find out the secrets of more off-the-beaten-path neighborhoods like Little Italy and China Town. Ahoy New York Food Tours takes small groups to family owned shops, restaurants, and locations that have been in existence for over 100 years – and for the US, that's amazing! You'll learn about the best places to eat and the interesting history from an NYC insider.
Book Ahoy NYC Food Walking Tours online. Tickets are $55 per adult and the tour lasts approximately 3 hours.
Tour Brooklyn's Christmas Lights
Escape Manhattan for Brooklyn with A Slice of Brooklyn and let this team of Brooklynites guide you through some of the best holiday light displays in all of America. Italian-American and Brooklynite Lucy Spata started the tradition nearly 30 years ago and when he neighbors didn't like it, she simply told them to move. They must have done just that because Lucy's house has more lights than ever and her neighbors in nearly four blocks surrounding her have joined in to see who can build the biggest and best display each year. The tradition is being adopted by some other Brooklyn neighborhoods and you'll visit a few others on one of the best New York Christmas lights tours.
The Original Christmas Lights Tour is nightly at 6pm from December 1 – December 30 (except December 24 and 25). The tour lasts about 3 1/2 hours and departs/returns to Union Square in Manhattan. The price is $58 per adult and $48 per child under 12 years of age.
Where to Stay in NYC at Christmas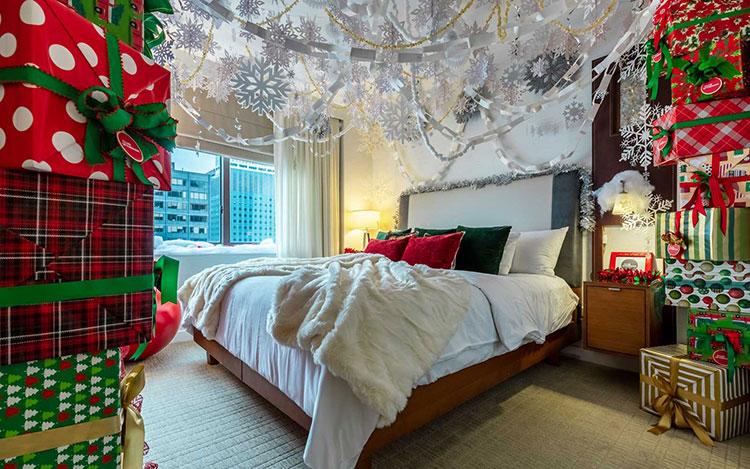 The Elf Suite at Club Wyndham Midtown 45
Son of a nutcracker! There's an actual Buddy the Elf suite inspired by the popular Christmas movie Elf.
Club Wyndham Midtown 45 has transformed one of their suites in an exclusive Elf experience with all of Buddy the Elf's favorite Christmassy things. You're welcomed with a door dressed with an elf jacket, which opens to the living and dining area of the one-bedroom suite.
It's a Christmas wonderland with hundreds of paper snowflakes, popcorn and paper garlands adorning the ceiling, and a towering Christmas tree beautifully decorated with golden ornaments. Guests will love the Lite Brite welcome message, jack-in-the-box toys under the tree, a colorful gift wrap mural wall and more.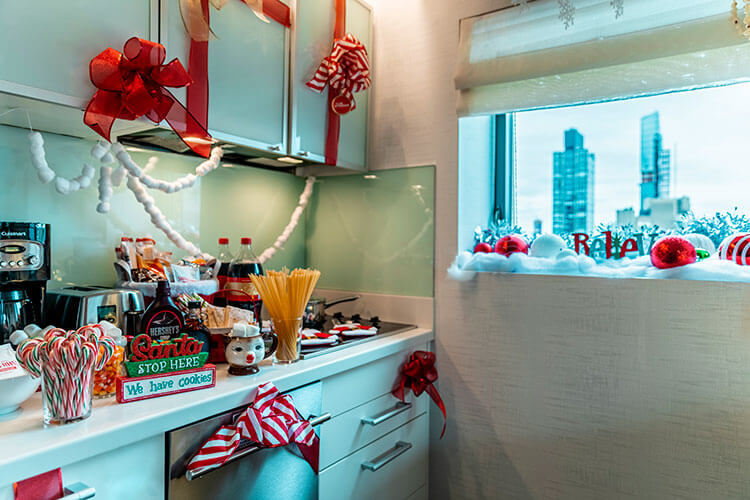 Perhaps the best part is that you have a fully equipped kitchen with all the fixings to prepare an Elf-inspired Christmas feast. The full-size fridge is stocked with elves' four essential food groups: candy, candy canes, candy corn and maple syrup. Other treats stocked in the suite include spaghetti, marshmallows, chocolate sauce, Pop-Tarts, cookie dough, M&Ms and, lots of soda.
Then there's even more Christmas Elf fun in store in both the bedroom and bathroom. Look out for the Lego replica of the Empire State building, Etch-A-Sketches and toy trains. Take a 360-degree tour of the suite here.
The Elf-inspired holiday suite sleeps up to four guests, and reservations will be available to book starting November 25, for stays beginning December 2. Rates start at $399 per night, or 15,000 Wyndham Rewards points on select nights. For additional information and to book a stay, visit ClubWyndham.com/HolidaySuite.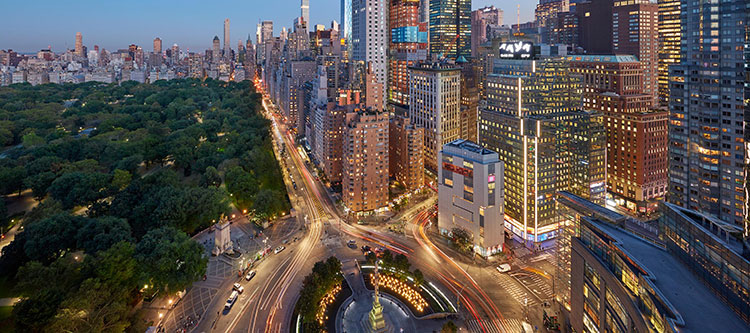 Other NYC Hotels We Recommend
Splurge at the Mandarin Oriental New York and be right in the heart of NYC, steps away from ice skating at Wollman Rink and the Columbus Circle Holiday Market.
Another favorite is the Empire Hotel for its location and Gossip Girl fame. Located on the Upper West Side near the Lincoln Center, American History Museum and Central Park West, the Empire is an excellent location for exploring NYC during the holidays.
Parker New York Hotel is an excellent Midtown hotel located close to Rockefeller Center and a short walk from Times Square.
Shop This Post
This article contains affiliate links. When you book on Booking.com or Viator shop on Amazon through our affiliate sites, we earn a small commission at no additional cost to you.