There's not too much I miss about America and over the decade we've been living in Europe, the list has gotten shorter and shorter. I have to admit, though, that each year when Thanksgiving rolls around, I do miss the massive Christmas lights displays that pop-up on department stores and people's houses signaling Christmas is coming. Sure, Europe has Christmas Markets that no doubt put you in the holiday spirit, but Italy very much celebrates Christmas in the traditional way of honoring the birth of Christ. Christmas lights are sparse at best.
Say what you will, but I miss the commercialization of the holiday! So when I heard about the Dyker Heights Christmas Lights Tour that takes you to some of the most outrageous and biggest Christmas light displays in all of America, I just had to journey across the Atlantic – more than once, in fact.
No, I'm not talking about the dazzling 76-foot tall tree at Rockefeller Center or the dancing castle that adorns the facade of Saks Fifth Avenue each holiday season. Some of America's best Christmas light displays are in Brooklyn. Dyker Heights to be exact, which transforms into Dyker Lights each December.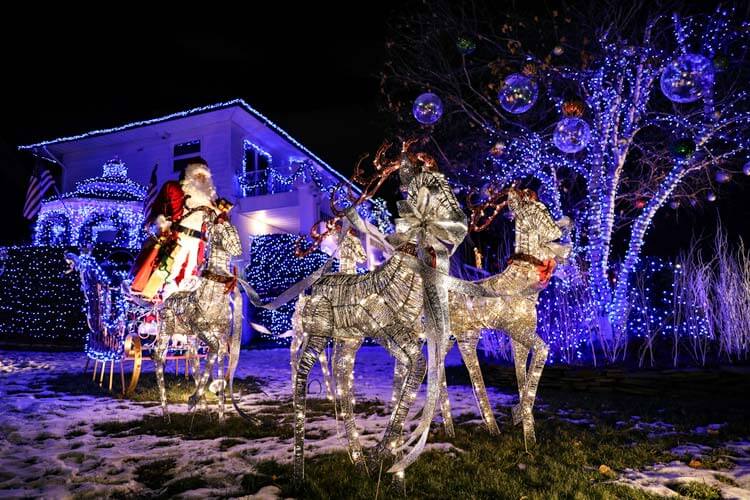 The Origin of the Dyker Heights Christmas Lights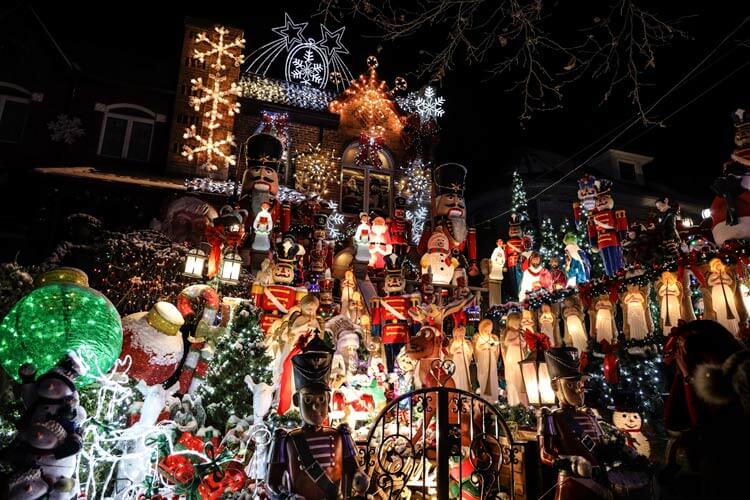 It was Brooklynite Lucy Spata, at 1152 84th Street that started the tradition over 30 years ago. It was her parents that decorated their house with just a handful of ornaments and inspired Lucy. She first put up her display with 40 angels on her lawn to honor her mother after she passed away in 1986.
Lucy has been adding to the collection and personally putting up tens of thousands of lights each year ever since. Her house evoked a "Holy shit!" from me as we approached.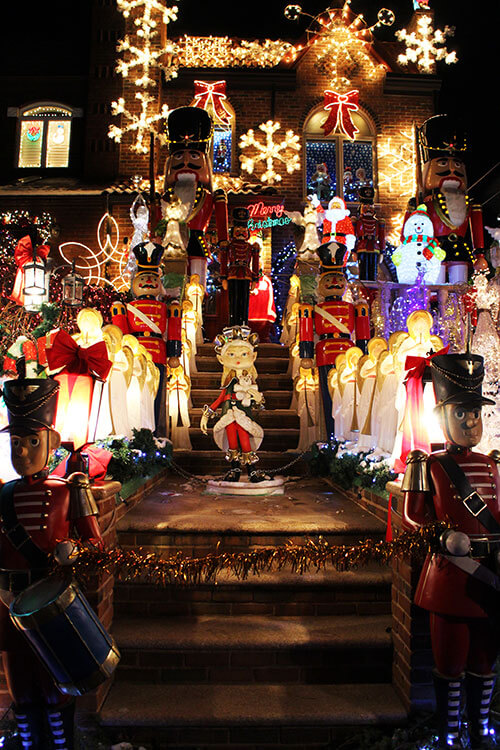 Lucy's neighbors didn't always love the display that turns on each Thanksgiving and lights up the neighborhood until Epiphany on January 6. She simply told them to move. Well, they either moved or embraced their neighborhood's new found Christmas celebritydom because it's now an unspoken competition to out decorate your neighbor.
Lucy's house is still the most famous display, but the heart of Dyker Heights — 12th Avenue between 82nd and 85th streets, and 84th Street between 10th and 13th avenues — is truly a winter wonderland with the biggest private home holiday displays anywhere in the United States.
The Original Dyker Heights Christmas Lights Tour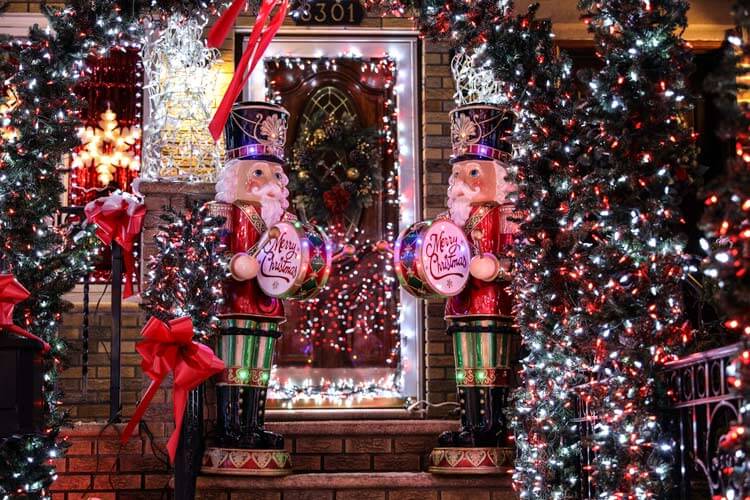 There's a lot to take in. Our team of Christmas lights guides from A Slice of Brooklyn took to the neighborhood with us to make sure we didn't miss some of their favorite details on the over-the-top and upwards of $30,000 Christmas displays.
They share details that makes the displays that much more special, like the Polizzotto's at 1145 84th St. just across the street from Lucy, who have a custom-designed Toy Land-themed display. It was commissioned by the late Alfred Polizzotto during his initial fight with cancer 26 years ago.
Mechanized horses weighing a ton each, 29-foot-tall toy soldiers marching in place, and 10-foot-tall lords a'leaping keep the front porch busy. Everything is stored and arrives each year on a flat bed truck.
You used to be able to head up the steps and take your photo with the two-story tall Santa, which the Polizzotto's would hide inside and greet visitors through the speaker. But because the neighborhood has gotten so busy – and tourists to the neighborhood can't be respectful – the gate is now shut off to protect the display.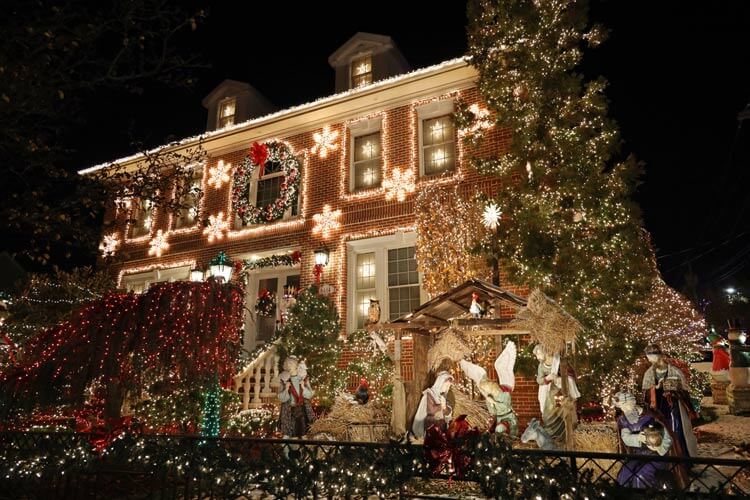 You get plenty of free time on the tour to get off the bus in a total of three different neighborhoods, take to the streets and take all the photos you like. A Slice of Brooklyn guides are out and about on the streets to ensure everyone sees all the best houses, like this one with the life-size nativity set on the lawn.
Some of the Dyker Heights houses even got so famous, they've appeared on tv and in commercials. The very house with the life-size nativity is known as the Star Wars house simply because it was the setting for Spike TV's "The Empire is Comin' to Town" holiday commercial promoting a Star Wars holiday marathon. You won't see the commercial's famous Stormtroopers at the house, but the decorations that appeared in the commercial are still there.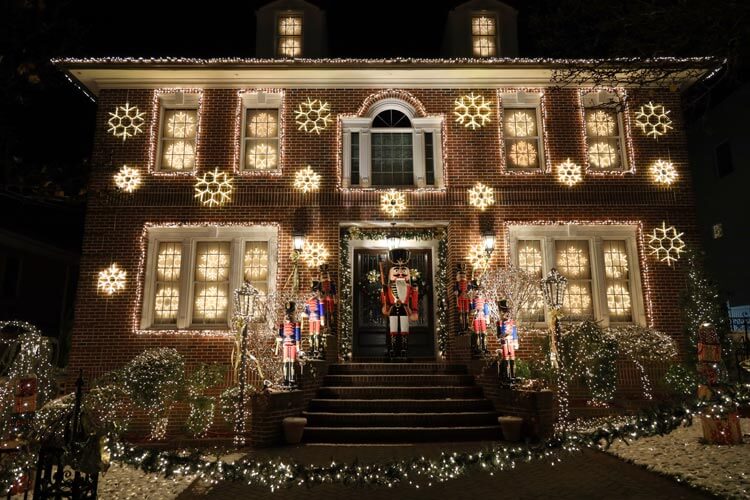 While all of the houses are private-owned homes of very real Brooklynites, not every home is decorated by its' owners. It's sort of like an unspoken code that if you buy a home in the neighborhood, you'll get in to the spirit of Dyker Heights and decorate. It's a ton of work though, with some homes starting the decorating process as early as August.
It's not too surprising that there are professional Christmas decorating companies you can hire to take care of the daunting task for you. B&R Christmas Decorators is one of the main companies providing this service, and you'll easily be able to tell which houses they've done up by the sign on the lawn.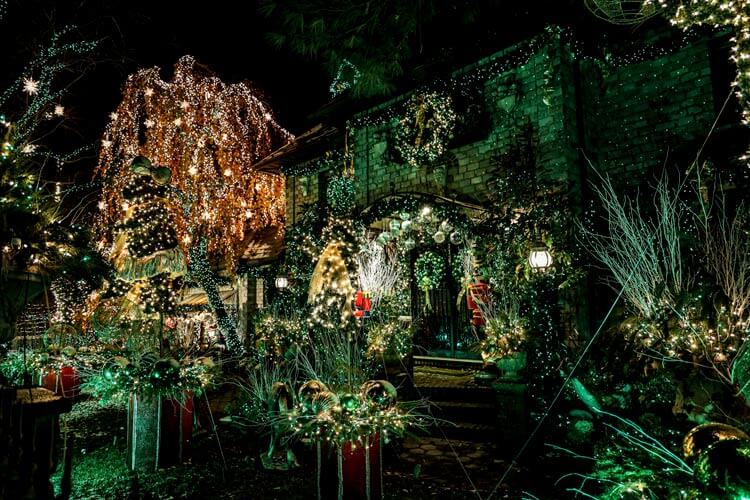 B&R Christmas Decorators' owner, James Bonavito, even lives in the Dyker Heights neighborhood. His house is the most elegant of any B&R decorated house. The house is done up all in green, red and gold lights, with life size toy soldiers, deer and Christmas baubles everywhere.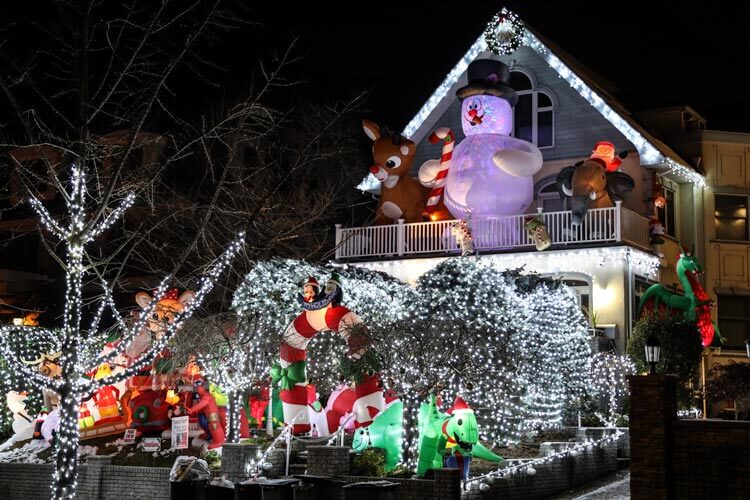 With the Christmas decorator companies doing up a lot of houses in the neighborhood, some of the houses are very similar to one another. But there's always the odd-man-out in the mix, like Stephen Brimigion's eclectic house with its collection of larger-than-life holiday inflatables adorning every available inch of space. He uses his inflatables as a way to raise money for Community Mayors, a non-profit that works to better the lives of children with disabilities.
There definitely weren't nearly as many Christmas inflatables back in 2014 when we'd last toured Dyker Heights Christmas lights. The owners change things up and make their displays bigger year after year.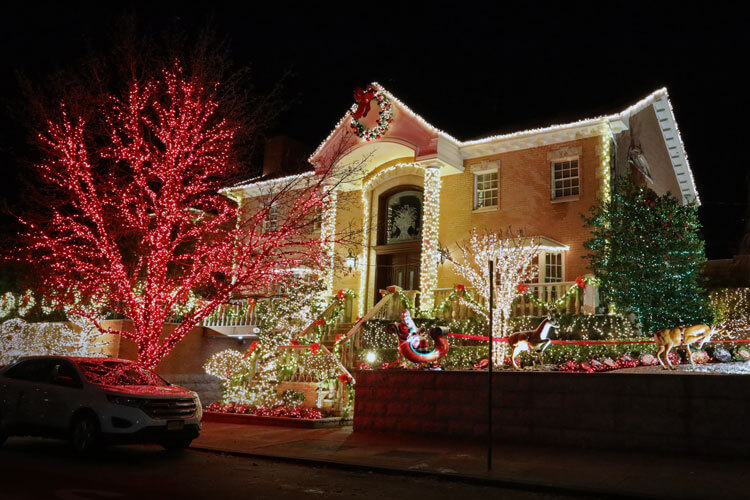 Dozens of Dyker Heights houses get in the holiday spirit, but they're not the only ones lighting up their Brooklyn neighborhoods. I was asked to keep the location of the other two neighborhoods we visited a secret. One neighborhood you actually visit first as a taster of what's to come in Dyker Heights.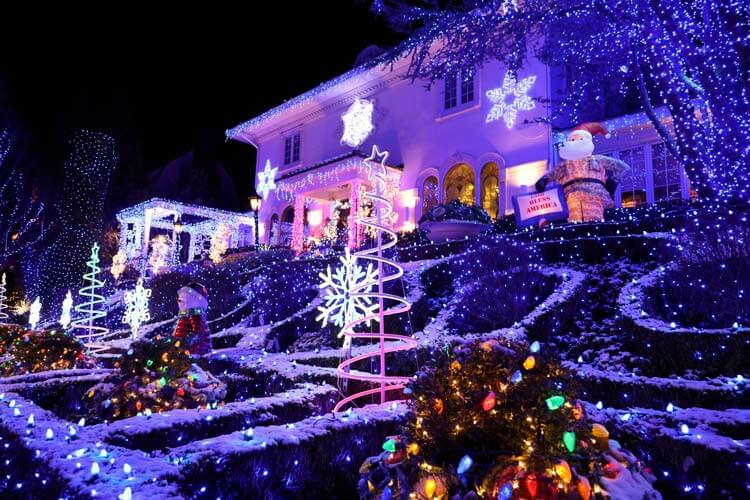 Only the most in-the-know Brooklynites know about these amazing houses, like the "Blue Christmas House" decorated by an Italian-American who married a Jewish woman.
At the Blue Christmas House, be sure to also be a bit of voyeur and peer in the windows. You'll find there's something unique about their Christmas tree – it hangs upside down!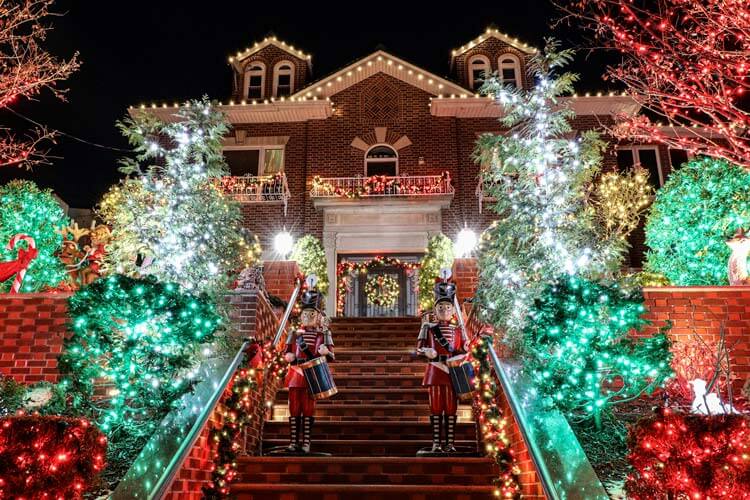 Another house is spectacularly decorated, but our guides tell us it's merely an appetizer for what's coming in Dyker Heights. That may be, but we thought it was gorgeous with toy soldiers beating their drums and greeting visitors.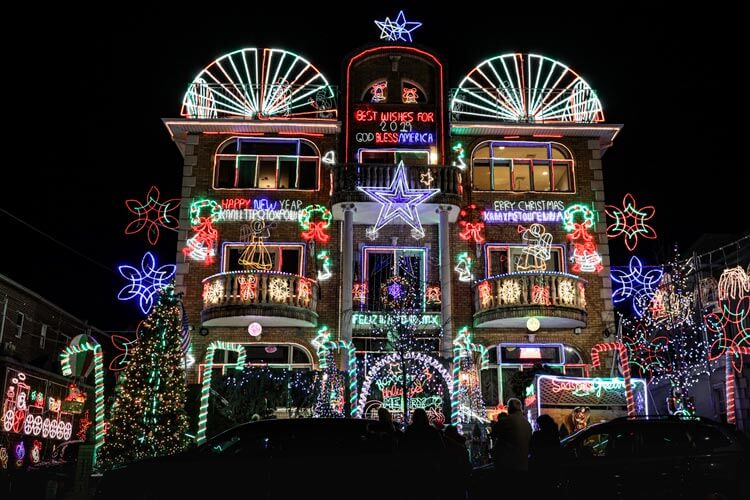 Our final Christmas lights stop was just one house that does it up for the entire neighborhood, known as Sam the Greek's house. Sam puts up more than 295,000 lights and even though he's in his seventies, he puts up all his lights himself. It's truly a spectacle worth going out of the way to see!
Back on the bus, we're entertained by our guides, Christmas music and some videos. There's a reel of clips from Christmas classics that we watch on the approximately 30 minute drive back in to Manhattan. There's also a preview video of what you'll see on the tour, along with interviews with Lucy Spata and celebs like Jimmy Fallon and Conan O'Brien touring the neighborhood on the way out to Brooklyn.
The tour is totally worth it. The closest subway stop to Lucy Spata's house in Dyker Heights is over a mile away and requires some walking uphill, so A Slice of Brooklyn's Christmas Lights Tour is an excellent way to see the lights. Plus, they take you to two other neighborhoods that only local Brooklynites know about. And the guides themselves all live in Brooklyn. You couldn't be in better or more knowledgeable hands.
Know Before You Go
The
Christmas Lights Tour
is nightly at 6pm, 7pm and 8pm from December 1 – December 31, except for Christmas Eve and Christmas Day. The tour lasts about 3 1/2 hours and departs/returns near Union Square in Manhattan.
Dress warm and be sure to bring a hat and gloves. You'll be outside walking for around 30 minutes in Dyker Heights and 10 minutes in each of the other neighborhoods visited. You're also welcome to bring a hot beverage in a thermos if you like.
Shop This Post
We were guests of A Slice of Brooklyn for the Dyker Heights Christmas Lights Tour in order to bring you this story. However, Luxe Adventure Traveler maintains full editorial control of the content published on this site. As always, all thoughts, opinions, and enthusiasm for travel are entirely our own. This article contains affiliate links. When you shop on Amazon or book on Viator through our affiliate partner sites, we earn a small commission at no additional cost to you.