There's not too much I miss about America and over the nearly nine years we've been living in Europe, the list has gotten shorter and shorter. I have to admit, though, that each year when Thanksgiving rolls around, I do miss the massive Christmas lights displays. Sure, Europe has Christmas Markets that no doubt put you in the holiday spirit, but Italy very much celebrates Christmas in the traditional way of honoring the birth of Christ. Say what you will, but I miss the commercialization of the holiday! So when I heard about the Dyker Heights Christmas Lights Tour that takes you to some of the most outrageous and biggest Christmas light displays in all of America, I just had to journey across the Atlantic.
No, I'm not talking about the dazzling 76-foot tall tree at Rockefeller Center or the dancing snowflakes that adorn the facade of Saks Fifth Avenue each holiday season. Some of America's best Christmas light displays are in Brooklyn. Dyker Heights to be exact, which transforms into Dyker Lights each December.
It was Brooklynite Lucy Spata, at 1152 84th Street that started the tradition 29 years ago. It was her parents that decorated their house with just a handful of ornaments and Lucy has been adding to the collection and personally putting up tens of thousands of lights each year ever since. Her house evoked a "Holy shit!" from me as we approached!
Lucy's neighbors didn't always love the display that turns on each Thanksgiving and lights up the neighborhood until Epiphany on January 6. She simply told them to move. Well, they either moved or embraced their neighborhood's new found Christmas celebritydom because it's now an unspoken competition to out decorate your neighbor. Lucy's house is still the biggest and best display, but the heart of Dyker Heights — 12th Avenue between 82nd and 85th streets, and 84th Street between 10th and 13th avenues — is truly winter wonderland.
There's a lot to take in. Our team of Christmas lights guides from A Slice of Brooklyn took to the neighborhood with us to make sure we didn't miss some of their favorite details on the over-the-top and upwards of $30,000 Christmas displays.
They share details that just made the displays that much more special, like the Polizzottos just across the street from Lucy, who have a custom-designed Toyland-themed display. It was commissioned by the late Alfred Polizzotto during his initial fight with cancer 26 years ago. Mechanized horses weighing a ton each, 29-foot-tall toy soldiers marching in place, and 10-foot-tall lords a'leaping keep the front porch busy. Head up the steps and take your photo with the two-story tall Santa!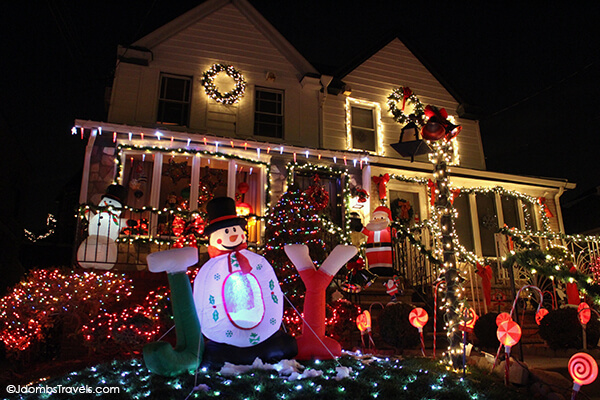 Dozens of Dyker Heights houses get in the holiday spirit, but they're not the only ones lighting up their Brooklyn neighborhoods. I was asked to keep the location of the other two neighborhoods we visited a secret. Only the most in-the-know Brooklynites know about these amazing houses, like the "Blue House" decorated by an Italian-American who married a Jewish woman.
Our final Christmas lights stop was just one house that does it up for the entire neighborhood. 295,000 lights that dance in sync with Trans-Siberian Orchestra's rock-opera Christmas tunes. It was so amazing, a picture just wouldn't do it just, so check out this short video of the dancing lights I took!
The closest subway stop to Lucy Spata's house in Dyker Heights is over a mile away, so A Slice of Brooklyn's Christmas Lights Tour is an excellent way to see the lights. Plus, they take you to two other neighborhoods and the guides themselves all live in Brooklyn. You couldn't be in better or more knowledgeable hands. And no Christmas Lights and Cannoli Tour would be complete without the best cannoli in all of Brooklyn and a steaming cup of hot chocolate to wash it down before boarding the bus back to Manhattan! *Note that this tour no longer includes a cannoli or hot chocolate.
Know Before You Go
The Christmas Lights Tour is nightly at 7pm from December 1 – December 31, except for Christmas Eve and Christmas Day. The tour lasts about 3 1/2 hours and departs/returns to Union Square in Manhattan.
The price is $50 per adult and $40 per child under 12 years of age.
Dress warm and be sure to bring a hat and gloves. You'll be outside walking for around 30 minutes in Dyker Heights and 10 minutes in each of the other neighborhoods.
We were guests of A Slice of Brooklyn for the Dyker Heights Christmas Lights Tour in order to bring you this story. As always, all opinions are entirely our own and I assure you this is a not-to-miss tour if visiting NYC during the holidays!