Venice Carnival is a centuries old tradition and one of the world's most famous carnivals. The Carnival of Venice also became our own tradition during the seven years that we called Italy home, masquerading each year in La Serenissima with the locals and tourists alike. The costumes, events and parties over the 10 days leading up to Fat Tuesday make Venice Carnival one of the biggest events in Italy, but it's the masks – the quintessential feature – that makes the Carnival of Venice unique from Italy's other famous carnivals.
The tradition of the mask started in the 13th century when Venetians would hold celebrations and parties from December 26th until the start of Lent and wear elaborate masks to conceal their identity. These parties were the only time when the lower and upper classes mingled together. Aristocrats and peasants, disguised by their masks, played out their fantasies together. They indulged in illicit activities like gambling, clandestine affairs, political assassination, and dancing and partying the night away.
Early Venetian masks were quite simple, and after Venice Carnival was abolished for nearly two centuries, served a very practical purpose. Women were not allowed to go to the theater without wearing a bauta to cover their faces. Nowadays, Venetian masks are a much more elaborate affair. They are made with the application of gesso, a white paint mixture, and gold leaf and are all hand-painted using natural feathers and gems to decorate. There are a few typically Venetian masks.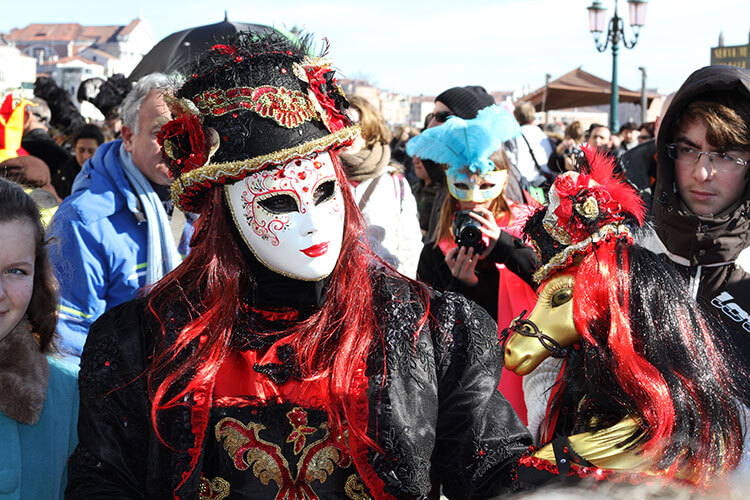 Typical Venetian Carnival Masks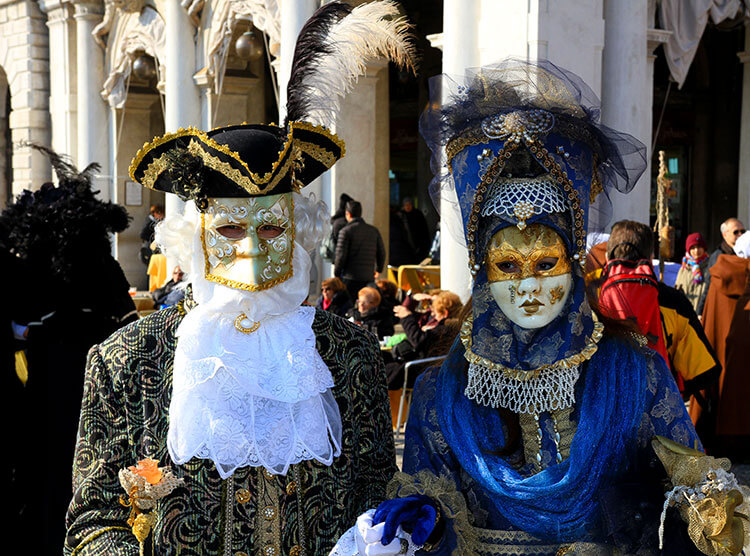 Bauta
Considered to be the traditional Venetian mask, bauta comes from the German "behüten", meaning to protect. It has always been a popular mask because it is mostly covers the facial features, which allowed people to conceal both their identity and social class. The bauta also allows the wearer to easily eat and drink, which is probably another reason why it has long been the popular Venetian mask style. It is always worn with the black hat with three tips (tricorno).
The bauta is also popular as a souvenir, because the Venetian mask can stand upright on its own thanks to its shape. It's a great choice if you want to display a Venetian mask on a table or in a cabinet at home.
Moretta
Invented in France, the moretta mask was quickly adopted by Venetian women because of the way it accentuated their feminine features. The moretta mask was actually first worn by women visiting convents and secured by clenching a button between their teeth. This ensured their vow of silence in the convent. Modern moretta masks are much more comfortable and simply tie on.
Volto
The volto mask is also called the larva mask, meaning ghost-like appearance since the volto mask is always white. It was quite comfortable to wear and allowed the wearer to eat and drink easily, since the original volto mask did not cover the entire face like today's modern versions. It was worn by both men and women with a black cloak and the black tricorno hat.
If you want to purchase a Venetian mask as a souvenir and you want one that you can hang on a wall, the volto mask is a great selection. The shape easily lets the mask hang flat against a wall.
Columbina
One of the first actresses in the Commedia dell'arte felt her face was much to beautiful to cover completely, and so instead wore a half-mask especially designed for her. The mask type quickly became popular and nowadays is highly decorated with gold, silver, crystal, and feathers.
The columbina mask is a very popular choice for wearing to masquerade balls since the shape allows you to eat and drink easily without removing the mask.
Medico della Peste (Plague Doctor)
The birdlike mask actually was not worn by carnival goers; instead it originated in the 17th century by French physician Charles de Lorme and was worn by plague doctors to protect them from airborne diseases. Carnival goers eventually started wearing a decorated version as a memento mori, a remembrance of their mortality.