Postcard perfect turquoise lagoons, sugary white sand beaches, dreamy over-water bungalows, underwater worlds as colorful as aquariums, and world-class resorts perfect for lazing the days away. A Maldives honeymoon is the stuff of honeymoon dreams. An idyllic romantic escape, the Maldives is an ideal destination for making honeymoon memories to last your lifetime together.
But where do you even begin to plan a Maldives honeymoon? From practical information like the best time of year to visit the Maldives to the romantic things to do in the Maldives, follow this Maldives honeymoon guide to get started.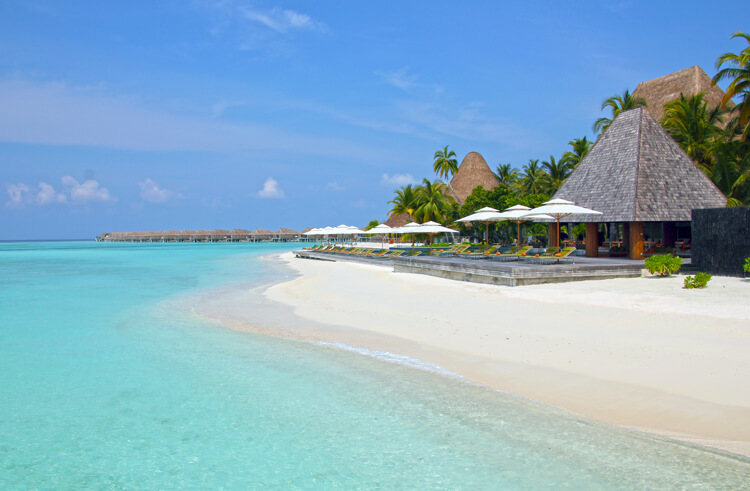 Best Time to Visit the Maldives for a Honeymoon
While the Maldives is known for it's year-round 80°F weather, 80% humidity and 80°F water temperature, it does have a wet and dry season. The best time to visit the Maldives is from November to April, which is the "dry" season. There is the least amount of rainfall during this period, making for more of the bluebird days that light up the turquoise waters and make the sugar-sand glisten.
December to March is the high season in the Maldives, and the time of year honeymoon couples prefer to visit. So if you are planning to visit the Maldives during the peak season, be sure to plan and book your hotel and activities well in advance.
How Much Time do you Need in the Maldives?
One of the biggest questions about a destination like the Maldives, where visitors mainly spend time on a tiny island occupied by one resort, is will we get bored? This is a huge misconception about the Maldives!
While tourists usually prefer to stay at a Maldives resort for 4 – 5 days for a vacation, honeymoon couples generally prefer to stay for 7 days.
The Maldives is definitely a beach destination and if you're in to diving, snorkeling, swimming, paddle boarding, kayaking, sailing and relaxing on the beach, then you absolutely will not get bored. Resorts typically also offer activities like cooking classes, movie nights, spas and sometimes even sports like tennis courts to keep active guests entertained. Honeymoon couples will also want to plan some relaxation time to experience quality time together in this picturesque landscape.
Budgeting for a Maldives Honeymoon
The cost for a Maldives honeymoon can vary greatly depending on the Maldives resort you choose. Beyond the cost per night, reaching Maldives resorts only accessible by sea plane is more costly than getting to those that offer a boat transfer. You'll also want to consider if the resort offers half-board (typically breakfast and dinner included), full board or if only certain dining options included. Also look at what activities are included and factor in the activities at an additional cost that you'd like to do.
We definitely recommend splurging on the resort itself, activities and dining experiences like underwater restaurants. Where you can save is by flying economy to reach the Maldives. Search for cheap flights to the Maldives to save on the total budget for a Maldives honeymoon trip.
Another way to save a bit on the resorts themselves is choosing to visit during shoulder season, or even during low season (considered the rainy season from May to November). Though there are never any guarantees when it comes to weather, visiting during the shoulder season in November or April can give you perfectly sunny days and rates are typically a bit lower during these periods.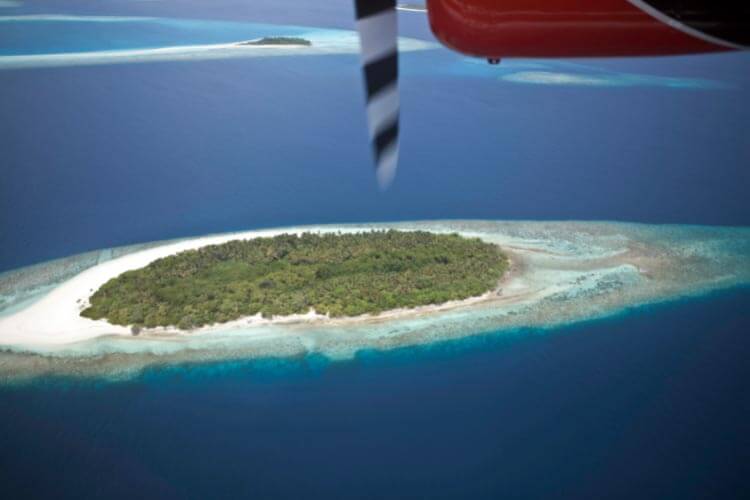 How to Get to the Maldives
All flights to Maldives arrive at Male International Airport (MLE). From your arrival in the Male, transfers to Maldives resorts are either by sea plane or speedboat / ferry.
Prior to 2009, tourists to the Maldives were only able to visit at the private island resorts and on Male or on boats like a yacht or live aboard. Since 2009, some local islands have been opened up to visitors and have hotels. While there are public ferries to get around to the local islands, the only option to travel to private island resorts is by sea plane or speedboat. The resort will book the transfers for you, as they coordinate the transfers with your flight arrival and departure.
Some resorts do offer both options of sea plane or speedboat. If you have the option, we can highly recommend splurging on at least one sea plane flight transfer. The sea plane offers incredible views you just won't get from the speedboat transfer, making it worth every penny.
Maldives Visa
The Maldives issues tourist visas to ALL nationalities upon arrival in the Maldives. The visa is valid for up to a 30-day stay with just a few requirements:
Your passport must have at least 1-month validity from the date of your expected departure in the Maldives
A confirmed pre-booking at a registered tourist facility is a prerequisite for the visa
Confirmed onward/return tickets to home country or to country of residence
As always, confirm entry requirements for your nationality prior to your trip.
What to Wear in the Maldives
Keep in mind that the Maldives is a Muslim country, therefor you should be respectful. Women should dress conservatively and ensure that both shoulders and knees are covered up when visiting local islands, including Male.
On the private island resorts you can wear whatever you want. Just be sure to review any resort dress code policies and pack accordingly. But mainly, you'll be packing beachwear for the daytime and some nicer outfits like summer dresses with either a light sweater or a pashmina for the evening time for women and pants with polo shirts or possibly even a dress shirt for men. And don't forget a packable sunhat!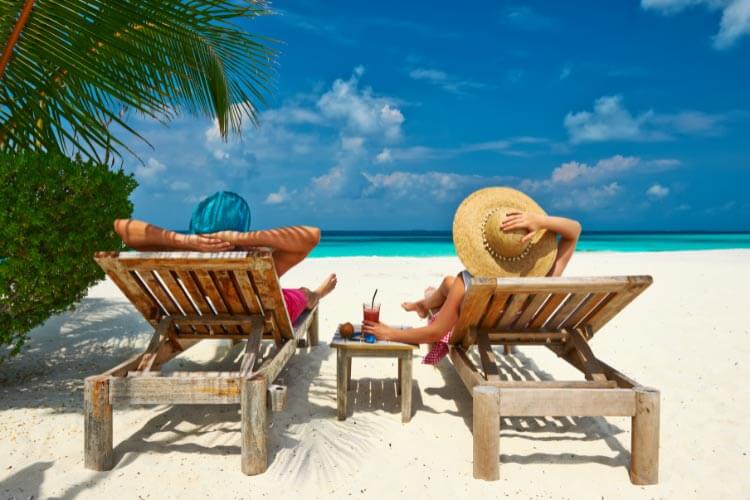 Things to Do in the Maldives
There's truly no shortage of things to do in the Maldives. Maldives resorts offer wide ranges of activities to keep guests entertained during your stay. Just a few ideas for some of the activities you won't want to miss out on while visiting the Maldives:
Snorkeling and/or Scuba Diving
The Maldives is a world-class snorkeling and diving destination thanks to the clear, warm and nutrient-rich waters. The atolls provide perfect homes for excellent coral reefs and there's an abundance of marine life.
Inside the lagoons, the shallower waters are home to incredible bright coral reef gardens teeming with colorful reef fish. The channels between the islands are full of plankton and nutrients, which attract an array of marine life including both eagle rays and manta rays, barracuda, both white tip and gray reef sharks and, if you're lucky, even the rare whale shark.
Spa and Couple's Massage
Maldives resorts are home to some of the best spa experiences in the world. Honeymoon couples will want to schedule some spa time for rejuvenating from jet lag. And no honeymoon is complete without a romantic couple's massage.
Candlelight Dinner on Beach
Some beach resorts offer the romantic option of enjoying a candlelight dinner on a secluded part of a beach to honeymoon couples. You'll love the experience of dining under the night sky, watching the reflections of stars on the seawater and sharing a private moment with your partner.
Whale Submarine Ride
Adventurous tourists who aren't divers will love to take a whale submarine tour from Male, which can take guests 30 – 50 meters under the sea to watch coral reefs. You can also dine in this submarine, which serves as a deep sea restaurant with a buffet.
Underwater Resort and Restaurant
A memorable experience is dining beneath the sea in one of the Maldives' underwater restaurants. There are currently five underwater restaurants in the Maldives where people enjoy the experience of dining below the sea: Ithaa Undersea Restaurant, Subsix, Minus Six Meters, SEA, and 5.8 Undersea Restaurant.
While both a lunch and dinner service is usually offered, we personally preferred the lunchtime experience. You do see quite a bit more of the fish during the daylight hours.
Wave Surfing in the Maldives
The best time for wave surfing in the Maldives is from March to November. Male Atoll is the most popular surfing area, with a few famous surfing points. However, honeymoon couples also prefer Central Atoll and South Atoll for surfing that is less crowded.
Luxury Cruising
Another option for a Maldives honeymoon is booking a luxury cruise to island hop around various islands of the Maldives. A cruise can be booked for 4 – 5 days, during which travelers enjoy the scenic beauty while relaxing on the deck.
Helicopter Tour
Tourists can charter a helicopter to have an aerial view of all the atolls of the Maldives, mainly of South Male Atoll. A flightseeing tour offerings incredible birds-eye views over the islands and atolls of the Maldives.
Maldives Cell Phone and Data
Visitors can buy a SIM card at an inexpensive price while visiting the Maldives for access to an internet connection beyond the resort. You can get a SIM with a "tourist package" right at Male International Airport for around $30 if you just absolutely need to be connected. Your resort likely offers free Wi-Fi connections, and if you're on your honeymoon you may feel that connectivity to the rest of the world is more than enough.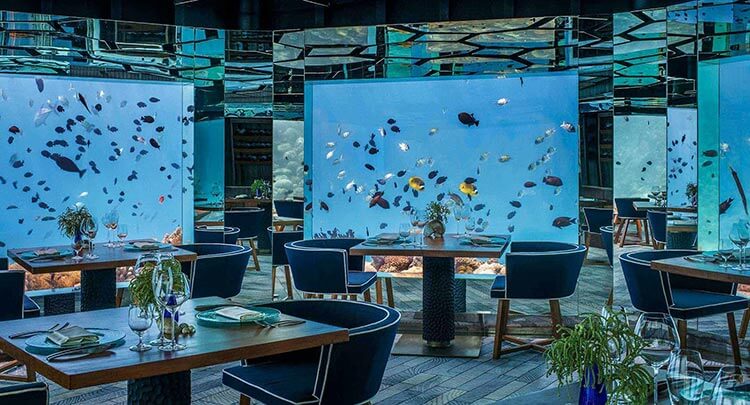 Dining in the Maldives
Since the Maldives is surrounded by water, fish and seafood are staples of the cuisine. Some dishes you can look forward to tasty and are indicative of the local cuisine are fish curry, Maldives live lobster, Garudhiya (fish soup), reef fish cutlet, Rihaakuru (thick fish sauce), and Kulhi Boakibaa (tuna fish cake). Vegetarians can savor Boshi mashuni (banana flower salad), Maldivian vegetable curry, Saagu bondibai (sago pudding), and Aluvi boakibaa (sweet coconut and cassava cake).
If you're staying on Male, you might even like to book a Maldivian cooking class to learn to make some of the curry and dishes. We love cooking classes and one of the best souvenirs is learning a local recipe to make at home.
While staying at private island resorts, you'll exclusively dine at the resort's restaurants. Typically resorts offer at least several choices and change the menus regularly to offer guests variety.
Accommodation in the Maldives
Choosing your hotel or resort is one of the most important aspects of planning a Maldives honeymoon. Unless you are staying on a live aboard for a diving trip or on one of the local islands, the resort you choose will be its very own private island or atoll. You want to choose the right one that fits you as a couple and your travel style. Look not only at the accommodations themselves, but the activities and dining options offered. You'll be spending all your time at the resort, so you want the best one for your own travel style.
A few Maldives resorts we can recommend: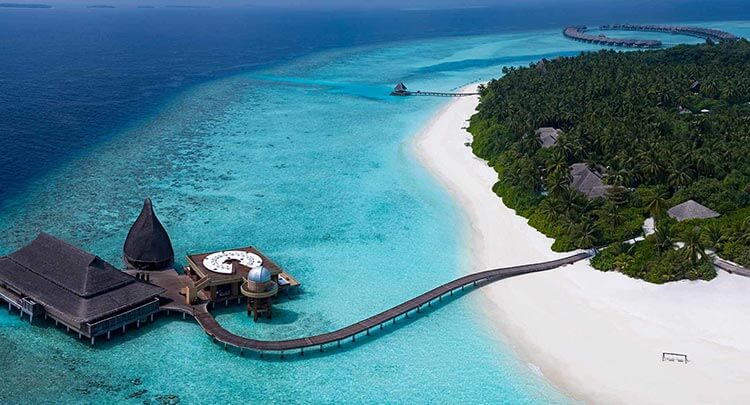 Anantara Kihavah Maldives
Situated on the Baa Atoll, a UNESCO Biosphere Reserve, Anantara Kihavah Maldives Villas is the epitome of Maldives luxury. Choose from their over-water villas with glass bottom baths and steps leading right into the Indian Ocean or the beach villas nestled along the stretch of white sand. You'll have a dedicated butler during your stay, dine at some of the finest restaurants in the Maldives and even star-gaze in luxury at the first and only observatory in the Maldives.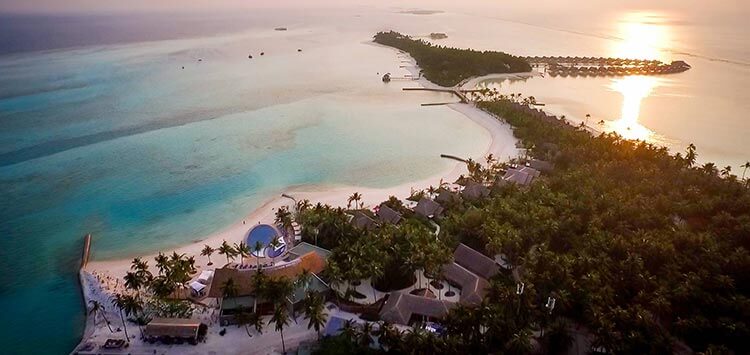 Niyama Private Islands Maldives
Niyama Private Islands Maldives is actually spread across two islands in the remote Dhaalu Atoll. Aptly named "Play" and "Chill", Niyama Private Islands Maldives is a bit like the movie Couple's Retreat in real life. Except, island hopping between "Play" and "Chill" is definitely encouraged. Treetop experiences, water activities like surfing and underwater rocket and zumba await on "Play". Then "Chill" offers the ultimate relaxation with spa treatments and quiet over water villas.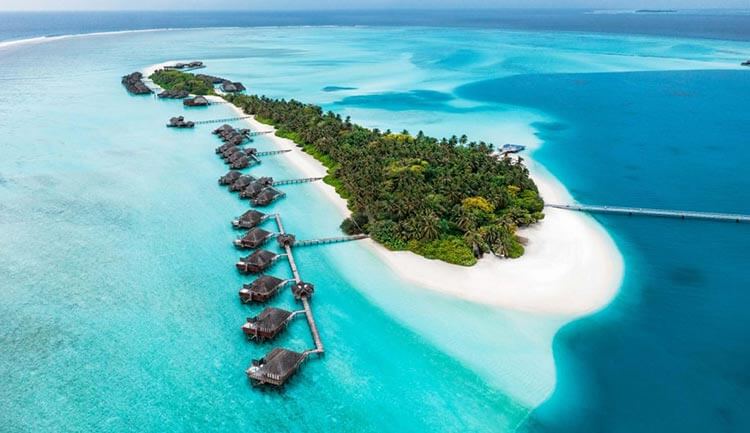 Conrad Maldives Rangali Island
Long before Instagram even existed, it was a photo of the Conrad Maldives Rangali Island that put the Maldives on my radar in the first place. I can't leave it off the list, and it is a gorgeous spot in the Maldives for honeymooners. Home to the world's very first underwater restaurant, a plethora of activities and dreamy over-water bungalows, honeymooners can't go wrong choosing the Conrad Maldives.