There are few things that actually worth waking up before the sunrise for – at least for this night owl. One of those things I'll never hesitate setting a 4:30am alarm for is a sunrise hot air balloon flight, especially when gently gliding over the châteaux-dotted vineyards of the Bordeaux wine region. There's nothing like taking the vineyards in from above, which is why hot air ballooning in Saint-Émilion should definitely be on your Bordeaux bucket list.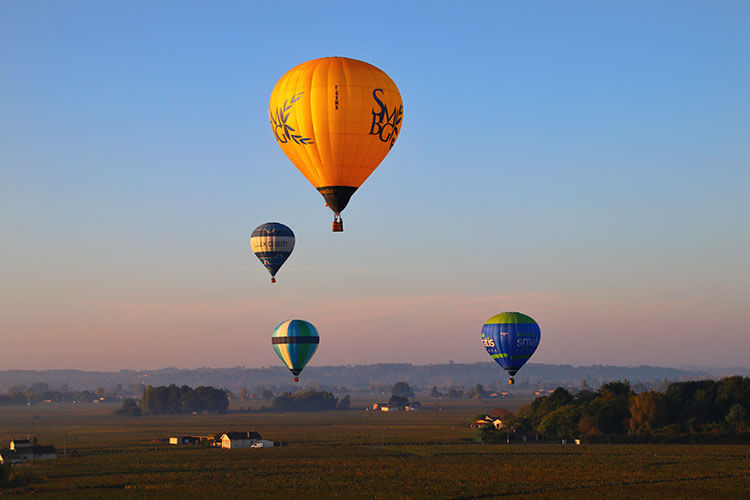 Bordeaux is one of France's most celebrated wine regions. With more than 7000 châteaux and more than 120,000 hectares of vineyards stretching across the Bordeaux wine region, you're hard pressed to find a spot of land not covered in vines. That's what makes hot air ballooning in Bordeaux so special – there's only one company that can do it.
Thanks to La Ferme du Ciel's smaller hot air balloons, hot air ballooning over Bordeaux is always an intimate experience. Unlike other places like Bagan, Napa Valley and Marrakech where we've ballooned previously in large baskets with bigger groups, the basket can only accommodate 2-4 people.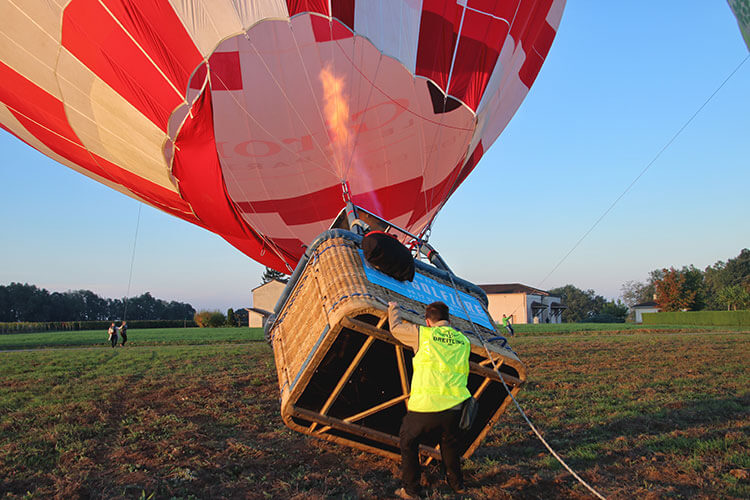 The team from La Ferme du Ciel picks up passengers bright and early. At the balloon launch site, you'll watch as the team unpacks the balloon and basket. The balloon is filled with air using fans, then the burners shoot bursts of hot air into the balloon. Before long, you're ready to climb in to the basket and take off.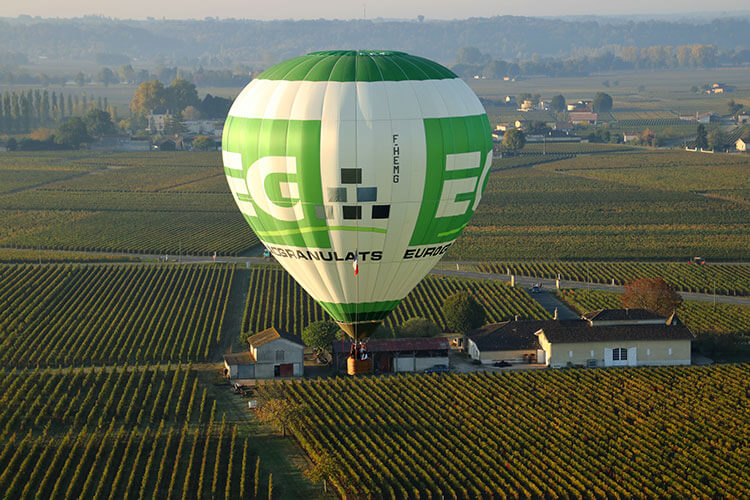 The smaller balloons allow Le Ferme du Ciel to take off from some of the most beautiful châteaux in Saint-Émilion. The pilot points out the various châteaux below as you slowly drift over the surrounding vineyards and forests during the one hour flight. Depending on the winds, you might be lucky enough to float right over the medieval village of Saint-Émilion.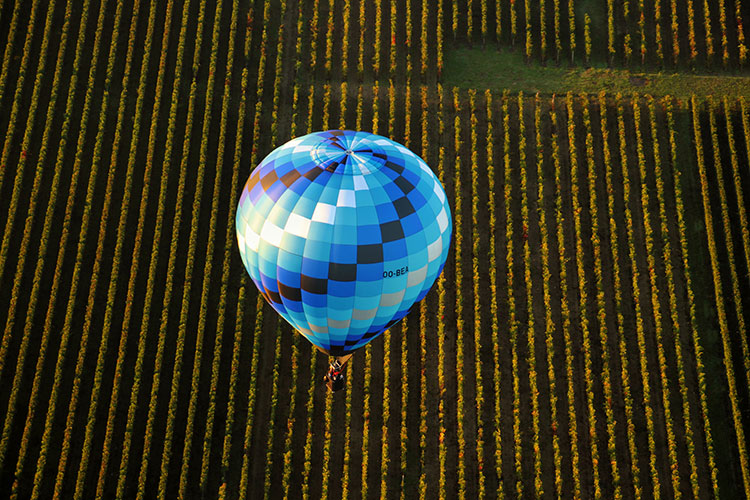 But no matter which direction the wind carries you, you'll be awestruck with the sight of the vineyards bathed in soft golden morning light and the mirror-like surface of the Dordogne River reflecting pinks and yellows.
What goes up must eventually come down. After landing, the La Ferme du Ciel balloon chase team has a picnic waiting for you with local organic specialties from the South West of France and a Saint-Émilion Grand Cru to enjoy. You can savor the picnic in the vineyards as the team deflates and packs up the balloon.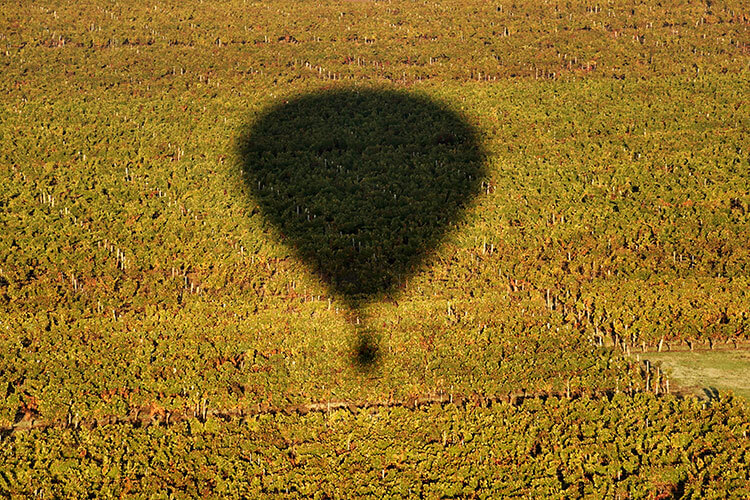 For a really unique wine tasting experience in Bordeaux, you also have the option to book an exclusive Grand Cru wine tasting hot air balloon flight. A châteaux owner joins you for the flight and presents a wine tasting of their château's wines right in the hot air balloon. This flight also concludes with a picnic while the balloon team packs up the balloon.
Montgolfiades de Saint-Émilion
Every October more than a dozen hot air balloons fill the sky over Saint-Émilion for several days during the Montgolfiades de Saint-Émilion. October is an ideal time for the festival since the grape harvest has taken place and there are more parcels of land to accommodate the hot air balloons taking off and landing. The wind conditions are also typically ideal for hot air ballooning in Bordeaux at this time of year.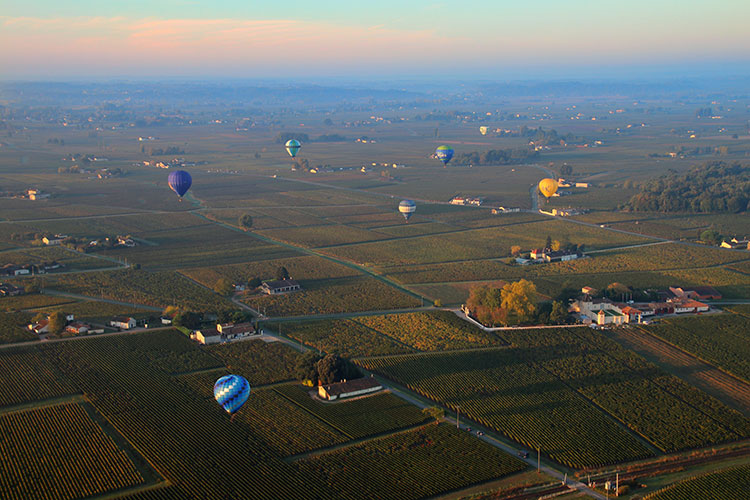 Balloon teams come from all across France and Europe to participate in the 3-day long hot air balloon festival. Morning and afternoon flights are offered in the participating balloons each day of the festival, giving passengers a bird's eye view of a truly unique spectacle.
In addition to the hot air balloon flights over Saint-Émilion, the program includes various workshops like kite flying, wine and food tastings, and a balloon inflation to allow adults and children alike to appreciate the balloons.
With a sky filled with more than a dozen hot air balloons, the Saint-Émilion hot air balloon festival is one of the most beautiful times to take a balloon flight over Bordeaux.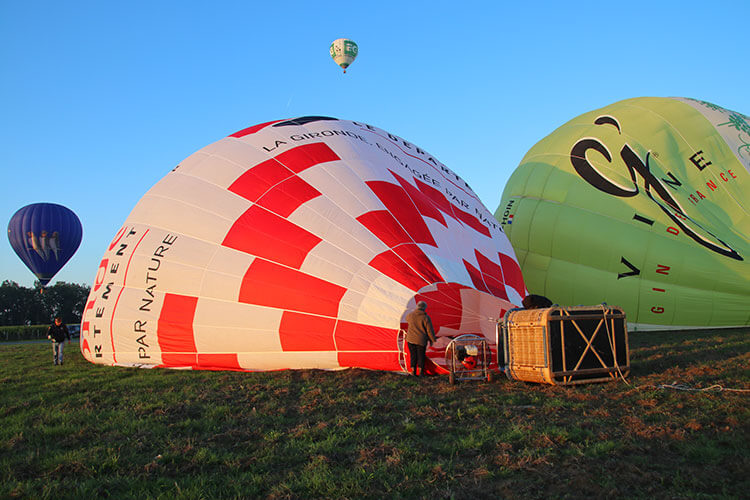 Know Before You Go
Getting There
Booking
Les Montgolfiades de Saint-Émilion
Saint-Émilion is easily reached from Bordeaux Center by
Oui.SNCF train
.
La Ferme du Ciel will pick up passengers from any hotel or accommodation within 20 kilometers of Saint-Émilion.
La Ferme du Ciel
offers balloon flights over the vineyards of Saint-Émilion year round (weather permitting). If your group is larger than 4 people, they can accommodate you with multiple balloons for the flight. They will pick you up within 20 kilometers of Saint-Émilion.
La Ferme du Ciel also offers a B&B balloon experience, with accommodation in their farmhouse accommodation in Gironde, located not far from Saint-Émilion.
Les Montgolfiades de Saint-Émilion takes place every October. Balloon discovery flights during the hot air balloon festival can be booked through La Ferme du Ciel, who organizes the annual event.

Our balloon flight during Les Montgolfiades de Saint-Émilion was as an invited member of the press in partnership with La Ferme du Ciel in order to bring you this story. However, Luxe Adventure Traveler maintains full editorial control of the content published on this site. As always, all thoughts, opinions, and enthusiasm for travel are entirely our own.