I held my breath as the balloon lifted off the ground. In the silence, the first beams of sunlight began to peek over the top of the snow-capped High Atlas Mountains. It was breathtaking and I couldn't quite believe we were actually hot air ballooning in Marrakech.
It almost didn't happen.
If you know our history with hot air ballooning, you know we have terrible luck. Even the hot air balloon we were married in stayed ground because it was too windy on our wedding day.
Thankfully, we had the smarts to schedule our hot air balloon flight for our very first morning in Marrakech. We figured that we had two more mornings that it could potentially be rescheduled if it did get cancelled. And that's exactly what happened. We were disappointed when we got a call the night before that the winds were too strong and we wouldn't be able to fly in the morning.
As the winds kicked up so much the next night, and housekeeping even put away the cushions from our pool loungers in our villa, we were convinced that our hot air balloon over Marrakech would most definitely be cancelled again. But a call to confirm, and we tucked in early for our 5:30am pick-up.
For once, the usually chaotic streets of Marrakech were quiet and we arrived at a small Berber village on the outskirts of the city. Hot tea and croissants were on a table for our small group as we waited for the basket to be unloaded from the truck, the balloon carefully spread across the ground and a fan to fill it with air.
The pilot called all of the women in the group over and with the basket on its side, told us to climb in. Tim and I were the only ones in the group that had ballooning before and we exchanged looks. Though we thought it was odd at first, there is no graceful way to get inside a balloon basket. As the balloon finished inflating, the basket gently stood upright and it was up to all the fellas to hop in.
The take-off was so gentle you wouldn't have even known we left the ground if you didn't look down. Before long we were floating high in the sky, the snow-capped High Atlas Mountains in the distance and just a few other balloons silhouetted against the sunrise.
Our pilot was quite the comedian, entertaining us with his witty jokes as we drifted over tiny villages and watched shepherds herd their flocks across the desert just outside of Marrakech. The unmistakable Koutoubia Mosque's minaret marked the heart of Marrakech in the distance.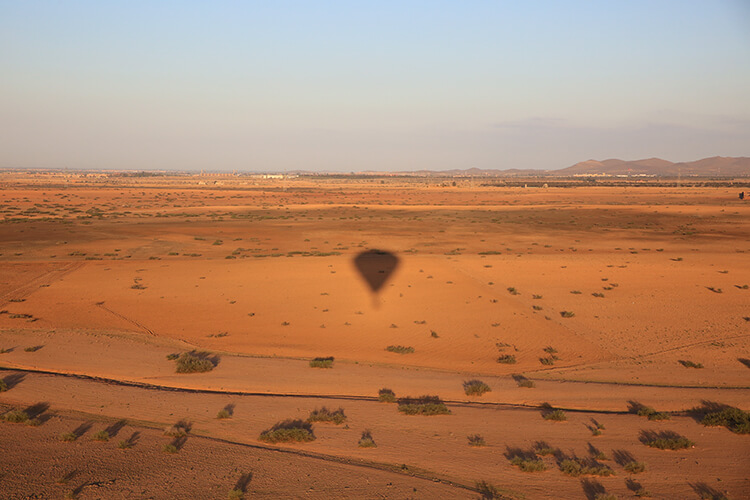 As the sun rose higher in the sky and the red sandstone of the mountains and desert turned shades of red and pink, it was easy to see why Marrakech is nicknamed the Red City.
Though we had actually been up peacefully floating for nearly an hour, I was ready to tear my eyes away from the beauty of it all when we started descending. We'd floated quite a ways since it was still a windy morning and the chase vehicles appeared. It was the best landing we've ever had; the team hooked up a tow rope from the truck and then gently set the basket down. We hardly felt a thing.
Once the team packed up the balloon and basket, we were driven back to the village we had launched from for a proper Berber breakfast. Breads, both sweet and savory, filled the table alongside an assortment of jams, oils and honeys. Steaming glasses of mint tea were poured. We certainly did not leave hungry.
Our hot air ballooning experience ended with a short camel ride in the Palmerie, the largest palm grove in the world with several hundred thousand date palms. Tim and I had enough camel riding when we rode camels out of Wadi Rum in Jordan a few years back, so I was surprised that he decided to go. I was fine skipping the camel ride and snapping photos of the baby camels that were testing out their long legs.
We were so thrilled that our hot air balloon experience got rescheduled because it was truly a bucket list thing to do on our Morocco adventure.
Know Before You Go
Marrakech can be quite cool in the early morning, so dress in layers.
Shop This Post
Our Marrakech Hot Air Balloon Ride was provided by Viator as part of our ongoing Viator Ambassador partnership in order to bring you this story. However, Luxe Adventure Traveler maintains full editorial control of the content published on this site. As always, all thoughts, opinions, and enthusiasm for travel are entirely our own. This article contains affiliate links. When you book on Viator or shop on Amazon
through our affiliate sites, we earn a small commission at no additional cost to you. It just helps us keep things running here at Luxe Adventure Traveler!