I really didn't have a clue how to pack for our trip to Dubai and Abu Dhabi. I had been to the Middle East the year before when we spent 10 days traveling independently around Jordan, but this was different. It was going to be hot. The forecast ranged from high 80s to low 90s during our visit and I wanted to be respectful without sweating to death (though sweating off 5 or 10 pounds would have been okay with me). So here are my tips for how to pack for Dubai:

At the Pool, Beach, or Water Park
Bikinis can be worn at your hotel pool, water parks like Aquaventure at the Atlantis, and even at the beach. But remember, you may need to walk through your hotel lobby to reach the pool or beach, so be sure to pack a coverup. Wrapping a beach towel around you is not sufficient.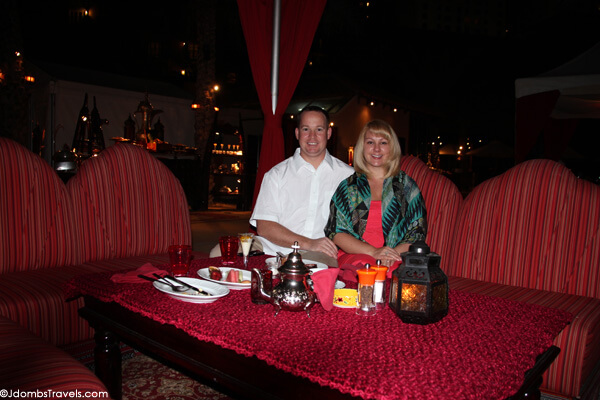 Dining Out
Feel free to dress up! Dubai's residents like to put on their finest and it is acceptable to bare your shoulders when dining out in the evening. Carry a pashmina or scarf that you can drape around your shoulders on the way to and from dinner. Many restaurants keep the air conditioning quite cool to combat the heat outside, so your scarf will come in handy for keeping warm!
At the Malls and Souks
Modest clothing is required for entering the various malls in Dubai and signs on the doors to the malls remind you of that fact. The best rule of thumb is to be covered from your shoulder to your knees. That means no spaghetti straps, tank tops, mini skirts, or shorts. Short sleeves are okay, but it is best to wear at least 3/4 length sleeves.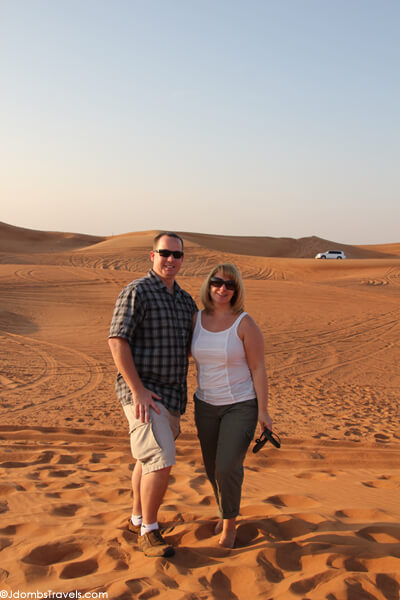 On Desert Safari
The one place it is a-okay to wear shorts and tank tops in Dubai is when you're going on a desert safari. Safari trips generally begin in the afternoon (our pick-up was 3pm) to combat desert heat and show you the stunning sunsets in the Arabian Desert. Temperatures can quickly drop once the sun goes down, so I was quite comfortable in cropped pants, a tank top, and a light 3/4 sleeve cardigan that I brought with me for the evening. Wear flip-flops or sandals. The sand is actually wonderful to walk around barefoot in!
The dress code at mosques open to visitors is strictly enforced. The dress code for women is long pants or skirts, long-sleeve shirts or tops, and hair must be covered with a scarf at all times while on the grounds of the mosque. Bring a scarf with you. If your clothing is deemed inappropriate, the mosque will gladly lend you an abaya (long black gown) to wear during your visit.