A few years ago, my mom and dad send us on an igloo adventure in Slovenia as a Christmas gift. We had such a fantastic time, Tim came home and promptly ordered an igloo building kit from REI. We tried to build our very own igloo once right after getting our kit, but it was a bit too warm, the snow wasn't good for compacting, and we started too late in the day. And the winters in Italy haven't been very snowy ones since; they've been more like an extended autumn morphing into spring. So we were really excited when we were invited to Iglu Dorf by Zermatt Tourimus. Who wouldn't want to spend a night right next to Switzerland's most famous mountain?!
When we arrived in Zermatt, the Matterhorn was already shrouded in clouds. We made our way from the village up the Gornergrat on the highest open-air cogwheel railway in Europe, admiring the stunning views as the sun began to set on the village. We stepped off the train to a white winter wonderland and started the short trek down the hill toward Hotel Riffleberg, where we would meet our guides and others staying the night in the Iglu-Dorf igloo village.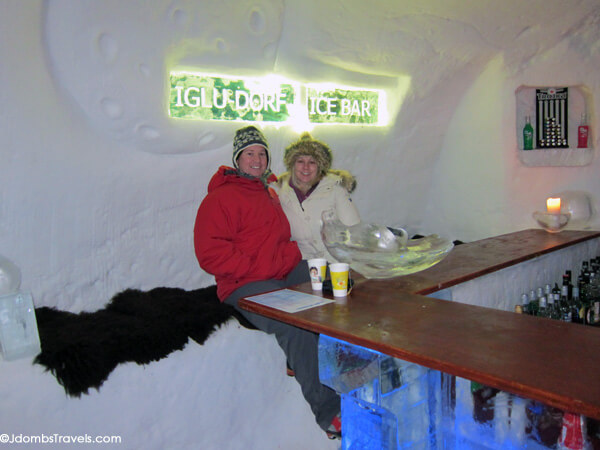 After a briefing and run-down of the night's events, our group excitedly hiked back up the steep hill and hopped back on the train to whisk us up even higher to 2727 meters (8947 feet). The wind swirled snowflakes around us as our group set off on another short downhill hike to Iglu-Dorf. An electric buzz went through our group as we were all welcomed into the snowy enclave with hot mulled wine and popcorn.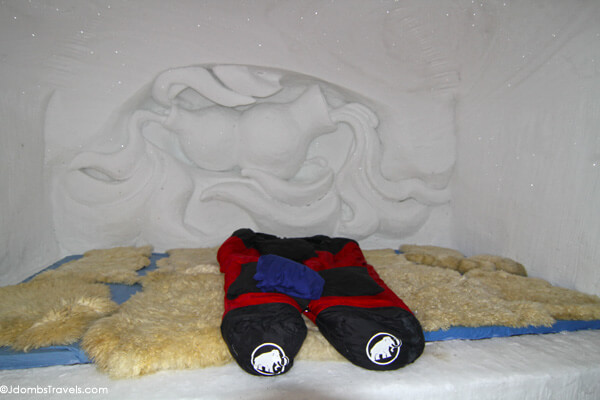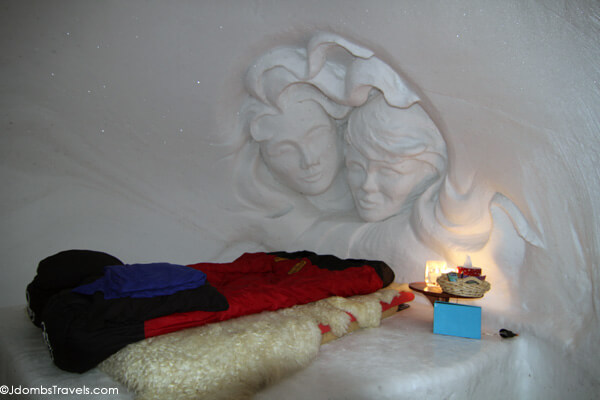 With eyes wide, we followed the guides through the long candle lit tunnels of the igloo village on a tour of the artfully crafted rooms, each one different from the next.
The common room had tables and hot water with a selection of teas was always available to keep hydrated throughout the night. There were also fixing to make a noodle soup to snack on until dinner. The ice bar served a variety of wine and drinks (at an additional charge). The igloo village as two outdoor jacuzzi and everyone got signed up for 30 minute time slots while chatting over snacks and drinks.
Soon a communal dinner of piping hot cheese fondue was served. Tim and I had our fill and our guides invited us to use the jacuzzi early. No way were we turning that offer down! We quickly stripped down and pulled on our bathing suits in the heated changing room. Having forgot to pack flip-flops, I sprinted down the snowy path to hop into the swirling hot water. The jacuzzi was sort of sheltered by a wall of snow, but the wind was picking up and it was an odd sensation to have most of our bodies toasty hot in the bubbling water yet feel an icy blast of tiny snow crystals on our backs and necks. We'd laugh as we both sort of cringed at unwelcome momentary blast of cold.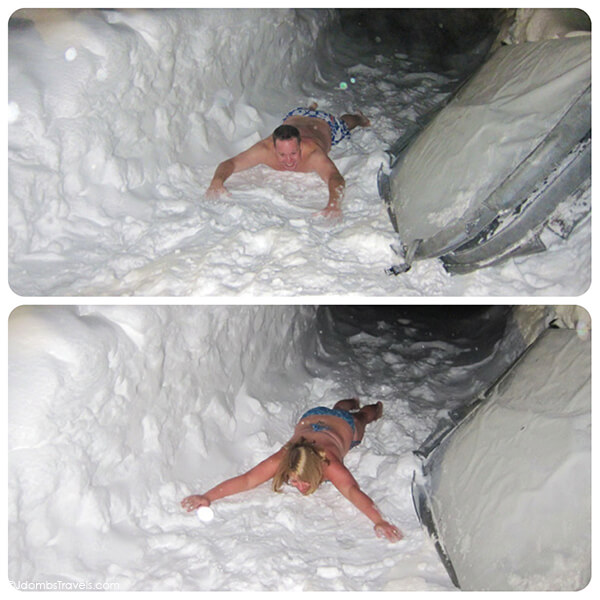 We actually both got quite hot and took turns taking pictures of each other as we had refreshing rolls in the snow, quickly hopping back in to the jacuzzi a few minutes later.
Soon it was time for bed and we stripped down to just one layer of long underwear and climbed into our -40F expedition sleeping bag for two. It's recommended to sleep with a hat on since your head is partially exposed, but I was actually pretty toasty and just pulled the hood of the sleep bag up around my head.
Tip: Place your clothes for the next day inside your sleeping bag with you and they'll be nice and warm for the morning.
Unfortunately, all that tea to stay hydrated had done its job and I had to race across the windy courtyard of the igloo village to the bathroom 3 times throughout the night. The wind was really blowing snow drifts around each time I got up, but Tim got lucky and found a calm, cloudless night when he had gone out. With no moon, it was too dark to spot the Matterhorn though.
Our wake-up call came with a serving of hot tea in bed and notice we'd be meeting to head back down to Hotel Riffleberg in 15 minutes. Unfortunately, it was still very cloudy so a view of the Matterhorn wasn't in the cards. After a 20 minute hike downhill to the hotel, a hot breakfast spread of eggs, bacon, sausages, fruit, cheese, and bread awaited us. What a delicious way to end a chilly adventure at Iglu Dorf!
Know Before You Go
Be sure to wear warm water-proof layers suitable for winter activities like you would wear skiing. We were comfortable with our thermal underwear and ski pants and parka. Bring gloves and a hat. Wear good winter boots.
Bring a bathing suit and a towel for the jacuzzi. Bring flip flops if you don't want to sprint barefoot across the snow.
Bring a headlamp.
Prices start at 159 CHF (around $170) per person for a standard shared igloo. The railway lift ticket to Rotenbolden is not included.
Thank you to Zermatt Tourimus for hosting us during our stay in Zermatt. As always, all opinions are entirely our own.