There's are always two things I'm rather adamant about when traveling. First, when Tim and I are on the hunt for a restaurant, I'm always saying we need to go over at least one street from the main tourist drags. Second, food tours are an excellent way of discovering a city and I mean both its food and culture. Both of those things were undoubtedly confirmed on a Ljubljana food tour we recently took with Ljubljananjam.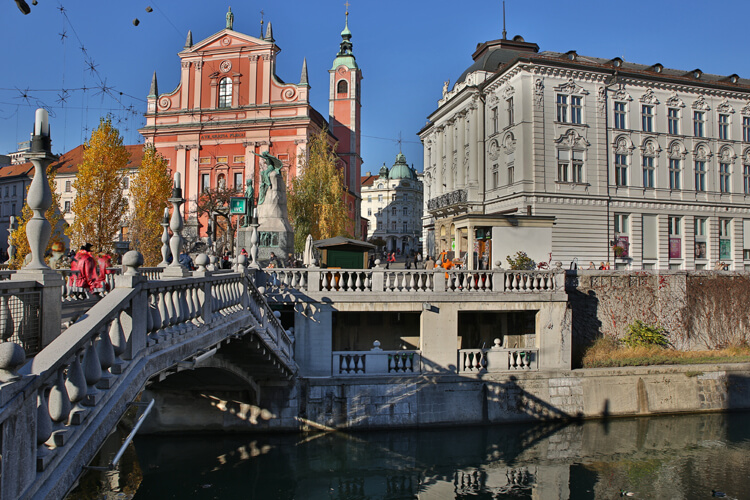 Ljubljana's a city we've been to at least a dozen times. Heck, we've been there five times in the last month alone. And it's been funny to watch it grow from a virtually unknown-to-Americans city into an "it" capital to visit over the last few years. Like Budapest and Prague Ljubljana has a river splitting the old town into a right bank and a left bank. An imposing fortress overlooks it from a hill. And bridges criss-cross the river making it easy to zig-zag from right to left bank and back again. But what people might not know is that Ljubljana an impressive foodie scene.
So what is Slovenian cuisine? For such a small country, Slovenian cuisine is extremely diverse and has a lot of influence from all of its neighbors: Austria, Italy, Croatia and Hungary. The tiny country is divided into 23 gastronomic regions and there are 170 recognized and typical dishes. That's a lot of variety packed into a country comparable in size to the entire state of New Jersey.
Our food tour with Ljubljananjam introduced us to a handful of the varied cuisines you can find just in Slovenia's capital. Iva, owner and guide at Ljubljananjam, customizes every one of her tours to your personal tastes so every food tour is a little bit different.
We started with a visit to the covered market, which I must admit I'd walked by countless times and never even noticed. There inside the covered market hall were local producers selling everything from homemade breads to various cuts of meat. Iva told us that Slovenians love their bread and we tried a variety of breads made with various grains and cereals. We also tried a Slovenian sheep's cheese aged 10-11 months from one of the cheese sellers.
A bowl of mushroom soup hit the spot to warm us up. There are over 100 different soups alone in Slovenian cuisine and I was fascinated to learn that meat-based soups are served only on Sundays and feast days.
Sea bass is one of my favorite kinds of fish and we tried a sea bass filet from Piran (also one of our favorite places in Slovenia) served atop a bed of lemon mashed potatoes in a parchment paper. The delicious scents drifted out as the parchment paper was opened. And I've got to try making lemon mashed potatoes at home. Yum!
Slovenia also makes delicious wines and has around 28,000 wineries. That means they're growing a lot of grapes in a country slightly smaller than the state of New Jersey! It's mainly a white wine producing country and we paired a white wine called Zelen from Vina Dornberg, a winery from one of the windiest regions in Slovenia where winds can reach over 100 kilometers per hour.
Perhaps one of my favorite stops of our tour was for more cheese, this time a goat cheese platter served with two kinds of Slovenian marmalade, caper berries, olives and sun dried tomatoes.
One thing you might notice when dining in Slovenian restaurants is that pumpkin oil is placed on the tables right alongside olive oil and vinegar. It's a typical Slovenian product that is drizzled over salads, soups and even ice creams. No Ljubljana food tour would be complete without tasting this typical product and we tasted both a cold pressed and a roasted pumpkin oil. I prefer the roasted, personally. And don't worry if you don't like pumpkin. The taste isn't at all what you might expect.
Remember that I said that Slovenian cuisine takes its inspiration from its neighboring countries? Sarma is a perfect example of that. It's not a Slovenian dish, but it is loved and made by Slovenians. Sarma is a type of cabbage roll filled with minced meat. We actually tried a vegetarian version on our tour and while it was tasty, Tim and I both agreed we would have preferred the meat version.
Our sarma was served with Carniolan sausage, which is kind of similar to Polish kielbasa that we know in the US. It's one of the many protected foods in Europe. Like Champagne can only be called Champagne if it comes from a particular region of France and is produced in a particular way, these protected foods are highly regulated in order to maintain their traditional origin.
It's made from pork, bacon, salt from the Sečovlje salt pans, garlic and black pepper. The meat must be cut up to a very specific size, then is stuffed in to a casing of another very specific size before finally being smoked and cured. We tried it with just a little bit of mustard. Delicious!
Craft beer definitely is a new thing on the Slovenian foodie scene, and craft breweries are popping up all over the capital. I was again surprised to learn that there would not be Belgian beer without Slovenia hops! Slovenia is very rich in hops, so it was only a short time before the country began producing its own beer.
Ljubljananjam offers a whole craft beer tour focused just on beer, but Iva wouldn't leave out the opportunity to taste at least one. We tasted a traditional Belgian recipe wheat beer with orange peel and spices added. I'm not usually a beer drinker, but I liked it and even finished mine off.
No food tour is complete without dessert and the sour cherry and apple strudels we finished off our multi-course meal with are another great example of how Slovenian cuisine is inspired by the country's neighbors.
It sounds like we ate so much we had to be stuffed for weeks after. Don't worry. You won't need to acquire your own pair of Thanksgiving pants. The portions are just enough to get a good taste, yet leave room for all of the delicious things you'll eat. We also walked and wove our way back and forth across the Ljubljanica River from one end of the old town to the other, learning tidbits about Ljubljana and Slovenia all along the way.
Audrey Hepburn said "Paris is always a good idea," but I say a food tour is always a good idea!
Know Before You Go
Ljubljananjam
food tours are available daily from 11am on demand, except on public holidays and cost
€
35 – 
€
55 per person. Each tour is customized and the price is dependent on your customizations. Tours last around 4 hours. Only cash is accepted.


Our Ljubljana food tour was provided by Ljubljananjam in order to bring you this story. However, Luxe Adventure Traveler maintains full editorial control of the content published on this site. As always, all thoughts, opinions, and enthusiasm for travel are entirely our own.