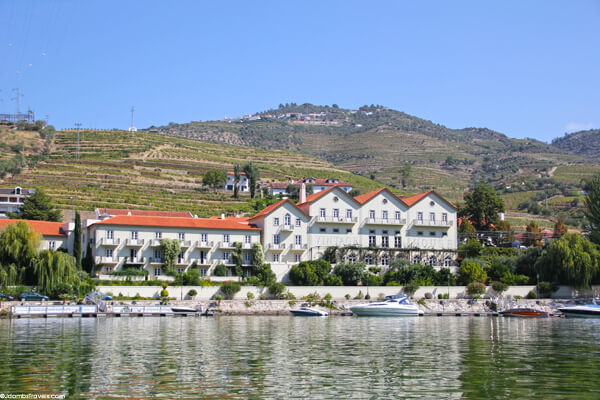 On my trip with Turismo de Portugal, I had the opportunity to visit the town of Pinhão in the heart of the beautiful Douro Valley. The Douro Valley is the oldest demarcated wine region in the world and has a microclimate perfect for growing grapes for the famous Port wine. Terraced vineyards practically climb straight up the vertical slopes stretching up from the river.
Our group cruised the river on a rabelo boat, a typical wooden Portuguese vessel made for the transport of wine casks, past many of the quintas (wine estates). The river was smooth as glass and it was practically silent, expect for the whistle of the train as it snaked along the narrow gauge railway on the cliff's edge.
A visit to the CS Vintage House, a former 18th century wine estate, for a lunch on the terrace overlooking the river followed our cruise. We leisurely lunched on smoked ham carpaccio with melon and rosemary accompanied by a 2010 Floral da Vila Douro white wine, veal medallions with chestnuts and potato gratin accompanied by a 2010 Solar de Rede Douro red wine, and fresh berries over vanilla ice cream accompanied by port, of course!
If I hadn't been so stuffed from lunch, I would have loved to indulge in the port and chocolate gourmet tasting in CS Vintage House's Wine Academy. Chocolates handmade by the hotel's in-house pastry chef accompany a white port, a 10 year old tawny port, a 40 year old tawny port, and a late bottled vintage port.
The hotel's grounds were amazing. I could have lounged around the pool all day, but we had more to see!
Considered to be one of the most emblematic train stations in Portugal, Pinhão Train Station has a collection of azulejos (tiles) from 1937. The four walls of the station are decorated with 24 blue glazed mosaics made of more than 100 azulejos and depict typical scenes of the Duoro Valley all related to port wine production.The train station also houses a small wine shop and museum.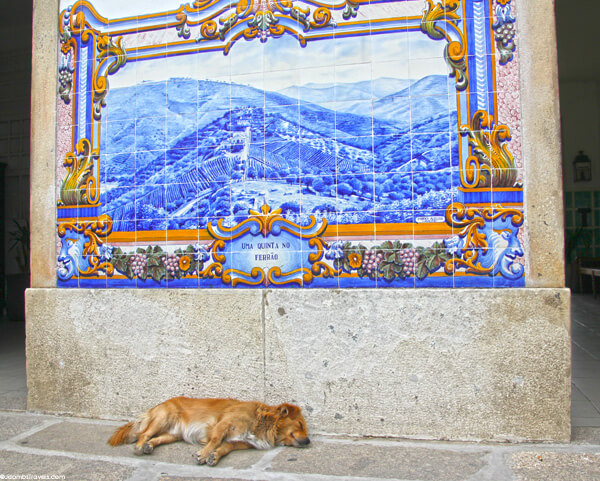 Know Before You Go
Pinhão is located 120 kilometers from the city of Porto and can be reached by car, by the panoramic Douro Line railroad, or by river boat.
CS Vintage House has 43 rooms, all with river views
The CS Vintage House Wine Academy offers a variety of tastings and a wine course
Thank you to Turismo de Portugal for hosting me. As always, all opinions are my own.