Visit the Empire State Building? Been there. Stroll through Central Park? Done that. If you're looking for something different to do on your next visit to New York City, the head to Pizza School NYC in Lower Manhattan. There's nothing like a New York-style slice (it's a NYC food icon, after all!) and self professed pizza nerd and owner Mark Bello will passionately teach you how to make your very own New York-style pizza at home.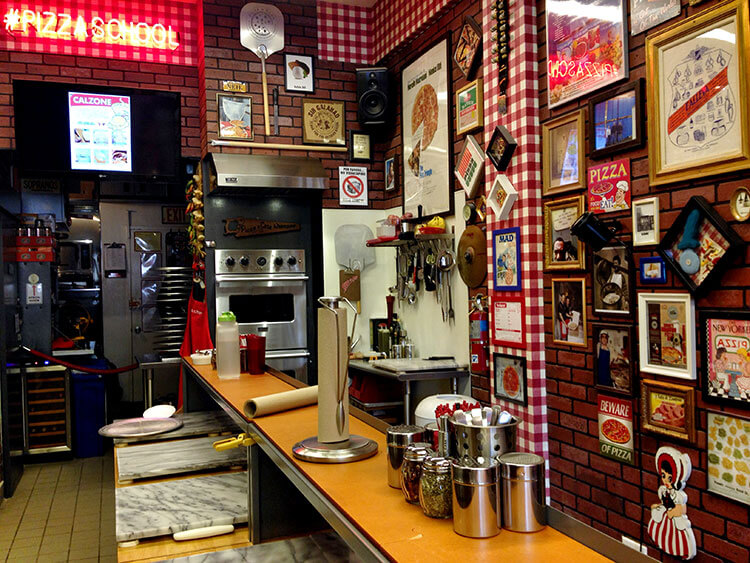 A New York-style Pizza School
Mark and his wife, Jenny, operate their NYC pizza making class from a cozy store front on Grand Street. It's just a few blocks from Little Italy and some of our favorite NYC foodie stops.
The shop itself is fantastic with pizza icons covering the checkered red and white wallpaper and exposed brick walls. The front of the shop sells a variety of pizza making tools from stones to Mark's favorite pizza cutter, which is dangerous for a kitchen gadget addict like me.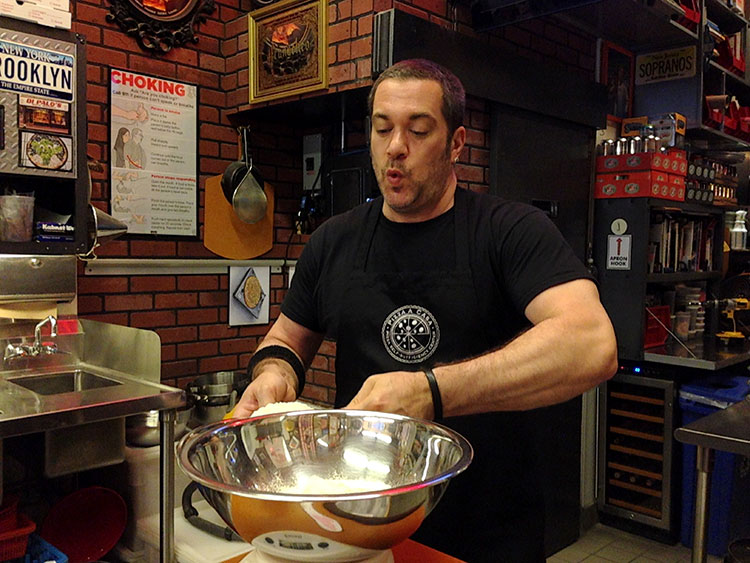 Before long I left ogling the pizza making tools behind and we got down to the business of pizza making. We started from scratch and made our own dough by mixing flour, water, yeast and a bit of sugar.
The experience is kept to small groups, which is perfect so that Mark can give every student individual attention. We did the experience together, and this is definitely one of the fun cooking classes in NYC for couples. If you're competitive like we are, you can see which of the two of you can make the best pizza.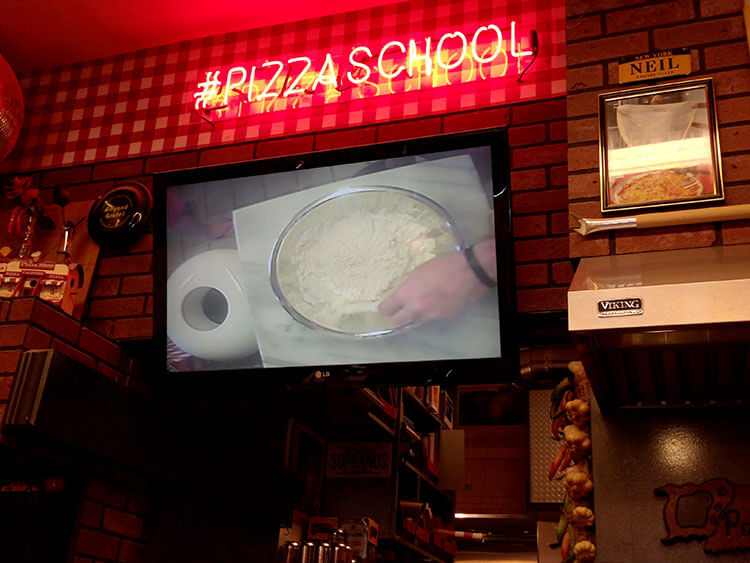 Though the classes are kept to small groups, if you're short like me you might not always have the best view. Mark thought of that though when designing Pizza School NYC, and his cameras help everyone to easily see his technique as he instructs on the tv monitor.
Mark also has some videos he plays during class. While instructional videos he's pre-recorded play, he make the rounds to check on his pizza making students.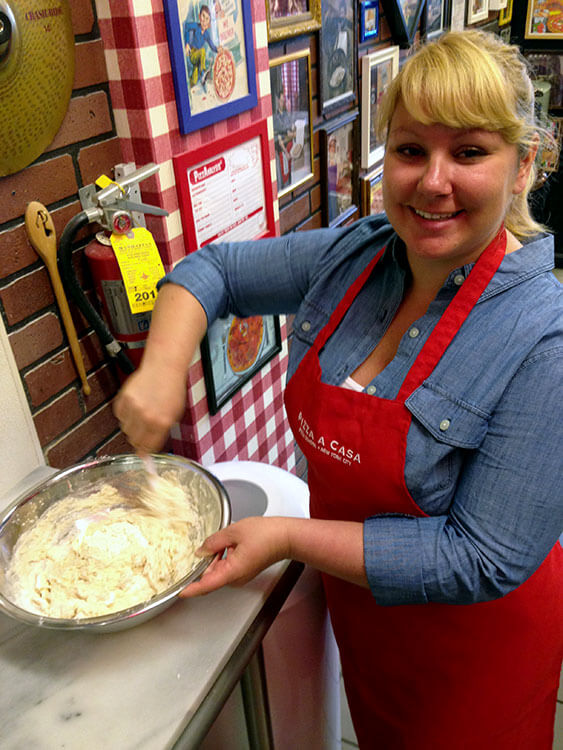 After the dough rises, we gently peel it out of the container and quarter it. Each student makes four pizzas and you'll definitely have some left to take back to your hotel with you. The left over pizza definitely makes an excellent late night snack.
Then it's time for soft bongos, Mark's special anybody-can-roll-out-pizza-dough technique. "People are usually most worried about putting a hole in their pizza dough," Mark tells us. Not to worry. If a hole happens, just stretch the dough over it and press down to fix it.
It's not only the dough we're learning to make at this New York pizza school. We mix up a surprisingly simple, yet delicious Secret Sauce that takes just 60 seconds to make. Met with a few raised eyebrows, Marks proves it by setting a timer as he mixes up the sauce.
We'd tell you what's in this 60-Second Secret Sauce, but then we'd have to kill you. Just kidding – the sauce recipe is also in the Pizza School NYC recipe and instruction booklet every student takes home after class.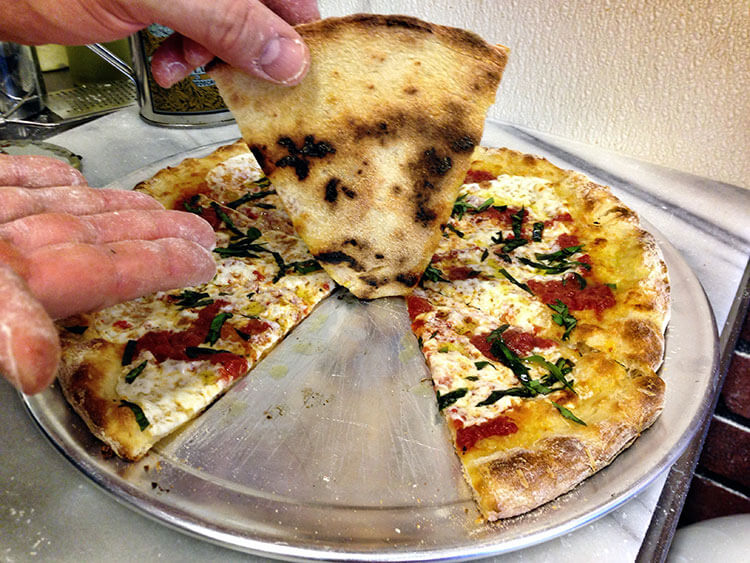 As we pick out our toppings from the topping bar, Mark reminds us that less is more. Heaping on toppings just makes the dough, well… doughy (for lack of a better description) when it comes out of the oven.
We start out with a classic margherita pizza with fresh Alleva Dairy mozzarella, 60-Second Secret Sauce, fresh basil and a drizzle of some extra virgin olive oil. I use the wooden pizza peel to put our pizza on the stone and in just about 7 minutes, our first pizza is ready.
The awesome thing about this pizza making class is that Pizza School NYC's ovens aren't a special pizza oven no one can actually afford at home. It's your average oven that you can pick out from any appliance store.
"I chose a regular oven because it gives people confidence that they can really take these recipes and make a perfect, piping-hot pizza at home," Mark explains to us.
It makes total sense. When we took a pizza making class in Rome, Italy, the ovens were wood fired ovens. So try as we might, our pizzas just never came out exactly the same at home.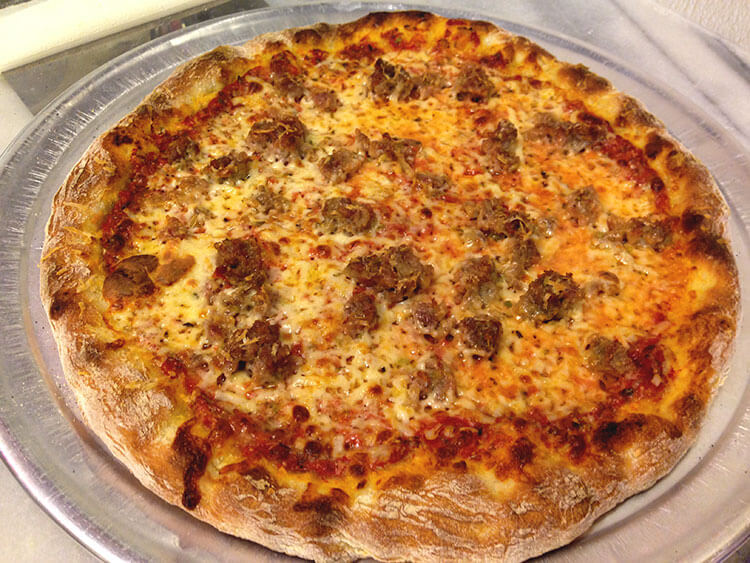 Of course we had to also make the New York slice with mozzarella, 60-Second Secret Sauce, pecorino cheese and their homemade sausage (recipe also included in your take home recipe booklet). The margherita was delicious, but the New York slice was our favorite.
Know Before You Go
Pizza School NYC is located at 371 Grand Street. It's a short 2 blocks from the Delancey/Essex F/J/M/Z subway stop.
Pizza School NYC
offers a hands-on class, and with a 2-person price for a team it's one of the perfect cooking classes in New York City for couples. Check their calendar for availability. Classes are 4 hours.
There is also craft beer, wine and specialty sodas for purchase to enjoy with your pizza.
We were guests of Pizza School NYC in order to bring you this story. As always, all opinions about the pizza making class NYC and delicious pizza are entirely our own.