Every time my mom and I plan a trip to New York City, she inevitably asks me if we're going to go to Chinatown. She absolutely loved her visit to San Francisco's Chinatown in the '90s. I, however, was skeptical and kept avoiding it for years. After all, I live in Italy so never want Italian food when I leave and isn't Chinatown filled with crap restaurants and tourists? When my mom and I decided to meet in NYC recently, I gave in, decided to surprise her and arranged a visit to Chinatown and Little Italy with Ahoy New York Food Tours. After having such great food tours in some other cities, I knew we'd see the best spots and try the tastiest treat by touring with an insider.
On a slushy and partially sunny morning, New York City was barely stirring and our cab zipped down 5th Avenue to drop us off in Chinatown. Liz, our Ahoy tour guide, was already waiting holding a sign as our cab pulled up 20 minutes early. Bubbly despite the Polar Vortez, I knew we were in for a great tour just by meeting Liz.
The first part of the tour took us just a few streets over to Little Italy. You may not know this about me, but I'm Italian. My family comes from the Calabria region and had ties to the Mafia (but that's a story for another day). So the history of Little Italy, where some of our very own family possibly first called home in America was very interesting. Liz was full of interesting facts and stories, including where a famous mob hit took place that is still unsolved even today, but you're going to have to take the tour to hear it. I can't give away all of her secrets!
Our first tasting was at the oldest Italian cheese store in America, Alleva Dairy, for some proscuitto and fresh mozzarella. I had to smile with a little pride because the most famous proscuitto actually comes from the little corner of Italy I now call home, the Friuli Venezia Giulia. Liz told us about the fat, happy piggies that are bred in the FVG and how the proscuitto is cured. Our small group happily wrapped our proscuitto around the mozzarella and…silence. We were too busy enjoying the salty snack to utter a word.
When in Italy, or in this case Little Italy, you can never have too much Italian cheese so we moved on down the street to Di Palo Fine Foods. Tip: I learned they ship in the US! Established around 1910 when Little Italy's population was its highest, this shop is an absolute dream for anyone that loves authentic Italian foods. I saw all the items I'd find on the shelves of the little Italian co-ops at home.
I think eating Italian pizza has ruined me for nearly any other pizza (I make exceptions for Chicago deep dish), but the Grandma's pie we tried next was admittedly pretty delicious. Nice thin crust, not too much sauce, fresh mozzarella and sprinkled with pesto – yes, this would make my cut as an admitted Italian food snob. Sorry, no Olive Garden for this gal. That is NOT Italian food.
The cannoli is actually from southern Italy and though we can pretty easily find them in markets around us, I never turn a cannoli down. Admittedly, the cannoli from Ferrara Bakery was a little on the too sweet side for me, but still nice.
We left the little neighborhood that is now much smaller than Little Italy was back in its heyday and crossed into Chinatown. Though our first stop was actually for Thai food at the oldest run family and operated restaurant in New York City, Pongrsi Thai Restaurant. We sat down to an assortment of family-style Thai dishes to share amongst the group and sipped hot tea. Between the spice and the tea, it was perfect for warming up! And though not as tasty as the Thai dishes Tim and I learned to make at our Thai cooking class on Koh Phangan, it came pretty darn close.
As we left the restaurant, we wandered through Columbus Park, where men were playing Chinese checkers even on such a cold day. The park interestingly has had a number of other names and is situated right in the heart of one of the oldest residential areas in all of Manhattan.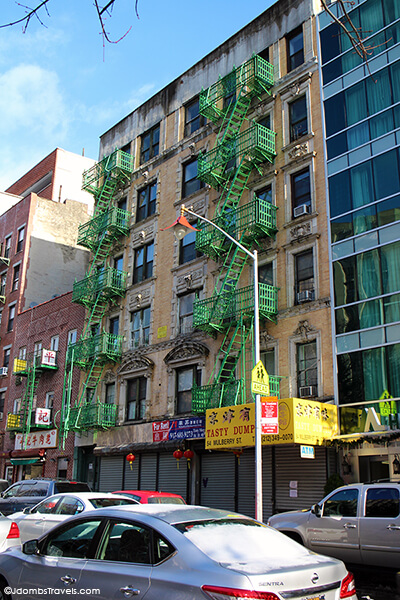 Here you can also see some of the best examples of the tenement apartments that were typical for immigrants to live in. Liz is again very knowledgeable about the history and describes what the living conditions were like in these multi-family dwellings.
But back to the food, our next stop was for some of the tastiest pork and chive dumplings I've ever tried at, ironically, Tasty Dumpling. I think I just drooled a little thinking about them!
Our final tasting was, though tough choice, my favorite of the day. Did you know egg rolls were once made with egg in them and Nom Wah Tea Parlor, the oldest Dim Sum restaurant in Chinatown, still makes them that way. I devoured mine…and then my mom's since she was full and offering hers up.
Though our tastings were officially done, Liz offered up her recommendations for tea, where to buy souvenirs, and some shops to visit. She was a fantastic guide and I would have ended up wandering aimlessly without her expert guidance.
Know Before You Go
Ahoy New York Food Tours are approximately 3 hours and start at 10:30am.
Tickets are $49 per adult and tickets must be reserved in advance.
Note that vegetarian options are available. Just be sure to note that in advance when booking.
For more delicious food tours I highly recommend, check out Eating London, Urban Adventure's Cicchetti Tour of Venice, and a food tour of Montreal by moped.
Disclosure: Thank you to Ahoy New York Food Tours for hosting us on the Chinatown and Little Italy Tour in order to bring you this story. As always, all opinions are entirely our own.