I generally know nothing about cars, but I do get excited over a sleek Porsche 911. I've even tried to convince Tim that traveling around the world in a Porsche 911 would make a great story. There is just enough room for Emma to fit in the back and I pack light. He's not buying it though. (I really just don't see why not?!) Instead, he decided to torture me with a weekend filled with Porsche, first a shiny red one up for sale in the car museum at the V8 Hotel and then with a visit to the Porsche Museum in Stuttgart. Instead of boring you with a walk through of the museum (which you should totally visit if you find yourself in the Stuttgart area), I thought I'd share five things you didn't know about Porsche.

1. Up until the 1950s, Porsche didn't even have a logo. The famous logo was actually designed on a napkin by Dr. Ferry Porsche. As he sat across from the famous US importer, Max Hoffman, in a New York restaurant, he sketched the Stuttgart coat of arms superimposed on the Wurtemburg coat of arms and emblazoned the name Porsche over the top.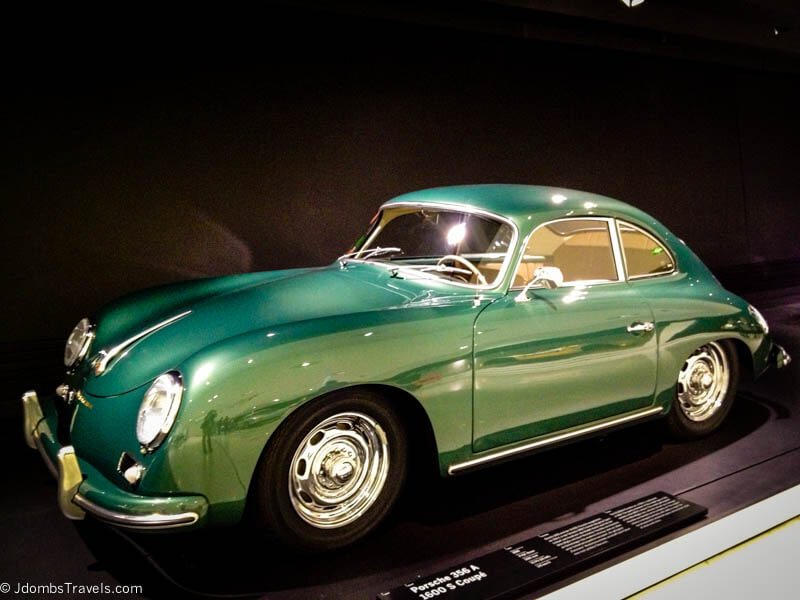 2. Porsche can drive on the ceiling. You read it right! "Wait, why is that Porsche 956 is mounted on the ceiling?", I said to Tim. To illustrate the theme of speed of course! According to the laws of speed, when that car is doing 321.4 km/h (200 mph), it could drive on the ceiling.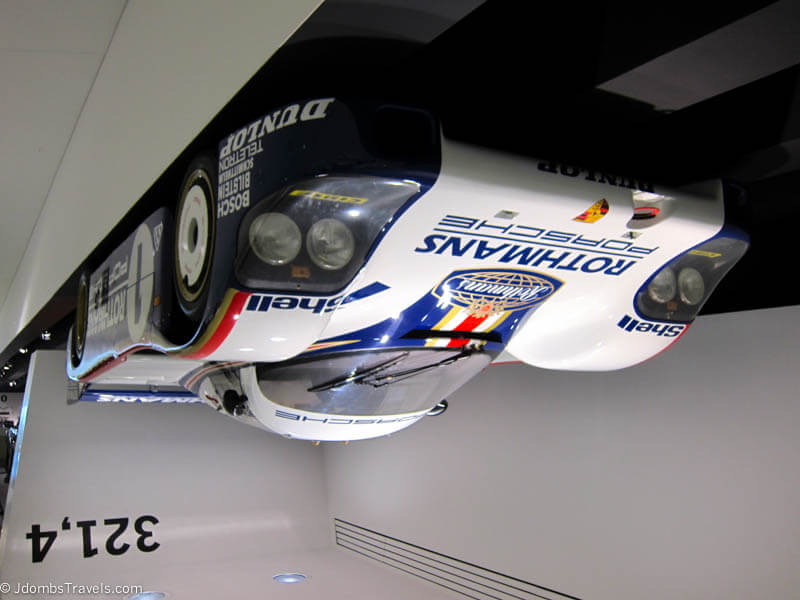 3. Porsche made military vehicles "I want that!" Tim exclaimed. I'll bet he does. Originally developed as a prototype for a tender to the German Army after World War II, the Porsche 597 Jagdwagen weighs just 990 kilograms and could reach a maximum speed of around 100 kilometers per hour. It never reached mass production though; only 49 were ever made. The DKW Munga was chosen over it for economic reasons.
4. Porsche made airplane engines. In the 1950s, European aircraft builders adapted the air-cooled automobile engines from the Porsche 356 and Volkswagen Beetle into aircraft engines with a series of limited modifications.
Porsche produced a series of factory-built engines between 1957 and 1963. They then again produced aircraft engines based on the 911 engine from 1981 to 1991, before
5. Porsche makes engines for Harley-Davidson motorcycles. For the V-Rod motorcycle Harley-Davidson teamed up with Porsche to design their engine. It was the first water-cooled engine in the 99 year history of Harley-Davidson. With the Porsche powered V-Rod it became the fastest production motorcycle ever built by them. It went zero to sixty in 3.5 seconds and topped out at 140 miles per hour.
Know Before You Go
The Porsche Museum is open Tuesday through Sunday 9am to 6pm. Tickets can be purchased until 5pm.
Tickets are €8 for adults; children up to age 14 are free.
We had lunch in the Boxenstopp Restaurant in the Porsche Museum. Try the "Boxster", a cheeseburger, with fries for just €7.50!
What fun facts do you know about Porsche?