"We can stay here," the email from Tim read. He has always been a car guy, constantly browsing cars for sale on online classifieds and even driving to Paris one weekend just to attend the Paris Auto Show. So it was no shock when I clicked on the link to be met with pictures of rooms decked out to look like a camper, Route 66, and a car wash at the V8 Hotel Motorworld Stuttgart.
Located just a short distance from Stuttgart, the V8 Hotel Motorworld Stuttgart is right at home. After all, Stuttgart is credited as the birthplace of the automobile with Carl Benz's invention of the three-wheeled "Motorwagen" in 1886. Any car lover will be drawn to Stuttgart with its headquarters of some of the world's best car brands, including Mercedes-Benz and Porsche. And no car lover's visit to Stuttgart is complete without a stay in one of the V8 Hotel Motorworld Stuttgart's automobile themed rooms.
Staying at the V8 Hotel Motorworld Stuttgart
Arriving at the V8 Hotel, we were immediately met with legendary vintage cars right in the lobby. The car museum lured us in with cherry red vintage Porsche, old timer Mercedes Benz, and even a few high end Alfa Romeo. There are car sales dealers located right in the museum and several of the shiny cars are for sale. I could have seen myself going home with the little red Porsche, but the price tag said otherwise.
Tim wasn't the only car enthusiast staying at the hotel. Getting ready our first morning there took a little longer than normal because every few minutes I had to run over to the window to check out what car was literally revving its' engine and racing around the parking lot!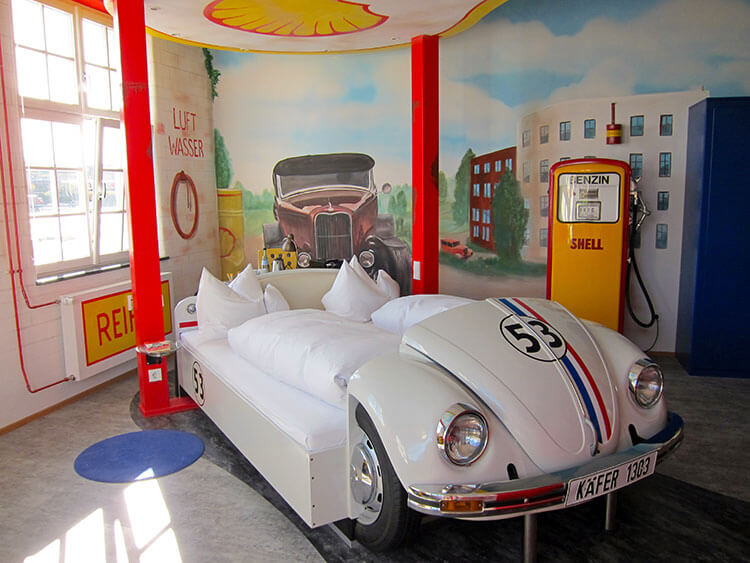 The four-star V8 Hotel is built inside of Meilenwerk's old airport hotel and has 153 rooms total, 26 of which are each individually automobile themed with themes like Le Mans, Route 66 and Vive Le France.
Our favorite of the themed rooms is the Gas Station with a bed made out of an old Volkswagon Beetle and re-imagined as Herbie, a Shell gas pump in the room, and funky touches like a shower made to look like a battery recharging station.
Another favorite is Nostalgia, made to look like an automobile junkyard with furniture made out of automobile parts and another actual car as the bed.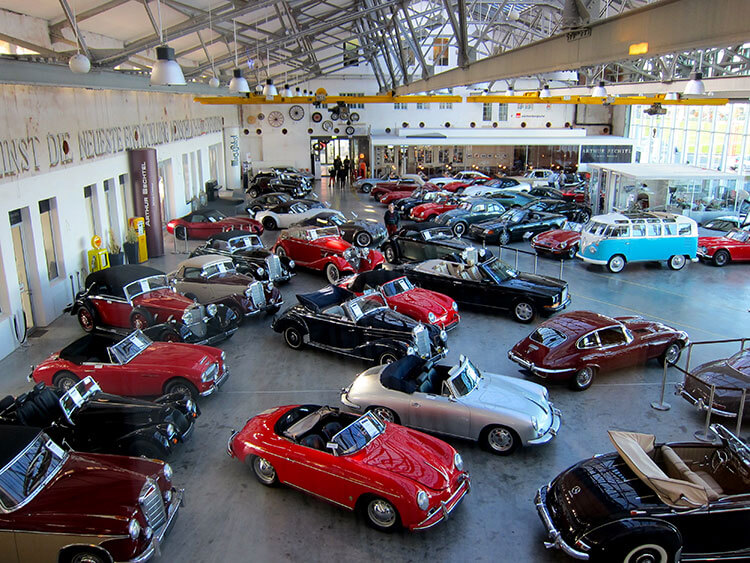 Most of the themed rooms have windows overlooking the car museum, completing the feeling of living right in a garage.
Even the 130 "regular" V6 rooms have an automobile theme with automotive inspired black and white artworks on the walls, car shaped soaps in the bathroom, and even a car trivia game to keep you entertained.
Know Before You Go
Double rooms at the V8 Hotel start at €155 per night and the theme rooms start at €175 per night.
There is a wellness center and fitness center. And in the Zeppelin Suite you can even enjoy your own personal sauna.
There is a cafe and Da Signora Italian restaurant located conveniently right in the hotel.
Stuttgart is just a 10 minute drive from the hotel and both the
Porsche
and Mercedes Benz museums are located nearby. Ludwigsburg is situated around 30 minutes drive from the hotel.
Our stay was provided by the V8 Hotel in order to bring you this story. However, Luxe Adventure Traveler maintains full editorial control of the content published on this site. As always, all thoughts, opinions, and enthusiasm for travel are entirely our own.This article contains affiliate links. When you book on Booking.com through our affiliate site, we earn a small commission at no additional cost to you.