Arctic animals are ones many of us will never see in the wild in our lifetimes. My very first experience with Arctic animals was at Ranua Wildlife Park in Arctic Finland. I first visited in December 2011 during Finland's Polar night, when the sun just barely rises above the horizon. Winter at Ranua Wildlife Park is a magical time though; it's when Arctic animals are most in their element. That first visit was the inspiration for our trip to Svalbard, so Ranua Wildlife Park holds a special place in my heart. I was thrilled to get to visit again and finally show the park to Tim on our trip to Finland with LappOne.
Ranua Wildlife Park has around 50 species of Arctic animals. If you've been following our blog for a while now, it's probably no surprise that both Tim and I's favorite animal at Ranua is the polar bear. When I visited in 2011, only the male polar bear was active. The female was in her den and had given birth to a polar bear cub within days of my visit. I watched the male use his sheer power and weight to break ice and retrieve the treats I had tossed in as I got a VIP guided tour with one of Ranua's caretakers. On our return visit, Tim and I had to literally be dragged away as we watched momma and cub (who is already as big as his mom!) play and roll in the snow.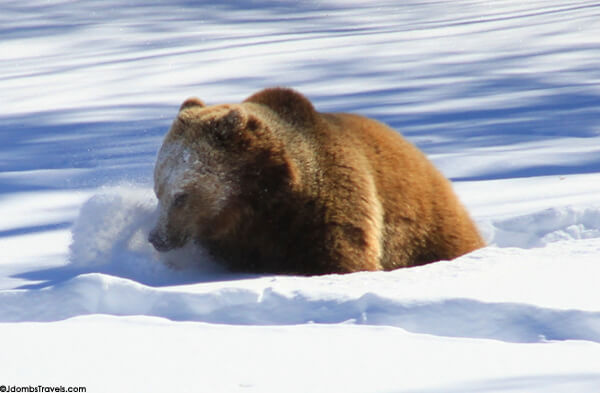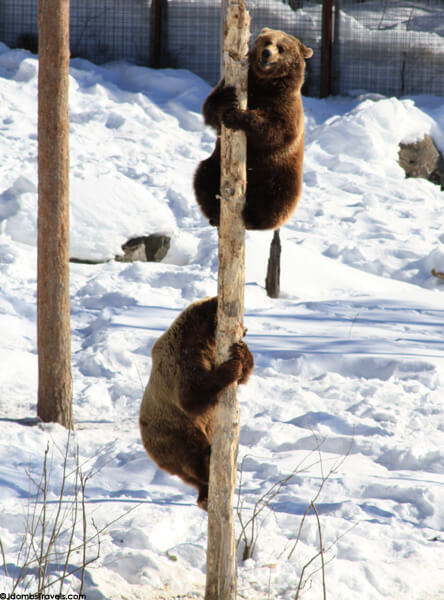 The brown bears were still hibernating on my first visit, so I was delighted to see that they had just woken up days before and were full of energy after their long winter's nap. The brown bears chased one another, impressively running and pouncing with agility through several feet of snow before climbing the trees.
The snowy owls are incredibly beautiful with their white plumage, though they are only white in winter to help them blend in to their surrounding. I also think it is interesting that the snowy owl is active in daylight, unlike other owls that are strictly night owls. This is because the snowy owl has to adapt to the 24 hours of sunlight in the Arctic summer.
Lynx are common on some of the islands near Kemi and though we didn't spot one there, this beauty was napping and soaking up the warmth from the sun. We learned that the lynx actually shares many features of a house cat; it can even purr!
We could go on and on about the muskox, reindeer, wolves, and all the other animals that only live in the Arctic. But we won't give away all the secrets of the Arctic animals – you'll just have to visit for yourself to learn more!
Know Before You Go
A visit to Ranua Wildlife Park can be booked as part of your LappOne holiday. Use the promo code JDOMB when making your inquiry for 10% off any LappOne tour. Promo code valid until May 31, 2013.
Ranua Wildlife Park is open daily September 1 – May 31 from 10am – 4pm and June 1 – August 31 from 9am – 7pm.
Be sure to stop by the Karl Fazer chocolate outlet and the Virvatulet Wine Shop (where you can purchase unique Finnish wines made from Arctic berries), both located just outside of Ranua Wildlife Park.
Our time in Finland and Sweden was hosted by LappOne, who offers a variety of holidays to Lapland. As always, all opinions are entirely our own.