Have you ever wanted to get dropped off to spend the night on a gorgeous private island? That's exactly what happened when I stayed at Sandy Toes, a luxury beach villa located on the otherwise undeveloped Rose Island, Bahamas just a 30-minute boat ride from Nassau. Though my island hopping trip around the Bahamas was filled with luxurious five-star stays with room service and butlers, Sandy Toes was my favorite.
Sandy Toes on Rose Island, Bahamas
My Bahamas trip began with my overnight stay at Sandy Toes, and it set the bar high for the rest of my first trip to the Bahamas. Captain Jordan and Captain Morgan (an actual boat captain, not the captain of rum) whisked me from Paradise Island out to Rose Island, pointing out various points of interest along the way like the One & Only Resort where James Bond was filmed and various other Bahamanian private islands owned by celebrities.
Before long we were docking at Rose Island, which is much larger than I was anticipating. The island is actually 11 miles long, but very skinny. It looks like a finger. I'd had something in my mind more like the island in the Maldives we stayed, on which it took running seven laps around the island just to go one mile.
"There's not any critters like Indonesia's Komodo Dragons, are there?" I joked to Captains Jordan and Morgan.
"No," Captain Morgan assured me. "It'll just be you, the resident peacocks, some hermit crabs and our six swimming pigs."
If you're imagining a Survivor situation where I had to gather coconuts for food and build a fire, think again. The Sandy Toes luxury villa offers all the comforts of home including air conditioning, 24-hour hot running water and even a television with a DVD library to keep you entertained once the sun goes down.
The 2-bedroom, 2-bath villa was lovingly built and decorated by the team that operates Sandy Toes, a day excursion and beach bar on Rose Island. I was impressed. It has two master bedrooms, both with king size beds. The bedrooms are separated by the living room, dining room and kitchen, giving you plenty of privacy if you're traveling with friends or family.
Each bedroom has its own ensuite bathroom, equipped with outdoor rain showers. I actually really loved the design of the showers. The bathroom has a door that opens out to the outdoor shower and the staff thought to equip the bathroom with an over-the-door caddy to conveniently place your shower essentials like soap, shampoo and conditioner. It also kept the bathroom from getting all steamy, which is almost always a problem for me since I think one of life's little pleasures is a shower so hot it leaves my skin red.
The villa also has a large relaxation deck with twin towers on either end where you can relax with a birds-eye view of the Sandy Toes beach, sea and other nearby islands. The towers are the best place to watch both the sunset and sunrise, and I did just that.
There's no restaurant on the island except when the Rose Island day trip is operating, so meals are left up to guests to provide for themselves.
This is actually quite easy with the convenient Food Store 2 Go delivery service. A few days before I flew to Nassau, I made a menu and shopped the online grocery store. Food Store 2 Go met me at the Paradise Island Ferry Terminal with my order so that it could be whisked out to Rose Island along with me.
I kept lunch simple with sandwiches and fruit. Lunch is sometimes available at the beach bar if the Sandy Toes Bahamas day excursion is operating that day.
For dinner, I baked potatoes and grilled filet mignon and corn-on-the-cob on the outdoor barbecue. I had made myself a little spice packet at home and brought things like salt, pepper, seasoning and aluminum foil with me so that I wouldn't have to purchase it all from Food Store 2 Go for the one night I'd be cooking in the Bahamas. It's good to know that the villa actually has a nice little selection in the pantry of things like salt, olive oil, tea, coffee, sugar and other assorted spices and seasonings available for guests to use.
There's plenty to do on Rose Island, too. An island called Gilligan's Island, because the opening credit scenes of Gilligan's Islands were filmed there, can easily be kayaked to and explored from Rose Island.
The Rose Island Bahamas snorkeling is superb here and visibility is typically quite good. If the Sandy Toes day excursion is operating, guests are welcome to join the guided snorkel tour. Otherwise, it's perfectly safe to also go snorkeling on your own and I did just that. Whatever you do, don't miss out on snorkeling on the Rose Island reef, because it's a pristine underwater world that's like jumping into an aquarium.
Sandy Toes also has beach volleyball, tubes if you just want to relax bobbing in the sea, and a massage therapist can even be arranged.
There was just one problem with my stay at Sandy Toes – it wasn't long enough! I absolutely loved having an island all my own to call home for one night and I would recommend staying at least a minimum of two nights to really get the full Sandy Toes experience.
There are other private islands you can also stay on all by yourself, like David Copperfield's island called Musha Cay. For a cool $37,000 per night (with a 4-night minimum), that is. Sure, Sandy Toes doesn't have a dive in movie screen set up on its beach with movie-theater buttered popcorn like Musha Cay, but for a price tag of just $795 per night it's a once-in-a-lifetime experience that most of can afford.
Sandy Toes Rose Island Day Trip from Nassau
Even if you can't stay overnight in the Sandy Toes cottage on Rose Island, you don't have to miss out on experiencing this pristine island just a short distance from Nassau.
Nassau is the Bahamas' capital and commercial center. With cruise ships porting there and 70% of the entire population of the Bahamas calling New Providence Island and neighboring Paradise Island home, it's always bustling. Rose Island is only a 30-minute boat ride from busy Nassau and a day trip to Sandy Toes is one of the most fun things to do in the Bahamas.
It's one of the Nassau, Bahamas excursions that shouldn't be missed. The boat leaves for Rose Island from the Paradise Island Ferry Terminal and guests are welcomed aboard with a cocktail.
It's not long before you reach the remote Rose Island and then the next few hours are yours to kick back and relax, join in on one of the best Nassau Bahamas snorkeling excursions around, get a game of beach volleyball going, or even take out one of the kayaks to the other nearby islands.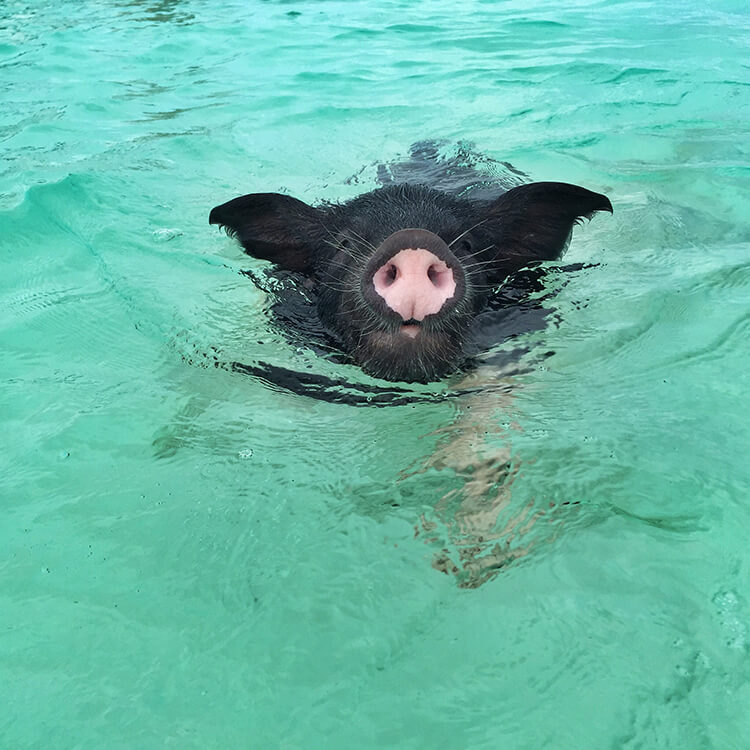 Rose Island also has its very own litter of swimming pigs. The original swimming pigs (which are wild pigs) can be found in the Exumas, but the Bahamas' swimming pigs have become so popular that you'll find others like these ones on Rose Island and another litter in the Abacos.
The Exuma swimming pigs have recently gotten a bad rap for biting visitors, but keep in mind that they are wild animals. The Rose Island swimming pigs are pets and very accustomed to people, making them safe to swim and interact with. Included in the day excursion is the opportunity to swim with the pigs, if you wish.
A lunch buffet including salad, pasta salad, barbecue chicken and Bahamian rice is included with the day trip. Alcoholic drinks are also available from the Sandy Toes bar for purchase, so don't forget to bring a little cash along.
Know Before You Go
My stay on Rose Island was provided by Sandy Toes in order to bring you this story. However, Luxe Adventure Traveler maintains full editorial control of the content published on this site. As always, all thoughts, opinions, and enthusiasm for travel are entirely our own. This article contains affiliate links. When you book on Viator through our affiliate site, we earn a small commission at no additional cost to you.