There are over 7,000 caves in Slovenia and like me, you've probably heard of Postojna, but not the lesser-known Škocjan caves. I was surprised I hadn't heard of Škocjan. Not only are the caves just across the Italian border, they are some of the most important natural treasures on our planet. In fact, the caves are so significant, they were entered onto UNESCO's list of natural and cultural world heritage sites in 1986.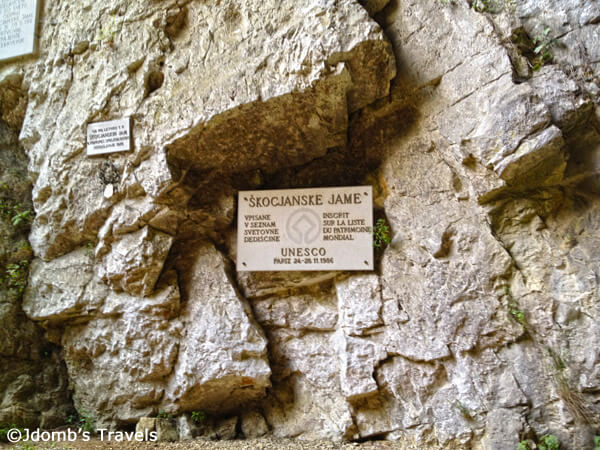 One of the things that makes Škocjan so special is the underground canyon, one of the largest in the world, with the Reka River flowing through the caves for some 34 kilometers out toward the Adriatic Sea.
A picture of the canyon is the very reason I wanted to visit. And with recent temperatures soaring to nearly 100° F, visiting the cool underground caves where temps are a steady 53.6° F sounded like a nice way to escape the oppressive heat.
A visit lasts 1 1/2 hours with an English speaking guide as you trek through the snaking underground caverns to the Cerkvenik Bridge, suspended nearly fifty meters above the riverbed. Unfortunately, taking pictures is not allowed inside the caves. And even if it had been, it's so dark you would need a tripod for any of the pictures to come out.
It's so dark in fact, Nicole and I peered over the bridge into the darkness below and then looked at each. We could hear the river gurgling below, but neither of us could see it! As the cave opens up to the gorge, the light begins to filter in and finally the river comes into view.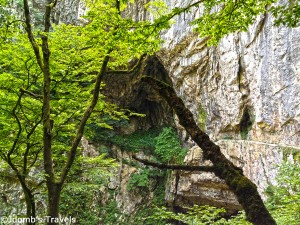 We hiked back up to the surface past the Tominčeva jama and the waterfall under the natural bridge in the Big Collapse Doline (Velika dolina), huffing and puffing our way up the 500 steps to the top back out in the stifling heat.
I highly recommend refueling at the Restaurant Gostilna pri Jami Matavun at the entrance to the caves. After first cooling off with ice cold water and a refreshing watermelon and cantaloupe fruit cup, we were both starving!
At first glance the restaurant appears just to offer kebab and snacks. But have a seat and ask for a menu. You'll find Karst specialties of the area on it liked grilled meat platters and pasta with black truffles at incredibly reasonable prices.The pasta with fresh truffles was delicious, by the way!
Know Before You Go
Škocjan caves aren't what I like to refer to as "show" caves. There's not a nicely paved path, so wear flat shoes with good traction like trail runners.
Guided tours leave hourly June through September. Check the time table for times of guided tours.