When Tim planned our route down Croatia's Dalmatian coast, I wasn't sure about spending two nights in Split. It's the second largest city in Croatia and the largest Dalmatian city, so I imagined a bustling metropolis swarming with cruise ship passengers looking for ways to occupy their six hours in port. Oh, how wrong I was. Split didn't feel like the big city it is at all.
We enjoyed strolling along the Riva, Split's waterfront promenade, which was lined with chic cafe after cafe and a daily market with vendors selling everything from wicker baskets to hand puppets. The Riva was a great place to have some umbrella drinks while escaping the heat as we gazed out upon the sea. Emma even got into the spirit, showing everyone what a queen she is as she climbed upon Diocletian's throne on the Riva promenade.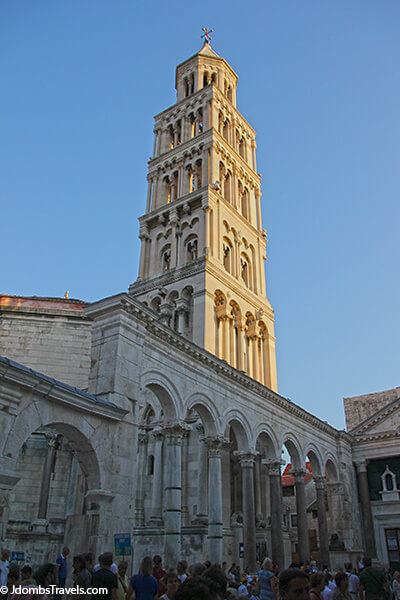 Just behind the Riva is the Old Town, where around every corner was another picturesque street or square. You literally can't miss Diocletian's Palace, which was built as a retirement home and military camp for the Roman Emperor in the 4th century. We let our imaginations take us back to the days it was part luxurious villa as we sipped local Croatian while and dined on fresh fish and mussels amongst the ruins in the monumental court of Peristyle while the sun set, illuminating the massive bell tower of Saint Domnius Cathedral.
I've always fancied the big old town clocks with their Roman numerals and I found the Stara Ura just as beautiful as some of my favorite clocks like the ones in Prague or Venice. It's set high up on the remains of a Roman tower just around the corner from the West gate of Diocletian's Palace.
The Pjaca (City Hall) reminded me a bit of buildings in Venice with its Gothic decorations. The City Hall is located in a main square of Split where I'm told the locals gather to enjoy a coffee or glass of wine at the little cafes lining it.
The maze of the Old Town is packed with little shops selling everything from leather goods to shoes to loose leaf tea and the Green Market lines the walls just outside of Diocletian's Palace with an offering of locally grown produce, cheese, and lace made from the islands.
We're really glad we had time to explore Riva and the Old Town as well as take our day cruise to Solta. Had we had more time in Split, it would have been a great base for exploring more of Croatia's islands such as Hvar and Brac since Split is in the heart of Dalmatia.
Where to Stay in Split
We stayed at Villa Kate, which was less than a 10 minute walk from Riva and Diocletian's Palace. Villa Kate is an apartment rental and we stayed in the studio, which sleeps 3 people, has a stove, fridge, and balcony to relax on. A 2-bedroom is also available and sleeps 4. The location couldn't have been better and we loved the bright, sunny apartment. Mirela, Villa Kate's owner and proprietor, kindly contacted us before our trip to offer directions to the apartment and her phone number. She met us upon our arrival and offered us tips on where to eat, the best way to get to the Old Town and beach, and where we could take Emma swimming. At less than €100 per night, we couldn't have picked a more perfect place to call home during our time in Split. This apartment will definitely be making our favorite accommodations around the world list.
This is a UNESCO World Heritage Site. For more info click here.
You can see all the UNESCO World Heritage Sites we've visited here.