I loved the quaintness of Tallinn's Old Town and wandering through the fairytale like city, but a girl still likes to shop! I was immediately drawn in to the colorful wool knits in the stalls at the outdoor Tallinn Wool Market. Estonian craftswomen set up shop to sell their hand knitted products in the shadows of the city wall on Müürivahe Street. If it can be made out of wool, you'll find it at this charming market.
My Icelandic wool sweater is a favorite that I picked up on my first trip to Iceland and it has kept me toasty warm in Arctic Finland, Arctic Norway, and even dog sledding and snowmobiling in the harsh conditions of Svalbard. But my Icelandic sweater was an expensive souvenir at around $300 for hand knitted Icelandic wool.
The prices were much more affordable at the Tallinn Wool Market and I couldn't pass up a few pairs of mittens and a wool jacket with a traditional Estonian pattern. Even Tim picked up a wool sweater in a charcoal gray. I guess he's preparing for the next crazy Arctic – or maybe Antarctic – adventure I come up with!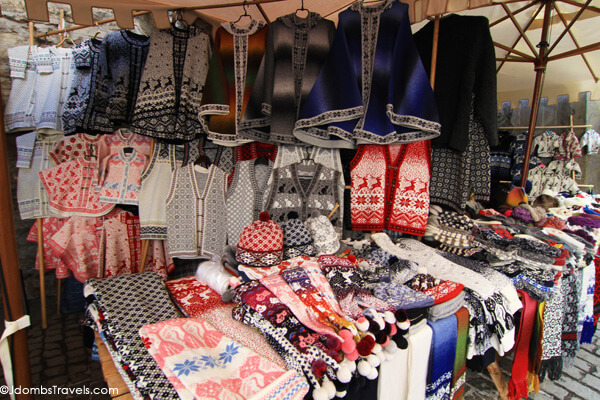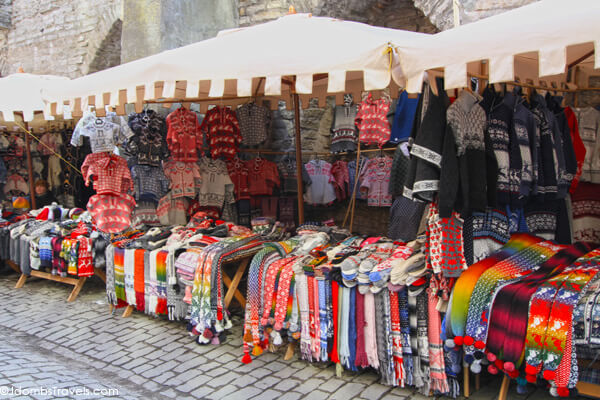 Estonian hand knitted wool mittens and hats also make great gifts and really are affordable with prices starting around €12 for mittens. We found a lot of the stock to be similar with emphasis to be on Nordic patterns like reindeer prancing or the diamond patterns. It's definitely worth wandering all the stalls before making any purchases. You might find something completely unique and you can barter a bit for similar styles.
Know Before You Go
The Tallinn Wool Market is set up along Müürivahe Street and the wooden stalls are generally open from 10am – 7pm Monday through Friday. The Tallinn Wool Market is open on Saturdays also, but closes up earlier like most shops in the Old Town.
Credit cards are widely accepted even at the Tallinn Wool Market