One of my favorite festivals, which I have written about before, is the Fiera dell'Aglio in Voghiera. This sagra of all things garlic showcases one of the most renowned varieties of garlic, a gastronomic treasure that even has the status PDO (Protected Denomination of Origin).
So what is a sagra anyway?
If you've driven around the Italian countryside, you've probably seen the signs. Sagra di <insert seasonal crop here>. The signs are always in Italian and often handwritten, but easy enough to figure out. A sagra simply means a local festival to celebrate the bounty of a harvest. Generally a menu fisso (fixed menu) ticket is sold and local chefs showcase their passion for cooking by preparing a plate full of dishes all including the sagra's namesake ingredient.
If you're expecting carnival rides and t-shirts with garlic plastered across the front, you won't find them at the garlic festival. But you will find local shop keepers selling their wares like local salami (with garlic, of course!), cherry wine and beer, and even roast suckling pig (which was delicious, by the way!).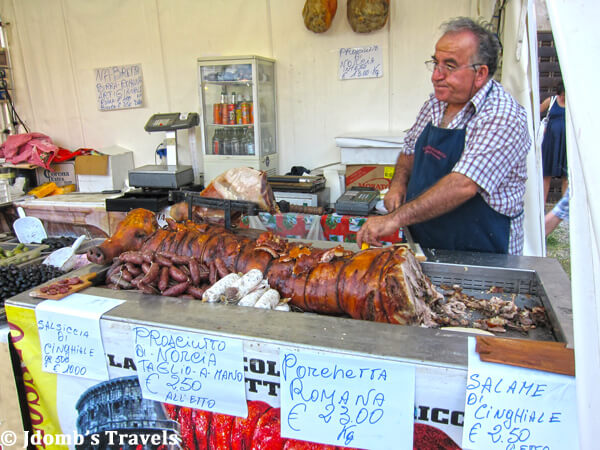 At the garlic festival, a menu fisso ticket costs €18 per person. That may seem expensive, but I totally think the meal is worth it! I eat a very light lunch in anticipation of literally stuffing myself at the garlic festival. The menu fisso includes ravioli in a garlic sauce, french fries seasoned with roasted garlic, garlic bruschetta, garlic sausage, garlic-breaded pork kebob, garlic seasoned steak, a slice of melon, a nectartine, and a nectarine torte for dessert.
My friend Nicole and I took our plates of food, the scents of garlic wafting in the air, to the communal tables and dug in. As I mentioned, a sagra is a local festival and when you're not a local and you're American, you tend to attract some attention. Always friendly, the people of Voghiera have welcomed me to their festival for three years running now and are always a bit curious as to how I learned about this little town fair.
And of course, no visit to the garlic festival is complete without trying some of the famous garlic gelato only found here in Voghiera. Garlic isn't a gelato flavor I'd order everyday, but when at a garlic festival, do as the Voghierans do!
How To Find a Sagra
If you want to know what sagre (plural of sagra) are coming up, check out Prodotti Tipici which lists sagre by region.