The Creuse is a region we'd be willing to bet you've not heard of. Located almost as though you dropped a pin in the very center of France, it's nearly an equal distance from Bordeaux, Paris and Lyon. With a population of more cows than people, France's Creuse is the perfect destination to get outdoors and explore the varied landscapes of this rural department.
Creuse is a haven for outdoor adventurers no matter if you enjoy hiking, fishing or biking. The list of possibilities to get outside and get active is seemingly endless.
We sought out the even less ordinary with a getaway filled with husky adventures, learning about France's more wild side and a scenic rail biking journey along a former coal mine track. But the other great thing about Creuse is that you needn't sacrifice a bit of luxury or the delicious gastronomy synonymous with France for a little time in nature. Creuse wraps up all three in a charming little department far from the crowds.
Day 1: Get Up Close with the Wildlife of Creuse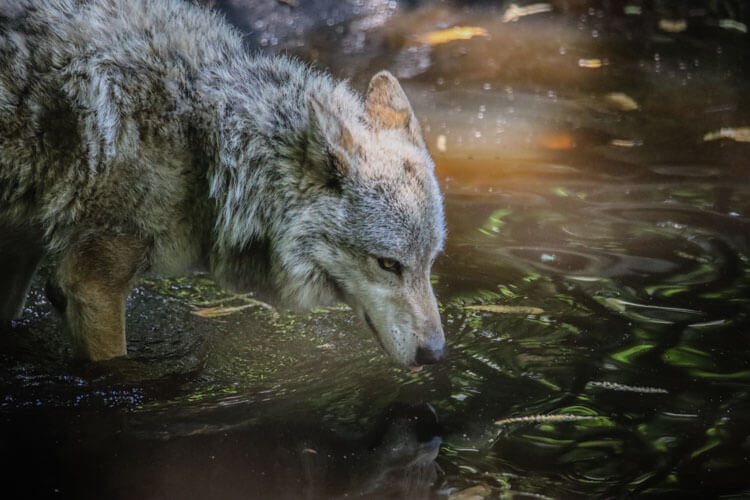 Discover Les Loups de Chabrières
One of the first stops in Creuse simply has to be at one of this department's most visited places, the Parc Animalier des Monts de Guéret. It's here that some of Creuse's most famous residents reside: les Loups de Chabrières or the Wolves of the Chabrières Forest.
The forests of Creuse were once populated by European gray wolves. By the end of the 18th century, it was estimated that there were between 3000 to 7000 wolves in France. Unpopular predators, wolves were the victims of organized hunts. And by 1930, wolves had completely disappeared not only in the Creuse, but from France entirely.
A population of wolves remained in Italy and some 60 years after the last wolf was recorded in France, they migrated back in to the French Alps. Wolves only reappeared in France since 1992 and it's estimated that there are around 500 individuals now inhabiting the Alps and Pyrenees.
The wolf is a very controversial animal in France. Human-animal conflict remains an ongoing problem as the wolves sometimes snag angry farmers' sheep. It's not uncommon to spot banners strung up across bridges declaring 'mort au loup' (kill the wolf) in wolf-populated villages.
While it's a shame that sheep and even cattle sometimes become an easy meal, wolves are actually a very important part of the ecosystem. They cull invasive species like deer, redistribute nutrients from the carcasses of their prey and provide food for other wildlife like birds and scavengers.
Wolves are protected in Europe under the Bern convention and, in addition, France has a ministerial decree that protects both wolves and their habitat. Because of their successful recolonization and quickly growing numbers of individuals, France also has a decree to allow the culling of 24 individuals each year in the Southern Alps.
Educating the French public about the behaviors of wolves is key in managing the human-animal conflict. The Parc Animalier des Monts de Guéret plays a role in that education with their park.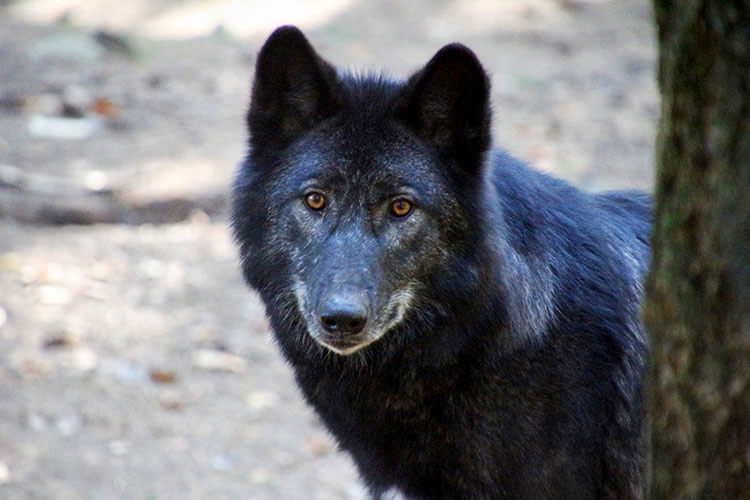 A population of around 50 wolves live in semi-freedom in massive forested enclosures at the park. The wolf species include European gray wolves, the rare black Mackenzie wolf and Arctic wolves. The European gray wolves live as close to being wild as possible, even hunting prey that enters their forested enclosure.
These unique forested habitations give scientists the opportunity to complete important field studies of the wolves. The park also works to support organizations such as FERUS and loup.org in protecting the wolves of Europe.
A trail winds through the park, giving visitors the opportunity to get up close with the wolves. There's various viewing points where you might be spot the packs of wolves. The black Mackenzie wolves also have a den and birthed a litter of pups in the spring of 2020, so if you're very lucky you might be able to spot the wolf pups.
There's also a handful of other animals like deer, wild boar, badgers and fox.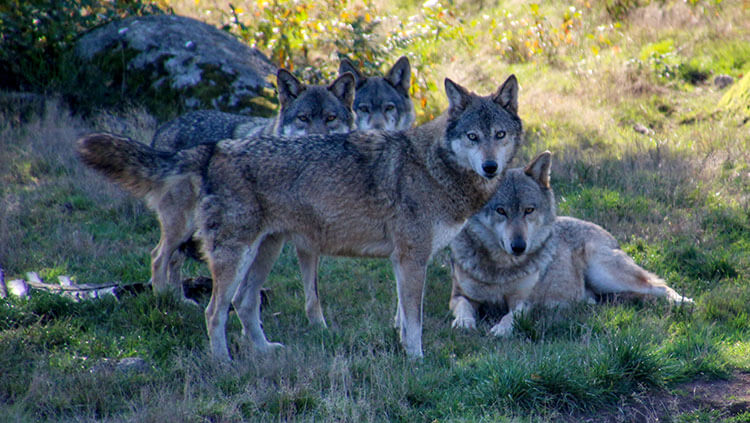 At 4pm daily, the staff at Parc Animalier des Monts de Guéret feed the wolves. It's one of the best times to visit and ensure you see the wolves, though it's all the most crowded time of the day. Visitors can gather on a viewing platform and watch the wolves being fed. Otherwise, try to visit at opening time in the summer months.
Wolves are most active and naturally hunt early in the mornings or at night. During the months of July and August, you can also visit les Loups de Chabrières on during the Sounds of the Night visit on Wednesdays and Fridays at 8:30pm.
Parc Animalier des Monts de Guéret, Guéret. Open daily from February – January. Closed December 24, 25, 31 and January 1. Check the website for opening hours during the period you plan to visit.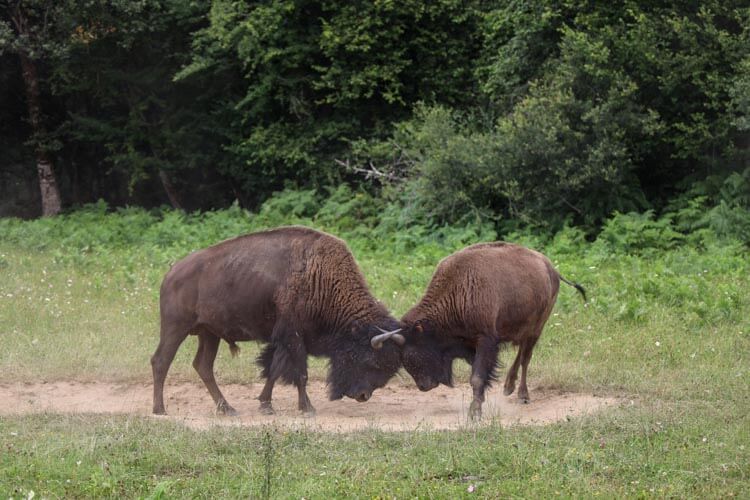 Go on a Bison Safari
Mention bison and our minds typically wander to Yellowstone and the wide-open plains of North America. We'd rarely connect Europe and bison, but large herds of these animals once roamed Europe.
The famous cave paintings, like those at Lascaux in the Dordogne to the south of the Creuse, attest that bison roamed this area. But agriculture and human settlement pushed European bison to the brink of extinction in an even more dramatic saga than that of the North American bison.
Somehow, against all odds, two small populations of European bison clung on: one located in the remote Northern Caucasus Mountains of Russia and the other in Poland's Białowieża Forest.
With only two small herds remaining in the wild, the future of the European bison looked bleak. Poaching was a problem and the German occupation of the Białowieża Forest reduced the bison population to just 9 individuals by their retreate in WWI. The last remaining wild European bison was poached in 1927. Only 50 remained in the world, all in zoos.
The Białowieża Forest remained a natural reserve with its large expanse of undeveloped wilderness, a perfect home for the reintroduction of wild European bison. Breeding programs were put in place and the first two were released in to the wild in the Białowieża Forest in 1952. Today there are now around 7500 individuals in the wild, with Białowieża Forest home nearly 25% of the world's wild European bison.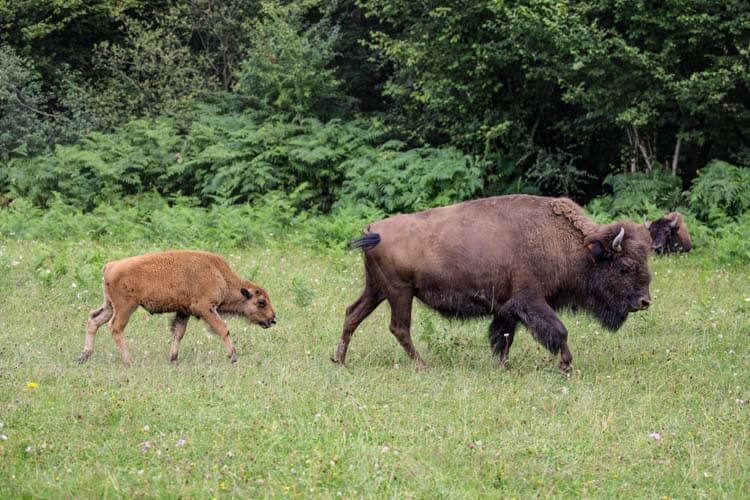 There is one herd of wild European bison living in France today. No, they aren't living in Creuse. The herd of around 50 bison live in the French Alps near Thorenc. But you can go on a bison safari in Creuse to learn a ton about the largest land mammal in Europe.
Elevage du Palais is a bison farm where owners Florence and Billy have been raising North American bison since 2001. The bison roam freely on 50 hectares of land and are raised in a natural way, with no nutritional supplements or interferance. The bison are only rounded up once per year for an annual blood sample, worming and tagging of the calfs in compliance with French farming standards.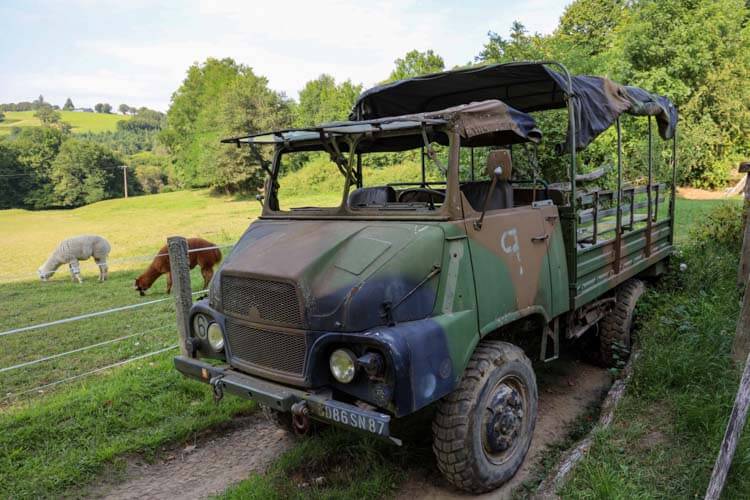 Visitors can go out in a 4×4 that once belonged to the French army on a bison safari. The tour is available in French, English or Dutch and Florence is a wealth of knowledge on bison. She's happy to answer any and all questions you might have, while getting you as up close to the bison as possible.
Just like going on safari in sub-Saharan Africa, the bison aren't bothered by the 4×4. But if you were to get out, which isn't allowed, it would be a different story since bison are dangerous and untamable.
Visiting in summer, we even saw young calves which are born in the late spring or early summer when the hay is tall and camouflages them. It was fascinating learning so much about bison and getting such an up close look.
Elevage du Palais is a working bison farm and they do raise the bison for meat consumption. The North American bison is the only subspecies of bison that can be bred for meat production. There's a small boutique where you can buy bison products and meat, if you like.
Elevage du Palais, Le Palais, Bourganeuf. Bison safari available by reservation.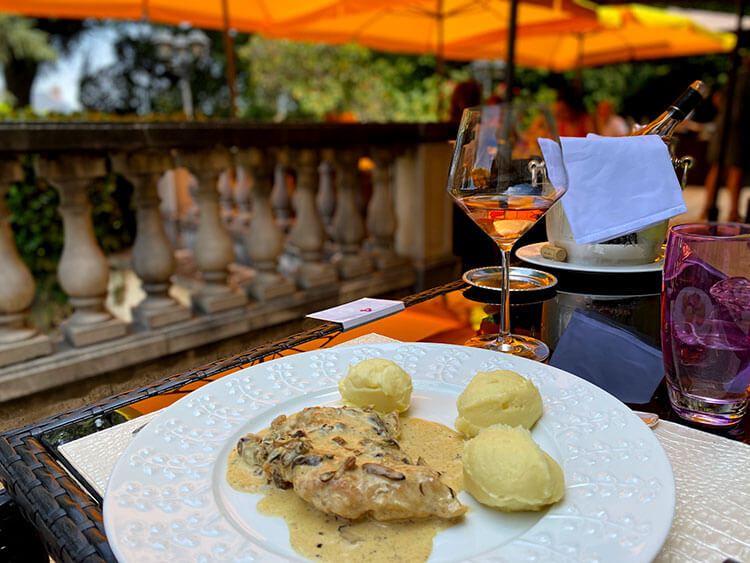 Dinner at Le Coq en Pâte
Le Coq en Pâte is the perfect location for a first dinner in the Creuse. Set in an 19th century townhouse that is an elegant example of the stone masonry found throughout the department (most stone masons that constructed Paris came from the Creuse), the restaurant embodies the Limousin. The tables are set with the finest Limoges porcelain, the knives are works of art, and the food is classic French showing the products of the region.
Situated in the heart of Guéret, the capital of the Creuse, Le Coq en Pâte is a local favorite. The terrace is set in a park with even a Giant Sequoia, and a lovely place to leisurely dine on a summer evening in the Creuse.
Breton lobsters and Limousin beef are staples and specialties of the restaurant, but the rest of the menu changes regularly to reflect the seasonal produce and ingredients of the region. The Breton lobsters might seem a bit out of place in central France, but are a homage to chef Jean-François Rodallec's native Brittany.
We chose the menu with starter, main and dessert. Classic is the name of the game here, and our chicken with mushroom cream and pureed Creuse potatoes was so simple, yet delicious. We finished off with apricots topped with homemade ice cream.
Le Coq en Pâte, 2 Rue Pommeil, 23000 Guéret. Advance reservations strongly recommended.
Day 2: Huskies and Hedge Mazes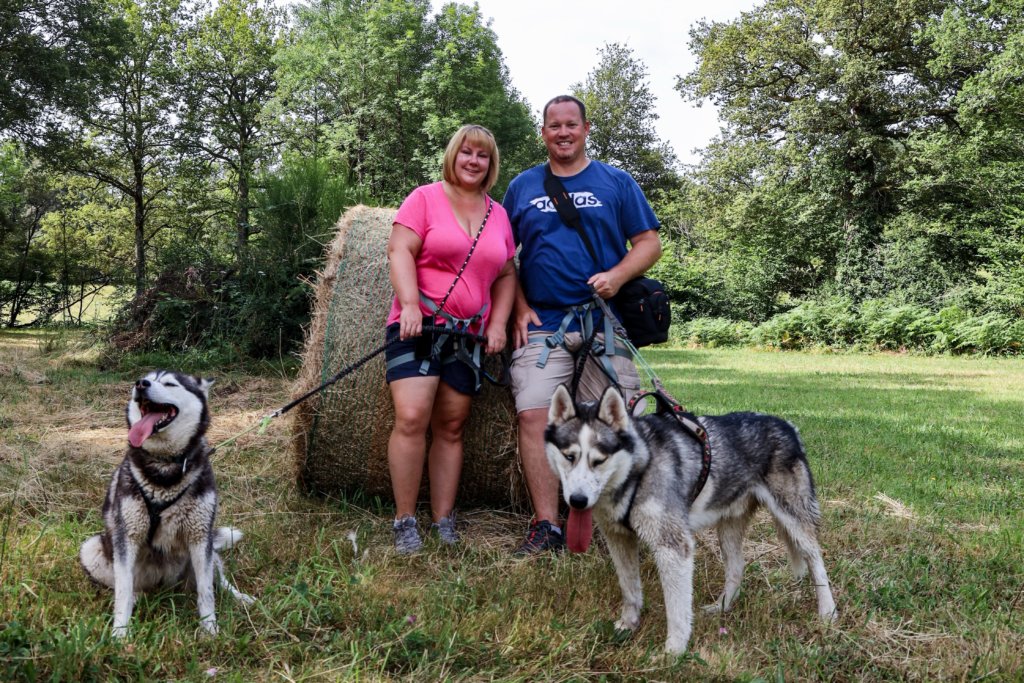 Hiking with Husk'in Creuse
Attention dog lovers! You don't need to head to the Nordic countries for an experience with huskies. The Creuse is now home to this much-loved experience with powerful yet gentle huskies thanks to Julien Le Moine at Husk'in Creuse.
There's no snow or ice, but that didn't stop Julien from realizing his dream of training to be a musher and having his own team of huskies right in his native Creuse forest. After falling in love with dog sledding on a trip to Canada, he spent several winters in total immersion musher training in Canada.
Back at home in Creuse, he opened his Husk'in Creuse activity by rescuing Nordic dog breeds who were turned in or abandoned when their owners just couldn't care for their high energy and activity needs. He now has 20 dogs and the Creuse is perfectly suited for husky experiences…minus the snow.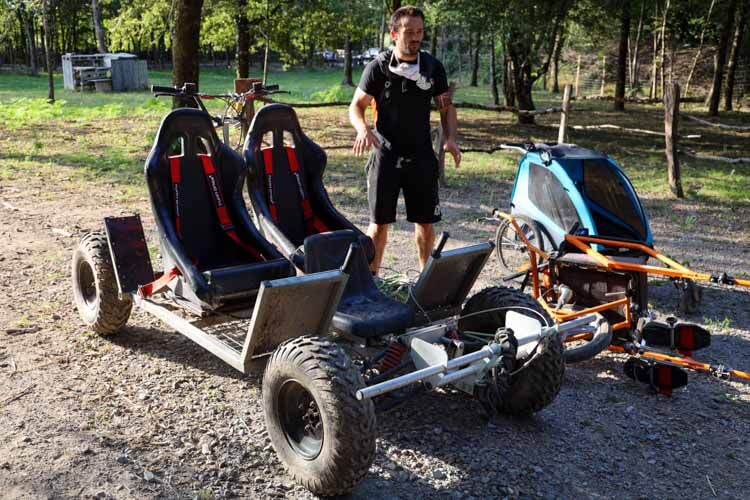 Husk'in Creuse offers husky hiking in the months when the temperature reaches beyond 15°C (59°F), and a husky cart experience or bikejoring with one or two dogs when the temperatures are suitable. The four-wheeled cart is exactly what mushers use to train with their husky teams in summertime and gives you the experience of driving a dog sled. The bikejoring is definitely a unique experience similar to skijoring with horses, only with huskies and a bicycle.
In summer when the temperature gets above 15°C, it's just too hot for the huskies to pull the cart or go bikejoring. And while it may sound like husky hiking is just walking a dog, let us assure you this is a fun and active experience both you and the huskies will enjoy.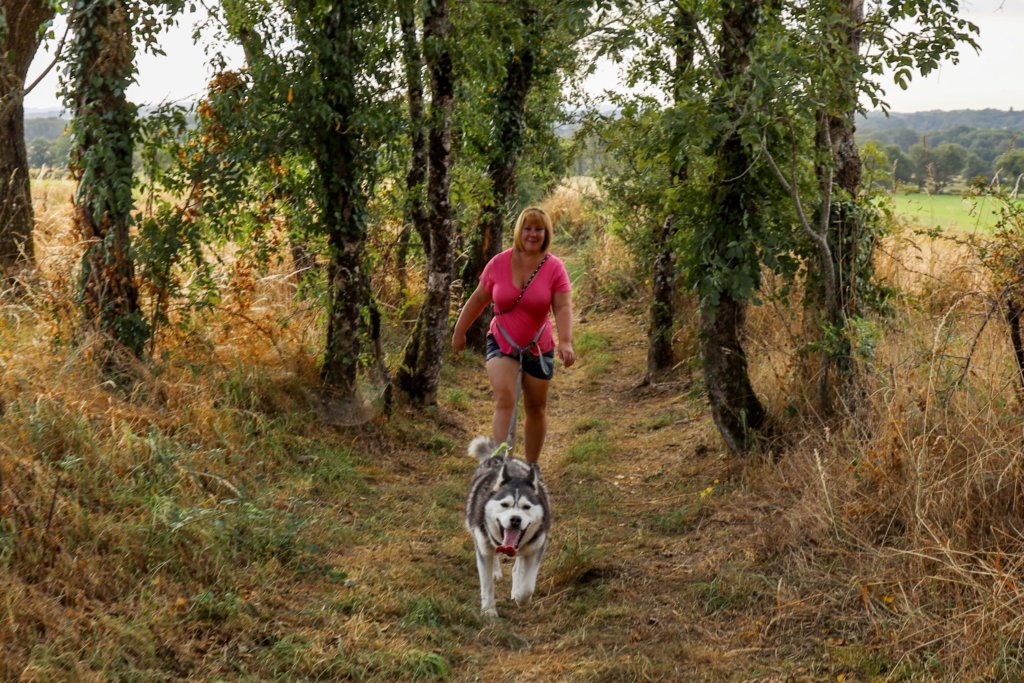 Unlike walking a dog with a leash, you're harnessed to the husky Julien pairs with you. You wear a harness that goes around your waist and legs, the huskies wear their harnesses and you're attached together with the lead. This allows you to use your entire body to control the high energy huskies.
The hike is a 6-kilometer hike along trails in the surrounding Creuse forest. There's several spots where the dogs can cool down in little streams and you can get a short rest while they do. It takes just around 2 – 2.5 hours for the hike with the huskies pulling along at a good speed. It's definitely an enjoyable activity for both you and the huskies, and Julien and an assistant accompany you to ensure everyone is having fun.
Husk'in Creuse, Anzême. By reservation only.
Lunch at Le Cabas Creusois
You've definitely built up an appetite after husky hiking, so head to one of Guéret's best tables for a well-earned lunch.
Le Cabas Creusois is part fine epicurean shop selling local products of the Creuse and also a restaurant. Owner Laurent Wolfelsperger Marsalon, once an architect in Paris with family roots in the Creuse, he spent his childhood summers in this rural part of France. With the delicious products deeply rooted in his childhood memories, Laurent decided to open a shop with the concept to be a fine food grocery selling local products from the Creuse. He quickly expanded his product selection to bring the local Creusois products from the region and beyond, and recruited a chef to also open a restaurant.
It was chef Benoît Corjon, who worked on the bridage at the fine dining restaurant of Paris's historic Hôtel de Crillon. Located in one of Paris's most luxurious hotels, you can expect the burgeoning chef learned the art of gastronomy.
It shows at Le Cabas Creusois, where we had the best meal of our trip in the Creuse. No matter what you order from the regularly changing menu featuring the fresh ingredients of the moment, you'll be delivered a gastronomic feast in a totally casual and unpretentious setting.
Le Cabas Creusois, 41 Place Bonnyaud, Guéret. Advance booking suggested.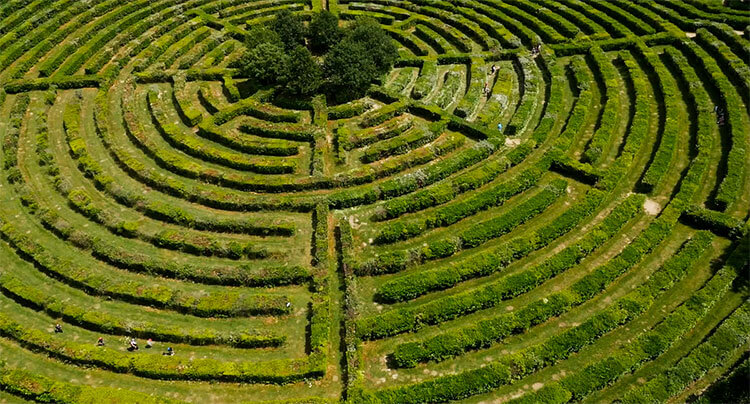 Get Lost in the Labyrinthe Géant des Monts de Guéret
Just about every American has traversed a corn field maze, especially for a good ol' hair raising time in Halloween corn field mazes. But did you know that this tradition started long before The Shining made hedge mazes an experience Americans craved with its heart-pounding chase through the Stanley Hotel maze?
In fact, the hedge maze originated right here in Europe and dates back to Ancient Greece. Ancient Greeks embarked on a serene and spiritual journey wandering through the labyrinth made of a hedges some 2000 years ago. Then Germany instituted hedge mazes as a sort of right of passage for young German men passing from child into adulthood.
By the 16th century mazes were being built to entertain royalty. Louis XIV even had an extensive labyrinth built in the gardens of Versailles in 1677 and it included 39 topiaries shaped like the characters from Aesop's Fables. Unfortunately it was destroyed in 1778.
Hedge mazes are still entertaining people today and the largest permanent plant labyrinth in Europe exists right in Guéret, France.
Located on the edge of the Chabrières forest just minutes from the center of Guéret, the Labyrinthe Géant des Monts de Guéret covers 22,000 m2 and has 4.5 kilometers (about 2.8 miles) of alleys. Construction started in 1995 and took three years to complete and open to the public.
The giant labyrinth of Guéret is a much-loved attraction in Creuse. It's a puzzle maze in which you solve a series of questions in order to find the correct paths to take. There's question levels for all ages and even a set of questions available in English.
The entrance to the labyrinth leads you to the center, where you need to choose a path from one of the seven different alleys leading out. Not making a correct choice quickly leads to a dead end and you need to return to the center. But once you're on the way, correctly answering the various questions is the key to finding the exit.
Labyrinthe Géant des Monts de Guéret, Route de Bourganeuf, Guéret. Open February to November. Check the website for opening hours for the period you plan to visit.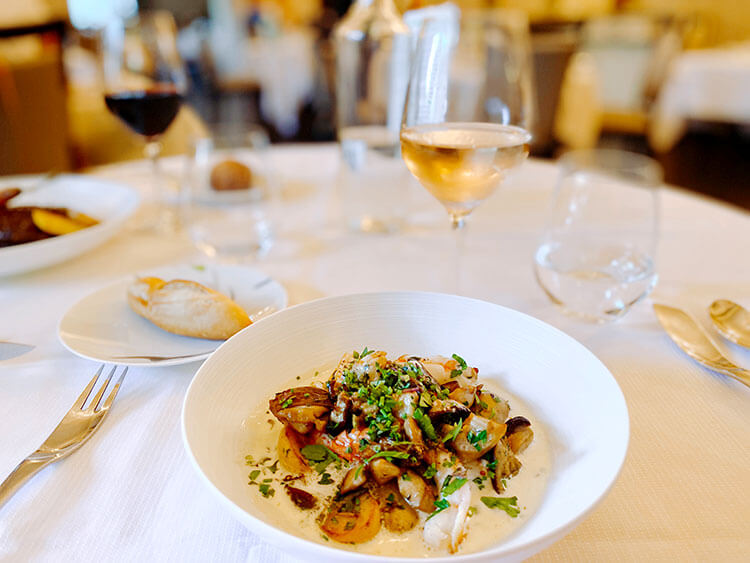 Dinner at Restaurant Nougier
Hotel-Restaurant Nougier is one of Creuse's most famed and prized restaurants. Celebrating more than 60 years of hospitality, it's now run by the third generation of the Nougier family, Stéphane Nougier.
Stéphane Nougier has a passion for food and he's modest about his professional culinary training. In fact, we first found him behind the check-in desk greeting new arrivals. But it's food that he really loves, and it's in his dishes that combine the products of the Limousin with spices and citrus from around the world where he really shows you his interpretation of the Creuse.
The restaurant has maintained a Bib Gourmand award since 2007, which is awarded by the MICHELIN guide for restaurants that offer a good quality menu for a modest price. Outside of Paris, that standard is a set menu (including a starter, main and dessert) for a maximum price of €33.
The menu changes regularly to highlight the seasonal products of the Limousin. On our visit, we opted for à la carte since it a hot day and we'd also had a filling lunch. Tim, who chose fish at lunch, opted for the Limousin beef with foraged mushrooms. I chose the cassolette with langoustines and cepes, which are the most famous wild mushrooms in France and come from the region.
Neither of us pass up a soufflé when we see it on a dessert menu, and Hotel-Restaurant Nougier didn't disappoint.
The high quality food and the quaint setting in a quiet village make it worth the little detour to Saint-Étienne-de-Fursac.
Hotel-Restaurant Nougier, 2 Place de l'Église, 23290 Saint-Étienne-de-Fursac. Advance reservations strongly recommended.
Day 3: Adventure on the Rails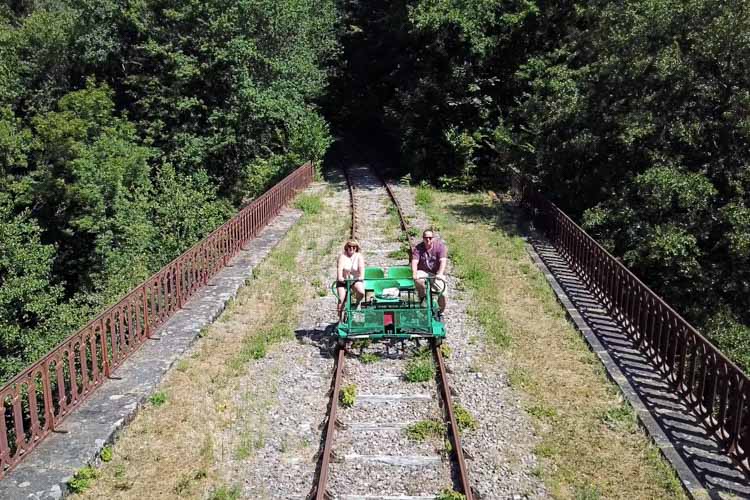 Rail Bike the Old Coal Mine Track of Bosmoreau-les-Mines
From the old railyway station of Bosmoreau-les-Mines, the former coal mining town has made use of the now defunct rail line that traverses the scenic 6 kilometers to medieval Bourganeuf with a rail biking adventure. If you've never heard of one, the rail bike is a pedal-powered special type of 4-seater car designed to ride the railroad.
We first discovered rail biking in West Sweden and have been itching to do another rail bike adventure ever since. The Vélo-Rail de la Mine departs from Bosmoreau-les-Mines and you travel through a river valley under the shade of the trees. Pedaling along the railway where coal was transported to the railhead in Bourganeuf while the coal mines were active, you pass fields with horses grazing on one side and the babbling stream on the other.
Nearing the end of the track you get a panoramic view of the medieval towers of Bourganeuf. Then it's time to easily turn the rail bike around and head back to the station of Bosmoreau-les-Mines.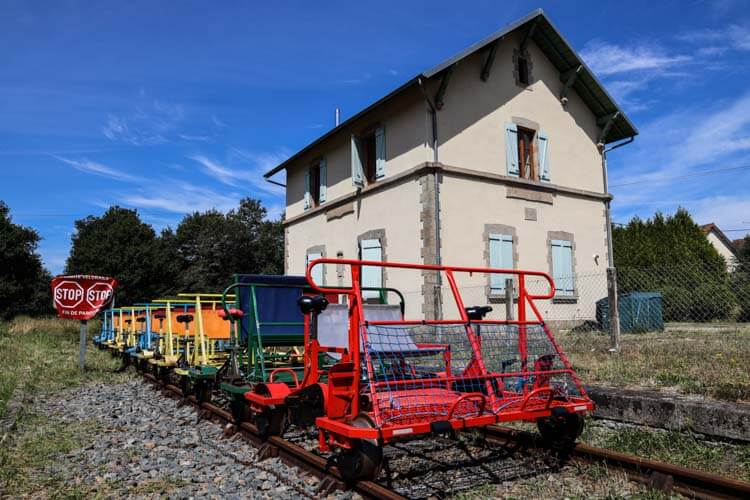 It's 10 kilometers round trip and the rail bike can accommodate 4 – 5 passengers, with two passengers pedaling. It's a fun and unique adventure no matter if you're a couple or a family.
Vélo-Rail de la Mine, Bosmoreau-les-Mines. Open daily from April 1 – October 31. Check the departure schedule for the period you plan to visit. Rail bikers must arrive 15 minutes before departure as all the rail bikes depart together.
Where to Stay in Creuse
There's several different accommodation options to suit just about any travel style in the Creuse.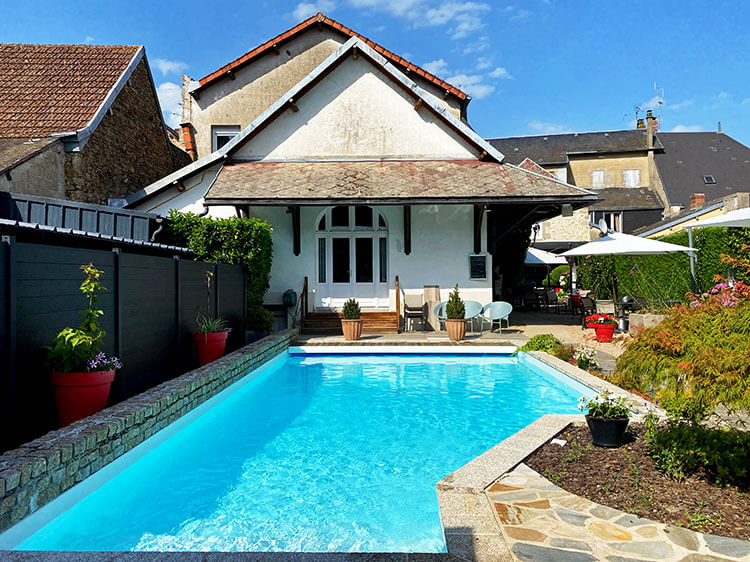 Hotel Restaurant Nougier, Saint-Étienne-de-Fursac
Located in the center of the small village of Saint-Étienne-de-Fursac, Hotel Restaurant Nougier is a chic gem in the Creuse. It's located around a 30-minute drive from Guéret and 40-minutes from Limoges.
Though the exterior has maintained the historic feel of the village, the interior has been completely renovated and modernized. The rooms are plush with modern amenities and have either village church or garden views. There are family rooms available as well, which can accommodate a family of 4.
The hotel also features a swimming pool in the garden, which is perfect for relaxing at after a hot day of outdoor activities in the Creuse.
Breakfast is continental breakfast buffet with pastries, a selection of meats and cheese, yogurt, juice and choice of coffee, tea or hot chocolate.
Of course, the famed Restaurant Nougier attracts locals and tourists from all around the Creuse. The owner/chef is a Maître Restaurateur and the restaurant features in the Michelin guide.
Hotel-Restaurant Nougier, 2 Place de l'Église, 23290 Saint-Étienne-de-Fursac.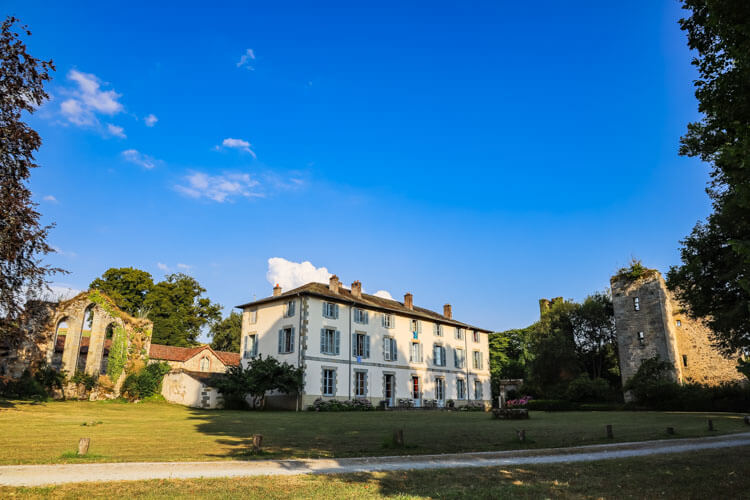 Abbaye du Palais, Thauron
l'Abbaye du Palais is a unique option in the Creuse. Set on the grounds of a former 12th century Cistercian abbey, you'll find a luxury B&B as well as self-catering gites and even three caravan-style wagons for glamping. Run by a Dutch couple, it's homey and welcoming.
The boutique resort is located just a few minutes from the Elevage du Palais bison farm in a spectacular rural setting. Star-gazers will love this location for the sky full of stars and no light pollution. Yet Creuse's attractions in Guéret and Bourganeuf are less than a 30 minute drive away.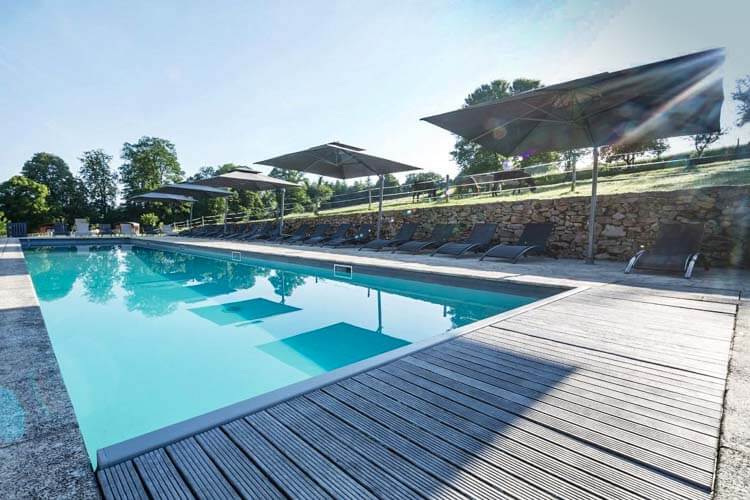 l'Abbaye du Palais has a heated swimming pool, games such as petanque and table tennis and even a small playground for kids.
Breakfast is offered for the B&B guests. It's a French breakfast with pastries, fresh fruit, meat and cheese and an egg cooked to order.
They offer a table d'hôte for dinner. If you're unfamiliar with table d'hôte, it's a multi-course set menu. And we can definitely highly recommend it for at least one night in Creuse.
On the night we dined at the Abbaye du Palais, we started with a veal tartare with homemade mayonnaise with summer truffle, foraged mushrooms and carrot. The veal was from their farm. The main course was a delicious lamb tagine with squash from the Abbaye's farm, served with a side of couscous. And for dessert, homemade verbena ice cream with berries gathered from the farm.
If you have time, they even offer cooking classes. You can work alongside the chef to prepare the evening's table d'hôte menu and get a recipe booklet to take home.
Abbaye du Palais, Lieu-dit le Palais, 23250 Thauron
Know Before You Go
The Creuse is best explored with a car to get around.
The nearest airport is the Limoges – Bellegarde Airport, located about 1 hour drive away from Creuse. Guéret is served by a train station; however, you'll want a car to get around as most attractions in this guide are not served by public transportation links.
Our trip to Creuse was in partnership with Tourisme Creuse and Destination Nouvelle Aquitaine as ambassadors of the region and in order to bring you this story. However, Luxe Adventure Traveler maintains full editorial control of the content published on this site. As always, all thoughts, opinions, and enthusiasm for travel are entirely our own. This article contains affiliate links. When you book on Booking.com through our affiliate partner site, we earn a small commission at no additional cost to you.