Mention Tuscany and women around the world go all googly-eyed picturing impossibly handsome Italian men, fields of yellow sunflowers, and romance a la Diane Lane in Under the Tuscan Sun. Or maybe Tuscany conjures up visions of sipping a perfect Chianti at a tiny cafe in an old Medieval town. Our visit to Tuscany couldn't have been more quintessentially Italian: we stayed in a castle on a rolling green hill that looked out over other castles dotting the region and grape vines for as far as the eye could see. We were in Strove, in the heart of Tuscany between Siena and San Gimignano, in the Chianti Colli Senesi wine region.
Is Chianti Colli Senesi the same as Chianti? Actually, no. Chianti once upon a time referred to everything between Florence and Siena, but around the 1900s, Chianti Classico came to be known as just the topographic area around Chianti and little subzones of Chianti like Chianti Colli Senesi were born.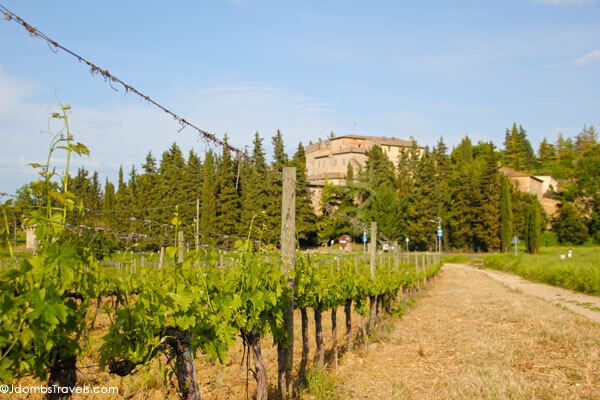 Castel Pietraio stands majestically on a hill in the Chianti Colli Senesi set amongst its vineyards of grapes glistening in the sun; the ancient tower of the castle dating from 1000. Castel Pietraio produces several types of wine, all 100% from grapes from their own farm and to honor the memory of the people that lived in the castle, each type of wine is named after former inhabitants.
The most prestigious wine produced at Castel Pietraio is the Ghinibaldo, named for the famous couple Ghinibaldo Saracini and Sapia Salvani. Produced from Sangiovese (80%) and Merlot (20%) grapes cultivated in the castle's best vineyards, it is refined for 12 months in barrique and aged for an additional 3 months in the bottle. With a spicy and complex full taste, it pairs best with red meats, game, dry and mature cheese and should be served at 18°C.
The Chianti Colli Senesi DOCG is also produced 100% from Sangiovese (95%) and Canaiolo Nero (5%) grapes from the farm and are planted on the most exposed side of the hill. It has intense flavors of black cherry, plum and raspberry. It is aged for 6 months in cement tanks followed by 3 months of aging in the bottle. Chianti Colli Senesi Castel Pietroia pairs nicely with barbecue, broiled or sauteed meats, and stuffed pastas and should be served at 18°C.
Interesting, Castel Pietraio's wines are largely sold in the United States in Colorado, California, Washington DC, Illinois, Kansas, Massachusetts, Missouri, Oregon, Texan, and Washington. The wine can also be purchased direct at Castel Pietroia.
Know Before You Go
Castel Pietroia is located at Strada di Strove, 33 in Monteriggioni and is only reachable by car.
Guided tours of the castle and wine cellars are available upon request.
Ghinibaldo is €19.50 per bottle and Chianti Colli Senesi is €5.50 per bottle when purchased direct at the castle.
Credit cards are accepted.