Vineyards of grapes dot the hillsides in the completely unspoiled countryside of Croatia's Istrian peninsula. Near Momjan, a charming farmhouse with blue shutters practically beckoned us to visit. With a view of the Dolomites on one side and the lush green leading to the Adriatic Sea on the other, you just get a feeling that Kabola Winery is something special.

The Markežić family has been growing grapes here since 1891 when they planted the first vineyard of Momjan Muscat, a variety of grapes only grown in the Momjan area of Istria. Of course, Istrian Malvasia, the most common grape variety of Istria, is also grown here in the soil rich in clay and marl.
Kabola Winery does something special with their Istrian Malvasia grapes. Buried in their vineyard are 8 terracotta clay pots and only the very best grapes begin their vinification process here. Fermentation begins with the grapes in their skins for 6 – 7 months inside the terracotta pots (called amphora), fermenting in their own yeasts. The ground keeps the pots at 10-12°C. After maceration in the pots, the grapes are pressed and then aged in Slavonian oak barrels for 1 – 1.5 years. After bottling, the wine is further aged in the bottle for another 1 – 1.5 years.
The amber colored 2007 Malvasia Amphora, of which the name comes from the ancient vinification process, has aromas of sweet caramel. It's a rich white wine with tastes of raisins, dried figs and hints of honey and cognac. It would pair wonderfully with red meats, dishes with truffles (especially the famous white truffles of the region), and hard cheeses. It is best served at 16°C.
Malvasia Amphora was our favorite of the Kabola Winery wines, but they produce other wines to note as well. Their red Terran has won awards as the best Terran and the 2007 is spicy with aromas of pepper. It was a particularly hot day when we visited, so the Malvasia 2009, which is aged in oak for 18 months, was refreshing and smooth with a tingling finish from the acidity. Of course, also be sure to try the Momjan Muscat, which is indigenous to this area of Istria. It is a sweet wine, so should be drank as an apertif or with a light dessert.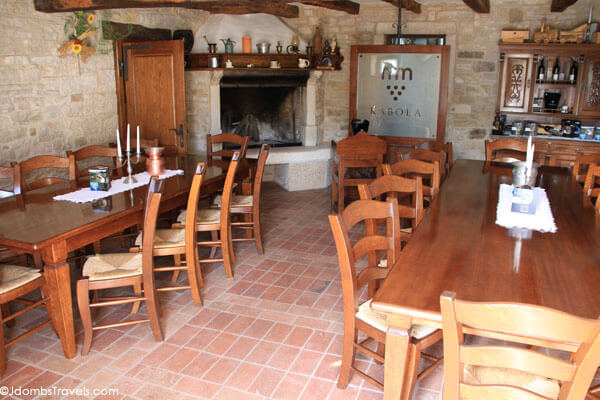 A tour of the wine cellar and small wine museum and tasting can be arranged in advance. Tastings can be paired with with Istrian delicacies like Istrian ham, extra-virgin olive oil, and truffles from the local area. The tasting room is cozy and a fantastic place to enjoy Kabola Winery wines!
Know Before You Go
Kabola Winery is located at Kanedolo 90 in Momjan. The wine shop hours are 8am – 8pm. Tasting and tours should be arranged in advance.
For some other wineries to also visit in the area, check out Scenes from Istria's Wine Roads.