Mention Croatia even just a few years ago and you'd be met with questions like "Where's that?" and "Is it safe?" But as happens when celebrities like Beyoncé and Jay-Z are spotted frolicking on the beaches or a mega-popular hit TV series like Games of Thrones films there, Croatia has burst onto the scene as the new It European destination. And why not? The boomerang shaped country boasts some of the most beautiful coastline Europe has to offer and many of its town and cities have a fascinating history. But Croatia has something else not-to-be-missed and that is traveling the wine roads of Istria where vineyards seemingly roll out from tiny, crumbling hilltop towns.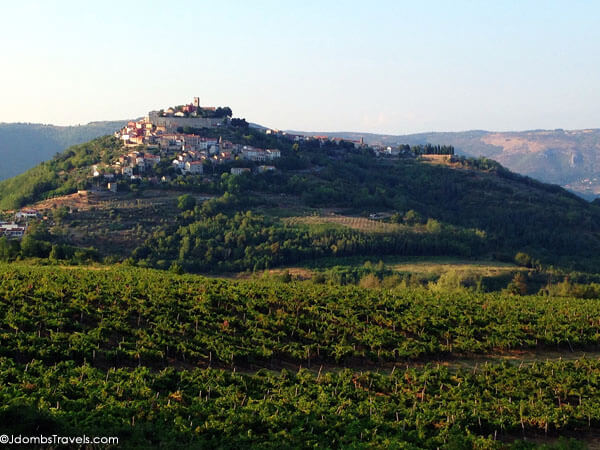 Before 1992, when Croatia was still part of Yugoslavia, there were no private wineries. There were maybe five or six state owned wineries in the entire country. So when we were planning our visit, we were shocked to find 30 or more wineries to choose from. With generous tasting glasses, it's really only feasible to tour and taste at 2 – 3 per day. An easy 2-hour drive from our home in Northern Italy, we chose to take a day trip. Over the next few Wine Wednesdays, we'll take a more detailed look at the three wineries we visited and what to taste, but for now, enjoy these scenes from the wine roads of Istria.
Kozlović Vina
As we wound our way through a crumbling village and along a road barely wide enough to be one lane, let alone two, Kozlović came in to view. Perched atop a hill opposite the nearly 1,000 year old castle of Momjan, Kozlović is run by 3rd-generation winemaker Gianfranco Kozlović. The tasting room, opened just a little more than one year ago, is like a marriage of modern architecture with the natural surroundings. Wine tasting can be enjoyed inside the modern tasting room or outside on the glass enclosed deck looking out over the vineyards.
Kabola Vina
Just a few minutes drive from Kozlović Vina, Kabola is just the opposite of modern. Sitting on a hill that looks over its vineyards and all the way out to the Adriatic Sea, the Croatian farmhouse is simply charming with its blue shutters and red geraniums. Our visit to Kabola was unplanned in advance, yet Maya was welcoming with both a tour and tasting. And completely new to us, Kabola produces a wine that spends part of its vinification process in terracotta pots buried in their vineyard. More on that next week!
Benvenuti Vina
Benvenuti Vina is located in the village of Kaldir, overlooking nearby Motovun, a little further away from Momojan. It's family run winery where they grow three grape varieties. The village was quiet and we felt like old friends sitting around the big, oblong table in the tasting room with some other locals who were just out enjoying an evening glass of wine.
Know Before You Go
It's best to rent a car to travel the wine roads of Istria. The seaside towns of Porec or Novograd are easily to reach after wine tasting.
Kozlović Vina is located in the countryside of Momjan. Use the GPS coordinates N 45° 26′ 35.94″, E 13° 42′ 36.13 to easily find it. The tasting room is open 8am – 5pm.
Kabola is located just a few minutes from Kozlović Vina at Kanedolo 90 in Momjan. The wine shop hours are 8am – 8pm. Tasting and tours should be arranged in advance.
Benvenuti Vina is located in the town of Motovun. Use the GPS coordinates N 45° 18′ 53", E 13° 50′ 57" to easily find it.