While checking out southern Arizona's wineries like the kitschy Arizona Hops & Vines, I heard about northern Arizona's wine country and some fun ways to explore the wineries like the Verde Canyon Grape Escape Wine Train and an adventurous Water to Wine Tour. Having ridden the Napa Valley Wine Train before, I decided kayaking the mini-rapids of the Verde River in an inflatable ducky kayak sounded like a great way to spend my Saturday. Plus, I was promised wine if I successfully made it down the river. Apparently, I will now do just about anything for wine…

I met my guide, Chris, from Sedona Adventure Tours along with a group of 10 other women and two fellas at Alcantara Vineyards and Winery. All accounted for, we were shuttled up river to get a short lesson on paddling and how to properly enter the rapids.
Chris explained that we wanted our kayaks to enter the chutes and riffles where the glassy part of the water met with the roaring mini-rapids. "Make sure your kayak is facing forward (backward is okay too), but never enter the chutes sideways," he warned. "And if you fall out of your kayak and find yourself panicking," he said, "stop panicking and just stand up and step back into your kayak." We all laughed. With how dry the Arizona spring had been, the river was anywhere from ankle to thigh deep.
After a few minutes of paddling ourselves around the lagoon area and learning how to turn, we were off with an immediate chute to get us started with a bit of excitement. I lined up and watched the others in front of me paddle into the first chute and then paddle hard on the left to make the first bend in the river. As I paddled toward the first chute, the current caught me and before I knew it, I was taking this first rapid backward. "Showoff!", Chris shouted. Yeah…I totally meant to do that.
It wasn't the last rapid I'd navigate backwards, but I did make most of them going forward. Not knowing what the river had in store for us as we entered each chute, we'd all scream in delight as the rushing water picked up our kayaks and whooshed up downriver. Then as the rapids returned to calm again, we'd each smile in relief that no one had fallen out and made asses of ourselves.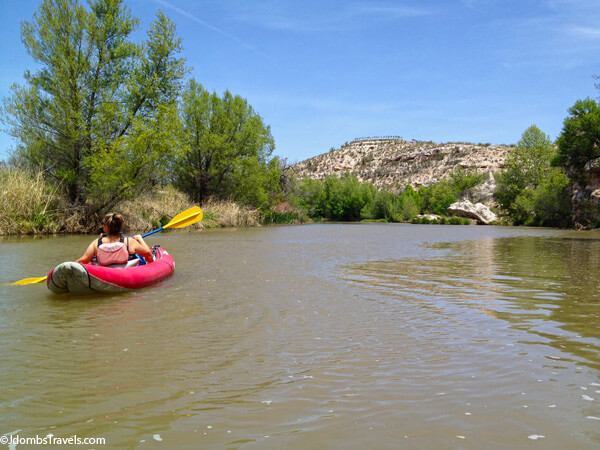 Alcantara's terraced vineyards finally came into view and we knew our promised reward of award winning wine was just a few more paddle strokes and a short walk away.
At Alcantara, each Water to Wine Tour participant receives a $20 credit that can be used for wine tasting or purchases. There are two wine tasting available, a $10 option and a $15 option. With both wine tastings, you select five pours but there is a larger selection to chose from with the $15 option. And you get to take home a collectible Alcantara Vineyards and Winery wine glass after the tasting.
I selected four wines all produced from local grapes and one other. Alcantara's white blend, Mesa Blanca, which is a complex white blended from five different types of grapes was just slightly sweet from the Muscat grapes with hints of apricot and pineapple. Refreshing and perfect for a hot day just like on my visit. My favorite wine of the tasting, though, was the 2011 Syrah. Well balanced and smooth, this red had a bit of spiciness and would pair wonderfully with meats or barbecue.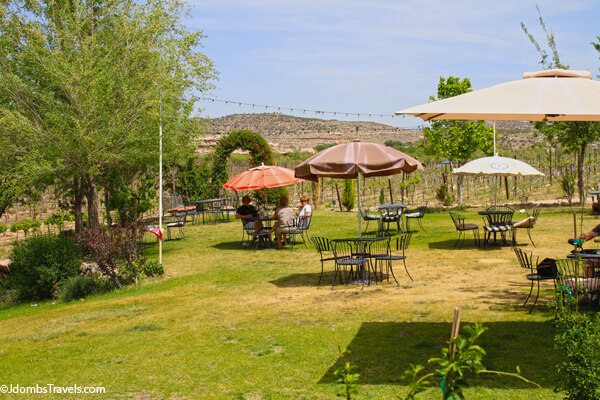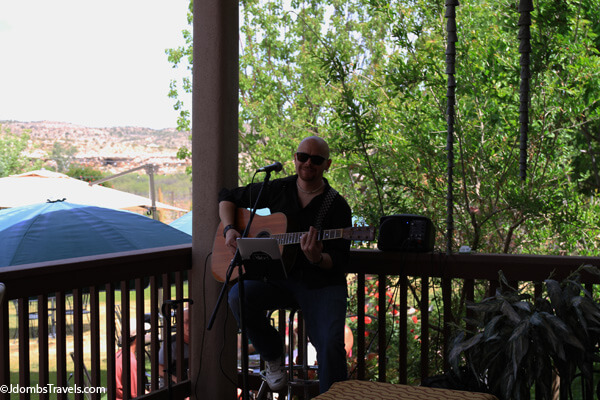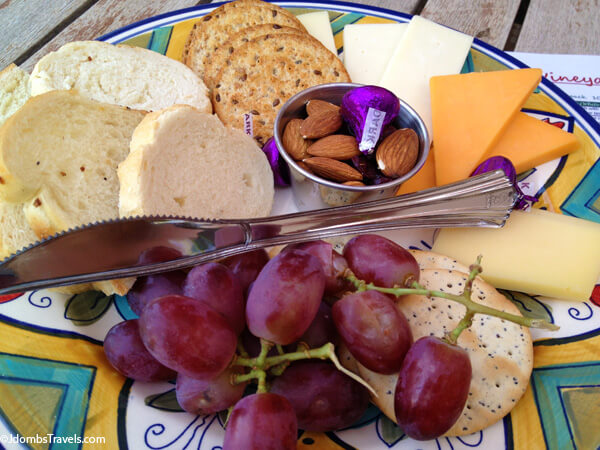 I sat sipping my wine while nibbling on a fruit and cheese plate in Alcantara's lovely garden with a new group of friends from the river. I know Tim would have loved the kayaking and wished he could be there, but these fun gals probably wouldn't have chatted me up if I hadn't been flying solo.
The Water to Wine Tour was the perfect way to combine adventure and a bit of luxurious relaxation. I loved this unique way to go wine tasting!
Know Before You Go
The Water to Wine Tour can be booked online with Sedona Adventure Tours or by calling 877.673.3661. Tours run multiple times daily from February – November.
The Water to Wine Tour is $97.25 per person plus National Forest Service Fees
Bring a waterproof camera or a dry bag to keep your camera in while on the river.
Ice cold water is provided along with life vests.
Don't forget sunscreen!