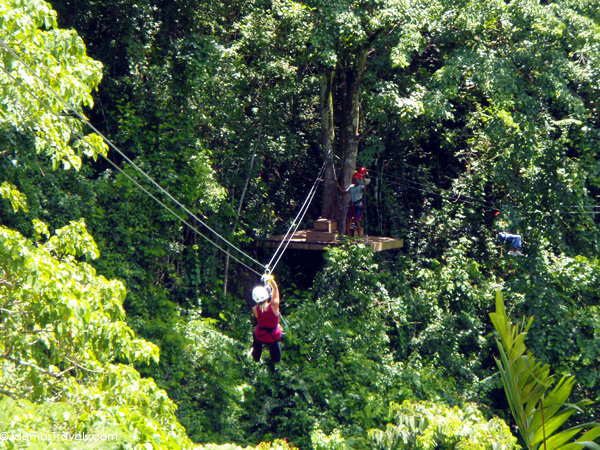 My heart was pounding. I clipped my carabiner onto the cable and took a deep breath as I sat into my harness and took a big step…into thin air. I went roaring along a cable suspended across the Antigua rain forest, seconds later landing safely on the platform across the ravine. Tim, my dad and I had spotted the course on our drive around the island the day before and booked a tour to zip line in Antigua. This was just the first in a series of zip lines and suspension bridges we'd navigate for the next two and a half hours.

I'd been zip lining a couple times before in St. Maarten, but no matter how many times I'd taking that flying leap, my heart still raced with each new zip-line. The suspension bridges and rope challenges between each of the tree house platforms served as a distraction.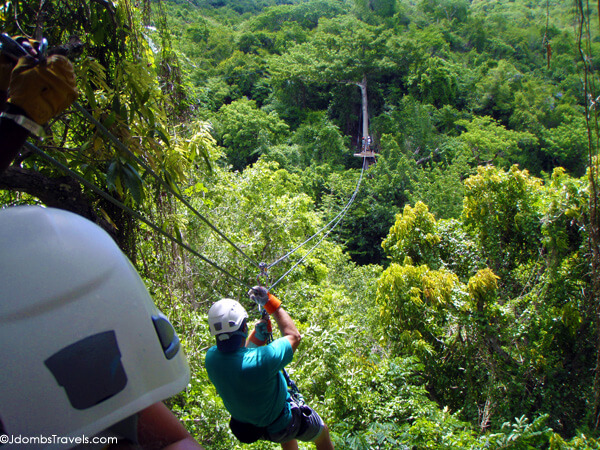 That is until we got to the highest, longest and fastest zip-line on the tour. It's called The Screamer and stretches 328 feet across a ravine 350 feet above the rain forest floor. We could just barely see the others waiting on the platform on the other side.
I'd mastered the 11 zip lines before this one, so thought "bring it on." What an adrenaline rush as I soared onto the platform mere seconds later.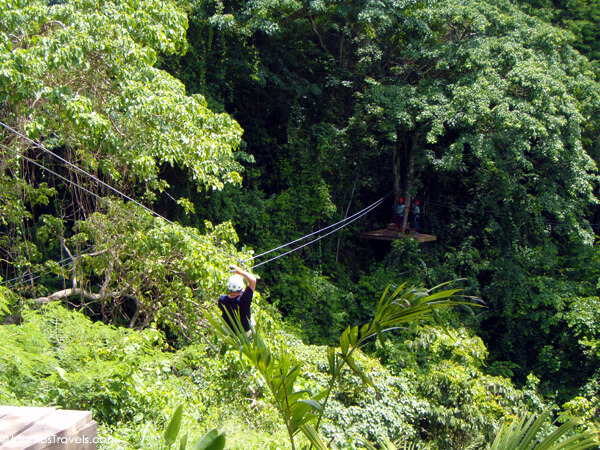 Exhilarated and tired from swinging through the rainforest rope challenge and navigating over the planks of suspension bridges, just one last obstacle stood between me and a nice cold tropical drink in the cafe. It was a 45 foot high controlled descent called The Leap of Faith. Even after surviving The Screamer, it wasn't easy clipping my carabiner in and stepping off that platform. As it turns out, throwing caution to the wind and flying through the rainforest like a monkey is a lot of fun!
Know Before You Go
Tours start at 9am, 10am, 11am, or 12pm and start at $85 per person.
The minimum height for the Full Canopy Tour is 5 feet and maximum weight is 250 lbs.
Wear closed toed shoes. No flip flops allowed for safety reasons.
Note that cameras also are not allowed for safety reasons. The professionally trained guides will take photos during your canopy tour.
Shop This Post
This article contains affiliate links. When you shop on Amazon
or book on Viator through our affiliate sites, we earn a small commission at no additional cost to you.