Bangkok is the most visited city in South East Asia. And it's not only because Bangkok is a global hub, served by some of the world's airlines top airlines like Cathay Pacific. No, Thailand's capital has long been drawing visitors for its contrasts of ancient and modern, culture, out of this world local food and traditions.
Though 3 days is never really enough, it's the perfect amount of time to cover the highlights during your visit to Bangkok. You'll want to pack your itinerary with a hodgepodge of both the familiar and exotic in this Asian capital city nestled along the Chao Phraya River.
Day 1: Historic Bangkok
While your first impression of Bangkok is likely its ultramodern side with its glittering city lights, towering skyscrapers and traffic-packed streets. But Bangkok's bloom from a tiny village to a top tourist destination is worth exploring through its magnificent temples and historic sights.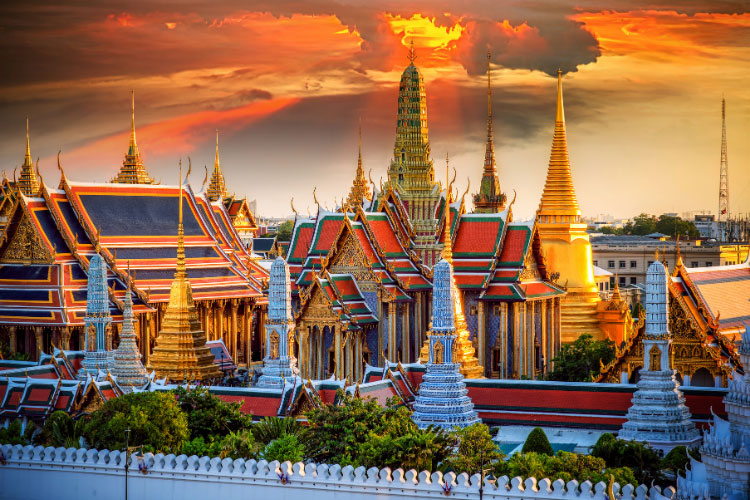 Start the day at the spectacular Grand Palace. As this is one of the top attractions in Bangkok, it's best to get there at opening before the crowds descend.
It was built in 1782, which was the same year that Bangkok was formally founded. Just as the name implies, the Grand Palace was the home of the Thai king. It was also the home of the Royal Court and the administrative seat of the government for more than 150 years.
Contained inside the Grand Palace is the famous Wat Phra Kaew, which is home to Thailand's most sacred Buddha. The Emerald Buddha, which is actually made of jade, is housed inside Wat Phra Kaew. And though you can visit the temple to see the Emerald Buddha, remember that it is a working temple so no photos are allowed inside.
Also be careful to respect the strict dress code of the Grand Palace. This means pants for men, modest clothing for women and no bare shoulders or feet for anyone.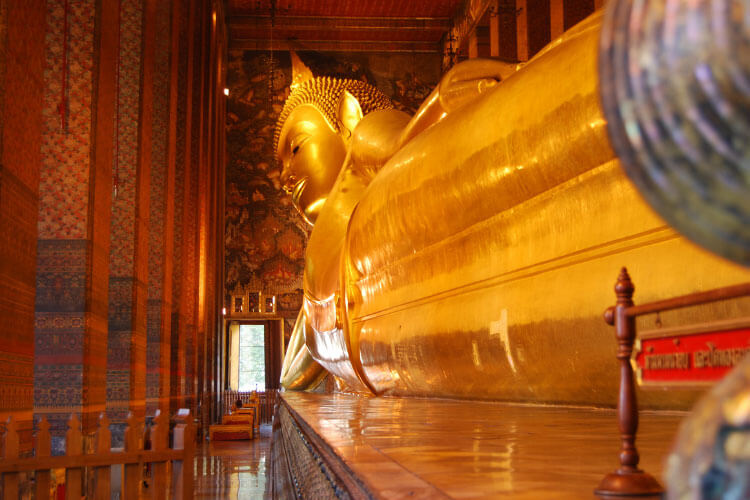 Just a short walk from the Grand Palace is Wat Pho, one of the largest temple complexes in Bangkok. It's a must visit for anyone on their first trip to Bangkok to see the impressive Reclining Buddha.
Taking up nearly the entire temple, the Reclining Buddha is one of the largest in the world. The Buddha is an impressive 46 meters (150 feet) long and 15 meters (49 feet) tall.
After the Grand Palace and Wat Pho, head to Bangkok's Chinatown. It's the largest Chinatown in the world, which you might be surprised by. That is, unless you know the history of Bangkok and that what grew up from a tiny village was originally settled by "Tai" people of Southern China.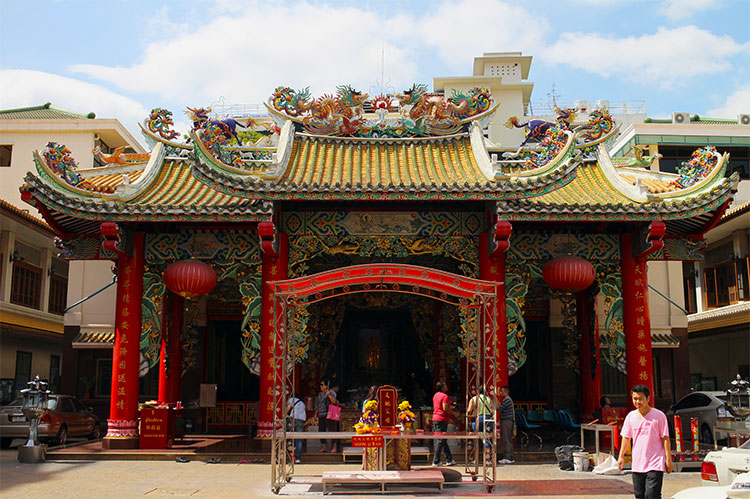 The main artery of Bangkok's Chinatown is Yaowarat Road, built in 1891. It's dragon-like, weaving through the historical neighborhood of Chinatown. And it's here on Yaowarat Road that you can indulge in the ultimate Bangkok experience: a memorable meal of mingling with the locals while snacking at the various food stalls.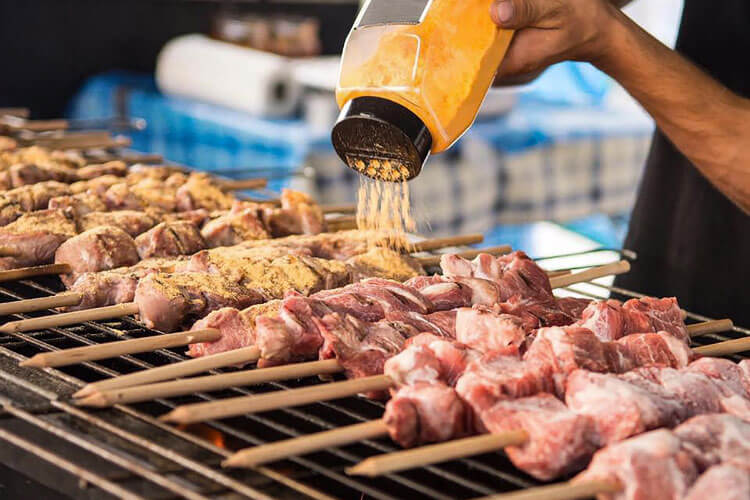 Though it feels overwhelming and you're no doubt wondering about the sanitary conditions, you can't go wrong when you follow the crowd. When every little plastic chair is filled and Thais are gathered in the streets to eat, it's because the food at that stall is simply amazing.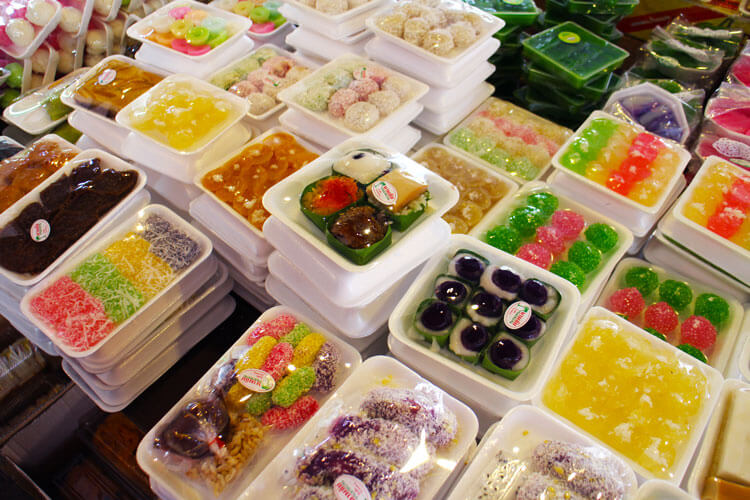 Chinatown is also well known for the strange-looking desserts. Many visitors pass the carts piled high with the unidentified multicolored sweets because they look so odd. But no Chinatown experience would be complete without at least trying some.
Once refueled with some snacking from the stalls along Yarowarat Road, head to Wat Traimit. It's one of the temples located within Bangkok's Chinatown and home to a 5.5 tonnes seated Buddha made of solid 18 karat gold estimated to be worth $250 million. The Golden Buddha holds the Guinness World Record for largest sacred object with the highest intrinsic value, recognized in 1991.
As you can learn in the small museum located within the temple, the Golden Buddha was once covered in plaster for probably some 200 years. It's thought this was done to mask the solid gold statue's value.
It wasn't until the Buddha was being moved to a new temple built to house it in 1955 that the golden hidden beneath the plaster was discovered. By many accounts, the statue fell during attempts to move it off its pedestal. It fell so hard that plaster chipped off and revealed the gold beneath. In that moment, everything was stopped so that the Buddha could be evaluated.
A short video in the museum shows how the plaster was ever-so-carefully chipped away. Some of the plaster pieces are even on display. And once the plaster was completely removed, a sort of key was found in the base. It allows the Buddha to be disassembled into nine parts.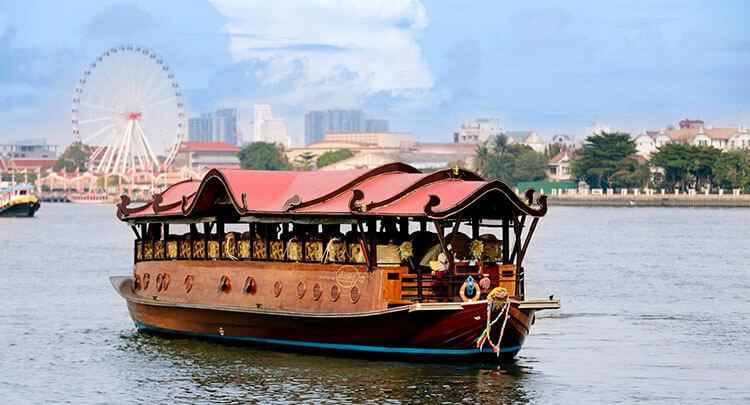 End the day exploring historic Bangkok with a dinner cruise on the historic Chao Phraya River on a restored rice barge. Once the primary mode of transportation on the Chao Phraya River, the teak wood boats now are home to an exclusive dining journey.
The Chao Phraya River was once upon a time the lifeline of transport not only in the Thai capital, but for serving the entire country. So it's no surprise that many of Bangkok's most famous landmarks stand proudly along the riverbank.
As the sun dips and sets Bangkok in a orange blaze, there's no better place to take it all in than from the river on a Manohra dinner cruise. Of course, the cruise is as delicious as it is scenic with a menu of traditional Thai dishes like like Tom Yum Goong (a spicy prawn soup) served in a coconut, massaman curry, and mango sticky rice.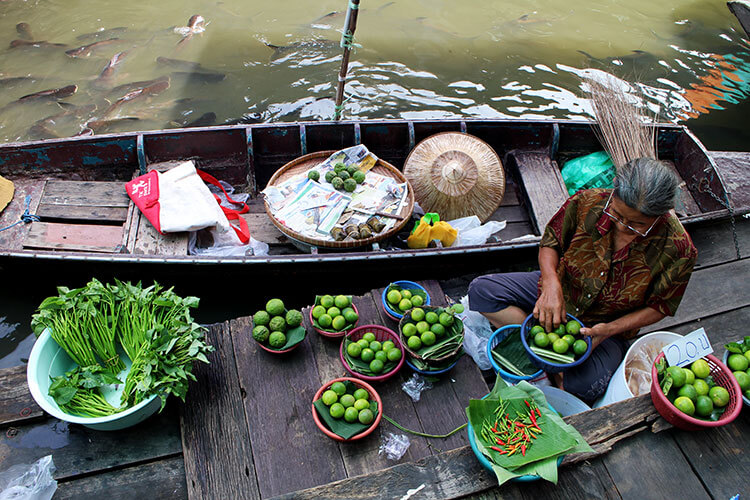 Day 2: Bangkok Markets & Shopping
Markets are basically the beating heart of Bangkok. Famous for some of the best markets in the world, you simply can't leave Bangkok without experiencing this part of Thai culture.
Food markets are loved by tourists and locals alike and the floating markets are certainly a must see. Our own favorite is the Taling Chan Floating Market, which over its years has become one of the best floating markets in Bangkok. It's located fairly close to the city, is pretty easy to get to and is a local favorite for eating and socializing at.
Plan to spend a few hours trying the various stalls and bring an appetite with you! From Thai basil tempura to steamed blue crabs served in a messy chili-garlic-lime sauce, there's something even the fussiest eater will love.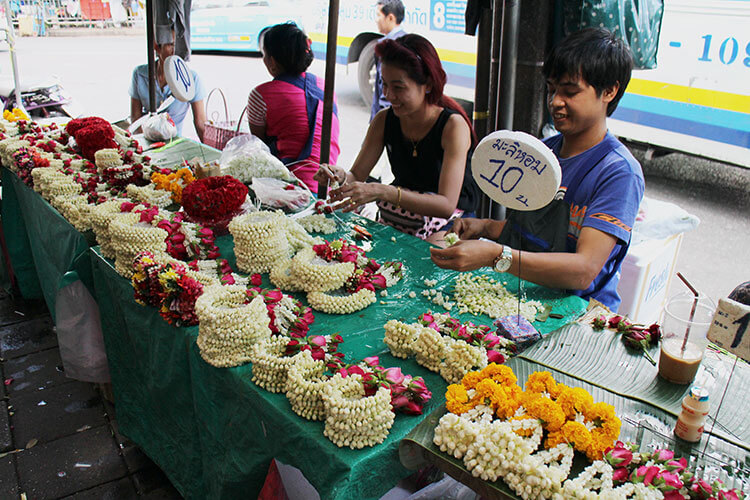 Back in Bangkok, head to the Pak Khlong Talat Bangkok Flower Market. It's the wholesale flower market of Bangkok where both people like you and me as well as wholesalers buy flowers incredibly cheap.
It's been a flower market for over 60 years, but a market has stood on this part of Bangkok since its founding back in 1782. First a floating market, then a fish market, it finally found its way as this incredible flower market.
Aside from the incredible variety of flowers sold by 50-100 flowers, you'll also find plenty of stalls stringing and selling the flower garlands known as Phuang malai. These are often given as offerings in the temples.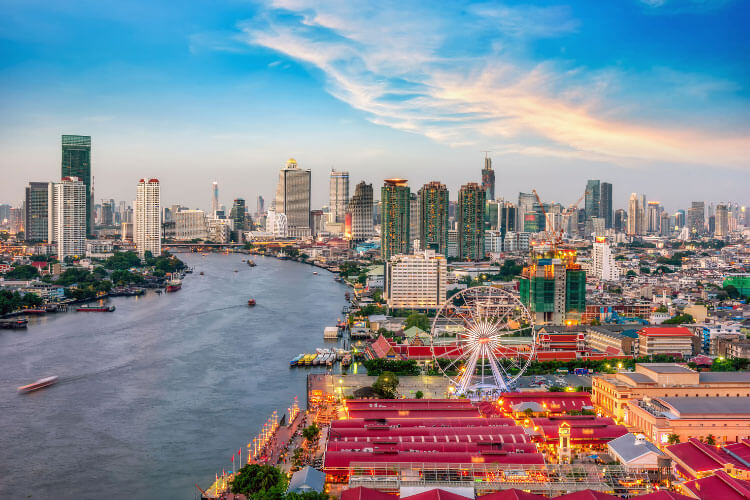 Though not a traditional night market, Asiatique the Riverfront has become one of the top night markets of Bangkok and one the best things to do in Bangkok. Its location can't be beat with the outdoor shopping, entertainment and food space occupying the old warehouses of the East Asiatic Company right along the river.
If you're looking for unique souvenirs, Asiatique is the place to shop. There's over 1500 small shops in the old warehouses selling fashion, handicrafts, furniture and design items all crafted by local creatives from right here in Bangkok. There's also 40 different restaurants offering a variety of food and cuisines. Of course, if it's more street food you're after, you'll find that too along the promenade.
And it doesn't stop with shopping and food. There's always entertainment too, with near nightly Muay Thai boxing matches, a twice nightly cabaret show and Bangkok's biggest ferris wheel – Sky Asiatique.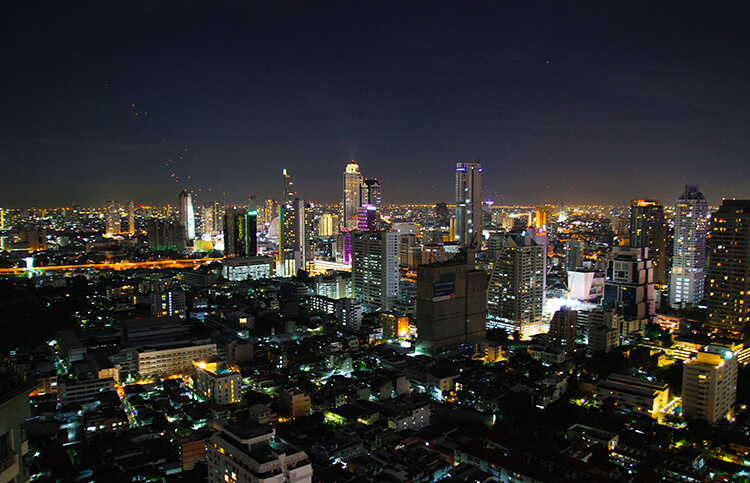 End the day exploring modern Bangkok with an evening spent at one of Bangkok's famous rooftop bars.
Ever since Hollywood headed to Bangkok with the cast of The Hangover II hanging out on a Bangkok rooftop bar, they've been the hottest nightlife destinations in the Thai capital. With creative drink lists, an imaginative atmosphere, and killer views, having at least one drink at a sky-high bar should be on every visitor to Bangkok's must-do list. We tried out a couple, including the infamous Hangover II Bar (otherwise known as Sky Bar), but ZOOM Sky Bar on the 40th floor of the Sathorn Bangkok Hotel gets our vote for best Bangkok rooftop bar.
When the sun sets on the urban jungle and the high rises are lit up in a rainbow of colors, there's something alluring about taking it all in from high above. ZOOM Sky Bar boasts 360º cityscape views from a Bangkok rooftop bar.
Day 3: Foodie Bangkok
One of the best souvenirs you can bring home is the local recipes. And there's no better way to end your trip to Bangkok than by taking a Thai cooking class.
Book an interactive Thai cooking experience with Spice Spoons. We love this experience, which we've had not only in Thailand but also in Oman to learn Omani dishes. You get to take the recipes home with you, have a fabulous lesson with a top chef while learning some history of the cuisine, and dig in to a delicious meal you helped prepare.
For our Bangkok cooking class, we learned to make Tom Yum Goong and Geang Kiew Wan Gai (otherwise known as green curry) from scratch. We even made the green curry paste from scratch, putting muscle into grinding up those gorgeous Thai veggies and spices.
As you sit down to a final meal in this foodie destination, it's even better when you helped prepare it.