Bangkok is said to be the Venice of Asia and one of the things I absolutely could not leave Bangkok without seeing was one of the floating markets. Bangkok has an extensive network of canals and it was once a way of life to get around by boat. Selling goods directly from your boat or doing your shopping right from your waterfront home made life a little easier. Nowadays the floating markets are more of an attraction than a way of life; they are also one of the most popular things to do in Bangkok for both tourists and locals alike. What we didn't realize is that many of the floating markets are located a fair distance outside of Bangkok and can take quite a bit of time to reach. We found the Taling Chan Floating Market, located just a few kilometers outside of Bangkok.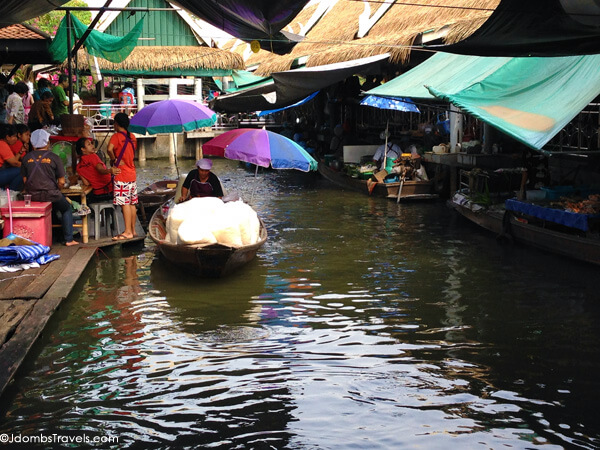 We'd read that the Taling Chan Floating Market is mostly enjoyed by locals looking to spend a relaxing day eating and socializing. The absence of all the cheap trinkets and junk we saw at other markets confirmed this and all the delicious food was our favorite part of the market.
The market is on the small side, but bring a big appetite because there are plenty is plenty of Thai street food to try! Taling Chan starts out with a walking section of the market where vendors line both sides of the little street. It should be noted that a canal is under construction just behind with plans to add additional barges and enlarge the floating market. Along this section we found tempura vegetables and basil, a variety of meats like fried chicken, pork balls with a spicy dipping sauce, barbecue pork, and Thai crispy pancakes. All were perfect for snacking and walking at the same time.
The streets ends at the river where there are boats and a series of floating barges. Several of the barges are lined with low tables where everyone gathers to eat the fresh seafood, noodles, and Thai treats purchased from the dozen or so boats cooking them below.
After stuffing yourself, grab a refreshing coconut, a fresh fruit smoothie, or a frozen coffee and listen to the Thai music. The Thai "band" plays from about 11am – 2pm.
You can even purchase a loaf of stale bread and feed the fish! It's a Thai tradition and one that they think brings good luck and fortune.
While Taling Chan Floating Market was the biggest market, we really enjoyed our visit. It's not at all crowded because it is off the typical tourist paths. Definitely worth a visit, especially for lunch!
Know Before You Go
Taling Chan Floating Market is only open on weekends from 8am – 5pm. Bring cash as we didn't see any ATMs nearby.
The market is most easily reached by taxi and it was easy enough to hail a taxi from the main road to take us back to Bangkok.
Taling Chan Floating Market is located near Khlong Chak Phra Canal.