Being in Bangkok is like being on sensory overload. Dogs are barking and roosters are crowing all amidst the incessant honking of horns and tuk tuks hurtling through the streets. The urban metropolis is an odd mixture of old decaying temples and shiny new shopping malls. There is certainly no shortage of things to do and sights to see! And if like us, you've left sightseeing in Bangkok for the end of your Thailand trip, you've probably already seen enough ancient temples to last you a lifetime. You may be looking for some things to do that are just a bit different than the exhaustive list of ancient temples, notorious districts, and endless food options. Take a look at our list of 10 things to do in Bangkok to get you started:
1. Marvel at the world's largest solid gold statue
Officially named Phra Phuttha Maha Suwan Patimakon (I can't pronounce it either!) or the Golden Buddha, the world's largest solid gold statue is located at the Wat Traimit temple. The egg-shaped head of the statue indicates it comes from the Sukhothai Dynasty and is thought to made sometime in the 13th or 14th century. The 18-karat gold in the statue is estimated to be worth $250 million dollars and holds the Guinness Book of World Records record for the most valuable religious relic!
Wat Traimit is open daily from 8am – 5pm.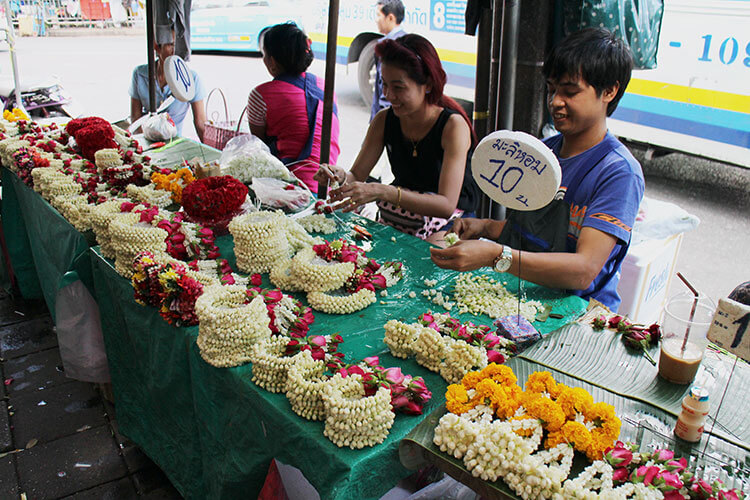 2. Buy a bouquet at the Pak Khlong Talat (Flower Market)
The Pak Khlong Talat is the flower market in Bangkok. Many five-star hotels get their flowers here and many local florists stock their own shops for the day from the wide variety of blooms. Pak Khlong Talat is open 24 hours per day and though it is in guidebooks, not many tourists actually visit. Even if you're not in the market for a bouquet, it's still interesting to stroll through. You'll be amazed at how inexpensive the flowers are and you'll see many Thais stringing and selling phuang malai (flower garlands).
Located Chak Phet Road and adjacent side-streets close to Memorial Bridge.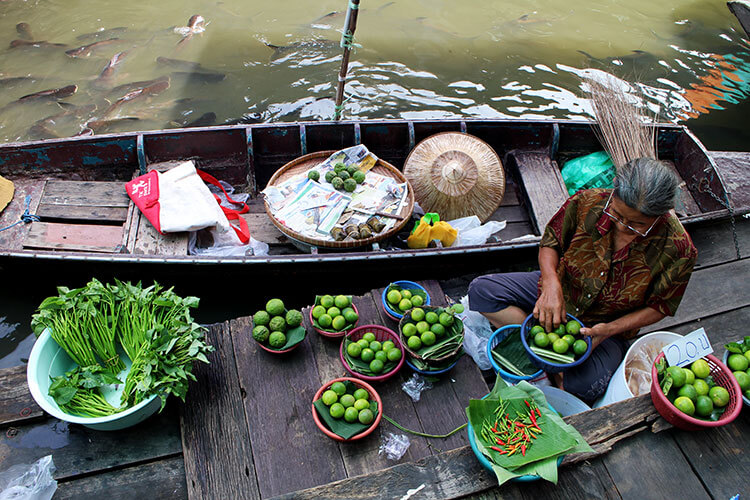 3. Eat your way through the Taling Chan Floating Market
Floating markets were once a way of life as it was just easier to sell and buy things right out of the boats. They're now more of a novelty, but really fun for both locals and tourists to visit. We visited the further afield Taling Chan Floating Market, which is famous for its selection of grilled seafood. You'll see rows upon rows of tables on floating barges devouring huge piles of crab legs and grilled fish purchased right from the canal boats floating below.
If Taling Chan is a little too far afield, another floating market closer to Bangkok's center is the Khlong Lat Mayom. It's only open on weekends, but this smaller floating market is a popular spot for the locals to come and eat. You can discover all the best bites with a local to lead the way on a floating markets in Bangkok tour. You can even take a boat ride on the river to take in the market from a different perspective.
Taling Chan Floating Market is open on weekends from 8am – 5pm. It is most easily reached by taxi.
4. Shop until you drop at Asiatique Riverfront Market
Located in the old warehouse of the East Asiatic Company, Asiatique Riverfront Market pays homage to Bangkok's past as a riverside trading post. An upscale market, there are more than 1500 small shops in the old warehouses selling fashion, handicrafts, furniture and design items. Whereas I couldn't get out of Chinatown and the rows upon rows of junk fast enough, Asiatique could have held me captive for hours.
Asiatique is open nightly from 5pm – midnight.

5. Watch the sunset from Asiatique Sky
I think there's something romantic about ferris wheels. Watching the sun dip into the Chao Phraya River from atop Thailand's tallest ferris wheel while snuggling up with your special someone will leave you smiling for the rest of the night.
Asiatique Sky is open nightly from 5pm – midnight.
6. Take a romantic river dinner cruise
Indulge in a bit of old world glamor as you cruise the Chao Phraya River on a restored rice barge. Enjoy a cool breeze as you float by Bangkok's riverside sights while dining on a multi-course Thai dinner with dishes like Tom Yum Goong (a spicy prawn soup) served in a coconut, massaman curry, and mango sticky rice.
Anantara Manohra Cruises are nightly from 7:30 – 9:30pm. Make a reservation online.
7. Have a drink at a rooftop bar
The urban metropolis becomes a glittering rainbow of lights and the best place to take it all in is from a Bangkok rooftop bar. There are no shortage of them, including Sky Bar which was featured in The Hangover II. We tried a few and our favorite is Zoom at Anantara Sathorn (opened November 2013), the only rooftop bar with 360° cityscape views.
8. Learn about the history of Chinatown
While Chinatown itself had just about no interest to me what-so-ever, it was interesting to learn about what is dubbed the "Junk Trade" at the Yaowarat Heritage Center. The museum is located on the first level of the same building that houses the Golden Buddha, so it's worth a visit while you're there. The exhibits take you through the history of early Chinese immigrants to Thailand and the growth of Chinatown in Bangkok. If you do wander through the nearby Chinatown afterward, you'll see that the Junk Trade is still going on.
The Yaowarat Heritage Center is open Tuesday through Sunday from 9am – 5pm.
9. Make an offering at a Buddhist temple
Making an offering at a Thai Buddhist temple can be a really interesting and educational experience. This act is known as wai phra. You don't have to be Buddhist to make an offering and the offerings can even be purchased at the temple. Go with a local who can walk you through the process, as there is even a proper position to sit in ensuring that your feet are never pointed toward the Buddha.
10. Feed the fish for good luck
Many Thais believe it is good luck to feed the fish and you can do it many places around Bangkok. You'll find vendors selling food or loaves of bread for about 10 baht at the piers along the Chao Phraya River or at the floating markets. Whether it brings good luck or not, I'm not sure, but it is fun to watch the fish go absolutely berserk!