Manaslu Circuit Trek is one of the best routes to explore Nepal's amalgamation of rich heritage and natural charm. At a breathtaking elevation of 8163 meters above sea level, Manaslu is the 8th highest mountain in the world. The pristine serenity and the beauty of the mountain is a surreal spectacle. 
In this trek, you will witness dew-fresh mountains as jeweled with snow as a newlywed bride. At the same time, you will walk across ancient monasteries that tell the historical tale of culture and heritage of Northern Nepal.
Vacationing amidst hills and mountains is definitely going to soothe your mind, body and soul. But, what is so special about Manaslu Circuit Trek that makes it stand apart from other trekking routes and snowy regions? This complete guide to the Manaslu Circuit Trek will show you and help plan your next heavenly vacation to the Manaslu region.
Manaslu Circuit Trek Itinerary
It is advisable to stay in Sama Gaun for a day and get acclimatized. You can explore the area and go shopping for trinkets on your first day. There are a few restaurants on the way that offer typical Nepali delicacies.
Basically, this itinerary has been designed in a way that none of the routes see a rapid increase in altitude. In any case, if there are signs of Acute Mountain Sickness (AMS), get to a lower altitude as soon as possible.
Day 01: Kathmandu – Arughat (9 hours drive by local bus)
Day 02: Arughat – Lapubensi (7 hours walk)
Day 03: Lapubensi – Dovan (7 hours walk)
Day 04: Dovan – Philim (7 hours)
Day 05: Philim – Bihi Phedi (8 hours walk)
Day 06: Bihi Phedi – Lho Gaon (6 hours walk)
Day 07: Lho – Sama Gaon via Pungen Monastery (7 hours walk)
Day 08: Sama Gaon – Samdo via Birendra Lake (5 hours walk)
Day 09: Samdo – Larkya Phedi (Dharmashala) (4 hours walk.)
Day 10: Dharamshala – Larkya-La – Bhimthang (11 hours walk)
Day 11: Bhimthang – Dharapani (8 hours walk)
Day 12: Dharapani – Bensi Shahar (5 hours by jeep)
Day 13: Besi Shahar – Kathmandu (5 hours by car)
Trek Permits and Logistics for Manaslu Circuit Trek
The permit cost for Manaslu Trek depends on the month and number of days you will spend in this region. You will travel through two districts: the Manaslu region and the Annapurna region. There are 3 obligatory permits required for Manaslu Circuit Trek.
Manaslu Restricted Area Permit (RAP
Peak season ( September to November): 70 USD per week per person and after 7 days, 10 USD per day per person
Off-Season (December to August): 50 USD per week per person and after 7 days 7 USD per day per person
Manaslu Conservation Area Project Permit (MCAP)
20 USD per person year round
Annapurna Conservation Area Project Permit (ACAP)
20 USD per person year round
Additionally, If you plan to take on a side trek to Tsum Valley, you will need an additional permit as well:  
35 USD per week per person for peak season
25 USD per week per person for off-peak periods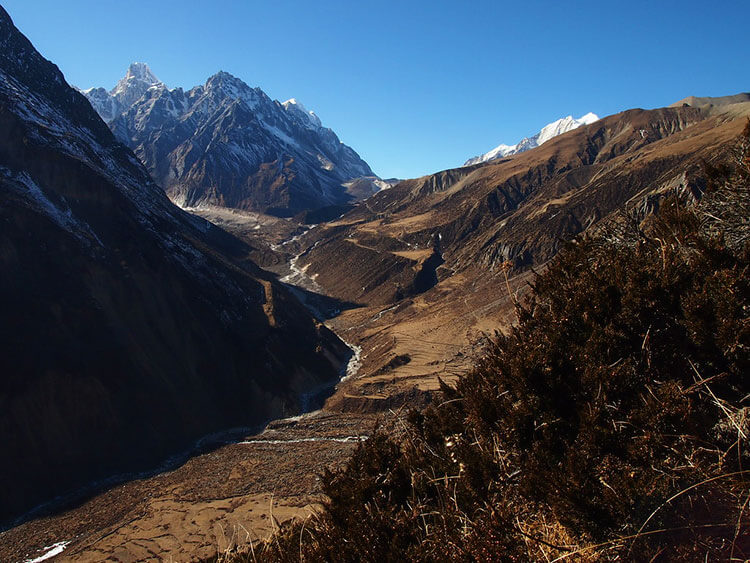 Best Time To Visit Manaslu Circuit Trek
The most exciting and amiable weather is in fall from September to November. It marks the best time to go on the Manaslu Circuit Trek. The sight of the lush green rhododendron forest welcomes the visitors during this season.
The spring and summer seasons blend extreme hot weather at low levels with high humidity and thunderstorms. You will experience mildly warm temperatures at lower levels, and it gets colder as you go higher. Nevertheless, this is the best season to witness the flowering plants of the region.  
During winter from December to February, the skies are usually clear with little rain. Winter means it is perfect for observing the night skies. However, at higher elevations, the weather can be drastically cold and the proper equipment is required.
You can visit the region all year-round, nonetheless.
Meals and Accommodations on Manaslu Circuit Trek
Although the number of lodges and tea houses is swiftly growing, some areas in the Manaslu Circuit Trek, like Chumling and Nile, still lacks enough accommodation for travelers. However, you can opt for a camping trek which is growing in popularity these days. The major differences between these two are listed below:
| | |
| --- | --- |
| Tea House Trek | Camping Trek |
| Stay in guest houses and hotels | Requires you to stay in a tent |
| All the basic necessities provided | Need to bring your own equipment |
| Comparatively less expensive | Comparatively more expensive |
Trekkers may have to compromise on food quality on this trek. While some trekkers prefer to enjoy local food (mainly Daal Bhat), others may not be satisfied with it for a long journey. You need to carry your own snacks for the day as the availability of such items on the trek is not guaranteed.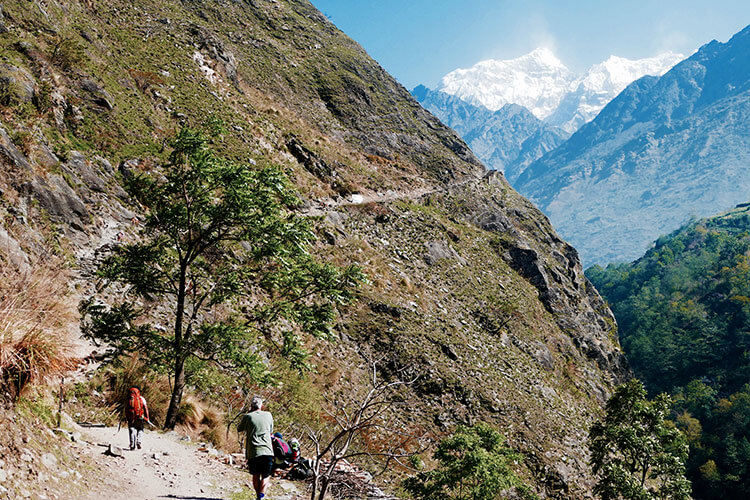 Manaslu Circuit Trek Difficulty
The trek entails traversing six different climatic zones from sub-tropical to tundra, gaining gradual altitude from 715 meters to 5218 meters. Walking into thin air covering 177 kilometers makes this trek relatively harder than many others.
Statistically, approximately 3 – 5 people die each year on the Everest Base Camp Trek out of roughly 30,000 people. Compared to Mount Everest Deaths, Manaslu Circuit Trek has seen no casualties except for a few major injuries because of altitude sickness. However, the number of mishaps are rare these days due to well-organized trips and additional days for acclimatization.
Packing for the Manaslu Circuit Trek
Although must-have items for backpacking in Nepal is similar on most of the treks, Manaslu, being one of the challenging treks requires some specific items. We've compiled a list of equipment to make your trip easy and comfortable. We advise you to carry only the necessary items and save your expenses.
Down jacket
Hiking boots
Sunglasses
Trekking poles
Short sleeve hiking shirts
Thermal underwear
Lightweight fleece
Also, make sure you choose the right gear and always double test your gear before beginning the trek. A small difference in size may cause huge difficulty in the long treks. For instance, not being able to complete a high altitude trek due to blisters on your feet is quite common. So be advised!
Some Tips for the Manaslu Circuit Trek
Drink enough fluid and always stay hydrated. This is the ultimate protection against Acute Mountain Sickness.
Always drink purified water and bring some water purification tablets with you.
Be aware of uncooked food. Eat a vegetarian diet unless fresh meat is available.
Carry some high-calorie snacks like protein bars, raisins and peanuts.
Always make sure you pack the right gear for high altitude trek.
Alcohol and smoking increase the possibility of altitude sickness, so avoid it.
Carry a first aid kit with any medications you're taking. Bring enough meds for the trek and DO NOT use any medicine that you are not sure about.
Do not sleep during the day at high altitude. It is recommended to move around and keep yourself active.
It is normal to get a little headache or slight fever while adjusting to the varying altitude. Don't be too worried about it.
Make sure you have all the required permits for the Manaslu Trek.
If you're passionate about traveling, the Manaslu Circuit Trek is a must-see adventure destination. You'll appreciate the natural ambiance and rich culture the region has to offer for the rest of your life.