The Langtang Valley Trek is one of the best trekking destinations among many others in Nepal. The Langtang region lies in the central-northern part of Nepal. An easy drive of 6 – 7 hours from Kathmandu takes you to the Langtang region. The Langtang-Lirung peak with the spectacular Tibetan Range and Ganesh Himal in the backdrop is a view to cherish for life.
During the devastating Nepal earthquake of 2015, the Langtang region suffered severely. But the immense support from national and international donors helped Langtang overcome such massive destruction. It is coming back to life after the earthquake with an increasing number of tourists every year.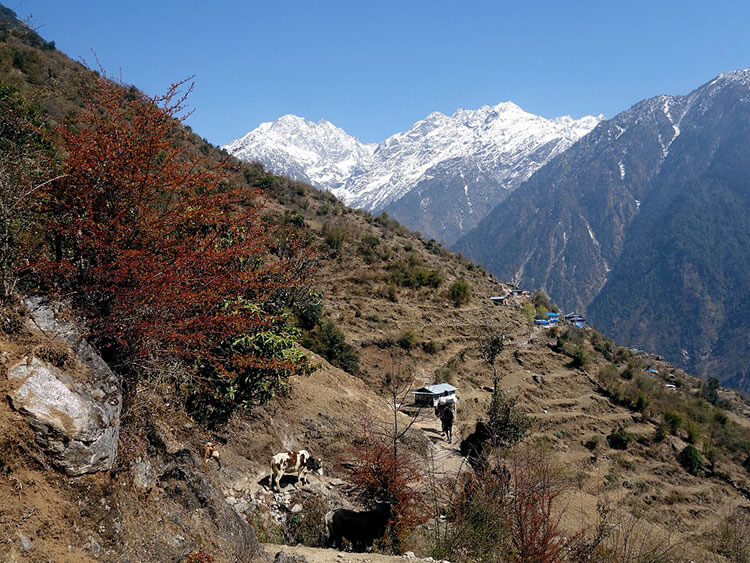 The Langtang valley is one of the most beautiful valleys in the world. The valley lies within the Langtang National Park, and its natural appeal is delightful. The national park is home to some rare species of plants and animals like Larix himalaica and red panda. Tamang people who live in this region are famous for their warm hospitality.
Put simply, the Langtang Valley Trek is a short and easy trek that is doable for people of all age groups. You do not need to be a fitness fantatic for this trek.
Here's a short guide to give you all the information about the Langtang Valley Trek.
Langtang Valley Trek Facilities and Accommodation
Langtang valley is a well-facilitated trek when compared to other treks in Nepal. Imagine enjoying the glorious view of Langtang Lirung while sipping a cup of world-class Italian coffee. Sounds great, right?
There are many newly built hotels and guesthouses, providing excellent accommodation and food. You do not need to carry food for your trek. From local cuisine to international dishes, you can find many options here. The hotels offer services like wifi, hot showers and such. Throughout the trail, hotels and teahouses appear at frequent intervals.
All in all, the facilities for food and accommodation are excellent.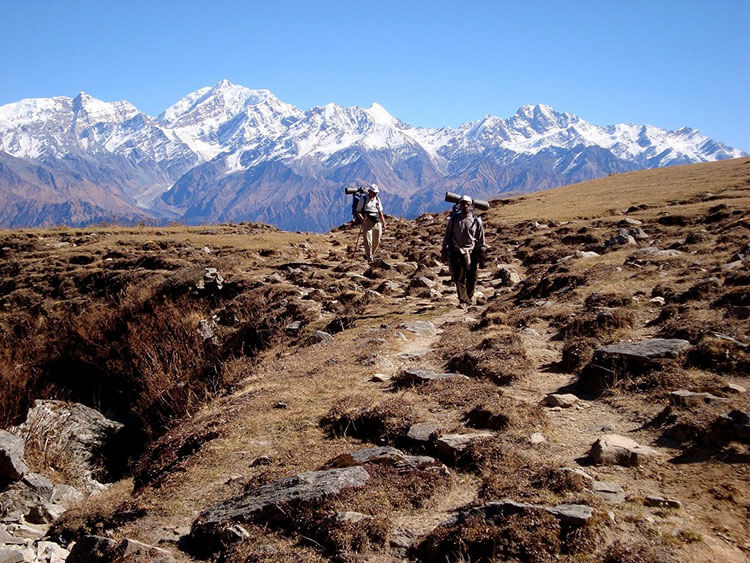 The Best Time for the Langtang Valley Trek
Nepal is a country that has something unique to offer throughout the year, and Langtang is no different. Langtang flaunts its elegance all year round.
During summer from June to August, Langtang blooms with beautiful wildflowers which makes the trek worth it. Though there is a high chance of floods and landslides, the Langtang trek can still be completed in the summer/monsoon season. Rain affects visibility during the daytime, but the mornings are clear. Another good thing about the monsoon season is there are very few tourists so that you can get an intimate insight into the authentic culture and lifestyle.
Fall is one of the best seasons for trekking in Nepal. Skies clear up during fall and the visibility is excellent. The dense forests grow wild after the monsoon rain, and there's a freshness unlike other seasons. For someone looking for a secluded trekking experience, this may not be the right time as the trails are quite crowded from September to November.
Winter can make life in the Himalayas a little hard. High passes remain closed during winter. However, with proper clothing and preparations, the Langtang trek is still doable in winter. For people who love to trek in snowy conditions, this is just the right time. But make sure you prepare well and stay warm as the temperature might drop below freezing at times.
Hands down, spring fron March to May is the other best time to trek in Nepal. Spring is a great time for the Langtang Trek. The temperature is warm in the lower regions and becomes colder as we go higher. The visibility is brilliant, and the views are spectacular. Though the number of trekkers increases during this time, it is still an enjoyable time. If you're lucky, you may get a chance to celebrate some festivals with the locals.
Difficulty of the Langtang Valley Trek
In terms of difficulty, the Langtang trek is an easy trek. With a maximum elevation of 3900 meters, this trek is possible for people of all age groups. All you need is a positive attitude and some preparation.
The trail is gradually steep, making it easy for walking. It is well-maintained throughout the year; however, during the monsoon that might not be the case as landslides are unpredictable. An easy walk through thick forests is pleasant, and the teahouses make it even more comfortable. You can rest and walk at your own pace.
To be honest, there are still chances of altitude sickness above 3000 meters. But during the trek, the variation in altitude is less, so the possibility of altitude sickness is minimal.
Packing List
It takes 5-8 days for the Langtang Valley Trek. Since it is a short trek, you do not need to pack heavily for this trek. Because it is a teahouse trek, you do not need to carry your food or camping gear. There are plenty of hotels and lodges offering such services.
A list of packing essentials for the Langtang ValleyTrek:
Trekking Boots
Down jacket
T-shirts
Socks
Trekking Trousers
Gloves
Sunglasses
Thermal inners
Water Bottle
Hat/Cap
Sunscreen
Sandals
First aid kit
Trekking Poles
Camera
Tips for the Langtang Valley Trek
There's no doubt that the Langtang Valley Trek is an easy and suitable trek for everyone. But there are a few things you need to keep in mind.
Carry medications: you never know what comes next on a trekking journey, so be alert and prepare yourself well. Carry Diamox and a first aid kit. Also, carry water purifying tablets so that you do not need to worry about how to purify tap water.
Carry enough cash: do not forget to carry cash in a variety of denominations as you will not find ATMs in the Himalayas. You might end up paying more for things if you do not have correct change.
Carry a portable power bank: hotels in the Langtang region mostly use solar power for their operations. And it's not sunny every day. So carrying a portable power bank to charge devices is always a good idea. You do not need to worry about the electricity problem in Nepal.
Learn to say no: some locals might make it hard for you to deny their offer to stay at their hotels. But do not cave to their pressure. Decide on your own, and learn to say NO without feeling like you're hurting people's feelings.
Drink lots of water: the best way to avoid altitude sickness is to keep your body hydrated. You lose a lot of sweat while trekking, so continually drink water.
Prepare according to the season: weather conditions are different throughout the year, so research the temperature and weather and pack accordingly.
Always carry permits and documents: it is one of the most important things to remember when traveling in Nepal.
The Langtang Valley has everything you need for a comfortable yet extremely pleasing trekking experience in Nepal. With this guide, you can start planning for the trek to Langtang Valley.