The smell of mulled wine, gingerbread and roasted chestnuts is in the air at the best European Christmas Markets. Hand-painted ornaments dangle from little wooden huts, scents of sausage waft through the air and the sounds of carolers and horse carriages clacking on cobblestones fill the old town squares. Europe's Christmas Markets are magical and shouldn't be missed. Take a look at these best European Christmas markets of which some are our favorites, as well as ones still on our own must-see list, in no particular order.
1. Nuremberg
Nuremberg is Germany's most famous Christkindlesmarkt…so popular in fact, that more than 2 million people visit it each year. Though it might sound packed, head there during the daytime any weekday and you'll be able to enjoy and browse the more than 180 market stands selling everything from Nuremberg's famous Prune Men to blueberry mulled wine. Need more convincing?
Nuremberg Christkindlesmarkt runs from November 25 – December 24, 2022.
Where to stay in Nuremberg
Mövenpick Nürnberg Airport Hotel is a 4-star option directly across the street from the airport and just 12 minutes from the city center via the Underground. Mövenpick Nürnberg Airport Hotel is dog-friendly. Nuremberg City Center can get very crowded during the holiday season, so Mövenpick is a great and affordable option in a quieter location.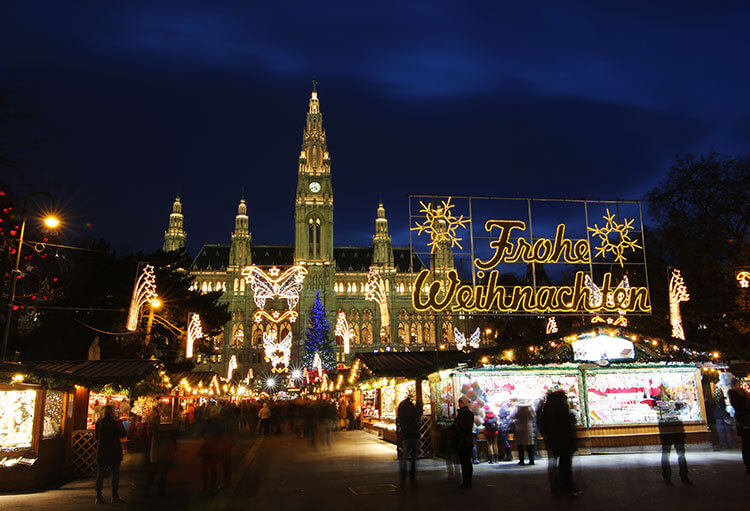 2. Vienna
Vienna is world famous for its Christmas Markets and they are some of our personal favorites. So much so that we sent a couple of our readers on a trip to experience them (read about their experience here). The Rathausplatz market is our favorite with more than 150 stalls offering unique gifts and food stuffs, but there are many more markets tucked all around the city. And if you're lucky, Vienna might even be more charming than usual with a light dusting of snow.
Vienna's various Christmas markets run from November 19 – December 26, 2022.
Where to stay in Vienna
DO&CO Hotel Vienna is a boutique design hotel just steps in front of St. Stephen's Cathedral in the heart of the city center. Close to shopping, restaurants and many of the Vienna's Christmas markets, DO&CO is an excellent base for exploring the city with public transportation nearby to explore further afield. The generously sized rooms are family and pet friendly.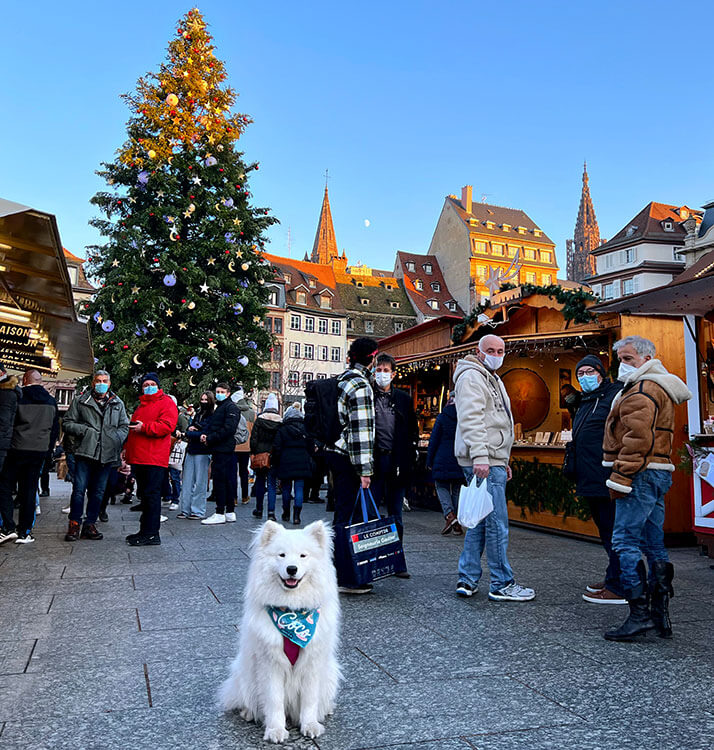 3. Strasbourg
Strasbourg is known as the Capital of Christmas, and with good reason. Strasbourg is credited with holding the first ever French Christmas market back in 1570, making the Christmas market here is the oldest in France and one of the oldest in Europe. The Christmas tree installed on Place Kléber is also the tallest in Europe, standing nearly 100 feet tall.
Living up to its reputation as the Capital of Christmas, Strasbourg decks itself out every December in its holiday finest. Far beyond the 10 Christmas markets dotting the city, buildings, businesses and even entire streets dress up in displays that will make even the Scrooge-iest of Scrooges smile.
It will take at least two days to see the majority of Christmas markets as they are spread out across the city. So plan to spend 2-3 nights in Strasbourg.
Strasbourg's Christmas markets run from November 21, 2022 to December 23, 2022.
Where to stay in Strasbourg
Hotel Arok is situated perfectly no matter how you arrive in Strasbourg. Situated steps away from the train station and just outside the city's center where the Crit'Air anti-pollution sticker is required to drive a vehicle, Hotel Arok is very convenient. It's a short walk to Strasbourg's historic center and around a 10-minute walk to Strasbourg Cathedral. The hotel is dog-friendly and offers comfortable rooms, breakfast and all-day coffee, hot chocolate, tea and cookies.
4. Colmar
Just a short distance from Strasbourg, charming Colmar gives the Capital of Christmas a run for its money when it comes to decking the city out in its holiday finest. While there are only six Christmas markets that are much smaller in size than Strasbourg's 10 markets, Colmar decorates every conceivable building and surface.
Think building facades dressed up with teddy bears, Christmas light projections, and the picturesque Petit Venise that transforms into a winter wonderland. If it's holiday cheer, decorations like nothing you've seen anywhere else in Europe, and traditional Alsatian Christmas market fare like choucroutte and gingerbread, then Colmar absolutely can't be missed.
Where to stay in Colmar
For even a chance of crowd-free photos, stay right in Petit Venise to wake-up for an early morning stroll around Colmar. We rented a holiday apartment right on the canal in Petit Venise, and it was absolutely perfect. The apartment even has a little terrace where you can sit outside on the canal and watch the little row boats go by as the Christmas lights come on at twilight.
5. Paris
Paris is always a good idea…especially at Christmas time when the City of Lights sparkles just that much more. A Christmas Market lines the Champs-Elysées, you can ice skate with the twinkling Eiffel Tower as a backdrop, and you can sample Galette des Rois (King cake) hoping to become king for the day.
Paris' Christmas markets run from mid-December – early January 2022.
Where to stay in Paris
Hotel Napoleon Paris is a luxury boutique hotel steps away from the Champs-Elysees and the Charles de Gaulle Etoile metro station. The Eiffel Tower is just a 15 minute walk and easy access to the metro can whisk you to any of Paris' Christmas markets throughout the city.
4. Budapest
Budapest is one of our favorite European cities and it transforms into a magical winter wonderland with an ice skating rink. The more than 150 stalls are all guaranteed by a professional jury from various organizations that the products sold in the market are traditionally handmade. And don't miss the daily advent calendar window displays at the 19th Century Gerbeaud Cafe.
Budapest's Vörösmarty Square Christmas Market runs November 4, 2022 – December 31, 2022.
Where to stay in Budapest
Intercontinental Budapest is steps from the Danube and Chain Bridge and just a few minutes walk to St. Stephen's Basilica. The hotel is an excellent position for exploring all of Budapest's Christmas markets and the attractions of the city. The hotel is also pet friendly.
5. Zurich
Zurich is absolutely charming at Christmastime. Snow-capped mountains, sparkling Christmas trees adorned with Swarovski crystals, and singing Christmas tree concerts set the festive mood in this Swiss city. And if the weather is frightful, the indoor Rail City market with over 160 stalls is delightful.
Zurich's Rail City Christmas Market runs November 24 – December 24, 2022.
Where to stay in Zurich
Hotel Schweizerhof Zurich is just steps from the indoor Rail City Christmas Market and a short walk from the main shopping street. In the heart of the city center, the hotel is close to all of the attractions and restaurants.
6. Prague
Prague's Christmas Markets in the Old Town Square and Wenceslas Square are more about the unique foods than gifts and decoration, but Prague's stunning architecture is even more breathtaking dressed up in sparkly Christmas lights. Try the roast pig on the spit, the sugary Trdelník cakes, and sip a famous Prague beer.
Prague's Christmas Markets run daily from November 26, 2022 – January 6, 2023.
Where to stay in Prague
The Four Seasons Prague is just a stone's throw away from the Old Town Square and Wenceslas Square, where Prague's two most popular Christmas markets take place. The Four Seasons can even arrange for a horse-drawn carriage to pick you up at the hotel for a magical ride to the Christmas markets. And the hotel itself goes all out, decorating for a festive holiday season.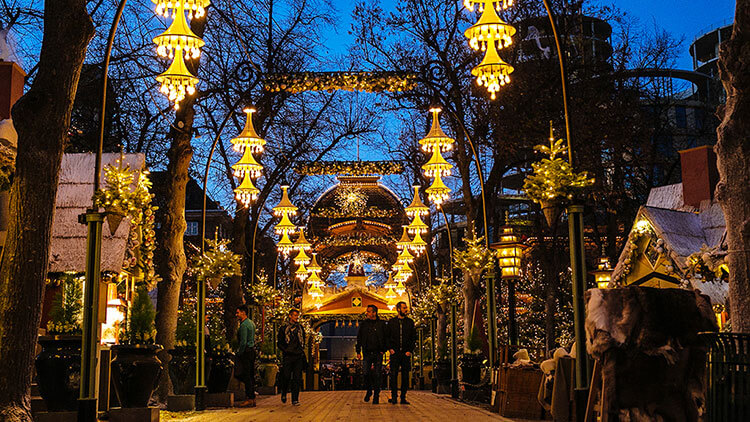 7. Copenhagen
Since we haven't yet been, Copenhagen's Tivoli Gardens Christmas Market is on our own list to visit. With trees sure to be covered in snow, a Christmas light display that is four MILES long, and reindeer running about, it all just sounds magical. You can even take in a holiday favorite – The Nutcracker – at the Tivoli Concert Hall.
Copenhagen's Tivoli Christmas Market runs from November 19, 2022 – December 31, 2022.
Where to stay in Copenhagen
The Scandic Front, by the Scandic hotel group that we've had excellent experiences with in other Nordic countries, is right in the heart of Nyhavn. Wake up to waterfront views and be steps away from restaurants, bars and shops. And all Scandic Copenhagen properties are offering packages that include admission for 2 people to Tivoli Gardens.
8. Lyon
Lyon's most famous festival, The Fete des Lumieres (The Festival of Light), just happens to light up the French city in a kaleidoscope of colors. The four-day spectacle is accompanied by two Christmas Markets in the city center. With a dusting of snow, it's like a fairy tale setting sure to delight all ages. Best of all, this festival is free!
The Fete des Lumieres runs from December 8 – 11, 2022.
Where to stay in Lyon
Lyon is famous for its traboules and Cour des Loges is wrapped up right inside of one among the medieval architecture of pedestrian Vieux Lyon. The boutique hotel is set in four Renaissance town houses and has a Michelin-starred restaurant, spa, gym and gardens with beehives that even produce honey for the hotel. Each room is individually designed and there are even four apartments perfect for families.
9. Stockholm
Stockholm's Christmas Market has been running since 1903 and it very traditional. Not surprisingly, you'll find Swedish Christmas sweets and delicacies like reindeer and elk sausage. All of the proceeds from the Old Town Christmas Market booth rentals is given to charity, so you can feel like you're shopping, eating, and drinking for a good cause. And you can even learn about Stockholm's enchanting old town, customs and traditions, and enjoy a hot cup of glogg (Swedish for mulled wine) at one of the Old Town's historic cafes on the Stockholm Christmas Story Tour.
Stockholm's Old Town Christmas Market runs from November 19, 2022 – December 23, 2022.
Where to stay in Stockholm
Lydmar Hotel is in the heart of Stockholm and the rooms are large, since the owner decided to ignore the architect and keep it boutique at just 46 rooms so guest would have plenty of space. Guests also get complimentary access to the Nordic Spa & Fitness located just next door inside the Grand Hotel. So you can have a dip in the pool or workout to work off all the delicious food you'll no doubt eat at the Christmas market.
10. Manchester
Manchester's Christmas Market is much anticipated each year. Its well known for being not only the first, but the biggest and the best Christmas Market in the UK. With markets spanning nine different sites throughout the city, you're sure to find a unique gift for everyone on your list…and plenty of mulled wine to keep you warm while you shop!
Manchester's Christmas Market runs from November 10, 2022 – December 22, 2022.
Where to stay in Manchester
The boutique Great John Street Hotel is housed in a former brick schoolhouse in the heart of Manchester. The rooms are stylish and the service is outstanding. The hotel even has an afternoon tea and the gentleman's tea features a Scottish egg and sliders.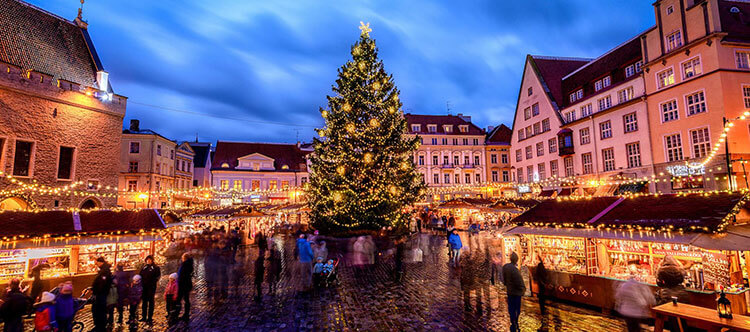 11. Tallinn
We found snow-covered Tallinn so incredibly charming with its walled Old Town and wool markets, we can only imagine it would be even more so at Christmastime. The little market stalls are teeming with Estonians selling their handicrafts, many of which are not found in any of the shops or other markets. Come admire the snow sculptures while nibbling gingerbread and sipping on hot chocolate or glogg. Don't miss the Christmas tree, a star of the holidays since 1441 – it was the first ever Christmas tree to be put up in Europe.
The Tallinn Christmas Market runs from November 25, 2022- January 8, 2023 on weekends and holidays. You can combine it with a visit to Helsinki's Christmas Markets.
Where to stay in Tallinn
Located in three 14th century buildings in Tallinn's Old Town, Three Sister is a stylish boutique hotel. The rooms are individually designed and the fireplace in the library is a cozy spot to warm up after browsing the Christmas market. The hotel also has a good selection of wine to enjoy from their 300-bottle cellar.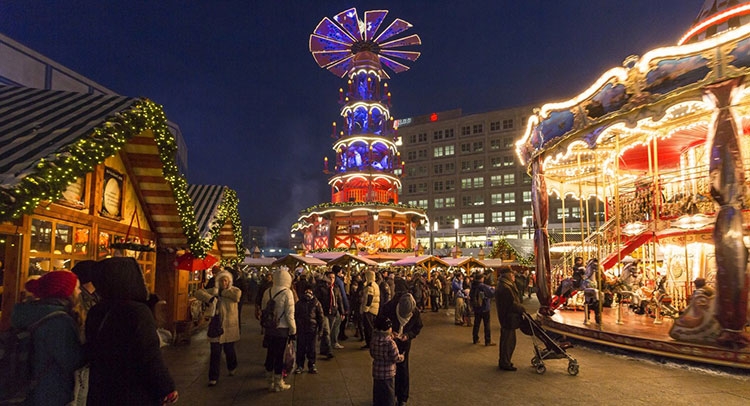 12. Berlin
Berlin has 80 – yes, EIGHTY – different Christmas Markets to visit throughout the city. You can even whiz down the 70 meter toboggan run right in Potsdamer Platz with a view of the Brandenburg Gate! Head to the Weihnachtszauber Gendarmenmarkt for one of the most popular Christmas markets in the city where you'll find everything from glassblowers to an origami master. Michelin-starred chefs even offer their haute cuisine in the heated tents. Check out all of Berlin's Christmas Markets here.
Berlin's Christmas Markets run from November 21, 2022 – January 6, 2023.
Where to stay in Berlin
The Ritz-Carlton Berlin is located right on Potsdamer Platz, steps away from the toboggan run and the traditional Christmas market on the square. The location is excellent for beating the Christmas market crowds, and the hotel is a relaxing retreat when you've shopped until you dropped.
13. Brussels
A towering 22 meter tree that was a gift from Riga, more than 1000 lights on the Grand Palace, and some 230 stalls make up Brussels Christmas Market this year. Warm up with a mug of Belgian hot chocolate and then take a spin around the ice rink. And don't miss the nightly light show on the Grand Palace!
Brussels' Christmas Market runs from November 25, 2022 – January 1, 2023.
Where to stay in Brussels
Located just steps away from the Grand Palace, Hotel Amigo is tucked on a side street that feels secluded from the hustle and bustle of Brussels busiest square. Paying homage to Brussels cartoons, Tintin reproductions decorate the stylish rooms. And the hospitality makes you feel like you're staying with friends.
14. Edinburgh
Edinburgh's Christmas is more than a Christmas market. It's a whole series of holiday events across the Scottish capital. There's a German-style Christmas market in the East Princes Street Gardens with more than 130 chalets serving up Bailey's spiked hot cocoa for the adults and kinderpunch for the little ones, rides, games and a Christmas tree maze.
Ice skating takes place in another of Ediburgh's atmospheric squares, while a variety of holiday shows sure to delight the entire family fill the calendar. Visit Santa himself or stroll through a frozen wonderland of Scotland's most famous characters at the Ice Adventure.
Edinburgh's Christmas runs from November 25, 2022 – January 3, 2023.
Where to stay in Edinburgh
The G&V Royal Mile Hotel is right in the heart of Edinburgh's Old Town. The boutique luxury hotel features rooms with floor to ceiling windows with spectacular views of Edinburgh Castle, Victoria Street and St.Giles Cathedral. The a la carte breakfast, included for guests of the deluxe room category and above, provides a hot meal for a busy day ahead of exploring. There's a spa, in case your weary body needs a break from all the holiday hoopla. And the lobby fireplace is a wonderful place to warm up in front of after a day out.
Shop This Post
This article contains affiliate links. When you shop on Amazon or book on Booking.com through our affiliate sites, we earn a small commission at no additional cost to you.