From our perch at Anantara Golden Triangle, we'd watch the longtail boats motor up and down the mighty Mekong and wonder where they were headed. Here in the very north of Thailand, the Mekong River literally forms the border between Thailand, Laos, and Myanmar. Though visiting both Mandalay and Bagan in Myanmar was on our itinerary, Laos was not. Being able to see it just there across the river was like Laos was beckoning us. We discovered that we could visit on a day trip to Don Sao Island without obtaining a visa.
For around $15 US we hired a longtail boat from one of the many operators at the Golden Triangle. Check with several before deciding on one as they all have different prices but offer the same trip.
We climbed in to a longtail boat for a ride on the Mekong. With the heat and humidity, just being on the river was an enjoyable way to cool down. We bounced past the Paradise Casino on the Myanmar side of the river, other longtail boats, and ships that had come all the way from China.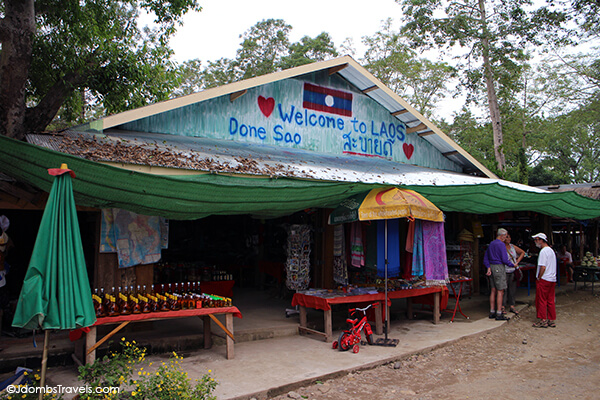 Before long we arrived at Don Sao Island, Laos. It's the only part of Laos that can be visited without a visa and is set up as a market. The market is honestly nothing special. It's mostly a mecca of faux designer handbags, though if you wander around enough you do find some local handicrafts like woven Laos scarves and a variety of opium paraphernalia. The biggest draw is the vendors selling the whiskey with pickled cobras and scorpions. The whiskey is supposedly used in South East Asia as an aphrodisiac and also for medical uses, such as the treatment of back and muscle pain.
You'll have about 30 minutes to visit the market while the longtail boat you hired waits, and for us, it was enough time. The trip is about an hour in total, so even though the market is basically a tourist trap we still thought it was a pleasant way to spend a little part of our afternoon.
Know Before You Go
There are many companies offering the Don Sao Island trip. Walk around and talk to a few to get the best price. We went for around $15 US with our own private longtail boat.
There is a $2 per person fee for the market that is not included in your boat trip.