When I lived in Phoenix, AZ, I didn't have to worry about dog friendly beaches. I had my very own swimming pool right in my backyard. From the day my mom and dad declared the new pool officially open, I loved to swim. Ask me if I wanted to go for a W-A-L-K or a S-W-I-M and I was off to retrieve my pool ball* and out the doggy door in a lightning white flash.
*My pool ball is an inflatable pool volleyball that got partially deflated after my dad spiked it into a palm tree. Now it's my favorite ball to fetch when I swim. It still floats and I can easily grab hold since it's half deflated.
And then I moved to Italy.
Can you believe they don't allow dogs at most beaches? I just want to cool off in the soaring summer temps like everyone else! What's the big deal? I won't pee in the sea…but I totally saw that kid this one time pee right on the beach. Why is that allowed but I'm not?
Ever since I moved to Europe, my pawrents have been on a quest to find me the best dog-friendly beaches in Europe to take me to. I like a holiday and some fun in the sea, too.
Just don't forget that if you're taking your fur kid to the beach, to pack a few essentials. The number one necessity is a bowl and water to help your doggo stay hydrated. I also like my own towel to lay on, since the sand can get hot. And don't forget a favorite toy, like my pool ball that has traveled with me to the 17 countries I've visited!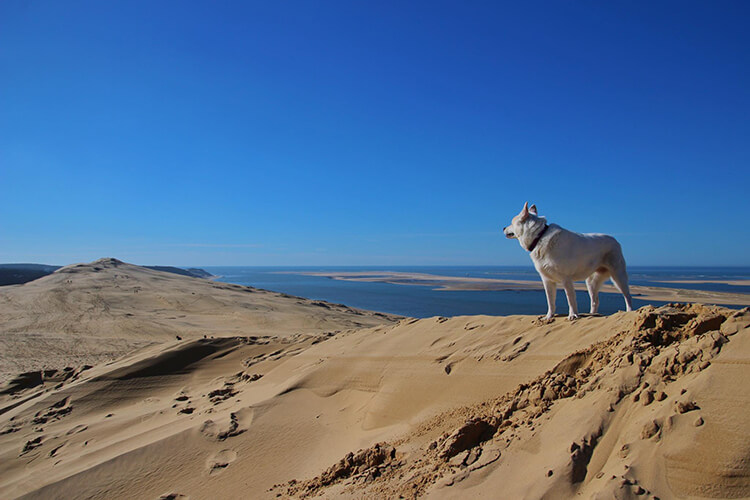 Dune du Pyla, France
After I lived in Italy for seven years, I moved to Bordeaux, France. The wild and undeveloped Atlantic coast of France has many more dog-friendly beaches than in Italy. I can swim all year long, even in the busy summer months when Italy tends to ban dogs from beaches from May – September.
One of my favorite French dog-friendly beaches also just happens to be one of the world's most beautiful beaches. It's the beach at the foot of Dune du Pyla, Europe's tallest sand dune.
You can reach it two ways. The easiest is to take the staircase down to the Corniche in front of the Hôtel La Co(o)rniche. The other way to access this wild and undeveloped beach is to climb up the Dune by the staircase installed each year, then trek down the steep sandy dune. The only problem is you then have to climb back up and it's exhausting, even for an energy-fulled pupper like me.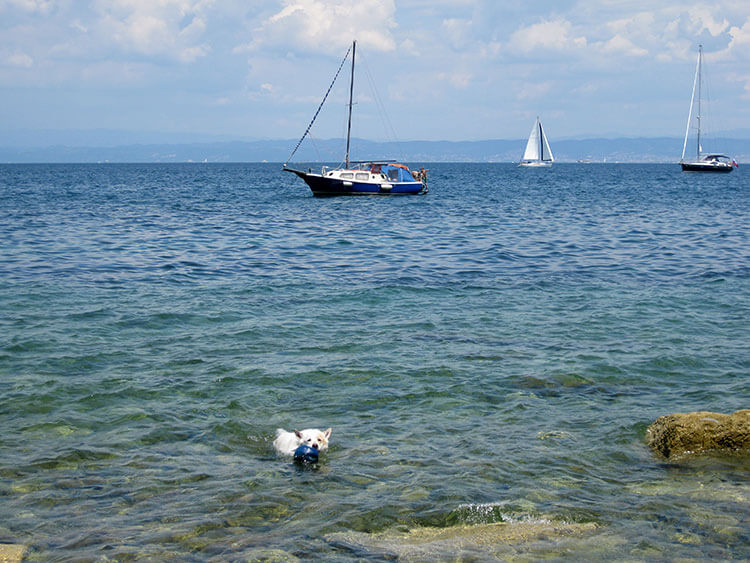 Piran, Slovenia
The second summer we lived in Italy, my mom finally found a beach to take me to. It's in the beautiful seaside town of Piran, Slovenia just across the Italian border about 1.5 hours from Venice.
It's a pebble beach on the back side of the peninsula promenade that runs between Piran and Fiesa, but I don't mind. I can usually find a rock to stand on in the water when I get tired of doggy-paddling around. And my mom doesn't mind because I don't get sand stuck all over me.
The waters are generally calm and sometimes there are even kids that think I'm cute and play with me. I'll swim out to retrieve my pool ball repeatedly for hours.
Nowhere Beach (Otherwise Known as Valle Vecchia), Brussa, Italy
My mom's friend told her about this beach, and it's actually the closest one to my house in Italy. The Americans refer to it as "Nowhere Beach" because it's located down a dirt road after which you trek through a forest of pine trees for about five minutes or so before the wooded area opens up into an expanse of sand and sea. But this Italian dog-friendly beach does actually have a name: it's called Valle Vecchia in the town of Brussa in the Veneto.
You won't find umbrellas and chairs for rent. And you should pack a cooler with drinks and snacks, because there is just one small snack bar there. Be sure to remember a dog bowl and water. I know I get thirsty after all of that swimming!
Dog Beach, Ventimiglia, Italy
Aptly named, my mom found this Ventimiglia dog-friendly beach on our way from Provence, France to Genova via a quick Google search after discovering I wasn't allowed at the beaches in Cannes. (But I did get to strut my stuff at the Palais des Festivals et des Congrès.)
Dog Beach is located at the end of the Roia Beach, right next to the Sirena Restaurant and not far from the French border. It's another pebble beach with a bit of sand, but there are showers to hose off with close to the rocky pathway.
Next up I'm headed to Croatia and Montenegro and I'll be taking my pool ball with me! I'll report back on the great dog friendly beaches I find along our trip.