In a time when we can only reflect on the incredible travel experiences we've had around the world, we're craving those meaningful connections that can only be had when traveling to new places. The connections forged with the winemaker of that special bottle in that out of the way winery you discovered. The conversations over how that artisan learned to weave straw baskets from her grandmother. The finding common ground over appreciating a local delicacy.
It's going beyond the attractions and landscapes that we miss the most about travel. Human by Nature. It's the very act of connecting humans with the nature around us. Learning the stories which may seem oh-so-ordinary to those who have the story to tell, but are in fact extraordinary. It's these connections that truly shape our travel experiences.
That's why when Kerala Tourism asked us which Human by Nature experiences we'd most like to have when we can travel again, we were happy to dream about exactly the things we'd like to learn more about on a visit to Kerala, India. The things that give us an enriching travel experience, and the kind of stories we like to pass on here.
Known as God's Own Country, Kerala is a special place. It's where the people shape the famous landscapes, and it's the melding of culture and nature that make Kerala one of the most popular destinations in India.
While it's certainly not exhaustive of all the things to do in Kerala, these are the experiences we'd most like to have there. The ones that introduce visitors to this beautiful Indian state to centuries old traditions handed down. The ones that make Kerala the magical place that it is and earn the name of God's Own Country.
Take a Cooking Class
I always say that good food knows no language barriers. From making pasta in Italy to cooking with Frankincense in Oman, I've connected with locals over cooking classes the world over. Learning about the local culture through the food is always an enriching experience and one that leaves me with a way to bring some of the culture back home through the recipes shared.
Kerala is renowned for its cuisine and the regional dishes here often surprise visitors by featuring regional delicacies such as coconuts and fish. Here the food is a mix of both vegetarian and non-vegetarian dishes, and is considered a fusion of Malabari, French, and Arabian influences along with Kerala's unique flair.
One of the most intimate cooking experiences is to do a market tour and cooking class in a Kochi home. The experience is hosted by one of Kochi's former local restaurateurs, Shila and her husband Joseph, in their home where they grow their own grow their own papayas, lemons, coconuts, bananas and spices.. Shila will take you to the local market and introduce you to the spices and products of the area. Then head back to learn the secrets of Kerala cuisine and Shila's family recipes by cooking with coconut and the spices typical to the most famous dishes of Kerala.
Once back home from your trip to Kerala, you'll always remember the extraordinary of the human connection through cooking while doing something as ordinary as preparing dinner. Especially over a meal prepared with the family recipes Shila handed down especially to you.
Visit a Tea Plantation and Taste Tea
While Darjeeling might come to mind when thinking about India and tea, Kerala is even more famous for its tea. In fact, tea is one of the most important crops grown in Kerala and Munnar is considered to be among the most beautiful of the tea growing regions.
A jeep safari to the tea plantations of Munnar isn't just an opportunity to see the stunning landscapes, but a way to go beyond and explore the human'scape' as well. It's here in Munnar that you can meet some of the women who work as tea pickers, laboriously handpicking an average of 100 kilograms of tea leaves daily.
Once back at the tea factory where the freshly harvested tea leaves begin a process of drying, rolling and packing, you can taste tea. After a morning spent with the women who harvest the tea leaves, you'll never appreciate a cup of tea so much.
Try Kerala's Indigenous Alcoholic Drink: Toddy
We're infamous for seeking out the local wine wherever we go. And wine isn't always made from grapes, either. From the Arctic berry wines of Finnish Lapland to the banana wine of Martinique, locals have cleverly been using the indigenous fruit to ferment and make alcoholic drinks all around the world.
Kerala is no exception with its palm wine, made from the sap of palm trees. And just as with everything in Kerala, its Kerala's people that connect with the nature around them. Tappers, as they're called, got the idea to scale palm trees and tap them for their sap. Clay pots are attached to collect the sap, before tappers once again scale the palms to collect them.
Toddy, or the palm wine, is a natural alcoholic drink with around 8% alcohol content. It's considered a health drink and is sold in little glass bottles in licensed shops. These shops often also sell food, and the sweetness of the Toddy pairs excellent with the spicy beef ularthiyath.
See a Kathakali Performance
One of Kerala's ancient art forms is the dance-drama known as Kathakali. Originating in Kerala over 300 years ago, this renowned dance performance tells a meaningful Hindu mythological story.
Not only are the elaborate costumes impressive, you'll be even more appreciative when you learn of the rigorous training the performers undergo. Every single movement has significant meaning, and performers train intensely to perfect their techniques down to hours of daily eye exercises when learning the art of Kathakali.
You can see a performance at the Cochin Cultural Center, which offers daily shows performed by their theater division.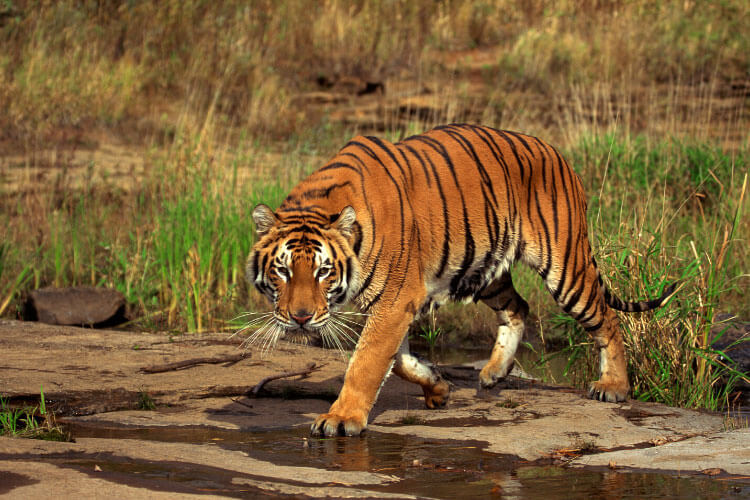 Go on a Wildlife Safari to See Elephants and Tigers
Finally, you can't visit God's Own Country without going on a safari to see some of the spectacular wildlife of Kerala. Periyar National Park and Wildlife Sanctuary is considered the most protected area of India for elephants and tigers, and is renowned as one of India's most celebrated national parks.
As the first place in Kerala to take official action to conserve the wildlife and biodiversity from the encroaching tea fields, Periyar National Park and Wildlife Sanctuary now boasts 35 endemic species. The wildlife found in the park includes threatened species, including the 35 Bengal tigers that were counted as recently as 2017. There's even a few rare white tigers, and the park is an important place for wild Asian elephants.
While visiting the area, you won't want to skip the thrilling hike along the Tiger Trail with former local poachers who have been rehabilitated and now serve as protectors to the unique flora and fauna here. It isn't always easy to learn to co-exist with the wildlife on your doorstep, but these 13 ex-poachers now make their living as guides now and work in conjunction with the Kerala Forest Department to promote sustainable eco-tourism in the area.
With the local knowledge of the forest dwellers, you enhance your chances of a tiger encounter. And you can learn what it's like to live alongside one of Indian's fiercest hunters.
This post is sponsored by Kerala Tourism in order to bring you this story. However, Luxe Adventure Traveler maintains full editorial control of the content published on this site. As always, all thoughts, opinions, and enthusiasm for travel are entirely our own.