I might be a little bit biased, but I think hot air ballooning over the world's must stunning landscapes is one of the most romantic experiences you can have. After all, Tim and I were married in a hot air balloon…sort of.
A hot air balloon wedding wasn't always the plan. Actually, it was a OMG-our-wedding-is-being-cancelled-what-do-we-do-now decision to wake up at the ungodly hour of 4am and drag our immediate family out in to the freezing desert for a sunrise hot air balloon ride and wedding. And even that didn't go as planned. The day turned out to be so windy that we couldn't even inflate the balloon for our wedding photos, yet alone take off over Las Vegas and Red Rock Canyon as the pilot pronounced us man and wife.
Despite having to creatively crop our wedding photos so we don't look like two loons in a basket, we've never given up on hot air balloon flights. We're basically one for about a million times booking hot air balloon trips, but those few times we finally did make it up, up and away were so spectacular that we want to go ballooning everywhere. Our list of dreamy landscapes to fly over is long but if we had to choose our top places, we'd pick these 12 best hot air balloon rides in the world.
1. Hot Air Ballooning in Las Vegas, Nevada
I know Sin City isn't everyone's cup of tea, but it is the city we met, fell in love in and called home for the first couple of years of our relationship. It was when we moved from our tiny one-bedroom apartment just a block off The Strip and up to Summerlin that we'd see the balloons rising with the sun practically every morning.
Every morning but our wedding day, that is. We got the idea to get married in a hot air balloon and take in all our favorite monuments lining The Strip from above. One day we will soar over Las Vegas in a balloon.
When to balloon: Las Vegas hot air balloon rides are available year round.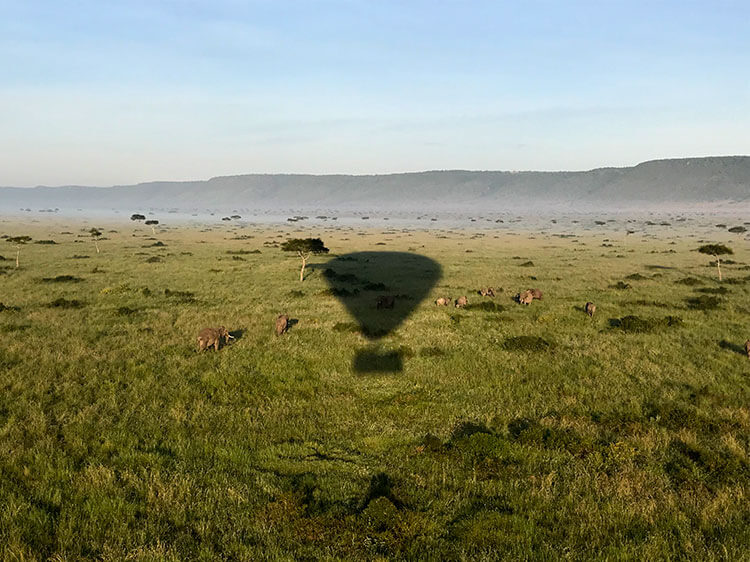 2. Hot Air Ballooning in the Masai Mara, Kenya
If you ever have the opportunity to have hot air balloon experience over Kenya's Masai Mara, don't even think twice about booking it. While it's spectacular to take in castles, ancient temples and vineyard landscapes from above, there is nothing more thrilling than silently drifting over herds of giraffes, huge hippo pools or predators like lions and hyenas on early morning hunts.
The Masai Mara is a year-round safari destination with a long list of flora and fauna that will take your breath away. While it's never guaranteed that you'll see animals from the balloon, just like it's never guaranteed you'll see the animals when heading out on a game drive, the chances are good enough I'd bet on them.
When to balloon: Masai Mara balloon safaris are available year round, but plan your visit during the Great Migration when hundreds of thousands of wildebeest and zebra migrate back to Kenya.
3. Hot Air Ballooning in Loire Valley, France
We were budding Francophiles for several years, falling in love with France more and more with each trip we took, before we finally moved to France. So it should be no surprise to find the Loire Valley, with its' over 800 castles and vineyards, on this list of the best places to hot air balloon.
From photos, it looks like something straight out of a fairy tale. We imagine ballooning over the Loire Valley will be like that scene from The Princess Diaries when Princess Mia's massive storybook castle comes in to view from above for the first time. In other words, totally enchanting and one of the best places in the world for romantic hot air balloon rides.
When to balloon: Loire Valley hot air balloon flights are best from April through October when the landscape is green.
4. Hot Air Ballooning in Bagan, Myanmar
Ballooning over Bagan is the one place we've actually been able to check off our hot air balloon adventures bucket list together. The balloon flight takes you up, up and away for a birds-eye view over Bagan's 4446 ancient pagodas.
Having e-biked the ancient site from end-to-end and short of spending at least a month exploring all the temples, there's no better way to really take it all in than from a basket in the sky at sunrise.
When to balloon: Bagan hot air balloon flights are offered from October through March when temperatures are slightly cooler.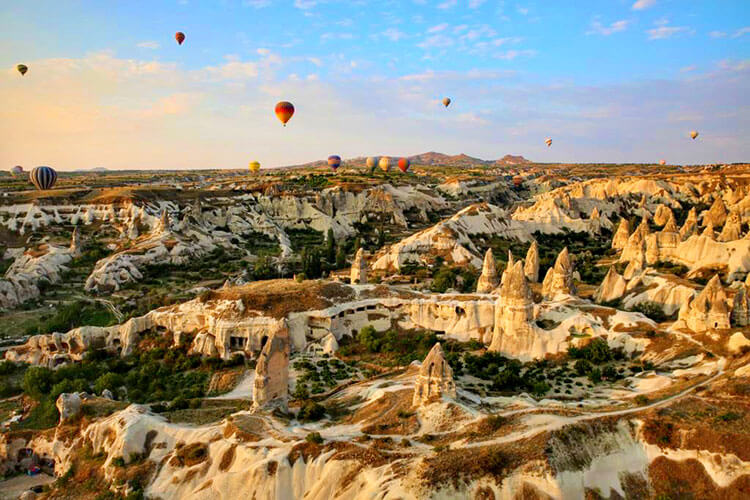 5. Hot Air Ballooning in Cappadocia, Turkey
Cappadocia's landscape is most often described as being dotted with fairy chimneys. Thousands of years ago volcanic eruptions left Cappadocia covered in ash. That ash turned to soft rock, and wind and water chiseled it out to leave behind pillars topped with precariously balanced looking formations. Ancient inhabitants then left their mark on the landscape, carving out cave dwellings. The formations rise up all across the landscape like chimneys rising from the Smurfs' houses come to life.
Cappadocia is one of the world's most popular places to balloon and a top destination for couples hot air balloon rides. Most mornings make it even more fairy tale-esque as 100-150 colorful balloons float across the sky.
When to balloon: Cappadocia balloon flights and champagne breakfast are available February through November, but you can avoid the summer crowds by traveling in shoulder season from April to May and September to October.
6. Hot Air Ballooning in Napa Valley, California
I've been lucky enough to take to the skies on a balloon flight above Napa Valley, with the vineyards below appearing like a patchwork quilt. Knowledgeable guides can point out many of California's most famous vineyards.
And on a clear day, like the morning I ballooned over Napa, you can see all the way to the Bay. Aside from the stunning views over California wine country, balloon flights end with a fabulous California sparkling wine brunch.
When to balloon: Napa Valley hot air balloon rides with sparkling wine brunch are available year round, but springtime from March through May is when the famous San Francisco fog is less likely, the vineyards are green and mustard or poppies are in bloom.
7. Hot Air Ballooning in Moab, Utah
The fragile sandstone towers and arches of Arches National Park were created when dinosaurs roamed the earth. As if that thought alone doesn't make Moab a must-visit destination, the scenery is some of the most spectacular in the United States.
If you're lucky, you might even spot some of the wildlife like mountain lions or desert big horn sheep as you glide silently above.
When to balloon: Moab Hot Air Balloon Flights are available from late March through early November.
8. Hot Air Ballooning in Albuquerque, New Mexico
Albuquerque, the Hot Air Balloon Capital of the World, has ideal weather conditions for year round ballooning. Taking to the skies over Albuquerque, balloons drift over the Rio Grande as dawn breaks over the Sandia Mountains.
Go in October during the International Balloon Fiesta. More than 500 balloons lift off during the mass ascensions. It's a sight unlike any other as hot air balloons fill the sky.
When to balloon: Albuquerque sunrise hot air balloons flights are available year round, but it's an even more spectacular sight to balloon during the International Balloon Fiesta held each October.
9. Hot Air Ballooning in La Fortuna de San Carlos, Costa Rica
I've actually been to Costa Rica, but hot air ballooning over the rain forest with a view of the often puffing Arenal Volcano wasn't on my agenda when I went there with my school in 1997.
I'm fairly certain that Costa Rica's only hot air balloon company, Serendipity Adventures, wasn't around back then or at least didn't offer hot air ballooning. Because if they did, I'd have tried to convince my science teacher that hot air ballooning would be a great real life example of physics. Or maybe a math equation about how much cubic feet of hot air you need for the balloon to lift off and float through the cooler air? Either way, if I ever make it back to Costa Rica we'd like to drift past a volcano.
When to balloon: Flights are available year round, but May through August offers the most optimal winds and clear skies for a view of Arenal just 20 miles away.
10. Hot Air Ballooning in Luxor, Egypt
Egypt has been on our bucket list for what feels like forever. We've even planned and paid for two trips to Egypt including a hot air balloon ride over Luxor, but apparently we just weren't meant to go.
When we do make it Egypt, we'd love to take to the skies over the ancient monuments of Luxor, the Nile River and the West Bank. Like Bagan, we imagine the world' greatest open air museum is a place that can only fully be appreciated from a birds-eye view.
When to balloon: Luxor hot air balloon flights are available year round, though you might want to avoid visiting in the super hot months from June through August and during Ramadan.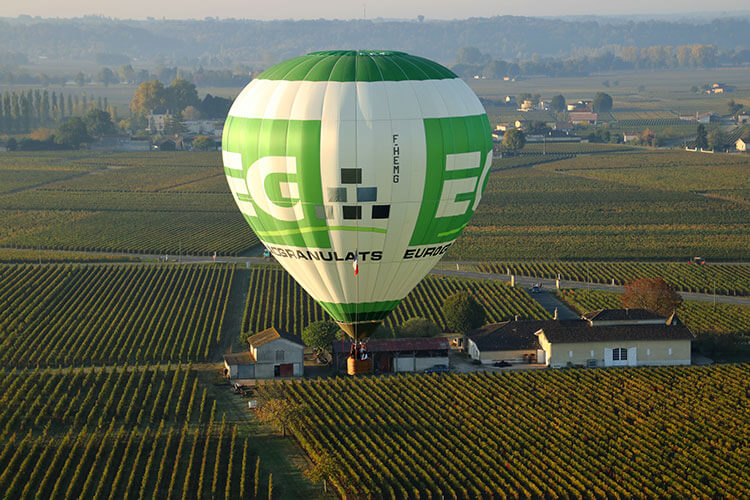 11. Hot Air Ballooning in Saint-Émilion, France
Bordeaux is one of the world's most famous and most spectacular wine regions. Over 7500 châteaux and countless hectares of vines dot the landscape. Saint-Émilion, one of the most beautiful appellations in the Bordeaux wine region, is the perfect destination for hot air ballooning over famous Bordeaux vineyards.
La Ferme du Ciel combines hot air ballooning with wine tasting, offering in flight wine tasting experiences with winemakers. Or you can take a flight during Saint-Émilion's annual hot air balloon festival every October when balloons from around France and the world take to the skies for the 4-day festival.
When to balloon: La Ferme du Ciel offers balloon flights over the vineyards of Saint-Émilion year round (weather permitting). Les Montgolfiades de Saint-Émilion takes place every October. Balloon discovery flights during the hot air balloon festival can be booked through La Ferme du Ciel, who organizes the annual event.
12. Hot Air Ballooning in Marrakech, Morocco
There's just something about sunrise in the desert and floating over the outskirts of Marrakech as the sun peeks over the Atlas Mountains is a perfect way to get a different perspective of Morocco entirely. And though we never, ever want to ride camels again after a painful (literally) experience in Jordan, we still love seeing camels. I squealed with delight as we saw some camels roaming across the desert from the balloon.
When to balloon: Marrakech hot air balloon flights are available year round, though you might want to avoid visiting in the super hot months from June through August and during Ramadan.
This article contains affiliate links. When you book anything on Viator through our affiliate site, we earn a small commission at no additional cost to you.