Google Italian food and immediately images of wood-fired pizzas and heaping plates of pasta pop-up. Like many, even after years of living in Italy, I don't associate Italy with street food. We put the question to our Facebook community and taco carts were mentioned more than once along with Korean Yaki Mandu, steaming bowls of pho eaten on tiny chairs curbside in Vietnam, and lamb hot dogs smothered in rémoulade, crunchy fried onions, and sweet mustard at Bæjarins Beztu Pylsur. So when I happened to spot a Street Food Village coming to Belluno and I saw there would be a taco cart all the way from Mexico, I knew where I'd be spending my weekend! The Belluno Street Food Village is part of the Streetfood.it traveling tour, an Italian association that has been perfecting Italian recipes from all the regions of Italy that can be eaten while walking on the street. But if you can't make it to one of the Streetfood.it tour locations or can't wait until next year's tour, here's 5 Italian street foods to try and where to find them:
1. Fried Olives (Olive Ascolana)
In Le Marche, a region that lies between the Apennine Mountains and the Adriatic Sea, Olive Ascolana is the culinary signature. The olives stuffed with ground meat and then lightly breaded and fried originated in Ascoli-Piceno, a town in the southern part of the region, and spread north. The green olive used to make Olive Ascolana are a special variety only grown in this area of Italy. You'll find them on the menu at various wine bars and trattorie in Le Marche and they can even be bought in cartoccio (a paper cone) to eat on the go!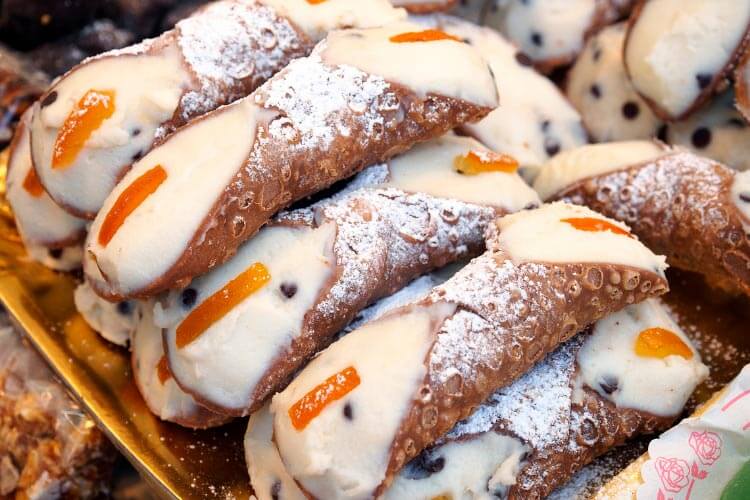 2. Cannoli
One of the most classic Italian desserts, cannoli originated from Palermo in Sicily. The pastry dough is shaped into a tube and fried. A creamy filling of sweet ricotta, often with chocolate chips mixed in, is piped into the tube. The dessert is finished off with a candied cherry on one end and a candied orange peel on the other. These days cannoli can be found all over Italy, but the best ones come from Sicily. This is the messiest of the Italian street foods, so be sure to grab a couple of extra napkins!
3. Fried Rice Balls (Arancini)
Arancini are fried balls of rice usually filled with meat ragu, cheese, and peas, although there are many different varieties these days. Arancini also originated in Sicily in the 10th century and Sicilians love to eat them as snacks! They're the pride of Sicilian rotisseries and you'll find them all throughout the island.
4. Gelato
Even though gelato is technically the Italian word for ice cream, it is very different as I learned when I attended the Carpigiani Gelato University in Bologna. Though the history of gelato dates back to ancient times when snow was brought down from the mountains and preserved under ground, the first gelato cart didn't appear until some time in the 1920s – 1930s in Varese in Northern Italy. Today it's probably the most consumed street food throughout the country, though certainly the best I've ever had was at the Carpigiano Gelato University lab, where serious students aspiring to own their own gelato shops, perfect their skill.
5. Porchetta Romana
Usually salted heavily and stuffed with garlic, rosemary, herbs, porchetta is moist roast pork that is usually served from a van, like a street food truck, as a panino (sandwich). Though popular all throughout Italy, it originated in Ariccia, a province of Rome, hence the name porchetta romana. It can also be bought by the kilo and makes a great sandwich meat to store for a few days in the fridge!