Italy is filled with amazing ruins, museums and churches, but sometimes even the most cultured traveler wants a little sun and nothing to do but sip cocktails. That's when you head to Italy's famed Amalfi Coast. It's here that colorful fishing villages cling to the cliff side and cars, buses and vespas vie to get by one another on the road with 1000 bends. The honking and the plunging cliffs are stomach wrenching, but the views of the azure Mediterranean, the cool sea breeze and the incredible sea food make the traffic jams on the barely two-lane wide coastal road worth it. Follow this guide to the must-see sights on the Amalfi Coast, where to eat, where to stay and more for the perfect Amalfi Coast holiday.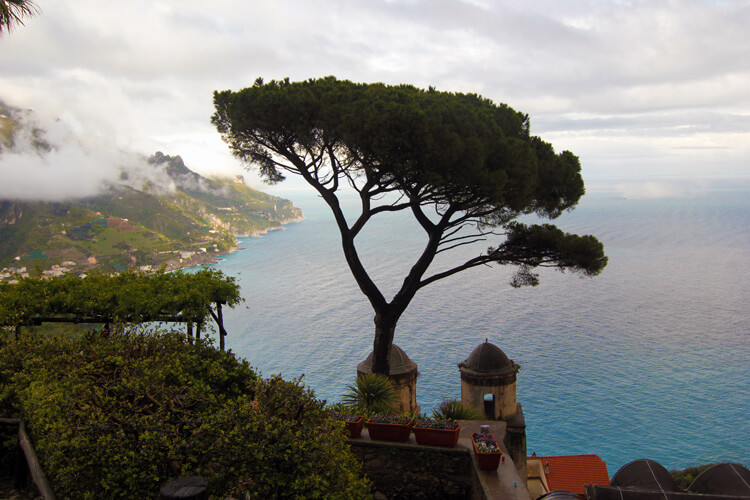 Ravello
Ravello is our favorite of the towns on the Amalfi Coast. Set 350 meters above the other towns like Amalfi and Minori, many people never make the trek up. On one hand, it's a shame because the views from Ravello are like no other. On the other, Ravello is a blissful retreat from the madness of tour buses and cruise ships far below.
Must-See Sights in Ravello
There's plenty of things to do in Ravello, too. Actually, we'd say that there's more attractions in Ravello than any of the other individual towns that make up the Amalfi Coast.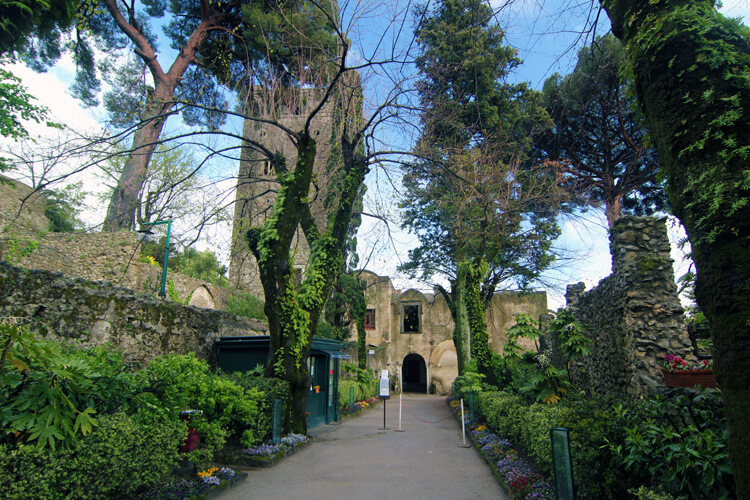 Ravello offers stellar views of the Mediterranean and the Amalfi Coast and one of the best places (and most famous views) is from the Villa Rufolo. The view is so great that this very spot was once used to keep a look out for pirate ships arriving to the Amalfi Coast.
The estate fell in to disrepair for a number of years, but much of it has been restored and the gardens with cypress, cycads, palm trees, yuccas and colorful flowers are well worth a stroll. Be sure to also climb the 30 meter high Torre Maggiore – you can keep an eye out for modern day pirates, or more likely yachts, in the Bay of Salerno.
Villa Rufolo is open daily from 9am – 5pm. Tickets are €7 per person.
It's no wonder that the rich and famous hole up at Villa Cimbrone. With its spectacular views over the Bay of Salerno, fabulous pool and romantic gardens, Villa Cimbrone is without a doubt one of the most beautiful places in Italy.
You don't need to be a guest of Villa Cimbrone to enjoy it. Don't miss the Terrace of Infinity, which is open to the public in the Villa Cimbrone Gardens, for one of the most jaw-dropping views on the Amalfi Coast (the other is from the previously mentioned Villa Rufolo).
Villa Cimbrone Gardens are open daily from 9am – sunset. Tickets are €7 per person.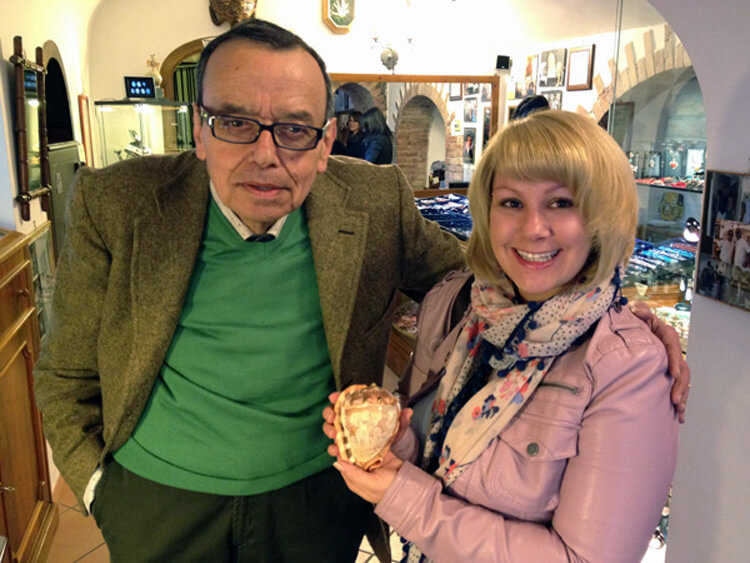 One of the hidden gems of Ravello is the Museo del Corallo. Stop in at the Camo Factory and arrange a tour of the Museo del Corallo tucked into the back of the shop.
Owner and cameo craftsman, Giorgio Filocamo, personally showed us his collection which includes rare items such as a 17th-century coral crucifix, a Madonna figure dated from 1532, and a 3rd-century AD Roman amphora with a coral formation inside.The 17th-century coral crucifix was appraised by Sotheby's at $600,000 US in 1987, which Giorgio humbly turned down because he wanted to keep his rare finds within in his family. It is the center of his collection and a piece he talks proudly of, pointing out the details such as the the Vatican seal and small flowers made of silver and glass. What really makes it special, he tells us, is that Christ was carved from a single large branch of Mediterranean coral called Trapani.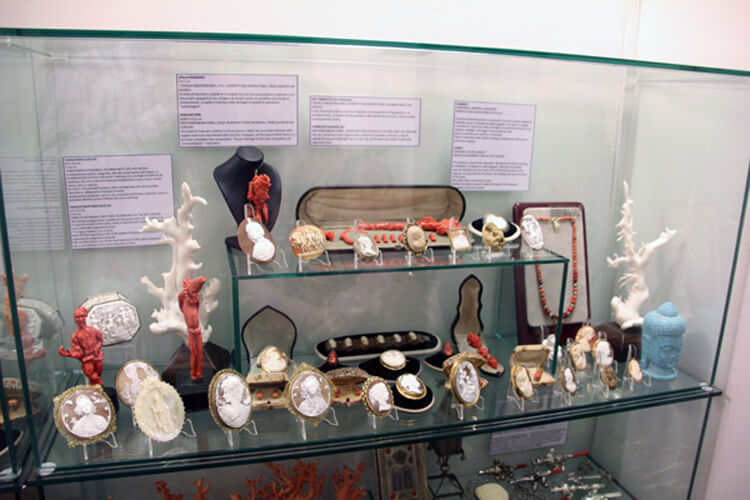 Admire the two villages it took Giorgio two years each to make. These are not for sale and I can certainly understand why as he points out the intricate details down to chickens laying eggs, shop owners tending to their shops, and individual bricks to construct each building that can only be described as painstaking work crafted with patience and love.
Giorgio personally hand carves all the beautiful cameos for sale in his shop from the corals and conch shells found around Ravello. The who's who all have one of a kind cameo creations hand carved by Giorgio, including Hilary Clinton, Susan Sarandon, Nicholas Cage and the late Pope John Paul. And now I do too! I couldn't pass up a beautiful cameo of a scene from the Villa Rufolo, nor could I think of a better memento from our stay.
Camo Factory and Museo del Corallo, Piazza Duomo 9, Ravello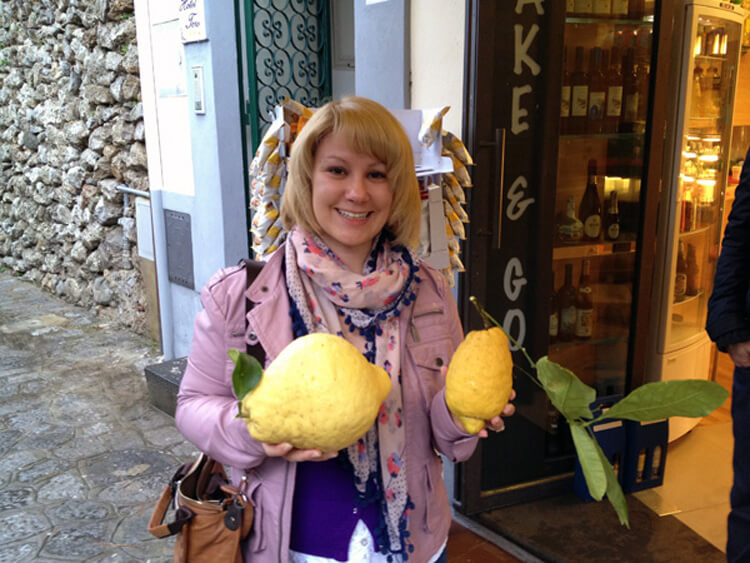 Another little gem we found is La Cucina di Sofi. Having had our share of limoncello while living in Italy, I knew it was special when Tim came to find me in another shop and told me I just had to try this limoncello.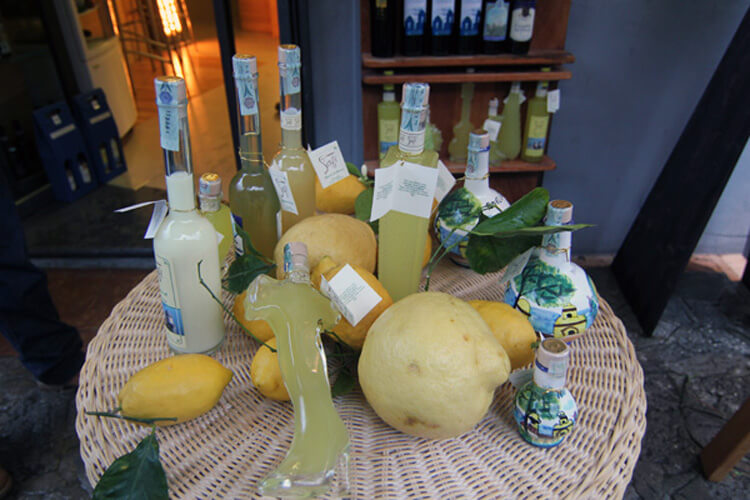 Veronica and Aldo, the shop owners, greeted us and offered us samples. The limoncello is made with lemons and certos (think of a giant mutant sized lemon) from their very own groves and Aldo humbly stated it was the best limoncello around. We had to agree! I didn't need to contort my face as I tossed back a shot.
In addition to limoncello, they also produce a liquor from fennel which Aldo said was his favorite. It was indeed delicious. We couldn't resist coming home with one bottle each of their limoncello and fennel liquor.
La Cucina di Sofi, Via Roma 14, Ravello
Where to Eat in Ravello
Cumpà Cosimo is a rustic family-run restaurant that has regularly served the likes of some of the world's glitterati like Jackie O. The menu is simple Italian fare all home cooked by owner Netta.
Cumpa' Cosimo is simply called Nettie's by the locals. That's because it's Netta Bottone at the helm of the kitchen, and the restaurant has been in her family for four generations.
When we dined, Netta herself even delivered our second courses as she toured the restaurant to ensure all her patrons were happy. She'll probably even offer you more pasta, just like an Italian nonna!
The menu changes according to whatever is in season and inspires Netta, but no matter what you try it's sure to be delicious. If the cannelloni is on the menu, we highly recommend it.
Cumpa' Cosimo is sometimes closed on Mondays and reservations are essential. Via Roma 46, Ravello, 84010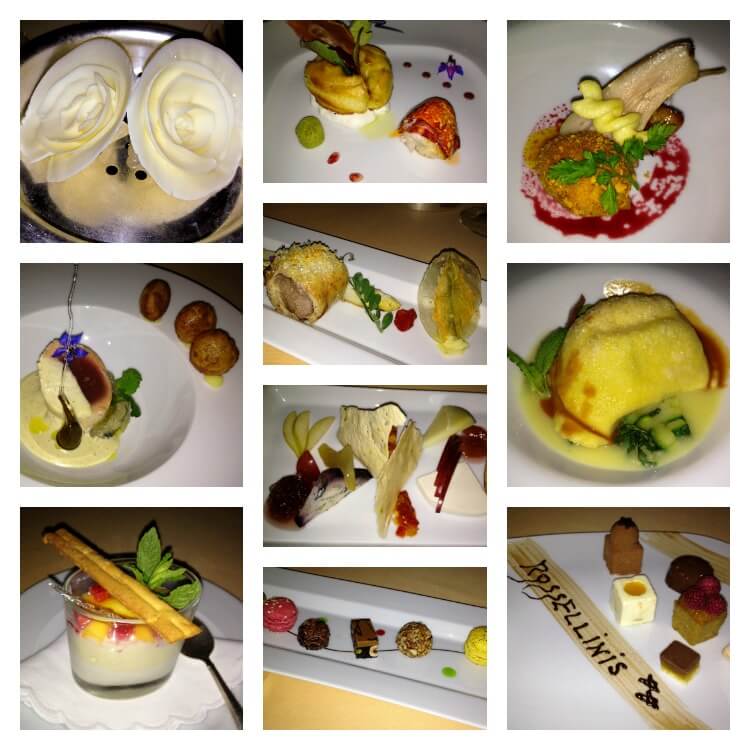 For a splurge, try the two Michelin starred Rosselinis in the Palazzo Avino, 1000 meters above the coast in Ravello. Rosselinis is where food meets art! We enjoyed the tasting menu and each dish was so beautifully prepared, we almost – almost – didn't want to dig in. Even something as simple as the butter was intricately carved into roses.
The tasting menu is 9 courses total and each portion size is just right. Some of our favorites were the Ahi tuna filet with caramelized capers and fried potato puree and the herb and cheese crusted rack of lamb with white asparagus and a leaf potato chip that we're still talking about. Dessert is 3 courses – yes, 3! – of which we unanimously agreed that the ricotta foam scented with lemon and passion fruit mousse topped with fresh strawberries and mangoes was light and just the right amount of sweet.
Rosselinis sommelier will help you perfectly pair your wine selection to your meal. And if you can't make a selection from their extensive wine list, feel comfortable leaving the decision up to the sommelier as we did.
Rosselinis is open April to October and reservations are required.
Conca dei Marini
Perched on a cliff not quite as high above the sparkling sea as Ravello, Conca dei Marini is another quieter of the charming fishing villages. The small village is surprisingly home to a number of the Amalfi Coast's most beautiful buildings, monuments and artworks. You'll even find part of the skull of St. Barnabas the Apostle here, which is one of the most important relics of the Amalfi Coast.
Don't Miss in Conca dei Marini
The sfogliatella is a pastry that was invented in the 17th century at the Monastero Santa Rosa when the now luxury hotel was a monastery. While you can find the pastries throughout the Amalfi Coast, there's no better place to try one than in the very place they came in to existence. The secret recipe the nuns created is still used today.
Where to Eat in Conca dei Marini
The Calajanara Restaurant has a stunning sea view terrace open in the summer months. While you never really get a sunset on the Amalfi Coast as the sun sets behind the mountains, the sky dazzles in shades of pinks and purples. Book a table for around sunset and feast on specialties like the seafood paccheri and stuffed squid.
Calajanara Restaurant, Via Smeraldo 35, Conca dei Marini 84010


Amalfi
Amalfi is exactly the opposite of Ravello; sitting at sea level it is the Amalfi Coast's busiest town. It's so small that its hard to grasp that this village was once a maritime super power and an independent republic. Once home to some 70,000 people, you can now explore Amalfi from end to end in about 20 minutes. It doesn't make sense until you learn of the earthquake of 1343 when most of the old town and its population simply slid in to the sea.
Must-see Sights in Amalfi
Dating back to the 11th century and sitting mightily atop a staircase, the Duomo (Saint Andrew's Cathedral) is the heart of the village of Amalfi. You can visit the interior, richly decorated in golds of the late Baroque style and be sure to descend the stairs to the crypt where a tomb holds a portion of the relics of the apostle Saint Andrew.
Where to eat in Amalfi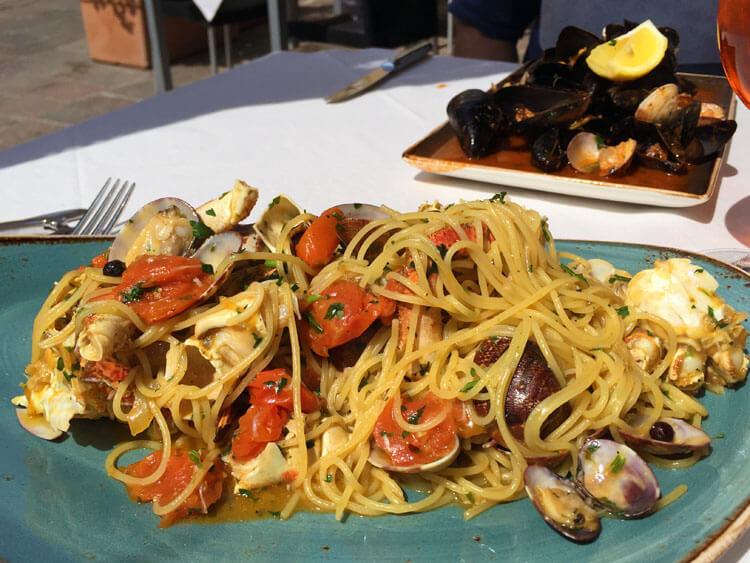 Walk to Pier Darsena and look for a boat that says Santa Croce. The free boat, which operates frequently between 9am – 5pm, will whisk you to the Santa Croce restaurant just down the coast and only accessible by boat or a very long staircase down from the main road. The menu changes daily based upon the fresh fish and ingredients available that day.
Cetara
Cetara is so different from the tourist ladden Amalfi and the elegant Ravello. This is what all of the villages must have been like when they were all traditional fishing towns. Tourism hasn't got its grasp on Cetara yet and its the only town remaining with a working fishing fleet. The beach has just a smattering of locals on it mid-week and its blissfully quiet.
Don't Miss in Cetara
Amalfi has the best lemons in all of Italy and on a hot day, there's nothing better than a lemon granita. Pop in to Bar Miramare just a few meters from the beach for a granita limone.
Where to eat in Cetara
In Cetara the anchovy is king. Head to Acqua Pazza with its smattering of outdoor tables with a view of the beach and small port. I'm not personally a fan of anchovies, so thankfully the menu features other fresh fish like the tuna carpaccio with kiwi that I tried. But if you are an anchovy fan, this is definitely the place to try them. The small shop also sells anchovies and an anchovy fish sauce.
Acqua Pazza, Corso Garibaldi 38, Cetara 84010
Positano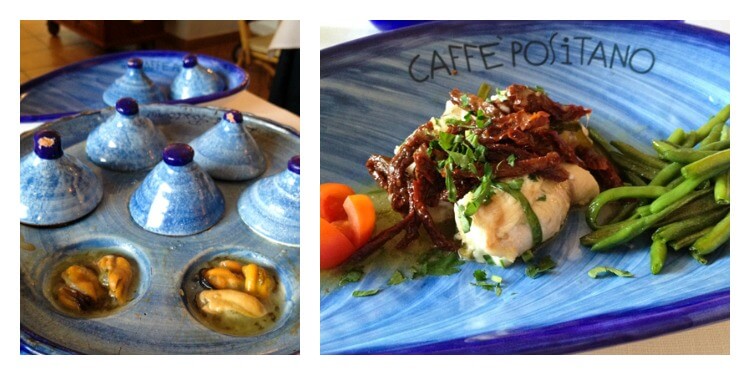 Where to Eat in Positano
Mollusks are a traditional part of the Neapolitan cuisine and are caught fresh right along the coast. I never liked mussels as a child; my dad ate them all the time. But spotting them on many a menu, we decided to give them a try and I'm now a mussels convert.
Caffè Positano is a simple restaurant in the heart of Positano looking out over the sea. With a selection of everything from paninis to pizza to fresh fish and seafood, everyone can find something to their liking at this charming cafe!
We tried the mussels in a white wine and garlic sauce. They were served in dish with little wells individually covered to keep them hot and sizzling. The freshly baked bread is perfect for soaking up the juices and white wine sauce. We also had the swordfish with sun dried tomatoes.
Caffè Positano ($) Via Pasitea, 168/170, Positano 84017
Maiori
Where to Eat in Maiori
La Vela in Maiori not only offers stunning views looking out on the beach from its position on the seaside promenade, it also specializes in Mediterranean cuisine. We had the mussels marinara (cozze marinara in Italiano) which were served with garlic bruschette perfect for piling on some mussels and a spoonful of the marinara.
Also delicious is the selection of fresh fish. The grilled swordfish with lemon was light and full of flavor.
La Vela Via G. Amendola 7, Maiori 84010
Know Before You Go
How To Visit on a Day Tour from Rome
Where To Stay
The Amalfi Coast is truly one of the most beautiful places in Italy and it shouldn't be missed. You can visit on a day trip from Rome with Walks of Italy's
Boat Hopping on the Amalfi Coast: Luxury Day Trip from Rome
. You'll have time to visit Positano and Amalfi, plus experience one of the most beautiful coastal drives in Italy.
We recommend the following hotels in a variety of price ranges, all of which we have personally stayed at:
You can read our reviews of each of these individual hotels in our guide to the best places to stay on the Amalfi Coast.
One of our trips to the Amalfi Coast was provided by the Confesercenti Provinciale di Salerno in order to bring you this story. However, Luxe Adventure Traveler maintains full editorial control of the content published on this site. As always, all thoughts, opinions, and enthusiasm for travel are entirely our own. This article contains affiliate links. When you book on Booking.com or Walks of Italy through our affiliate sites, we earn a small commission at no additional cost to you.