If you've been to see the new Wonder Woman, the scenes shot in the fictional Themyscira surely have you swooning for your next vacation. Or at the very least, wondering where on earth you might find the Themyscira filming locations, which Zeus also called the Paradise Island. Themyscira actually does exist in real life. Sort of.
As I watched the movie, I found myself thinking that Themyscira looked awfully familiar. When the scene with Queen Hippolyta holding a young Diana on a balcony overlooking a stunning blue sea played out, I knew for sure I wasn't crazy. All of the scenes of Themyscira were filmed in Italy: Craco served as the village streets for Themyscira, the beach scenes were all shot in Palinuro on Italy's Cilento Coast (with a little help from CGI), Villa Cimbrione on the Amalfi Coast stood as the balcony with the spectacular backdrop  and Castel del Monte was the stage for the scenes inside the tower that held the Godkiller.
We've been saying for years that the Cilento Coast was one of Italy's best kept secrets, since it is served by virtually no public transportation. Now that the blockbuster film Wonder Woman put it on the world's radar, you'll no doubt want to visit. Here's where and how you can discover Themyscira:
Villa Cimbrone, Ravello, Amalfi Coast
It just so happens that Ravello is our favorite of the villages dotting the Amalfi Coast. Located on a cliff 1000 meters above the sea, it's often overlooked by the tourists flocking to Positano and the tiny, rocky beach of Amalfi. Without much foot traffic, even in the midst of summer, it's perhaps exactly why it is our favorite village.
Villa Cimbrone is one of two luxury hotels, both of which we also count among our favorite hotels in the world. Really, who needs a crowded, rocky beach when you can cool off in Villa Cimbrone's pool with just a handful of other guests?
The villa's Terrazzo dell'lnfinito is said to have one of the finest views in the world, and having seen it for ourselves, we can't disagree. One of the features is the series of 18th century marble busts that line the terrace, and it was those marble busts that were the dead give away as to exactly where this magical Themyscira was brought to life from.
You don't have to be a guest of Villa Cimbrone to enjoy the gardens and Terrazzo dell'lnfinito, though we highly recommend the splurge. It is one of the finest hotels of the Mediterranean and offers some of the most jaw-dropping views of the Amalfi Coast. The estate dates back to the 11th century, is set on eight hectares and is as lush as Themyscira. The rooms feature Vietri ceramic tile floors, frescoed ceilings and antiques that are typical of  this area. Honestly, we've stayed at a lot of hotels on the Amalfi Coast and no place else feels quite as "Amalfi".
Villa Cimbrone's gardens and Terrace of Infinity are open to the public daily from 9am – sunset. Admission is €7 per person.

Palinuro, Cilento Coast
One of the most unspoiled parts of the Campania region, the Cilento Coast sits just to the south of the world-known Amalfi Coast. Wild and rugged, this part of Italy isn't very linked to trains and the nearest airport is two hours to the north in Naples. It's not nearly as developed, which we think makes it even more lovely.
We've made no secret that beyond being picturesque in a photo, the typical Italian beaches packed with umbrellas and chairs in a fashion that leaves absolutely no privacy fail to impress us. Here in Palinuro, where the beaches are part of the Vallo di Diano National Park of Palinuro, you won't find beach chairs lined up in front of the hundred seaside hotels that charge beachgoers for them. Here, there is nary another soul on the beach even on the hottest day in July.
While the towers of rock jutting from the sea that formed a protective circle around Themyscira were created with CGI, the views aren't any less picturesque. This area is a haven for hikers and rock climbers, as the rugged cliffs stretch seemingly from sea to sky. Many coastal paths offer panoramic views of the coast, and there are watch towers in varying states of ruin from a time when this coast needed to be protected from some of the very enemies Diana fought in the movie.
The Palinuro is also famous for being home to Italy's most extensive cave system. Capri's Blue Grotto isn't the only of its kind and here in Palinuro, you'll most likely be the only boat exploring the magical blue grottoes. Not to mention, there's also a Blood Cave, named as such because the red algae and light make it appear as though the cave walls are dripping blood. Sounds like something straight out of DC Comic, right?
Stay at Grand Hotel San Pietro while visiting Palinuro.
Castel del Monte, Puglia
Puglia is a region pockmarked with all these spectacular sights seemingly in the middle of nowhere. Castel del Monte is one of them. It's 12 kilometers from the nearest town and stands alone on a hill with no obvious port or village to protect.
Built in the 13th century by Frederick II, Holy Roman Emperor, it's an octagonal shape with a central courtyard. And it made the perfect place to house the sword Diana knows as the Godkiller.
Castel del Monte is a UNESCO World Heritage Site and is open to the public for visits, though it is pretty barren. Its setting in the rural farm lands of Puglia is a stark contrast to the seaside towns this region is more famous for, and is worth a stop for an hour or so. Especially if you decide to combine a trip to all of these filming locations in to a road trip of Southern Italy.
Castel del Monte is open daily from 9am – 6:30pm October – March and from 10:15am – 7:45pm April – September. Closed December 25 and January 1.
Craco, Basilicata
With a very big stretch of the imagination, Themyscira was modeled after the city of Matera in Italy's Basilicata region. Though the cascading waterfalls, magnificent natural arch and massive central tower don't exist anywhere but on screen, Diana does run from her tutor through the streets of a very real Italian village – Craco.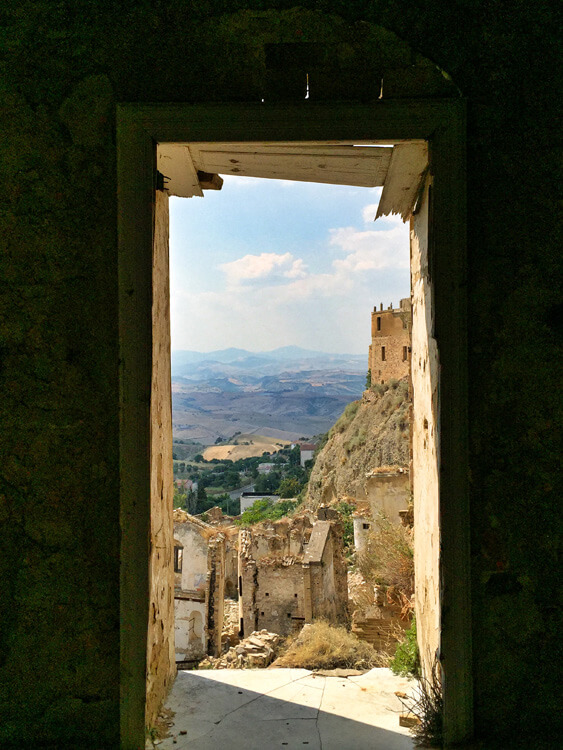 Craco is one of the most fascinating places we've visited in Italy. Once a bustling town, it suffered an earthquake so devastating that its residents were forced to abandon the entire town and start an entirely new one several kilometers downhill. Now it stands as a haunting reminder up on the hillside to those that once called it home.
These days Craco is most certainly not forgotten about; it's a Hollywood starlet of its own right featuring as the stage in a number of Blockbuster movies including Mel Gibson's Passion of the Christ and, most recently, Wonder Woman.
You can actually visit Craco with a guide, a hard hat and signing a waiver. Visits are by guided tour only and tours are available from 10am until sunset daily. The tours run approximately every hour and are about 1 hour in length. English tours are €15 per person. You can find contact information for the guides on the Comune di Craco website.
Interested in visiting other famous movie locations around the world like the seascape forever burned into our memories from The Beach or the world's tallest building that Ethan Hunt scaled in Mission Impossible: Ghost Protocol? Find these locations and many more from other wanderlust inducing movies in this famous film location guide by Travel Republic.
Shop This Post
This article contains affiliate links. When you book on Booking.com
or shop on Amazon
through our affiliate sites, we earn a small commission at no additional cost to you.