With the worst weather of any trip we had ever been on, we were looking for some things to do in the pouring rain without getting drenched. Our wonderful front office manager, Antonio, at the Palazzo Avino recommended we stop in at the Camo Factory and arranged a tour of the Museo del Corallo tucked into the back of the Camo Factory for us. (Antonio also had some wonderful recommendation on How To Eat Our Way Along the Amalfi Coast.)
Owner and cameo craftsman, Giorgio Filocamo, personally showed us his collection which includes rare items such as a 17th-century coral crucifix, a Madonna figure dated 1532, a 3rd-century AD Roman amphora with a coral formation inside.The 17th-century coral crucifix was appraised by Sotheby's at $600,000 US in 1987, which Giorgio humbly turned down because he wanted to keep his rare finds within in his family. It is the center of his collection and a piece he talks proudly of, pointing out the details such as the the Vatican seal and small flowers made of silver and glass. What really makes it special, he tells us, is that Christ was carved from a single large branch of Mediterranean coral called Trapani.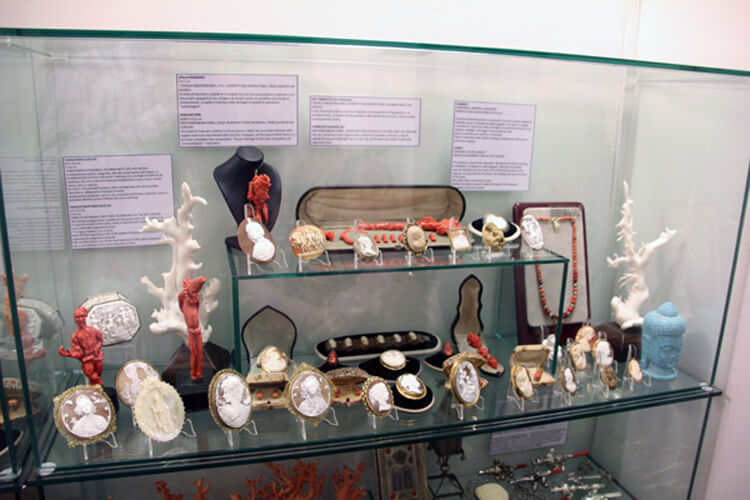 We admired two villages it took Giorgio two years each to make. These are not for sale and I can certainly understand why as he points out the intricate details down to chickens laying eggs, shop owners tending to their shops, and individual bricks to construct each building that can only be described as painstaking work crafted with patience and love.
Giorgio personally hand carves all the beautiful cameos for sale in his shop from the corals and conch shells found around Ravello. The who's who all have one of a kind cameo creations hand carved by Giorgio, including Hilary Clinton, Susan Sarandon, Nicholas Cage, and the late Pope John Paul. And now I do too! I couldn't pass up a beautiful cameo of a scene from the Villa Rufolo, nor could I think of a better memento from our stay!
Camo Factory and Museo del Corallo, Piazza Duomo 9, Ravello (View Map)
Another hidden gem we found is La Cucina di Sofi. Having had our share of limoncello living in Italy, I knew it was special when Tim came to find me in another shop and told me I just had to try this limoncello. Veronica and Aldo, the shop owners, greeted us and offered us samples. The limoncello is made with lemons and certos (think of a mutant sized lemon) from their very own groves and Aldo humbly stated it was the best limoncello around. I had to agree! I didn't need to contort my face as I tossed back a shot.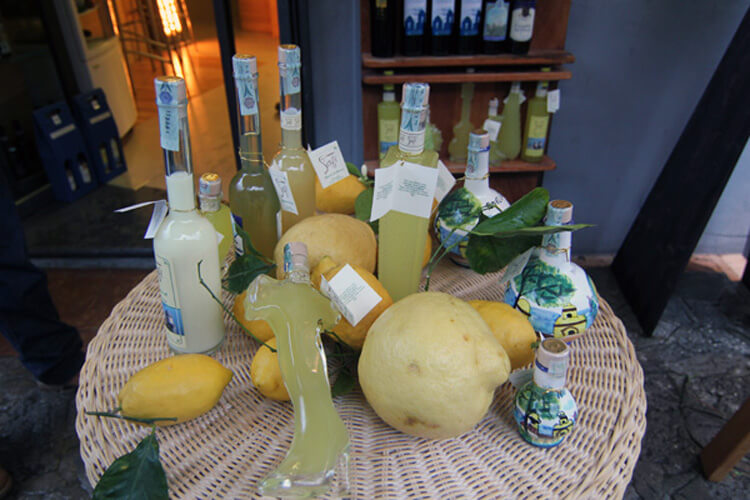 In addition to limoncello, they also produce a liquor from fennel which Aldo said was his favorite. It was indeed delicious! We couldn't resist coming home with one bottle each of their limoncello and fennel liquor.
La Cucina di Sofi, Via Roma 14, Ravello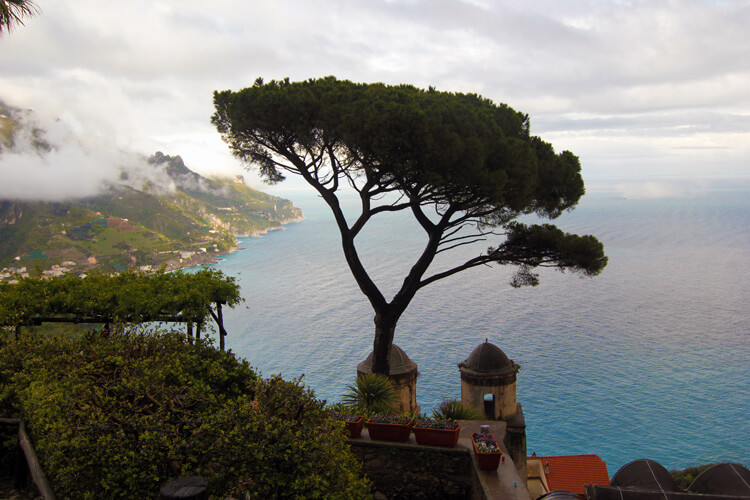 Ravello offers stellar views of the Mediterranean and the Amalfi Coast and one of the best places (and most famous views) is from the Villa Rufolo. The view is so great that this very spot was once used to keep a look out for pirate ships arriving to the Amalfi Coast.
The estate fell in to disrepair for a number of years, but much of it has been restored and the gardens with cypress, cycads, palm trees, yuccas and colorful flowers are well worth a stroll. Be sure to also climb the 30 meter high Torre Maggiore; you can keep an eye out for modern day pirates, or more likely yachts, in the Bay of Salerno.
Piazza Duomo 1 in the center of Ravello. Summer hours: 9am – 8pm; winter hours: 9am – 4pm. Entrance is €5.