Local fish and game play a prominent – and delicious – role in Lappish cuisine. Lappish cuisine features many unique ingredients found only in the sparkling clear waters, the forests, and the bogs of the north. Lappish cuisine lives according to the season and is very much based on the natural resources available. Many traditional methods of preparing Lappish cuisine are still used today and it can be found on restaurant menus all through Finland. Let me tempt you with some of our favorite dishes and restaurants from Lapland!
Sauteed Reindeer
One of the most traditional Lappish dishes is sauteed reindeer, which is kind of like little chips of roasted reindeer. It is typically served with mashed potatoes and lingonberries. Hotel Ilveslinna in Ranua serves us a delicious buffet lunch for just €12.50 per person that features sauteed reindeer.
Reindeer Pizza
I know what you're thinking. I was thinking the exact same thing when we heard that we were going to restaurant that serves reindeer pizza. But Tim and I will try just about anything once and Puistopaviljonki (say that five times fast!) in Kemi is renowned for their delicious pizzas. The pizzas are made from scratch and the menu features the "renna" pizza with reindeer, peaches, red onions, and feta cheese. The combination might sound a bit odd, but it is absolutely delicious! And the Malbec wine paired perfectly with it.
Reindeer Soup
Are you seeing the theme here? Reindeer is delicious and a very lean red meat with only around 4% fat. Reindeer is a main food source in Lapland and another way it is served up is as reindeer soup. We had reindeer soup all over Lapland, but our favorite by far was at Sokeri-Jussin Kievari in Oulu. It is a cream-based soup with cold-smoked reindeer roast chopped up with false morel mushrooms (which even Tim ate even though he hates mushrooms) and is served with rye bread that is perfect for dipping. It was so good we ate at Sokeri-Jussin Kievari twice just for the reindeer soup!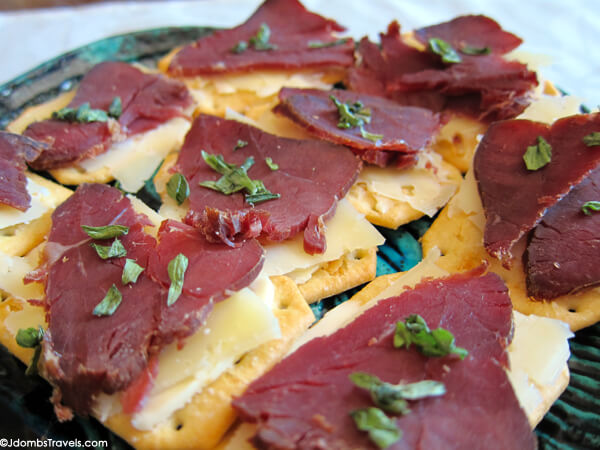 Smoked Reindeer
In the old days, smoking was a way of preserving meat. Well, I'm glad that the tradition of smoking reindeer has lived on because it is delicious! Our favorite way to enjoy smoked reindeer is on a cracker with a bit of cream cheese and a thin slice of smoked reindeer. Pick up smoked reindeer, which travels easily home, at the Oulu Market Hall or in many supermarkets throughout Lapland.
Elk Meatballs
Elk meatballs are meatballs made from minced elk meat. Sokeri-Jussin Kievari has a section of their menu dubbed Grandma's Kitchen, featuring traditional Lappish dishes including elk meatballs. They are served in a creamy game sauce with buttery mashed potatoes and lignonberry sauce. Try the lingonberry red wine with the elk meatballs; it is perfect for pairing with game dishes.
Bear Meatballs
Like elk meatballs, bear meatballs are made from minced bear meat. Brown bears are the kings of Lapland and hunts are controlled with a limited number of permits each season. The meat has a distinct gamey taste, though slightly sweet. I liked it enough to have bear meatballs twice, though my favorite was at Gaissa in the Hotel Santa Claus in Rovaniemi. The bear meatballs are served with a black currant sauce and turnip puree as part of the 3-course Rovaniemi menu.
Cloudberries
Cloudberries grow in bogs and marshes from 55°N to 78°N and can withstand cold temperatures well below -40°C. They sort of look like a blackberry, but are bright orange in color. They are a delicacy in the Arctic and prices can exceed €10 per kilogram. They are so prized in fact, gathers often keep cloudberry patches secret! Cloudberries have a very distinctive taste and are tart when eaten fresh. Overripe cloudberries become quite sweet and are often served in desserts like cloudberry ice cream.