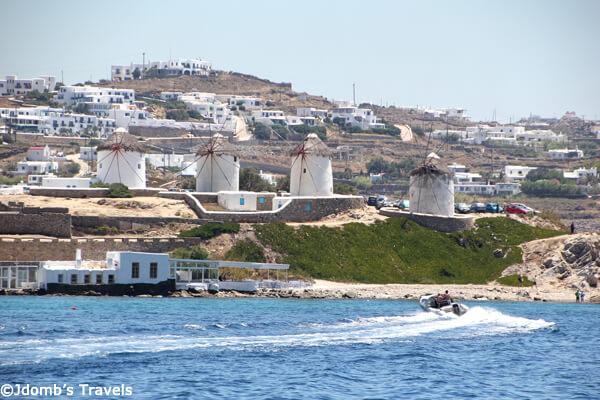 After returning to Mykonos Town from climbing around the ancient ruins in Delos under the blazing sun for nearly three hours, we were hungry and ready for some more Greek wine to quench our thirst! There were cafes and little tavernas lining the port and beach, but if living in Europe for three years now has taught us anything, it's that you have to step off of the main streets to find the best local restaurants.
We literally wandered right through one of the cafes and into a different world; a maze of tiny streets nearly deserted except for the occasional cat. Bursts of flowering purple bougainvillea climbed trellises and arched themselves over whitewashed lanes. Strings of colorful laundry gently swayed in the slight breeze.
Making our way through the maze, we emerged onto Matogianni Street, the most famous shopping street with everything from Louis Vuitton to Sephora to local handicrafts. Actually, these days Tim always seems to spot the Louis Vuitton or Chanel before I do and his antics to rush me along so I don't spot them always just calls more attention to the high end shops. But more on shopping in Greece to come in a post soon!
We meandered into the very beautiful Goumenio Square, where several picturesque restaurants and tavernas are located and the windmills peak above the whitewashed buildings. We chose OPA Taverna mainly because the proprietor was so friendly and was entertaining us with a video of him feeding Petros, Mykonos' famous pelican, a big, fat fish from his fresh catches of the day.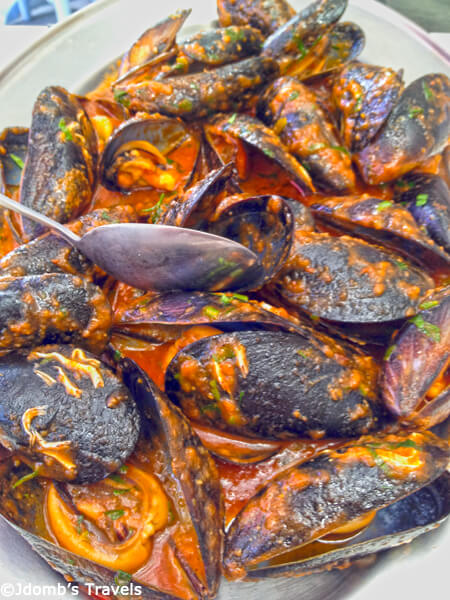 Our meal was delicious! We started with stuffed vine leaves, using the bread to soak up the olive oil from the plate. Mussels in marinara followed, which you may recall we recently took a liking to on our Amalfi Coast road trip, and we dug right in. Finally, we shared a swordfish filet with roasted potatoes. And of course, we enjoyed it all while sipping on a local Greek white wine.
Blissfully full of homemade Greek food, we slowly walked hand-in-hand toward the bus that would take us back to our ship. Admiring the beauty of Mykonos Town, we sighed that once again our time was just too short on this beautiful little Greek island.