Wat Rong Khun, known outside of Thailand simply as The White Temple, is a strangely beautiful place. Built by the famous Thai Buddhist painter-turned-architecht and millionaire Chalermchai Kositpipat, the temple is completely funded by Kositpipat's own money in order to bring his vision to life. Construction began in 1996 and still continues, though Kositpipat will likely never see its completion, which is projected to be in 2070.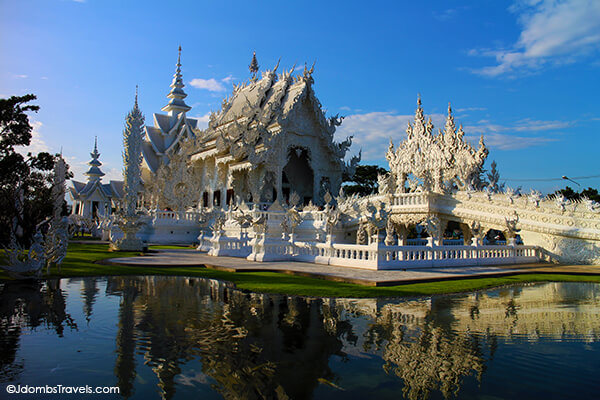 A first glance as you approach the pure white temple glistening in the sun, it's hard to imagine that this temple is dedicated to death. Like a mirror, the temple is reflected in a pond detracting your attention away from the details.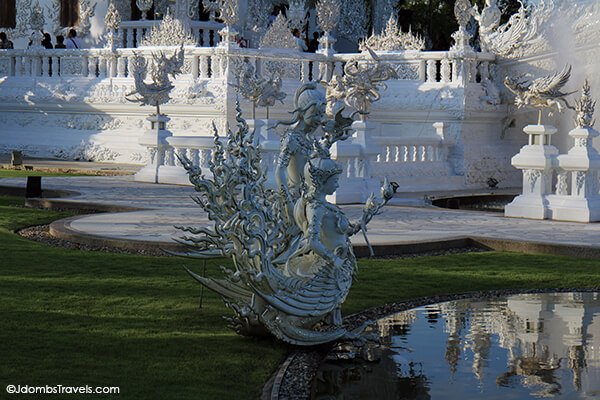 Moving on to the temple grounds, closer inspection reveals the details. The temple's white color symbolizes Buddha's purity; its glittering mirrors signifies the teachings of the Buddha to reflect kindness on to others.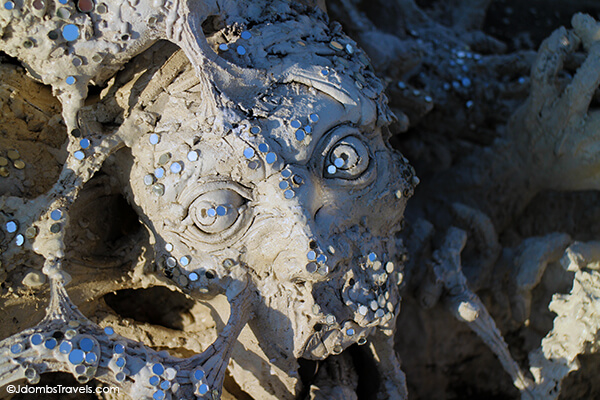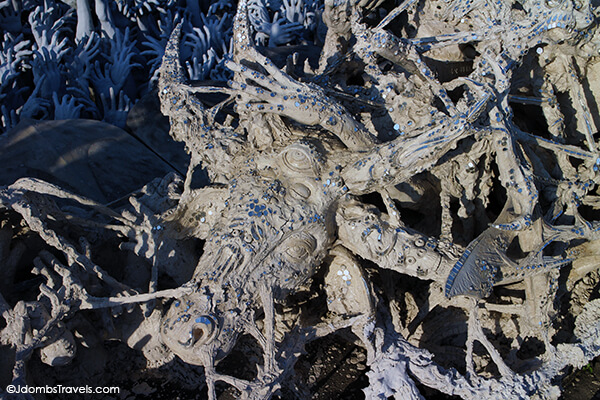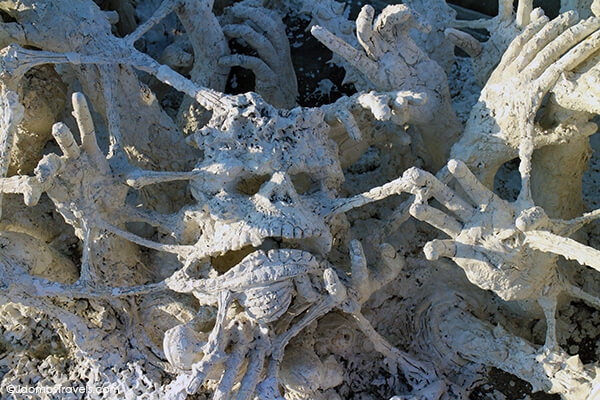 Every statue has meaning and is symbolic of teachings and Buddhist philosophy. Crossing the bridge called the Cycle of Rebirth, the moat is filled with outreaching arms representing desire. It's chilling as you cross and you can't help but look down to study the monsters and fantastical creatures being pulled down into the pits of hell by the thousands of hands.
The inside of the temple is honestly underwhelming and photos are not allowed. The White Temple was the very first Thai wat we visited, so perhaps I was expecting something more extravagant like the intricate Swarovski chandeliers of Abu Dhabi's Grand Mosque. A monk was painting a mural while another monk worshiped in silence. We quickly moved on from the small space to marvel more at the striking exterior.
Also on the grounds is a golden temple-like building, which Chalermchai Kositpipat designed to represent the body. The gold color is in stark contrast to The White Temple, which represents the mind. The building contains an art gallery of Chalermchai Kositpipat's paintings. We didn't use it, but there is supposedly a public restroom made of gold inside and it is said to be the most beautiful public restroom in the world.
Eventually there will be a total of 9 buildings on the grounds when the site is projected to be completed in 2070. But even unfinished, it is easy to see why The White Temple is visited by tourists and locals alike.
Know Before You Go
The White Temple is open daily from 6:30am – 6pm. Visit near closing time to avoid the tour buses.
Entry is free of charge, though foreigners are not allowed to enter The White Temple without a tour guide (as of January 2014).
Wat Rong Khun is easy to reach by public bus from the bus station in Chiang Rai. It costs 20 THB and takes around 30 minutes. You can also hire a taxi inexpensively, which we hired for the day.