It's been a tradition for my mom and me to meet in New York City during the holidays for over a decade now. We'd shop and sip eggnog lattes at Starbucks, see the Rockettes' famous high kicks in the Radio City Christmas Spectacular and admire the massive glittering tree in Rockefeller Center as skaters glided by on the rink below. But something we hadn't ever done was to see the Macy's Thanksgiving Day Parade, a New York City Tradition since 1924.
So when my mom suggested we make our annual trip to see the Macy's Thanksgiving Day Parade, I was thrilled! We'd be joining the 3.5 million people that flock to the streets of Manhattan to see the more than 1,500 dancers and cheerleaders, 1,000 clowns, and 30 parade floats entertain people of all ages.
What we already know about the 2023 Macy's Thanksgiving Day Parade is that we can expect the usual line up of signature balloons, giant balloons, floats, performances (including Broadway performances and the Rockettes) and the arrival of Santa Claus in front of Macy's famed flagship store on 34th Street. There are also new giant character balloons making their Macy's Parade debut this year, plus a brand new Snoopy float with a 55-foot tall Beagle Scout Snoopy.
Most likely, visiting NYC to see the Macy's Thanksgiving Day Parade is a once in a lifetime experience, like it was for us. So here are my Macy's Thanksgiving Day Parade tips for how to prepare to see the Macy's Parade in person.
1. See the balloons being inflated.
It is far less crowded and you have a much better chance of seeing the balloons up close by attending the free viewing of the famous big balloon inflation outside the American Museum of Natural History. It is available to the public on 77th and 81st streets between Central Park West and Columbus Avenue from 12pm – 6pm on Thanksgiving Eve. Check back for more details about the return of the 2023 Macy's Thanksgiving Day Parade Balloon Inflation.
2. Know the Macy's Thanksgiving Day Parade route.
The Macy's Day Parade route has changed in the last couple of years, so be sure to verify the current Parade route. The 2023 Parade begins at 77th Street and Central Park West at 9am and marches south on Central Park West toward Columbus Circle. At Columbus Circle, the Parade then turns East onto Central Park South instead of heading down Broadway as it has in past years. When the Parade reaches 6th Avenue, it turns south at the corner of Central Park South and marches south from 59th Street to 34th Street. From 6th (Avenue of the Americas), it heads west on 34th Street to Macy's Herald Square and ends there at around 12pm.
Many agree that the best spot to watch the parade from is Columbus Circle and this is precisely where my mom and I watched the Parade from. Also note that there is no viewing access on 6th Avenue between 34th Street and 38th Street; this is the official telecast area. There is also no public viewing access at Macy's Herald Square.
The most popular viewing spots along the Macy's Thanksgiving Day Parade Route 2023 are:
Central Park West (Points B to C on the map):
The Parade begins at 77th Street and Central Park West, but there is no public viewing at the official start area. Public viewing areas officially start at 72th Street and are only open to the public on the west side. There is an invite-only grandstand viewing along Central Park West, and no tickets are ever sold. The Parade runs this stretch of the Macy's Parade Route from 9am – 10:30am, so if you're concerned about being out in the cold for a number of hours this is a prime spot to see it all and be back indoors to catch performances in front of Macy's Herald Square on the television.
Columbus Circle (Point C on the map):
Unfortunately, Columbus Circle sidewalk access is closed off to public viewing as of 2018 and the only way to watch from there is by booking a Macy's Thanksgiving Day Parade View hotel room. Hotel guests have VIP access to the sidewalk, though NYPD will have the final call on access. The Shops at Columbus Circle now open at 9am on Thanksgiving Day. You can line up and snag an indoor spot on the second or third levels to see an elevated view of the balloons going by. While you'll stay toasty warm, the pitfall is that you won't really hear the bands and performers on parade floats as they go by.
Central Park South (Points C to D on the map):
The Macy's Parade Route 2023 turns on to Central Park South at Columbus Circles and marches along for a short distance until it turns again on to Sixth Avenue.
Sixth Avenue (Points D to F on the map):
The Parade reaches Sixth Avenue at 59th Street starting at 9:30am, so you should be out to snag your spot from 59th Street to 38th Street by 7am. Anywhere along this stretch is a good option if you want to sleep in a little.
3. Get up very early and dress in layers.
What time does the Macy's parade start? It begins at 9am but approximately 3.5 million parade-goers take to the streets wanting the perfect view. Plan to arrive to claim your spot along the Macy's parade route no later than 6am and don't plan moving from that spot for a few hours.
It's best to reach your intended Parade viewing spot by walking. Many streets are closed in preparation for the Macy's Parade, making taking a taxi or Uber a gamble. The subways are also generally crowded and unreliable on days with such major events.
Remember that NYC wind can have quite the bite, so dress warmly in layers. Even without the wind, you'll be sitting outside for a few hours and can get chilled in the early morning cold. Think layers that are warm, yet not overly bulky so that you can remove things like gloves, hats and scarves.
Pack a small bag with snacks, a thermos of hot chocolate, and some games or books to keep your kids entertained while waiting for the parade to begin. Also stash a tote bag in your pocket. You can use it to store any clothing items like hats, gloves and scarves that you might remove if you get warm.
You want to keep any bags you're carrying to a minimum and small in size. If you're traveling in to Manhattan from the greater NYC area or arriving on Thanksgiving morning with luggage, you may want to book a luggage storage spot nearby to store away any excess baggage you don't want to have to manage in a crowd.
Note that there are not any designated seating areas, handicapped areas, or seats sold. The bleachers and seats you may have seen on the telecasts of the Macy's Parade are designated for Macy's employees and Macy's Thanksgiving Day Parade tickets are never sold or open to the general public.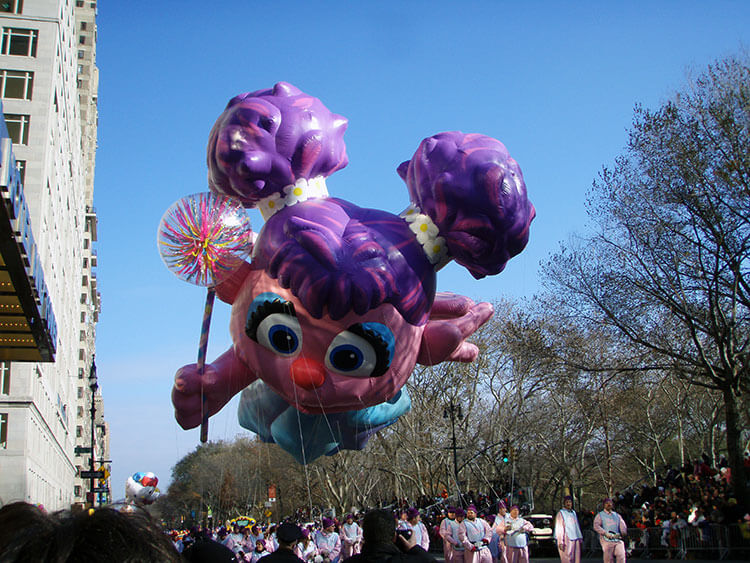 4. Splurge on a hotel on Macy's Parade Route
The most stress-free way to view the Parade is to splurge on a parade view hotel room along the Macy's Thanksgiving Day Parade 2023 route. The Trump International Tower at Broadway and Columbus Circle was the perfect way for us to stay comfortable and warm while viewing the Parade. We knew which balloons were coming by having the Parade on tv and had a terrific view from the floor-to-ceiling windows. Trump International Tower also had a guest-only VIP viewing area on the street in front of the hotel where we would watch the action without fear of losing our spot or pushing through massive crowds. We alternated between the room and street throughout the 3-hour Macy's Thanksgiving Parade.
It is also nearly impossible to see the performances by Broadway musicals and famous musicians since they take place in the official telecast area, which is closed off to the public. You'll be able to catch the stars as they go by on floats and then watch the performances from the comfort of your room.
A room at the Trump International Tower for Parade viewing books up nearly one year in advance and you'll need to be prepared to spend around $2000 per night for this prime location.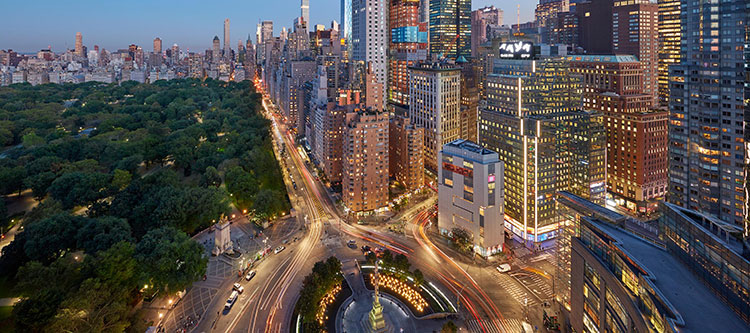 Other hotels on Macy's Parade route include the Mandarin Oriental New York, which wasn't yet opened when we watched the Parade from Trump International Tower. Mandarin Oriental offers the Room with a View Parade Package (2-night minimum stay required), which includes exclusive access with a bird's eye view to watch the Parade in the warmth and comfort of their Mandarin Ballroom 280 feet above the Parade. You can also splurge to watch from the comfort of your own Premier Central Park View room or suite with floor to ceiling windows on the 43rd to 54th floors of the hotel.
The New York Hilton Midtown also offers a number of Thanksgiving Packages from partial view to premium full view rooms. Unfortunately, we can't endorse the New York Hilton Midtown with a glowing recommendation. We stayed here just a few months ago and the walls were so thin that I could hear every noise from the neighboring rooms. The elevators are incredibly slow, and wifi is supposed to be free for Hilton Honors members (it's free to join) but the various codes I was given over the course of my stay never worked. These were all minor complaints, but that no care was given to my various complaints to management really shows their complete lack of customer service. It's unfortunate as this the hotel is a prime Midtown location.
JW Marriott Essex House is situated on Central Park South and has a fantastic Parade view. Like Trump International Tower and Mandarin Oriental, you can enjoy the Parade right from the comfort of your Parade View Room or Parade View Suite without the crowds, cold and even in your pajamas if you like.
1 Hotel Central Park also has a prime view of the Parade going by and guests can get an in-room Thanksgiving breakfast feast for two, which includes fresh jams, house-made pastries, yogurt and quiche to enjoy during the Parade.
The Ritz-Carlton New York, Central Park has parade view rooms and guests even receive an instant camera to snap some fun family photos while enjoying the Parade in their pjs.
The Quin Hotel has some rooms with a view of the Parade as it makes its way down from Central Park. It's also one of more affordable hotels offering Parade View rooms at under $1000 per night.
Alternately, you can stay at a hotel near the Macy's Thanksgiving Day Parade route for easier access to getting to the Parade. While Manhattan hotels will still be more expensive during peak periods like from Thanksgiving – New Year's, rooms won't be as eye-wateringly expensive as those offering Macy's Parade View Packages. Other nearby hotels we can recommend include: CitizenM Times Square, W New York Times Square, Thompson Central Park and Michelangelo Hotel.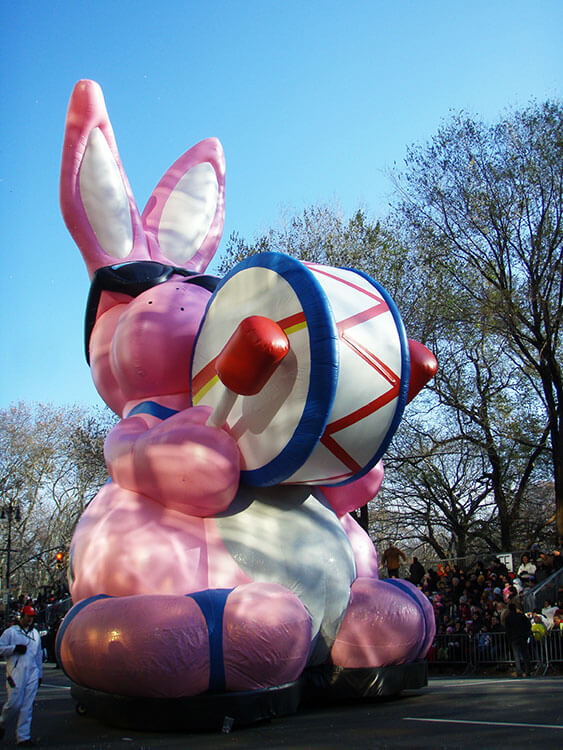 5. Find and book a reservation at NYC restaurant nearby for lunch.
There really aren't restaurants to watch Macy's Thanksgiving Day Parade from. Most restaurants are on ground level. Those restaurants that are on higher levels suited for parade viewing from the windows are typically in hotels and reserved for guests to book VIP reservations in.
We always try to scout out a few options for restaurants with Macy's Parade viewing, if available. Here's a few options available for the 2023 Macy's Thanksgiving Day Parade:
A private Macy's Thanksgiving Day Parade Viewing Brunch is being held at Rue 57 Brasserie, an elevated restaurant located on the corner of 57th Street and 6th Avenue. Rue 57 Brasserie has wrap-around glass windows where guests will be able to watch the Parade from inside. There's also a guest-only terrace where you'll be able to watch the Parade from outdoors. The brunch includes free-flowing champagne for adults, a gourmet buffet with classic pastries and chef curated NYC favorites, and live entertainment.
Sarabeth's is an iconic NYC brunch spot and you can join the private Macy's Thanksgiving Day Parade Brunch at Sarabeth's right on Central Park South. Sarabeth's will have a guest-only outdoor Parade viewing area to watch the Parade from. Once the Parade passes, your table is waiting inside the famous Sarabeth's for a 3-course brunch with bottomless brunch cocktails and live entertainment.
Another private Macy's Thanksgiving Parade Private Viewing Brunch is being held at Quality Italian at the corner of 57th Street and 6th Avenue. Guests will have a private viewing area outside on 6th Avenue. The brunch includes bottomless mimosas and bloody mary's for the adults, plus soda, a selection of juices, coffee and tea. There will also be family-friendly entertainment. The ticket includes a NYC Gallery Crawl on November 24 that will visit four of Chelsea's most prestigious and world-class art galleries specializing in 20th Century Art.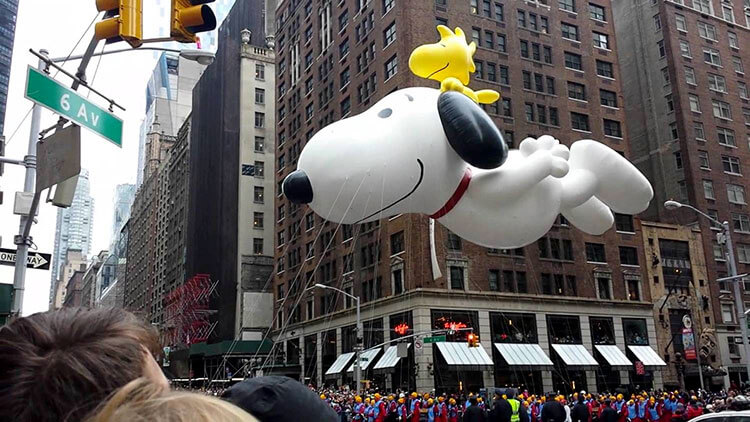 Once the Parade ends, 3.5 million people are pushing their way to subways and out of the areas closed off to traffic to try to hail taxis. Instead of joining the stampede, find a nearby restaurant that is open on Thanksgiving and make a reservation for lunch. You can wait out the crowds while warming up over a hot meal.
Parade View hotel rooms booked? We recommend these NYC hotels:
Macy's Thanksgiving Day Parade History
It's a bit hard to imagine that when the Macy's Thanksgiving Day Parade first began on Thanksgiving morning in 1924, the parade was a humble procession of employees dressed up in costumes that stretched the length of about two city blocks. It began at the intersection of 145th Street and Convent Avenue in Harlem, and the parade goers that lined up to see the very first ever Macy's Christmas Parade, as it was then called, watched the entire thing in a matter of a few minutes.
Macy's wasn't even the first to put on a store-sponsored Thanksgiving Day parade. It was Philadelphia's Gimbel Brothers Department Store that led the tradition with their Thanksgiving Day parade in 1950. But New York City had never had a Thanksgiving Day Parade and Macy's originally thought to host it in order to promote holiday shopping at the "World's Largest Store". The window displays at Macy's featured fairy tale scenes from stories like Mother Goose and Little Red Riding Hood that year, and the first parade mimicked the windows with floats featuring Little Miss Muffet, Mother Goose and the Old Woman Who Lived in a Shoe. The Central Park Zoo loaned bears, elephants, monkeys and camels, who paraded through the traffic-jammed streets of NYC while just four bands marched along.
Some 10,000 people turned out at Macy's to cheer on Santa as he brought up the rear of the parade finally completing the six mile journey around noontime.
It was barely a blip in the newspaper the next day, with the New York Herald printing a mere two sentences about the whole spectacle. But Macy's considered it a huge success and announced they would host a bigger and better parade the following year.
The Parade quickly became a holiday tradition for many New Yorkers. Only the animals, loaned by the Central Park Zoo for the few years, were less than enthusiastic. The animals aggravated demeanor at making the six mile trek scared children, and in 1927 the first helium character balloon was introduced. It was Felix the Cat. The parade route was scaled back from six miles to two miles, but following decades saw the size of the parade grow as everyone involved felt inspired to reach for the stars in wowing the spectators.
The 1930s saw the change of the name from the Macy's Christmas Parade to the Macy's Thanksgiving Day Parade. Balloons makers were challenged to wow spectators with animated balloons that could talk and bark. Already in the 1930s, over 1 million people were turning out for the parade.
From 1942 to 1944 the Parade took a hiatus as WWII raged. The famous green dragon balloon was deflated and the rubber from it donated to the US Military. But it was back and better than ever with the introduction of nine new balloons in 1945 and over 2 million people turning out for the Parade. The Parade appears in the holiday movie Miracle on 34th Street in 1947 and is broadcast on television for the first time ever in 1948 by NBC.
Stars like Oscar winner Ginger Rogers started to take part in the procession in the 1950s and Mumford Bass, the famous children's book illustrator, joins the Parade team in 1963. He brings new ideas for floats that will lead the way in pop-culture for years to come. The 1970s see Diana Ross perform and Evel Knievel wow the crowds with his stunts, while Jean McFadden joins the Macy's team as Parade Director and suggests it needs a big dose of Broadway added to the line-up. The Macy's Parade has come a long way from its first edition with employees dressed as clowns in 1924.
The 1980s didn't just have huge shoulder pads. The first of the mega-sized character balloons is debuted: Super Man is almost 100 feet tall. The balloons double from nine to 18 and the floats also get bigger during this decade. Major pop stars and the boy bands of the '90s join the line-up singing and dancing on the floats. And a series of new balloons designed by contemporary artists like Jeff Koons usher in the new millennium.
But one thing has remained consistent since the Macy's Parade started in 1924: Santa Clause is the showstopper and it's his arrival at Macy's Herald Square that officially marks the start of the holiday season in NYC.
The Macy's Thanksgiving Day Parade at Universal Orlando
If you really want to see the Macy's Thanksgiving Day Parade giant character balloons in person but aren't keen on heading to NYC, then you can head to Universal Orlando's Holiday Celebration. After the success of the 2020 celebration, Universal Orlando is hosting 7 of the giant character balloons, the iconic Macy's stars and appearances by the Minions in a special Holiday Parade featuring Macy's during select dates in the 2023-2024 winter season.
Find a Hotel near Orlando
Shop This Post
This article is updated annually and was last updated August 2023. This article contains affiliate links. When you book on Booking.com or shop on Amazon through our affiliate sites, we earn a small commission at no additional cost to you.